If Orange is the New Black, and 50 is the new 40, what is the new kale? I gave a presentation on culinary trends earlier this year to a team of committed activists working on the myriad issues surrounding hunger. While many fellow trend-spotters were divided between collards and cauliflower as the new kale, I (a committed kale-lover) found myself begging kale to just get new handlers. Or more accurately, to stop crying out to be handled. Let's face it – we'd rather get a massage than give a massage and all those needy recipes calling out for massaging kale were just a bit too much, #amIright? Bad PR, in my mind, is the ONLY reason there even needs to be a new kale. The old kale is fine, thank you very much.
This time of year (actually most times of year, but it goes so well with fall dishes), Tuscan Kale pops up on every menu. To my tongue, Tuscan or black kale is less woody than curly kale and less in need of a massage. Just trim the stems and remove the rib from the lower end of the leaf, then stack and roll into a tight bundle and cut thinly cross-wise. That's called a chiffonade. Voilà! Now you speak French. You're welcome.
You may also know this dark, wrinkly leaf with a blue-green cast by names other than Tuscan: lacinato, dino, dinosaur, cavolo nero…..even palm tree kale, because the growth pattern resembles the fronds atop a palm tree. It's been grown in Tuscany for centuries and is a key ingredient in the Italian soups ribollita and minestrone.

All the nooks and crannies cry out for a cream dressing that will gently nap the leaves. I grew up with Seven Seas Green Goddess, but have never actually tracked down an authentic recipe for one made from scratch. I, as always, simply grab what is on hand. It won't keep long with the acids taking their turn on all things that start out green, so just make it with what you have today and make it differently tomorrow. With so much flavor in the dressing, I keep salad toppings to a minimum – some sliced radishes for added crunch and a handful of croutons.   Tasty!!

Green Goodness Creamy Dressing
½ cup plain Greek yogurt or sour cream (non-fat, full-fat, etc. – your choice)
¼ cup fresh lemon juice
1 avocado, peeled and pitted
4 sprigs parsley
3 scallions, cut into 1" pieces
2 Tablespoons coarsely chopped chives
1 clove of garlic (or more to taste)
Handful of arugula
¼ teaspoon red pepper flakes
Salt and pepper to taste
Put these ingredients, and/or anything else green and flavorful you have on hand, in the Vitamix or blender and let 'er rip. Scrape down the sides as needed, and taste and adjust seasoning.
It will keep in the fridge for a few days before losing its bright green.  Simply press plastic wrap directly on the surface and seal tightly.
Yields: 1 cup

Oh and imagine my delight when the neighbors showed up with a highly coveted, homegrown watermelon radish. Put a smile on my face!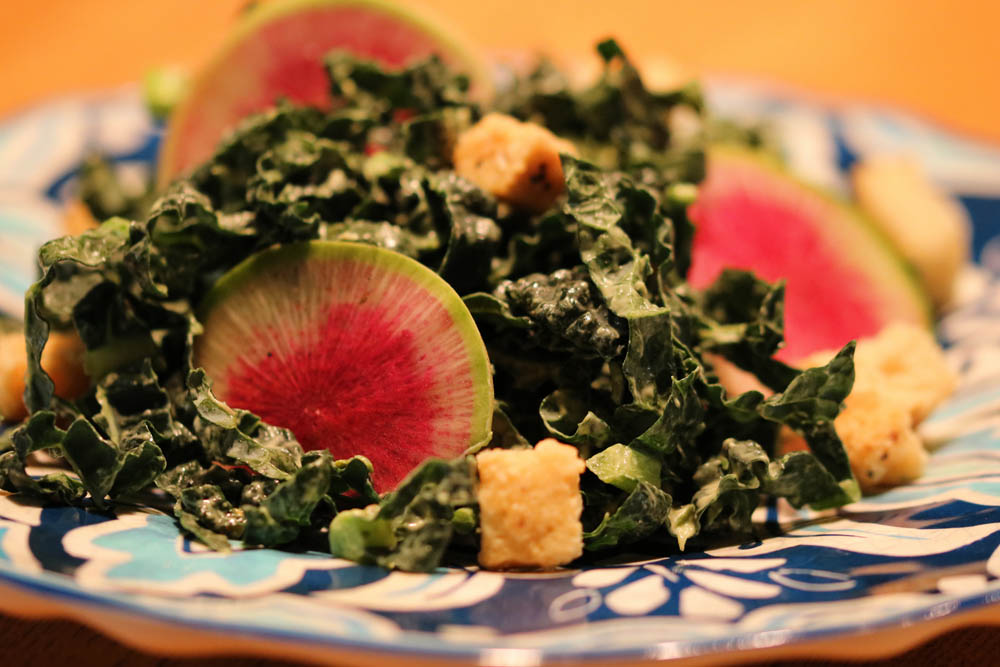 Hey, we want to hear from you!
Don't forget to Comment below, Share & Subscribe to our blog.