I used to say that I began cooking at the age of 5 on an Easy Bake oven, but truth be told the EBO did not appear until my third set of kitchen appliances. I'd already "cooked" on pink metal and cardboard by then. Even at 3 ½, reviews were flooding in (technically it was a typed letter from my very proper grandfather thanking me for the tomato soup I had prepared over Christmas -"I assure you it is the best I ever had"). By four, I was building the culinary library – Mudpies and Other Recipes and Betty Crocker's Cook Book for Boys and Girls.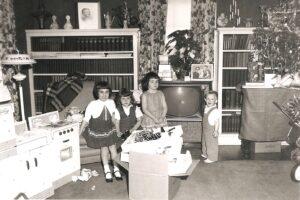 Food in the Keck family was very important and covered a fairly wide range. From Grandmother Keck, a farm girl who made vegetable soup by the hogshead (63 gallons, if you must ask) to Gaga, who liked to splash sherry in her lobster bisque. Mom landed somewhere in between with spinach dip (everyone else was STILL (yawn) using Knorr onion mix), and an otherwise mundane Monday night sausage patty got spruced up with apple fritters. I tried my hand at 4H and did much better in Butter Cakes (blue ribbon!!!) than knitting ("only one?" noted the judge in my response to my single slipper entry).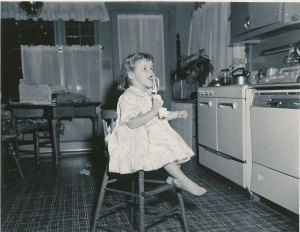 The other Keck family mantras were leadership and giving back, "paying rent on the space you occupy" according to the old man. Girl Scouts to Girls State – stir all those ingredients together and bake a few years and Katy Keck is what you get.
After surviving a University of Chicago MBA and a career in marketing and finance on Wall Street, I made the leap to the culinary world – with a serious shove from Marie Brizard for winning a culinary apprenticeship as the grand prize in their Flavors of France contest. The recipe? A chocolate torte, inspired of course by Grandmother Keck's "Chocolate Replevin". That eye-opening year abroad truly changed the trajectory of my life.
Back stateside, I created Savoir Faire Foods, a free-lance consulting business with a nod to my French training and my ambition to do it all and to do it with (savoir) flare – culinary events….product launches….food & demo styling… menu & recipe development. I have styled hundreds (at least) of TV segments and made thousands of pizzas. Paella for Antonio Banderas, tostones for Gloria Estefan, even a butt chicken (his word, not mine) for Matthew McConnaughey. The Rosie O'Donnell Show, The Today Show, Letterman, the Duchess of York, Naomi Judd ("wash your hands because germs are like Jesus, invisible and everywhere"), and a segment for the author of The Coffee Maker Cookbook. No, really. As Rosie astutely queried: "If you are alone in a hotel room with a chocolate bar and Cool Whip, why for the love of god, would you need a coffee maker?" I couldn't agree more.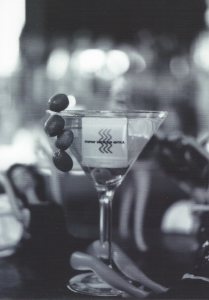 Meanwhile, back at the grill, for fifteen of those years, I was also partner/consulting chef at New World Grill, a charming little glass-enclosed gazebo in the courtyard of Manhattan's Worldwide Plaza. The menu, a new world mix of styles – some Caribbean, some Asian, some Southwestern – represented a healthy approach to eating out and garnered some glowing reviews from The New York Times, New York magazine, and The Zagat Guide. Having a home to hang my whisk and further developing a personal culinary approach (old world style, new world flavor) opened the door to many opportunities to serve as product media spokesperson and a global food expert.
Nine years ago, having signed on to do a fundraising event – something I planned to do blindfolded with one hand behind my back ….in my sleep – I woke up to find a real call for the culinary, business, entrepreneurial and leadership talents I had spent a career amassing. My deep love for impact resulting in meaningful change for the women and youth in Africa met a great opportunity with an even greater need. Infinite Family was about to launch. The orphan situation in Africa was and remains a world crisis of unprecedented proportion. Infinite Family coupled video technology with distance mentoring and was poised to help the youth of South Africa in a game-changing way build self-reliance, by becoming more resourceful, resilient and responsible. You had me at distance mentoring. I answered the call and spent much of the past years serving as the organization's President, spearheading the transition from entrepreneurial to organizational, working to build infrastructure, branding the organization, leveraging opportunities and team building.
I continue to bridge the gap between all things culinary and improving the planet, one tater tot at a time. And somewhere deep inside, I know there is a story just dying to get out.
Participant in "Women of Taste: A Collaboration Celebrating Quilt Artists and Chefs"

National finalist Evian/Gourmet Magazine Healthy Menu Awards

Winner of Marie Brizard Flavors of France and Cooking with Lavazza Espresso contests

Two-time Daytime Emmy Awards honoree

Mt. Vernon High School (Indiana) Distinguished Alumna

DePauw University Community Leader Award

One of 10 national University of Phoenix Volunteer Leader Award

Daily Point of Light #4278 (June 29, 2010) from Pres. George H. W. Bush, one of two presented by Points of Light Board Chair Neil Bush at Heart of Service Awards