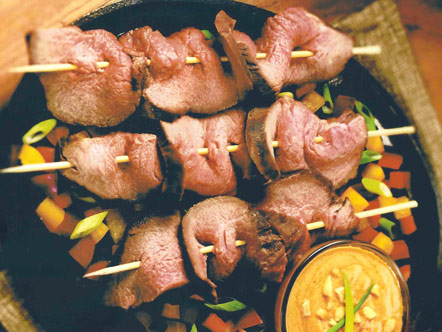 This spin on a Beef Satay incorporates a marinade and a dipping sauce that both can be used in a myriad of ways.  Use the marinade on pork, chicken or even fish and dip away in the peanut sauce with vegetables, eggrolls and dumplings, or use as a dressing on Chinese chicken salad.
Ingredients
Marinade
1/4 cup grated ginger
8 cloves garlic, minced
2 Tablespoons hoisin
2 Tablespoons black bean garlic paste
1/4 cup soy sauce
2 Tablespoons molasses
1/2 teaspoon ground pepper
1/2 cup sesame oil
1/4 cup chopped cilantro
1 pound beef tenderloin, trimmed
Dipping Sauce
14 ounce can coconut milk
1 cup roasted peanuts, coarsely chopped
1/4 cup lime juice
2 teaspoons minced shallots
2 cloves garlic, minced
1/2 cup peanut butter
1/4 cup soy sauce
1 teaspoon ground cumin
1 teaspoon chili garlic paste (sambal oelek)
1/4 cup rice vinegar
1/4 cup sesame oil
1 Tablespoon chopped cilantro
Directions
Make the marinade: Combine all marinade ingredients and marinate beef for one hour or overnight in a non-reactive pan, covered, in the refrigerator.
Make the dipping sauce: Heat coconut milk in a saucepan until reduced by half.  Transfer to a mixing bowl and whisk together with remaining ingredients.  Store in the refrigerator.
Remove meat from marinade and pat dry.  Sear in 1 teaspoon sesame oil in a hot sauté pan until well browned.  Transfer to a roasting pan and roast in a 450oF oven until desired doneness, about 15 minutes more for medium rare.  Remove from the oven and let rest 10 minutes.  Carve into thin slices and thread onto skewers.
To serve, fan out the skewers on a serving tray atop a bed of red & yellow diced peppers and sliced scallions. Accompany with a bowl of dipping sauce.
Serves 6-8, as an appetizer