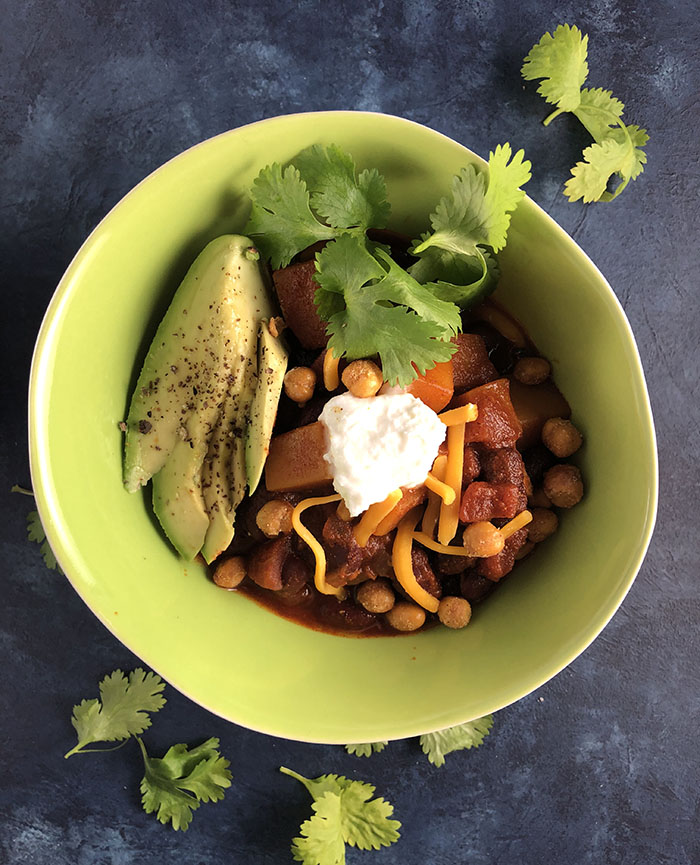 Where are we going with this weather? It's hot. It's cold. It's frigid. There are crocuses. Croci? I tested this recipe a mere week ago and the winds were howling at 65mph+++. I thought my house was going to slide down the dune. My pot rack was rocking. After finding a flashlight – because I just KNEW my power would go out – I started grabbing cans of beans, tomatoes, paste, etc. and this lonely butternut squash. I figured I could survive quasi-indefinitely with a "walk-out" (refrigerator) and a gas stove. When I ultimately tucked in by the fire, I had supreme satisfaction – I beat the power outage and this chili was damn delicious! Plus there was plenty left to freeze for those nights when you know you will get in super late and you just want something to eat in a jiff. Pull it out in the morning and thaw all day in the fridge.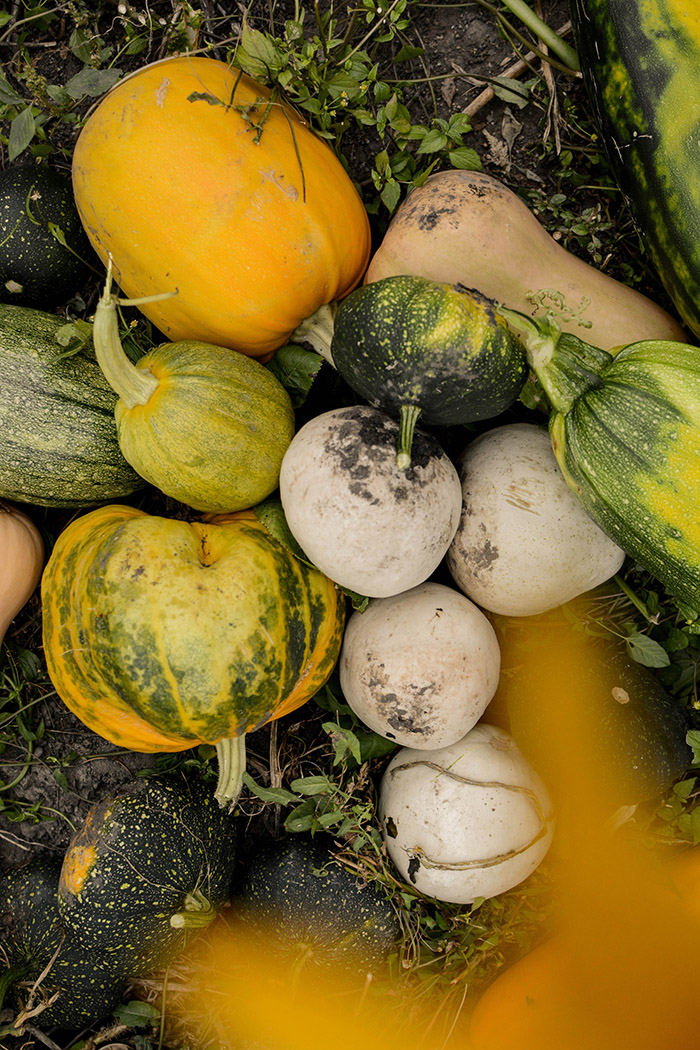 Photo by Réka Mátyás on Unsplash
Butternut Squash Chili
You could make squash chili with any squash – I had a butternut on hand – but Hubbard, acorn, Kabocha, pumpkin or other winter squashes will work well, too. I like butternut because it's more bang for the buck in the peeling-effort-to-flesh ratio. It has a smaller cavity so that you don't loose a lot to seeds and air. You get the yield you need with only one medium butternut. At about 2 1/2 pounds, I got 7 cups of diced squash.
I took my time with the onions browning. Since there is no meat, I wanted to caramelize the onions to help with the depth and layers of flavor. You could also roast the squash to bring out even more caramelization, but I was racing the power supply and didn't want to be beholden to an electric oven. There are also some bonus points for going one-pot, right?
In addition to browning the onion, I always toast the spices for this kind of dish. If you don't, you miss a big opportunity to add flavor. Stirring raw spices into liquid does not give the same depth of flavor as when you take a moment to toast them. For whole spices, I toast, then grind. Today I am using ground spices, so I just add them to the hot pan once the onions are browned, and let them cook for about a minute or two. You want to have your liquid – in this case vegetable stock – nearby so you can stop the cooking quickly. It's a baby step from toasted spice to scorched.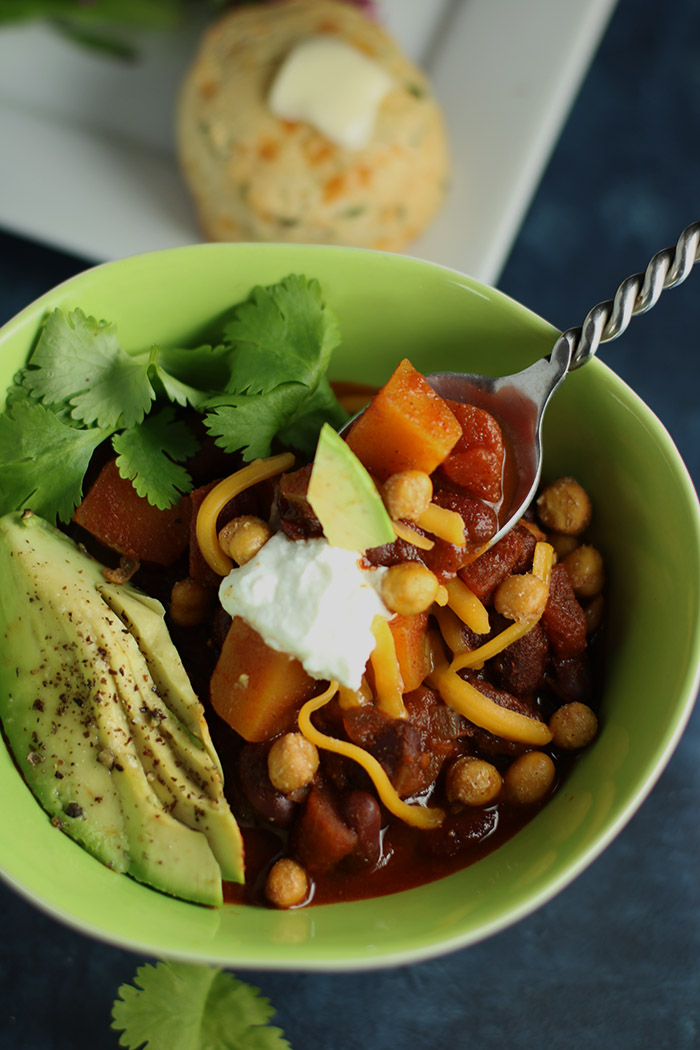 I added some of the usual suspects as toppers, but I think the real rock star here is the toasted garbanzo beans. You can buy them already toasted with a variety of spice blends. The crunch is the contrast this chili begs for. Tortilla chips or strips would do, as well. Chose a variety of color, textures and taste (creamy v spicy?) and trick it out the way you like it. Chef's prerogative!
Print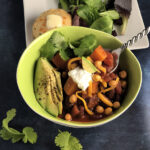 One-Pot Butternut Squash Chili – It's Vegetarian Y'all!!
---
Author:

Total Time:

50 minutes

Yield:

4 quarts

1

x
Description
I'm filing this butternut squash chili recipe under D for Damn Delicious. The squash's sweetness takes on smoked paprika, chili powder (brave enough to go Ancho?) and cumin – and wins. And the toasted garbanzo beans on top are the crunch this soup begs for.
---
2 Tablespoons

Olive oil

1

Spanish onion, diced

5

cloves garlic, minced

3 Tablespoons

ground cumin

2 Tablespoons

ground chili powder

1 teaspoon

smoked paprika

1/2 teaspoon

cayenne pepper

1

medium butternut squash (about 2 1/2 pounds), peeled, seeded and cubed (

7 cups

)

1 quart

vegetable stock

6 ounce

can tomato paste

28 ounce

can diced tomatoes

3

16 ounce cans dark red kidney beans, rinsed and drained
Suggested Garnishes:
Sliced scallion
Cilantro
Tortilla strips or dried garbanzo beans
Avocado
Grated cheese
Greek yogurt or sour cream
---
Instructions
Heat olive oil in an 8-quart stockpot. Add onions and cook until browned, about 12 minutes. Add garlic, cumin, chili powder, paprika and cayenne. Cook for 2 minutes, stirring.
Add squash and about 1 cup of vegetable stock. Scrape up the browned bits in the bottom of the pot. Add the remaining stock, tomato paste, tomatoes and their juices, and kidney beans.
Bring to a boil and reduce heat to a simmer. Cook, stirring occasionally, until squash is tender but not mushy, about 15 – 20 minutes.
Serve hot with assorted garnishes.
Notes
You can prep most of the ingredients while the onions are browning, so prep time shown is just to organize ingredients and chop the onions and garlic.
If you cut the squash lengthwise in half first, it is easier to peel. Using a sharp peeler, remove the skin, then scoop out the seeds. Your squash is ready to chop!
Prep Time:

10 minutes

Cook Time:

40 minutes

Category:

Soup

Method:

Stovetop

Cuisine:

American, Southwest
Keywords: vegetarian squash chili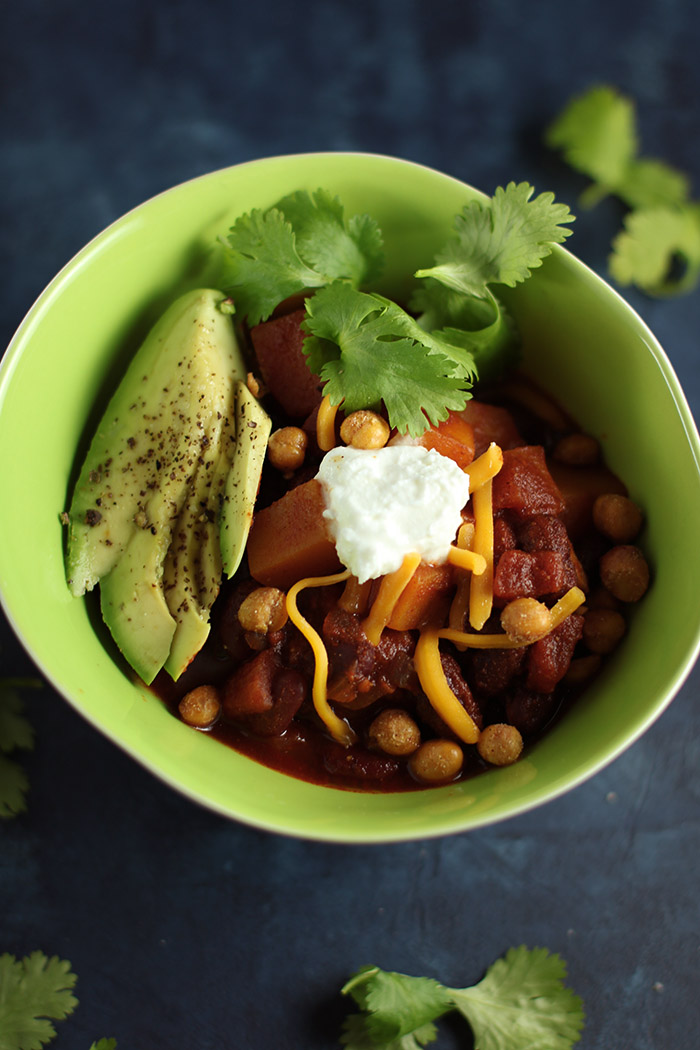 © Copyright: KatyKeck.com 2019. All rights reserved.
Hey, we want to hear from you!
Don't forget to Comment, Share & Subscribe to our blog.