This homely little vegetable belies its knobby, unsightly exterior, showing up instead packing a flavor punch and chocked full of crunch. It became one of my favorites during my year in France. While interning in Michelin starred restaurants, I had this crazy schedule, leaving at 7am for work about an hour away, and returning home well after midnight on the last metro of the day. There were a few others in this tiny studio apartment, but I got the "walk in" (if you could call it that) closet which I used as my salon – having a glass of wine, checking my mail and unwinding from the day. I was always the last one in and first one out each day. My personal time in the apartment came on Saturday when everyone else was either at work or away for the weekend. I spent that day off each week combing the specialty food shops in my neighborhood, doing laundry and plotting for dinner. Being on a budget meant a lot of chicken, but it also meant trying new things with cheap root vegetables. Céleri Rémoulade (grated celery root with mayonnaise) and Salade de Carottes Râpées (grated carrots, lightly dressed) became two staples of my weekend dining. The French don't favor raw vegetables, but they make exception for these two which are damn near national treasures. The Céleri Rémoulade mayonnaise dressing bore faint resemblance to its American cousin. It was rich and creamy and somewhat tangy.

I don't think about those dinners all that often, but this time of year when I see celery root, technically celeriac, with the remaining farmers braving brisk market mornings, I am immediately back there in that tiny kitchenette. It reminds me how hard I worked to make it taste the same each time, something that a professional takes pride in. These days, I like to make it different each time.   Sneak in a new ingredient, change the dressing. The recipe below masquerades grated apple and white cheddar. They both look about the same as grated celery root, but what a delight to find that the intense celery flavor is elevated with sweet/tart apple and rich cheddar lurking within.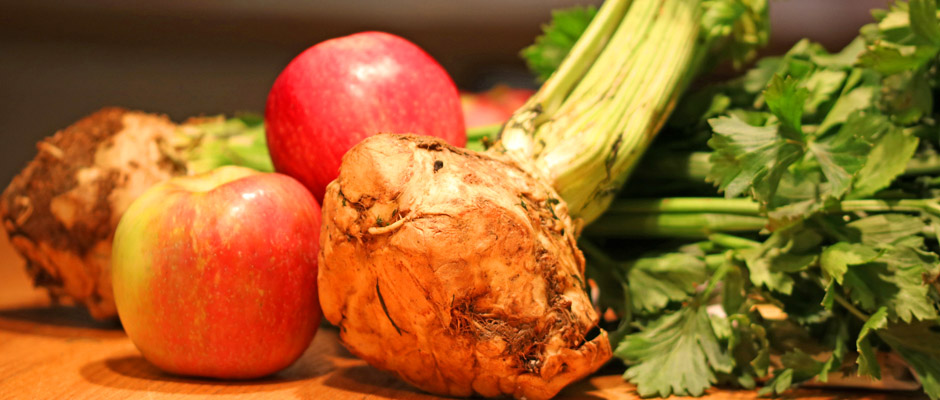 Here in the US, celery root is not so well known. When the farm stands are gone, invariably I'm forced to buy it at the supermarket. Without fail, I get one of the befuddled cashiers giving me a "Whaaaaaat?" look. I am so smitten with the flavor – think celery and parsley – and versatility that I have been known to sneak celery root into a mystery basket for auditioning chefs. On one particular project, the first three candidates failed to use it (a strict mystery basket no-no) and when the fourth got a last minute chance to audition, he asked if he could use the abundance of celery root he had seen in the walk-in. Guess who still has the job? Unlike the others, he was well aware that celery root can not only be served grated and raw, but also steamed, boiled, and roasted to include in soups, stews, bisques, gratins and mashes, the very way he chose to serve it.
When shopping, look for small, firm celeriac that seem overly heavy for their size. Bulbs with bruises, soft spots or a lot of shoots or rootlets are past their prime. Not only will they have lost their intense flavor, they tend to be a bit pithy inside and that is no good for a raw salad. To prepare for grating, trim the ends to create a flat surface, then use a sharp knife to cut off the woody exterior. Cut in wedges that will fit into your processor, fitted with the large grating disc. The exposed flesh will start to turn brown eventually, so have your dressing ready and dress as you go.

Celery Root, Apple and Cheddar Slaw
Dressing:
¾ cup combined lemon juice and EVOO, 50-50 ratio
1 Tablespoon white miso, available at health food stores or Asian markets
1 Tablespoon Dijon or spicy/pepper mustard
Put all ingredients into a blender and combine until well blended.
Slaw:
1 pound celery root, trimmed and grated
1 pound crisp-tart apples such as Braeburn, peeled and grated
¼ pound sharp white cheddar, such as Barber
Grate each ingredient using the large grating disc on your food processor.
Transfer to a serving bowl and drizzle with dressing, tossing and dressing to desired coating.
Keep refrigerated in an airtight container.
Serves 6-8.
This time of year just feels like spicy brats and sausages, and while I reached for a cabbage slaw variant all summer, this celery root, apple, cheddar slaw is the perfect accompaniment for fall outings.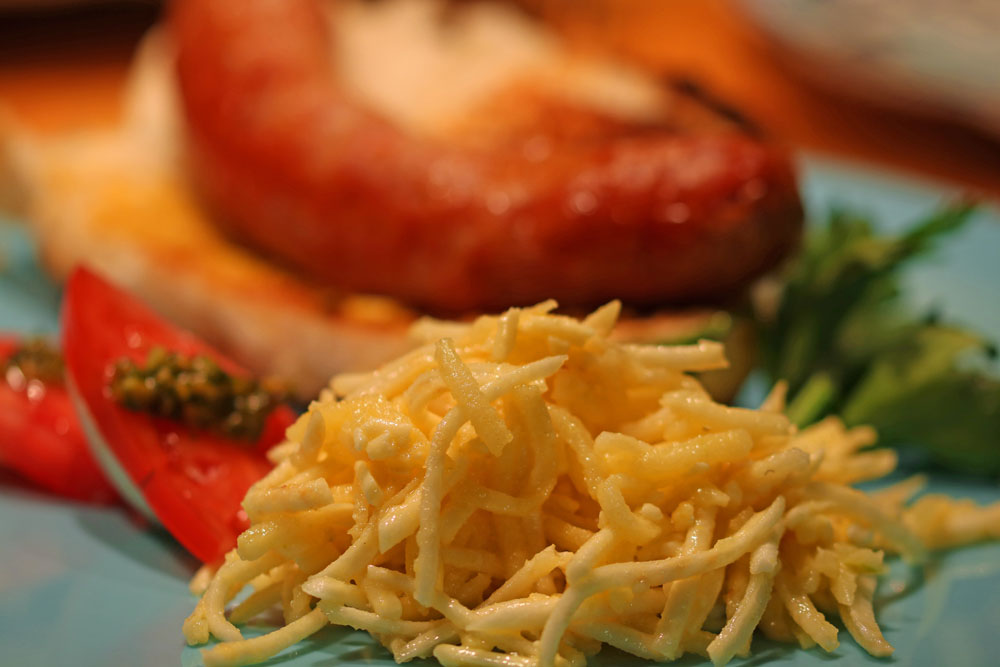 Hey, we want to hear from you!
Don't forget to Comment below, Share & Subscribe to our blog.