Nothing says summer like a fruit pie, especially cherry pie, warm with a generous scoop of vanilla ice cream.  But for me there is one not so tiny problem.  The 425oF oven.  It's impossible to get around that aspect of summer pies, biscuits and shortcakes.  But what you can do is get in and out as quickly as possible and I have a couple secret weapons that let you trick out store bought dough, pass it off as your own, and get back to the beach. Who doesn't love that?  Face it – while home-made crust is a fabulous nod to bygone days and an awesome salute to Gramma, with our 2016 lifestyle and in the dog days of summer, it's a crime against the calendar.  I hereby give you my permission to do this fast fix.
While the crust hacks are my own, this pie recipe is inspired by one of the late Richard Sax's Classic Home Desserts
.  This book is one of my very few must haves and has to be one of the best baking reference books ever written… at least for home-style desserts which are not only my personal favorites, but also the style at New World Grill where I did most of the baking.  I am super excited to find out that it is no longer out of print!  For years it was only available used, but it has been reprinted and is here for the taking!  Not just pies, but cobblers, puddings, dumplings, cakes, tarts, custards, frozen treats and more.  Run! Run! Run!
One of the tricky things about fruit pies is how much thickening – usually cornstarch or tapioca – is enough but not too much.  There are no easy answers here.  It depends on the water content of the fruit, the ripeness, pectin etc.  This generally is not a problem with fall fruits like apples, quince, figs, or pears.   Food52 had a recent post on "the fickle mistress" of the pie world – fresh fruit.  Their suggestions are a lot more time consuming than what I suggest here, but they are also more predictable.  I would NOT follow my recipe if you were trying to use super high water-content fruit like raspberries or blackberries. They are …..like 87% water, 12% seeds and 1% fruit. (Source: my vivid imagination).  Not good contenders. But this would work super well with peaches and a sprinkling of blueberries.  Or cherries as I suggest here.  Keep it to fruit with sturdy flesh and you will be fine.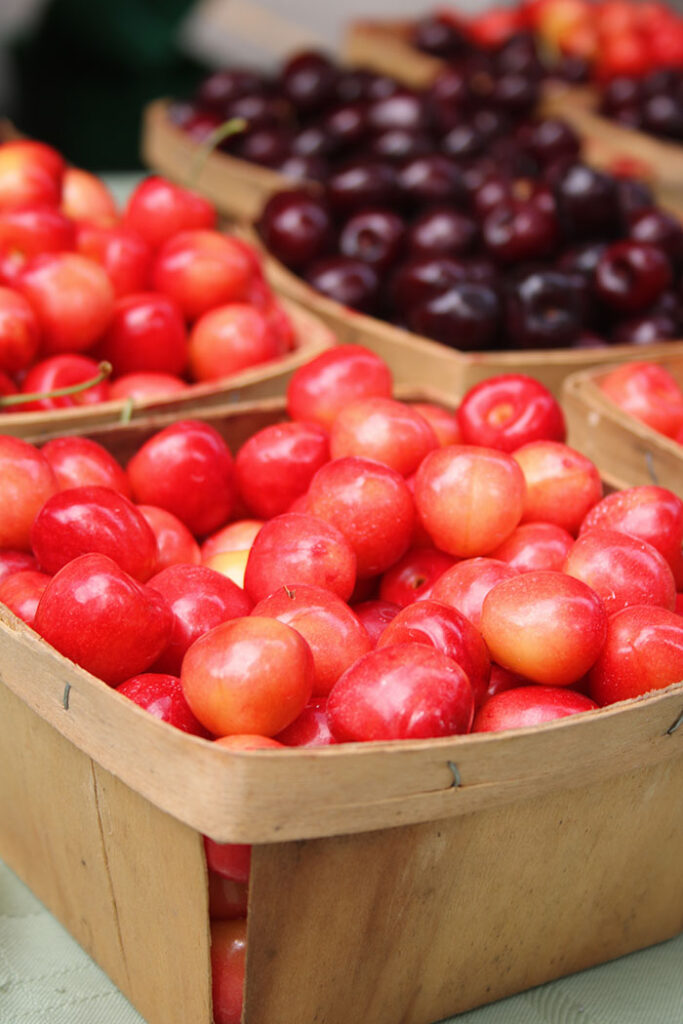 I can't think of cherry pie without thinking of my Grandmother who was often perched on the piano bench belting out a round of Can She Make a Cherry Pie, Billy Boy Billy Boy.  No?? Nobody??  We didn't actually grow up on cherry pies as a summer staple, but my Dad loved him some bings and spending time in Michigan during the summers, they were and are plentiful.  Traverse City has an annual festival dedicated to cherries with races through the orchards, pie eating and pit spitting.  The airport is Cherry Capital Airport.   Fly right over the Leelanau Peninsula mid-summer and you will be amazed by the vision in bright red.  For this pie, I used a combo of those pretty bright red tarts, along with sweet dark cherries and whites.  Whenever I get them, I pit them immediately and freeze by color in ziplocks.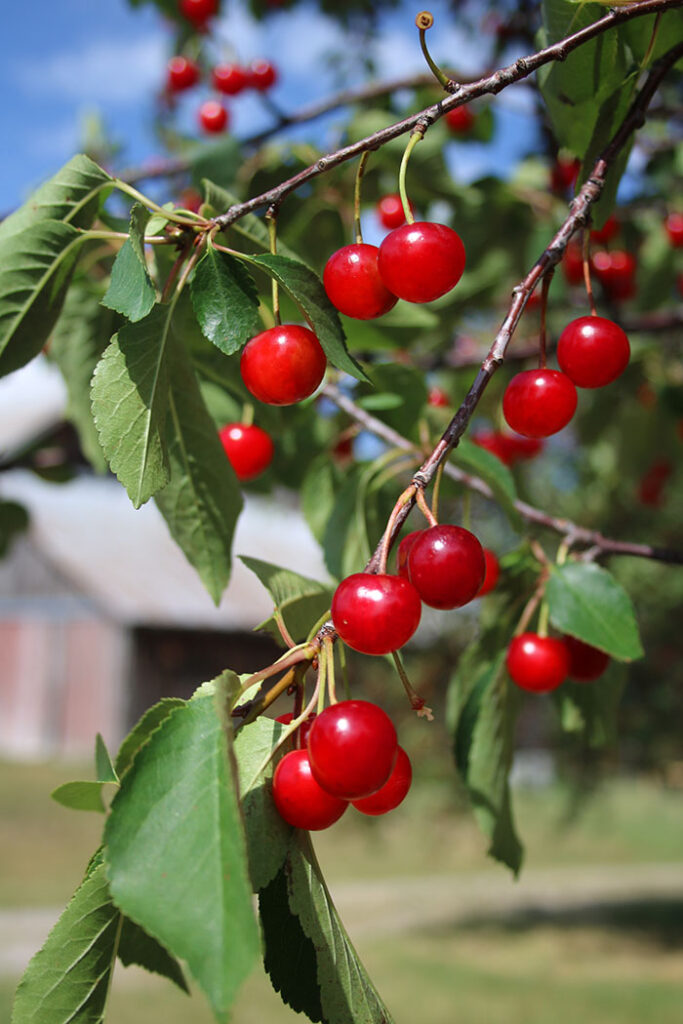 Now on to the inside secrets on how to trick out a ready-made crust and pass it as your own.  These tricks work best for the pre-made dough that comes rolled up and is found in the dairy case, possibly sporting a chubby white guy with a chef toque.   Some of these tips will help you jazz it up and some will help rid you of a soggy bottom. Nobody likes that!
Secrets for success:
Oven should be hot; pastry should be cold. Always 425oF for crusts.
Heat a pizza stone while you preheat.
Use a glass pie plate and butter it well.
Brush egg white on the inside of the raw bottom crust once you've laid it in the pie plate. Back to the fridge til its time to use this.
Brush the top crust with cream or half & half. Sprinkle with sugar
Lay a sheet of foil loosely on the top for the first 15 minutes of baking to help the fruit temperature rise more quickly.
Use a foil-lined (for the mess) sheet pan (to protect the glass on the pizza stone) under the pie.
Get the best vanilla ice cream – no point in cutting corners here!

Double Crust Three Cherry  Pie
Dough for a double crust pie
6-7 cups of cherries, pitted (I like a combo of sweet and tart. If frozen, do not thaw)
1/2 cup sugar
3 Tablespoons cornstarch
1 Tablespoon lemon juice
1 teaspoon almond extract (wonderful flavor for both cherries and peaches)

Secret Weapons:
Butter
1 egg white
Splash of half & half or cream
1 Tablespoon sugar
Glass pie plate, Pizza Stone & sheet pan
Foil
Preheat the oven to 425oF with a pizza stone placed on a rack in the bottom third of the oven.  Butter a 9 1/2" deep dish glass pie plate.
Rollout (or unfold) dough for the bottom crust.  Fit into the pie plate, leaving any overhang.   Brush the inside of the crust with enough egg white to coat.  Roll out the top crust. Refrigerate both crusts until you are ready to use them.
Combine the cherries with the sugar, cornstarch, lemon juice and almond extract.
Remove the top crust from the refrigerator and cut into 3/4" wide strips.
Remove the bottom crust from the refrigerator and fill with the cherries.  If any sugar mixture has settled in the bowl, sprinkle evenly on top of the cherries.   Brush the outside edge of the crust with the remaining egg white and lay half the strips evenly across the top in one direction.  Weave the remaining strips cross-wise "pot-holder  style".  Press the ends into the bottom crust around the outer edge and trim excess.  Flute or crimp the edges.
Dot the top of the pie with butter, brush the lattice with cream and sprinkle with 1 Tablespoon sugar.
Lay a piece of foil on top of the pie (not tightly wrapped and not tented). This will help the fruit heat up faster and keep the crust from starting to brown too quickly.  Place the pie on a foil-lined sheet pan and set on the pizza stone.   After 15 minutes, remove the top foil.  Continue baking until the crust is golden and the fruit is thickened and bubbly.   Keep an eye on the crust color and cover outside edge with foil cut into a ring or entirely, as needed to slow down the crust color while the fruit thickens.   This will take about an additional 45 -50 minutes.
Remove the pie from the oven and let it cool thoroughly on a wire rack to thicken up completely.  Cut it too early and you have a juice bomb.  If you want to serve it warm, reheat it at serving time.
Serves 8 – 10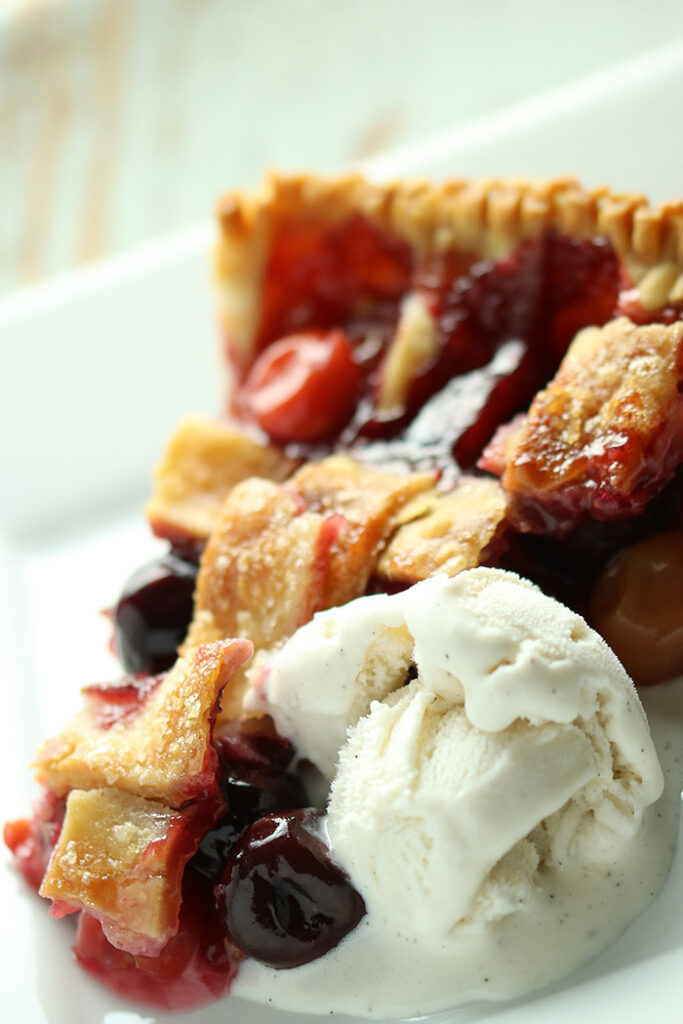 This post contains affiliate links.  For more of my must-have faves, check out my shop.
© Copyright: KatyKeck.com 2016. All rights reserved.
Hey, we want to hear from you!
Don't forget to Comment below, Share & Subscribe to our blog.
Save
Save
Save
Save
Save
Save
Save
Save
Save
Save
Save
Save
Save
Save
Save
Save
Save
Save
Save
Save
Save
Save
Save
Save
Save
Save
Save
Save
Save
Save
Save
Save
Save
Save
Save
Save
Save
Save
Save
Save
Save
Save
Save
Save
Save
Save
Save
Save
Save
Save
Save
Save
Save
Save
Save
Save
Save
Save
Save
Save
Save
Save
Save
Save
Save
Save
Save
Save
Save
Save
Save
Save
Save
Save
Save
Save
Save
Save
Save
Save
Save
Save
Save
Save
Save
Save
Save
Save
Save
Save
Save
Save
Save
Save
Save
Save
Save
Save
Save
Save
Save
Save
Save
Save
Save
Save
Save
Save
Save
Save
Save