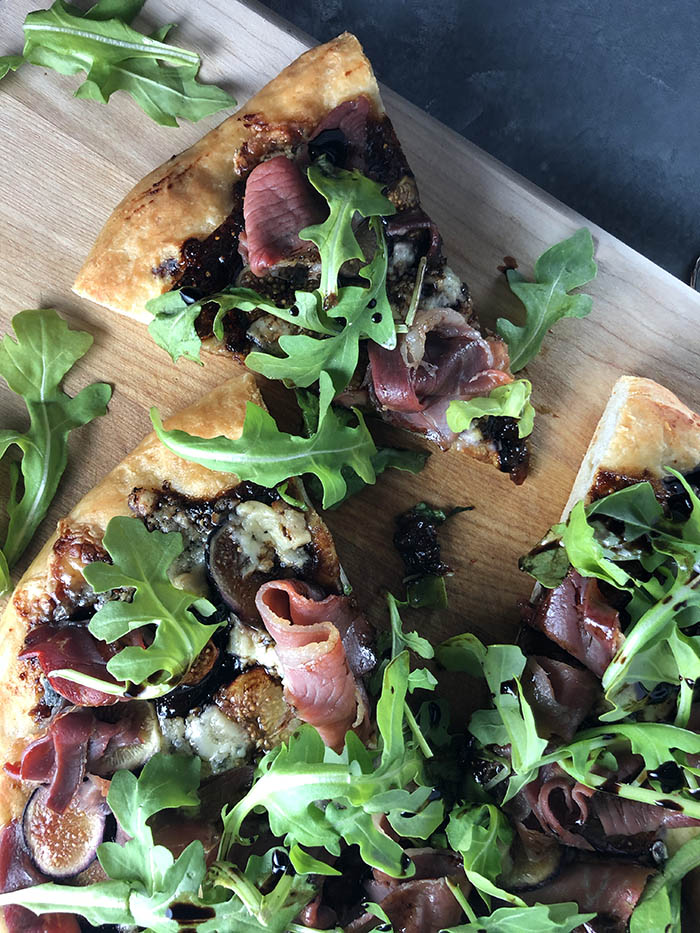 This Fig Prosciutto Pizza is a far cry from those sticky Newtons you grew up on. Sweet jammy fig butter, with crispy and salty Prosciutto, creamy rich Cambozola and fresh luscious figs let this pizza span a meal from appetizer to dessert, while achieving rock star status along the way.  If you are like me, your first exposure to figs was the famous Fig Newton. Can't say I was really a fan. It was kind of gummy and way too seedy for a kid. But yet, against all odds, the Newton became a fan favorite. Must be all that sugar. What really surprises me though is that Newtons are almost always the end of the line for the poor fig. After childhood, we fickle feasters don't look back and all too often have never seen a fresh fig, much less tasted one. I ran across them in the garden when staying with friends in Italy some thirty years ago. My hostess was not a fan of the texture, and I get that, especially if you pull it from the tree and chomp into it, apple-style. But the flavor!! Oh my. It is a perfect foil for a creamy rich blue cheese and some salty Prosciutto. Hmmm…let me think what else? Thinking. Thinking. Thinking. Pizza dough? Now we're cooking with gas!!!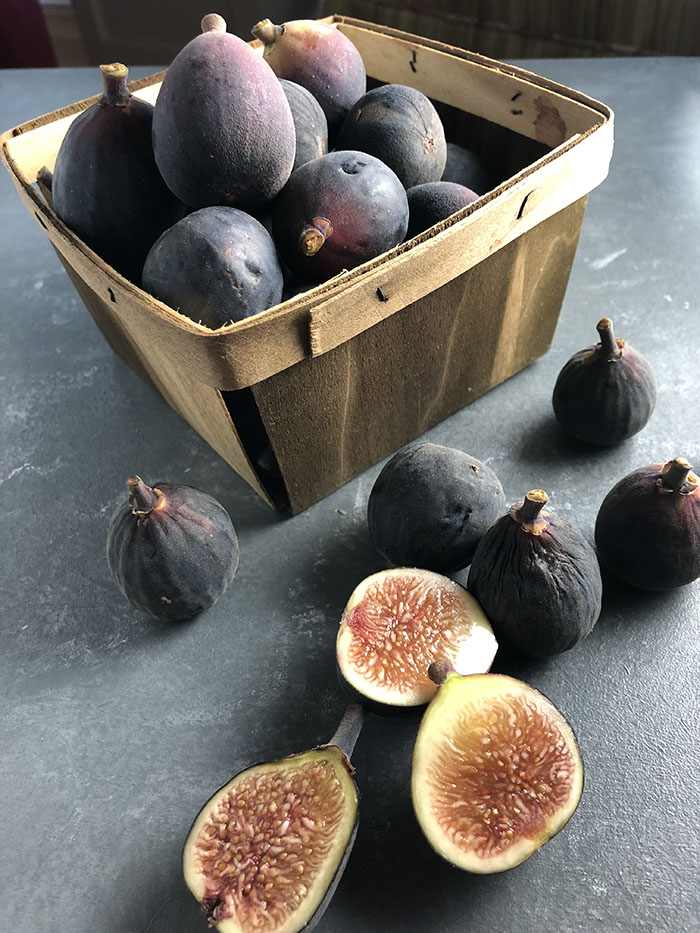 Fresh figs have a fairly short season – found both in the spring and the fall, or if you are in Cali maybe a bit longer. They date back to 9000+ BC and were cultivated more than 1000 years before wheat or rye. Their existence is well documented from Aristotle to the art world. I mean, where would we be without fig leaves? Spanish missionaries brought them to the US in the late 1700s, where the Mission variety thrived in the California sunshine. To this day, Black Mission figs are among the most popular and that is what I used here.
Dried figs used to be a bit tough and required soaking (brandy wouldn't be so bad) to use. But today there are unsulfured, wonderful, juicy varieties available in resealable pouches. Valley Fig offers organic dried  Mission figs and Made in Nature offers dried Smyrna figs that are velvety and have "hints of honey, jam and butterscotch." If you can't find fresh figs, try chopping some of these in place of the fresh. As Made in Nature's package says, "… congrats, nature. You really nailed it on this one." They're "figgin awesome."
For the cheese, I used Cambozola, but there is a wide range of blues from which to choose, especially Stilton or Roquefort. I like the creaminess and richness of Cambozola as an offset to the salty meat and juicy fruit. This cow's milk cheese, made in Germany, is a triple crème-ripened blue cheese and you might liken it to a cross between a blue and a brie. You would not be all wrong. While the name appears to be a portmanteau of Camembert and Gorgonzola given its similarity to the rich creaminess of Camembert and the blue bite of Gorgonzola, the name is also a nod to its terroir. It is made in Kempten (in Bavaria), whose Roman name is Cambodunum.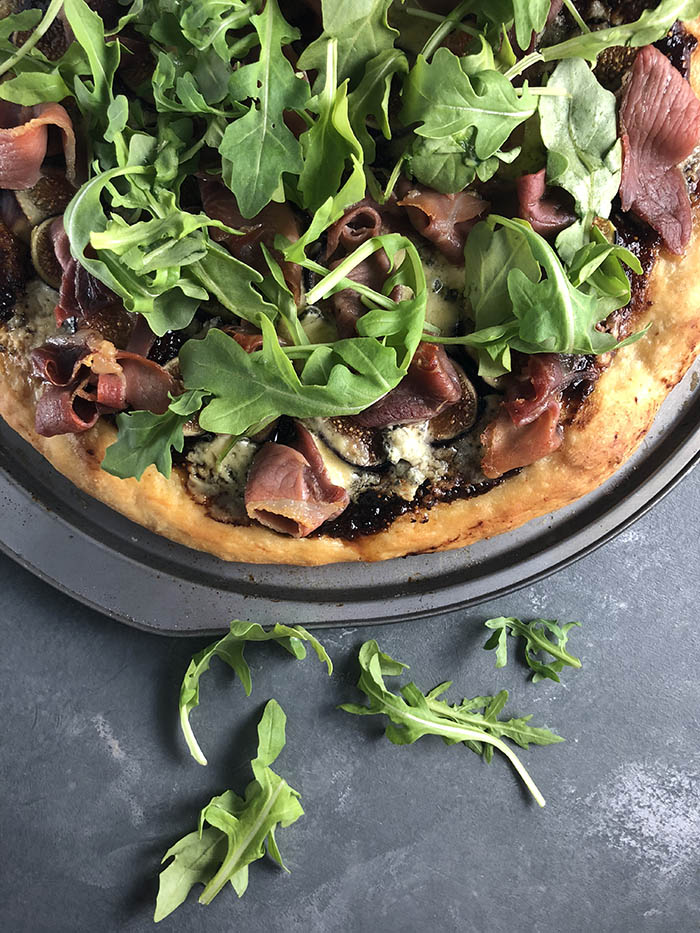 Fig Prosciutto Pizza
This is really another non-recipe recipe, which I know y'all love. Proportions are not essential when topping pizzas. Actually, even choosing the ingredients is not critically important. Just remember to aim for a balance of sweet, salty, fat and acid and a mix of textures, and if you dare, a contrast in temperatures. As written below, the jam provides sweetness; the cheese and meat are salty; the cheese adds creamy fat and richness; the vinegar add acid and serves as a light (just a drizzle) dressing for the arugula. The textures range from creamy to crispy, and the temperature is hot pizza with cold salad. Done and Done!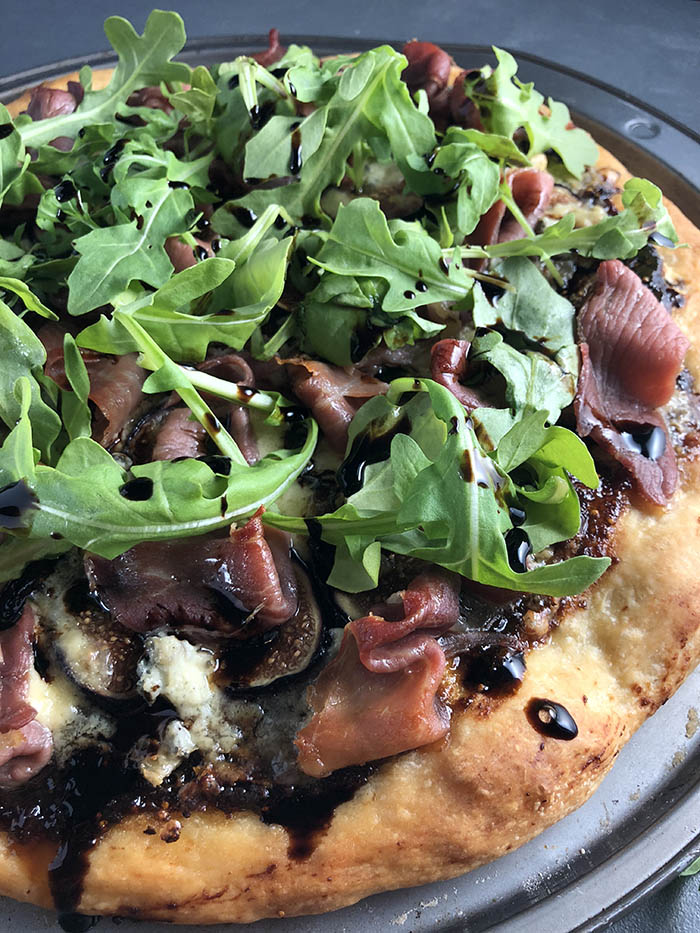 Let me know how it goes, and – as always – I love to read your comments on the website and see your photos on Instagram.
Happy Fall!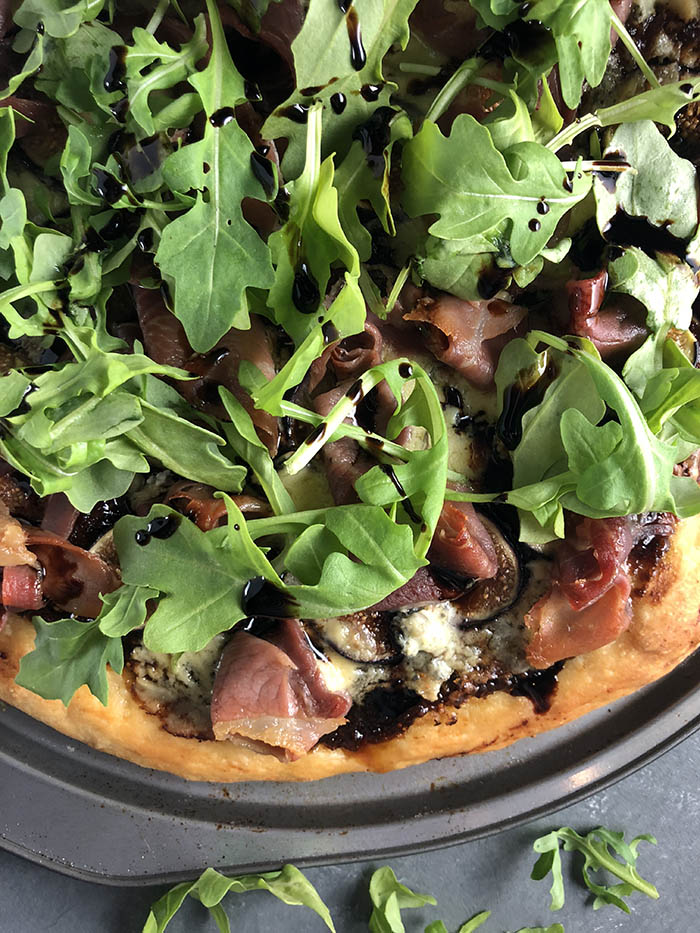 Print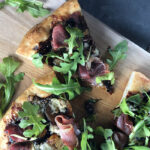 Fig Prosciutto Pizza with Blue Cheese & Arugula
---
Author:

Total Time:

30 minutes

Yield:

8

slices

1

x
Description
This Fig Prosciutto Pizza is a far cry from those gummy Newtons you grew up on. Sweet jammy fig butter, with crispy and salty Prosciutto, creamy rich Cambozola and fresh luscious figs let this pizza span a meal from appetizer to dessert.
---
1

-pound fresh pizza dough (see notes)

11

-ounce jar of Fig Butter (or fig jam) – may have leftovers
Favorite oil for drizzling on crust (I wouldn't be mad if you used truffle oil once it comes out of the oven, but brush the crust with something less delicate before baking. Lemon oil is nice)

8

fresh figs, about

1/3

pound, sliced

1/2

pound Cambozola cheese, or other creamy blue like Gorgonzola

8

slices Prosciutto

3 cups

of arugula
Crema di Balsamico, or a balsamic reduction
Flaky sea salt to finish – like my beloved Maldon's
---
Instructions
Preheat oven and pizza stone to 425oF. Check pizza dough directions to confirm this is best for your dough.
Lightly flour a work surface and stretch or roll the pizza dough into a 12" diameter round. If you are using the roll-out dough that comes in a popping-fresh canister, follow those directions and roll into a rectangle, but plan on using more topping ingredients. Transfer the dough to a lightly oiled pan.
Spread the fig butter to create a thin layer, leaving a 1/2 " border of dough around the outside. (See notes.) Brush the exposed outer ring of dough with a favorite oil.
Set the pan on the pizza stone and bake for 10 to 12 minutes until the crust is set.
Carefully remove from oven, adding the figs, some dollops of Cambozola and the Prosciutto. I like to take a half-slice of Prosciutto and twirl into a rosette, but some prefer to chop it and distribute the flavor more uniformly. Maybe you should be making two pizzas?
Return to oven and bake for 10 more minutes or until the crust is golden and the Prosciutto starts to crisp. The cheese should be melty.
Remove from oven and top with the arugula. Drizzle with a balsamic reduction (or Crema di Balsamico) and sprinkle with a flaky finishing salt.
Notes
Dessert Pizza or Appetizer? Actually, I have served it both ways. Spread the fig butter according to taste and purpose. If you use the whole jar (don't judge) it will be pretty sweet. But it will also be nice and jammy. Depending on your taste, you might want to load up a bit more on the salty items like the cheese and Prosciutto.
Trader Joe's makes a great fresh pizza dough, stashed in the cheese and prepared food refrigerator case. You can find it made with white flour, whole wheat and even gluten-free.
Stonewall Kitchen makes a lovely Fig & Walnut Butter and Valley Fig offers three flavors of fig spread. For this test, I used the Trader Joe's Fig Butter.
Prep Time:

10 minutes

Cook Time:

20 minutes

Category:

Main, App, Dessert

Method:

Oven

Cuisine:

Italian, American
Keywords: fig prosciutto pizza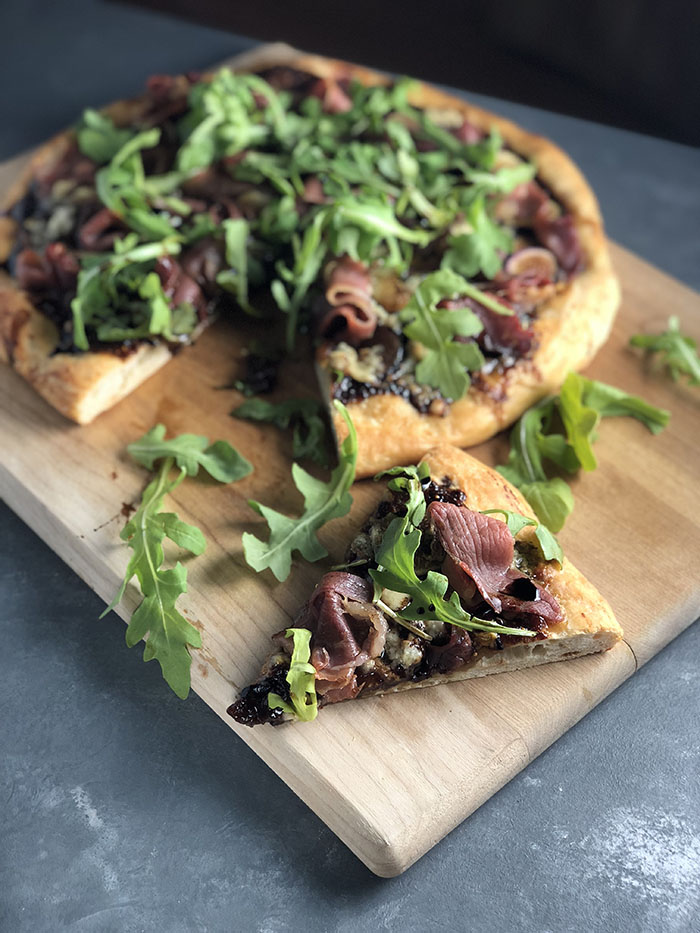 © Copyright: KatyKeck.com 2018. All rights reserved.
Hey, we want to hear from you!
Don't forget to Comment, Share & Subscribe to our blog.