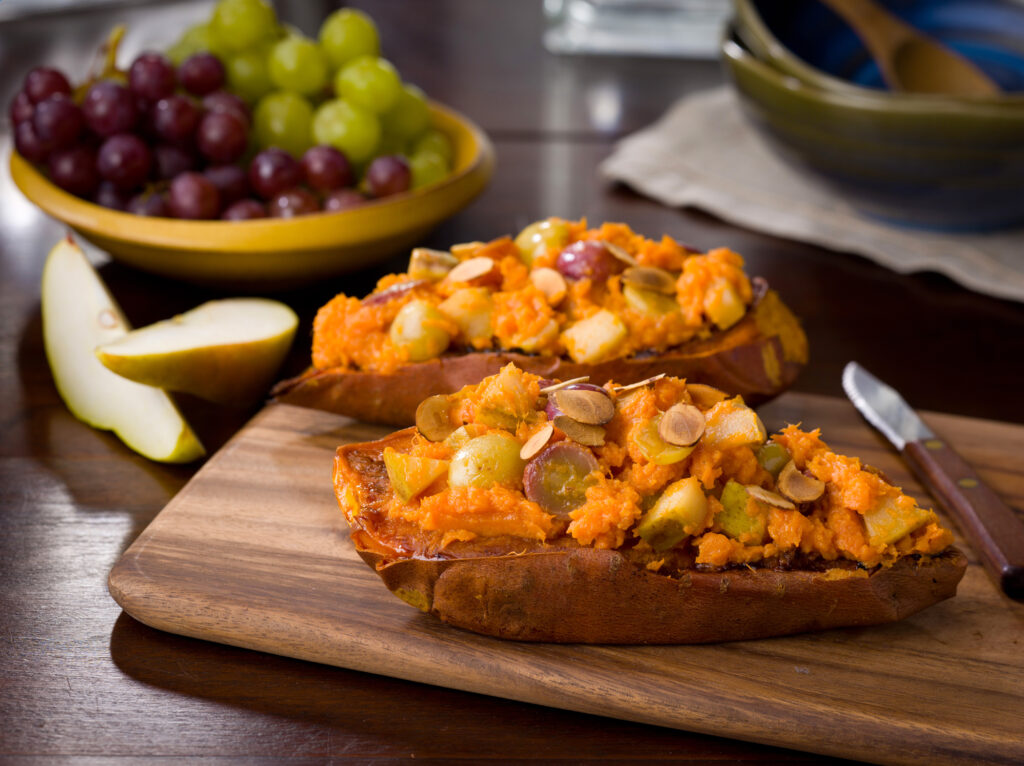 Many sweet potato recipes use a lot of butter to carry the flavor, but this recipe amplifies the sweetness of the roasted fruit and their juices and a sparing dash of toasted nuts and prosciutto. The latter two give the dish a rich and nutty /salty surprise that plays off what can sometimes be a cloyingly sweet one note samba. Not here! Tango for two.
Ingredients
2 large sweet potatoes (approximately 2 pounds)
1 cup grapes
2 plums, chopped
2 Tablespoons firmly packed brown sugar
1 Tablespoon honey
1/4 teaspoon ground cinnamon
1 Tablespoon slivered almonds, toasted
1 ounce of prosciutto, finely chopped
Directions
Preheat to 425°F.
Wash sweet potatoes and prick gently with fork. Place potatoes on an aluminum foil‐lined baking sheet. Bake for 1 hour to 1 ¼ hour or until tender, or alternatively microwave per the direction of microwave's manufacturer. When potatoes are tender, remove and cool.
Meanwhile, place grapes on a rimmed non-stick baking sheet, lightly coated with non-stick cooking spray. Bake for about 15 minutes, shaking the pan occasionally to turn the grapes. Add plums to baking sheet; bake 8 minutes longer or until grapes start to shrivel and are lightly browned. Remove from oven, and transfer grapes and plums to a small mixing bowl. Add brown sugar, honey and cinnamon to fruit and stir until brown sugar has dissolved.
Reduce oven temperature to 350°F. When cool enough to handle, cut potatoes in half lengthwise; scoop pulp into a large bowl, and mash by hand or with hand mixer. Fold fruit mixture into potatoes, adding the juices as needed; gently stir until blended. Transfer mixture to a one-quart soufflé dish (or four individual 8-ounce ramekins), lightly coated with non-stick cooking spray. Top with almonds and chopped prosciutto.
Return to oven and bake at 350°F for 15 minutes or until thoroughly heated.
Serves 4-6
Nutrients per serving, based on 4 portions:
144 calories, 3 gms fat, 27 calories from fat, 1 gm saturated fat, 6 mg cholesterol, 157 mg sodium, 2 gms dietary fiber, 4 gms protein.