So here's the full disclosure on Garlic Scapes – you are either going to have to run right now or bookmark this page for next year. I've kind of being keeping this secret recipe under wraps so there would be more for me (sorry, not sorry). Depending on your location, you may still be able to get this magical ingredient. #fingerscrossed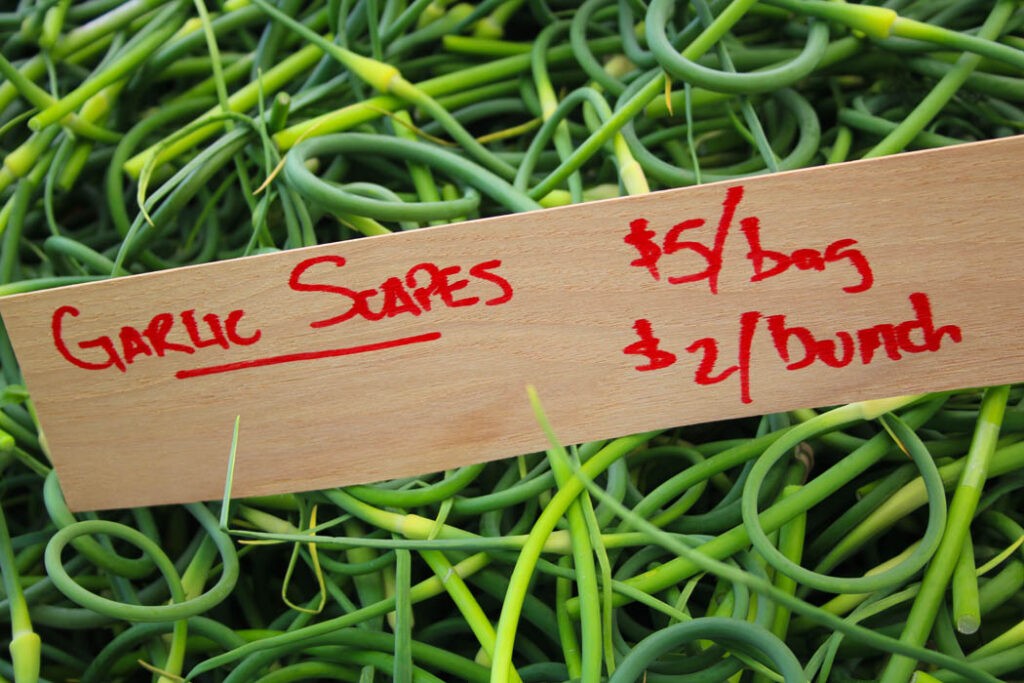 Garlic Scapes. While it's not new to me – I have been going mano a mano with it for years to get the twisty, curly scapes straight enough to chop – it was only last year that I learned about making bundles and roasting them. Scapes are the bud of the garlic plant and are a milder, slightly sweeter version of the bulb. For years, I chopped it – best I could – and threw it raw in salads, especially hearty ones like potato salad. Or sautéed it in brown butter and tossed it with pasta, wilted greens, and some good parm. For a full FAQ on this magical shoot, check out Just Crumbs.

Source (right photo above and below): Maple Achers
It is no coincidence that I fell in love with this recipe at exactly the same time I met the amazing Russ and Linda Hepler-Beaty of Maple Achers Farm. Who doesn't love a couple that come to farming a bit later in life and change the spelling of acres to better describe the pain of toiling away in their fields. I met them in Leland, Michigan (Thursday markets during season) with their super festive spread of interesting and often heirloom vegetables stylishly presented from their Veggie-mobile – a tricked out vintage (1965) Airstream with a brightly striped yellow canopy. Years of catering, food styling and a more recent foray into photography make me a sucker for a gorgeous spread. Too often farmers line the wooden baskets with plastic bags for grab and go service, which in my mind not only ruins the aesthetic but also the compostable nature of fresh produce.

Linda is a genius at using props that scream FARMLAND – maple sap buckets filled to overflowing with Portuguese kale bunches, a 3-tiered galvanized cake stand with bundles of herbs, wooden baskets and colorful fabrics. She and Russ are quick to offer a cooking suggestion – cook the fava beans like edamame – and general advice – drink wine while shelling peas. Hell, yes.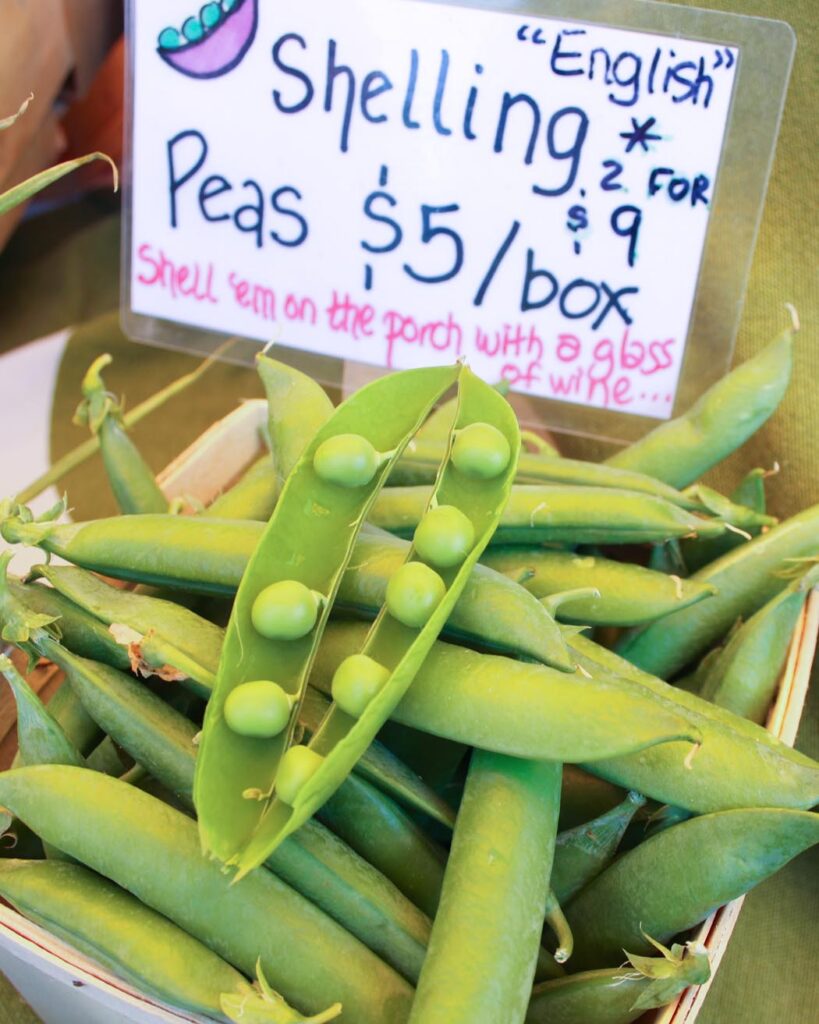 The 10 acre farm in the heart of Leelanau County (Maple City, Michigan) is Certified Naturally Grown. Using plot rotation, nourishing fallow ground with cover crops, along with a strategic release of 300,000 lady bugs over the summer – you CAN get them on Amazon. I checked – they plant about 3+ acres and as foodies-first offer a more unique and interesting veggie line up than most farm stands.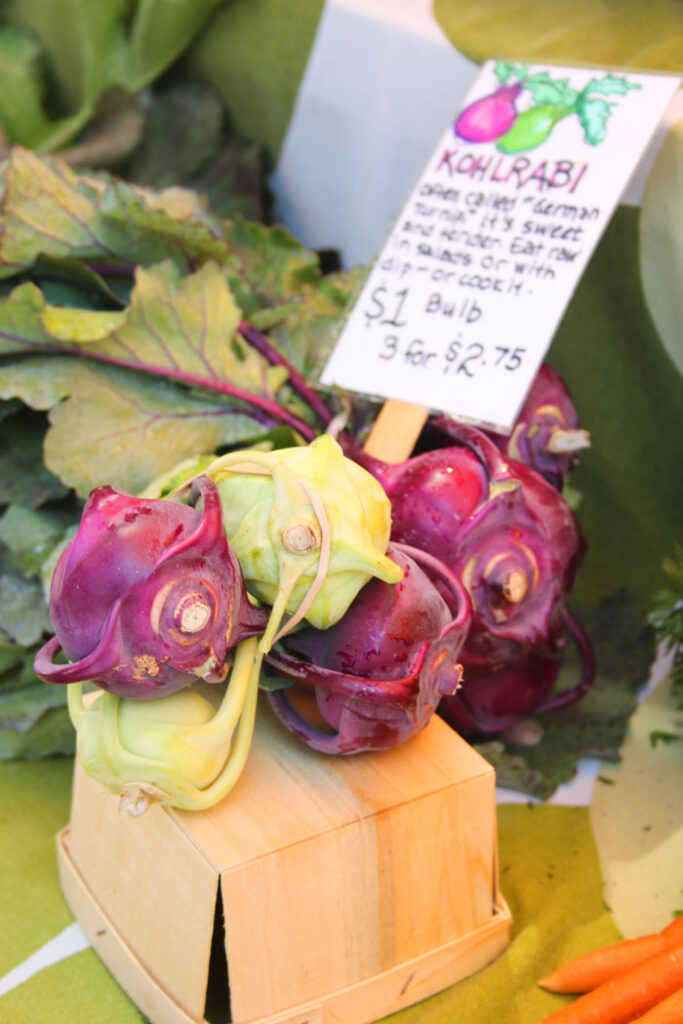 Almost all vegetables come in a variety of colors – beets are garnet, orange and white; potatoes – red, white & blue; cauliflower is lime, white, orange and lavender; even currants are red and pink champagne. Radishes range from yellow Polish Helios to lavender Asian Daikons, with about 6 stops in between. Russ suggested grilling the Bravo daikon, and Linda chimed in with the idea to add grilled escarole, and top with feta and a drizzle of vinaigrette.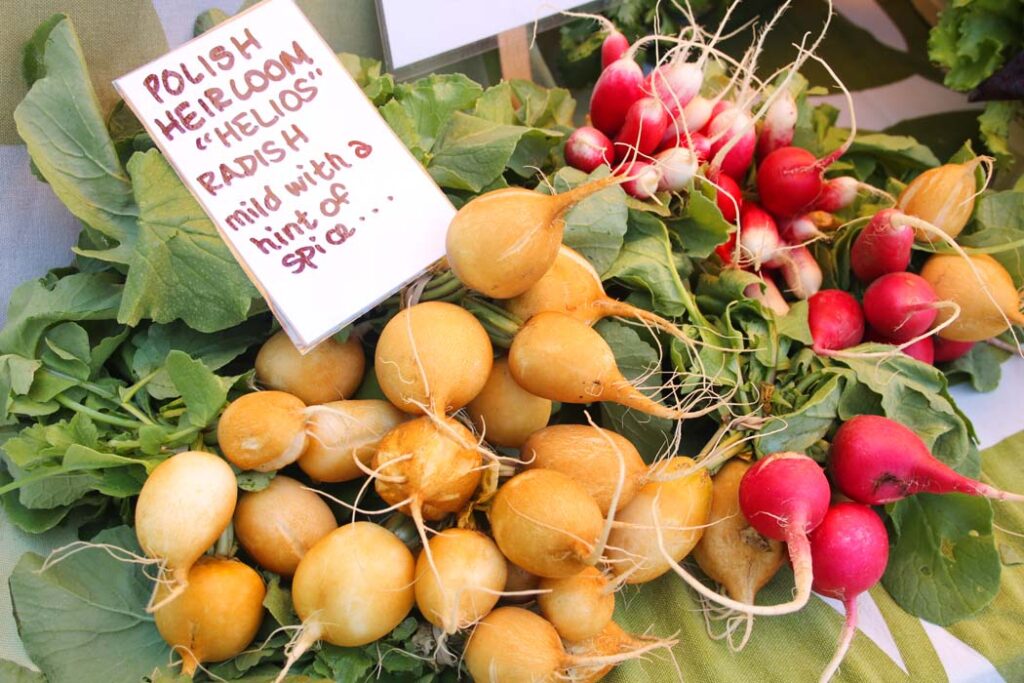 Having only a few scapes to test their roasted garlic scapes recipe last year, I waited all winter for the first sign this spring. Apparently used to selling them one by one, I surprised the Grand Haven farmers by scooping up their entire stash. I have since made them a few times and they have that mouth-pop-ability of edamame. Olive oil and salt – what could be bad?
If you are in Leland on a Thursday, check out Maple Achers and try a new veggie. Otherwise, run, run, run to gather up a handful of garlic scapes while you still can! And yes, I'm still holding, so let me know if you are desperate.
Roasted Garlic Scapes
Preheat Oven to 425oF.
Bring a large pot of salted water to a boil. Drop the garlic scapes in the boiling water and cook for about a minute until bright green. Rinse with cold water to stop the cooking.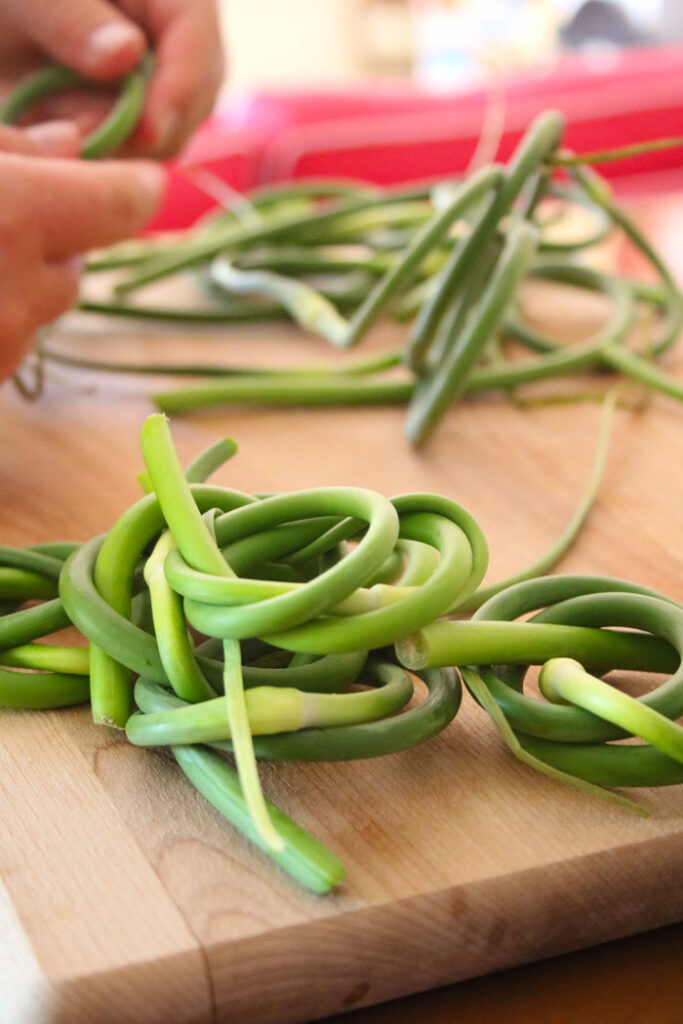 Coil each scape into a circle, following the natural shape, and tucking in the ends in to hold it.
Transfer to a bowl and drizzle with olive oil, tossing to coat.
Arrange on a sheet pan, sprinkle with salt, and bake for 12-15 minutes until the ends start to crisp up. Feel free to use a hot grill instead – equally delicious.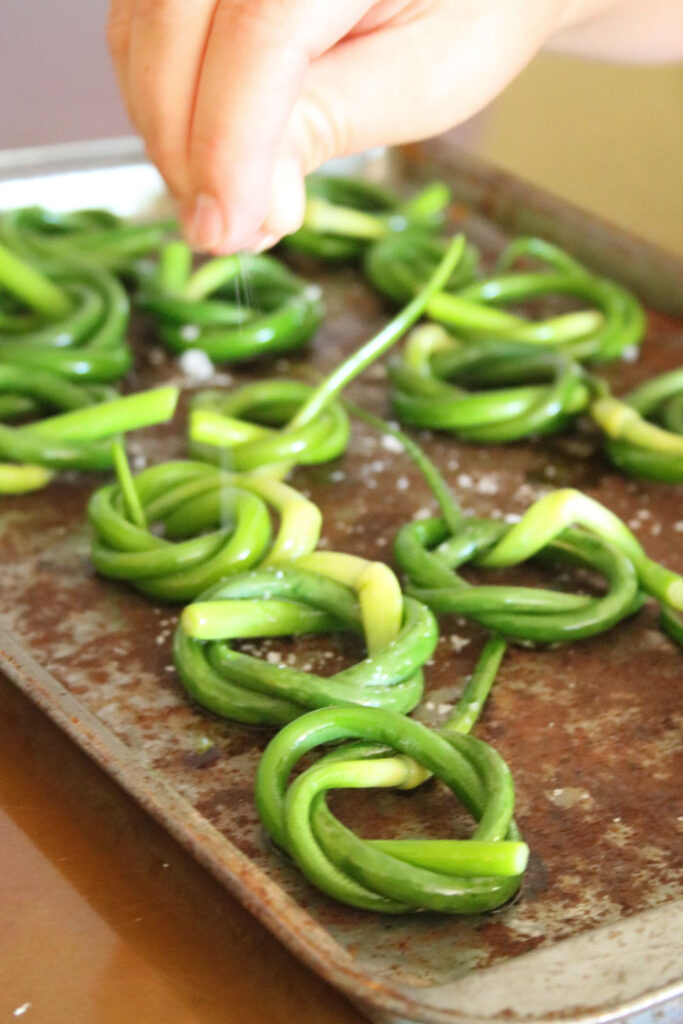 Transfer to a serving plate and sprinkle with additional salt, if needed. Best served with a glass o' vino!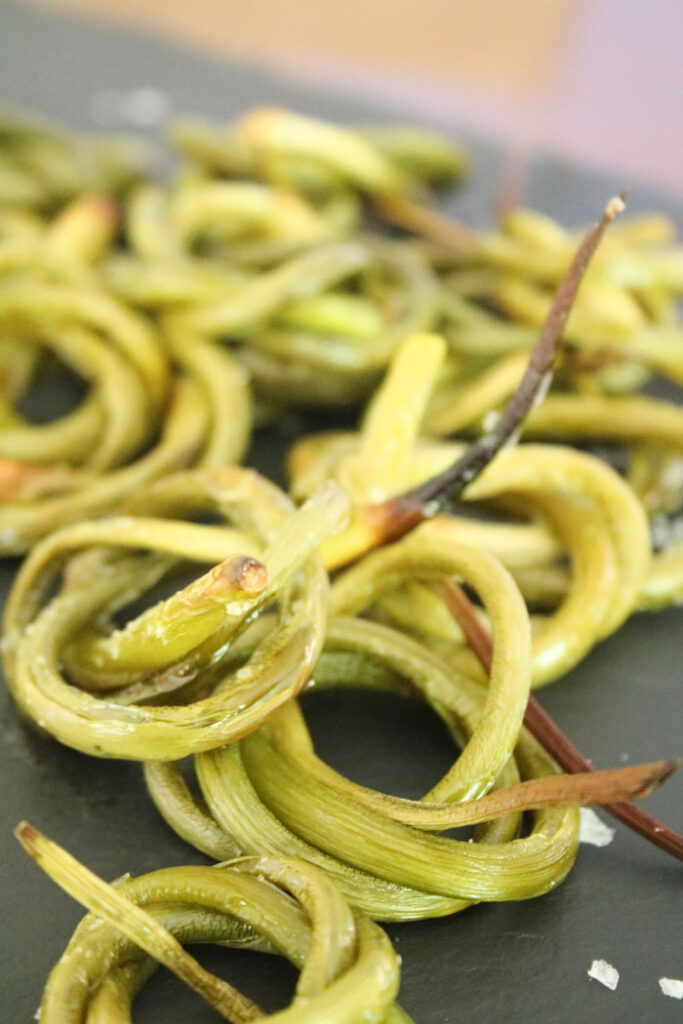 This post contains affiliate links. For more of my must-have faves, check out my shop.
© Copyright: KatyKeck.com 2016. All rights reserved.
Hey, we want to hear from you!
Don't forget to Comment below, Share & Subscribe to our blog.
Save
Save
Save
Save
Save
Save
Save
Save
Save
Save
Save
Save
Save
Save
Save
Save
Save
Save
Save
Save
Save
Save
Save
Save
Save
Save
Save
Save
Save
Save
Save
Save
Save
Save
Save
Save
Save
Save
Save
Save
Save
Save
Save
Save
Save
Save
Save
Save
Save
Save
Save
Save
Save
Save