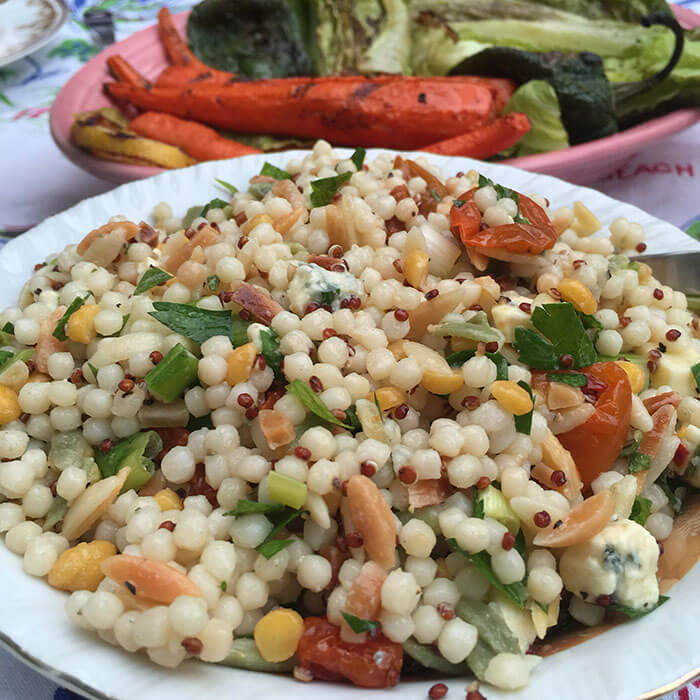 When I find something that will change your life – FOREVER – I must share. I'm not such a fan of pre-seasoned packages, like those dried bean soup mixes loaded with some heavy doses of sodium, but I recently stumbled across this beauty at Trader Joe's. It's simply called Harvest Grains Blend and can quickly become the rock star of a wonderful fall Harvest Grains Salad. I wanted to take issue with the fact that orzo is a pasta and not technically a grain, but I guess pasta started as a grain, right? There's really no reason to get cranky, because this is a great Mama's helper. It has Israeli couscous (the jumbo pearl size), three colors of orzo (plain, red pepper and spinach), split baby garbanzo beans (so cute), and red quinoa. The beauty of the pre-package is that it takes the guesswork out of cooking. You can easily make your own blend, or even just use one single grain/pasta. But if you are mixing, you need to pay attention to cooking times so you don't, for example, throw couscous and wild rice into the same pot at the same time. Cooking time here is a mere ten minutes.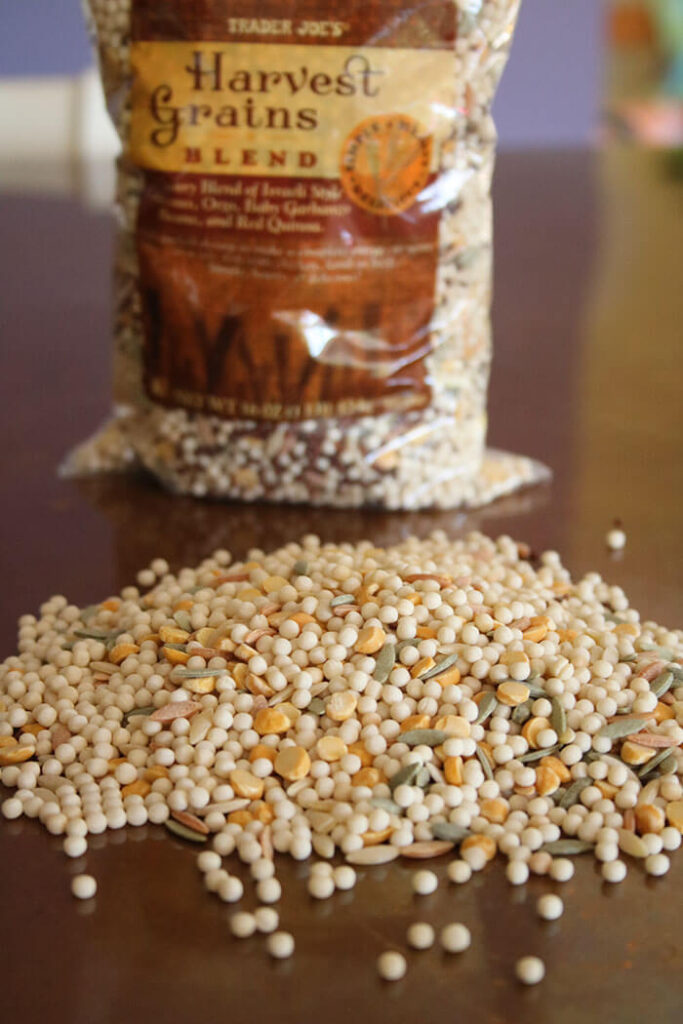 Israeli couscous is larger than standard coucous and is slightly chewy and comes in a variety of flavors. Shown here is a tri-color blend, including unflavored, spinach and tomato. The pasta in the center is orzo.
I hope you are taking advantage of the last of the season's juicy tomatoes. I have detailed before how you can simply split them, put them cut side up on a sheet pan, sprinkle with salt, and slow roast them to concentrate the flavors and dehydrate the liquid. From there, once cooled, they are easy to Ziploc and freeze. I use them all winter in frittatas, cornbreads, pastas, soups and stews, on pizzas, focaccia, and in salads. They are a sweet treat come February, and now is the time to make it happen!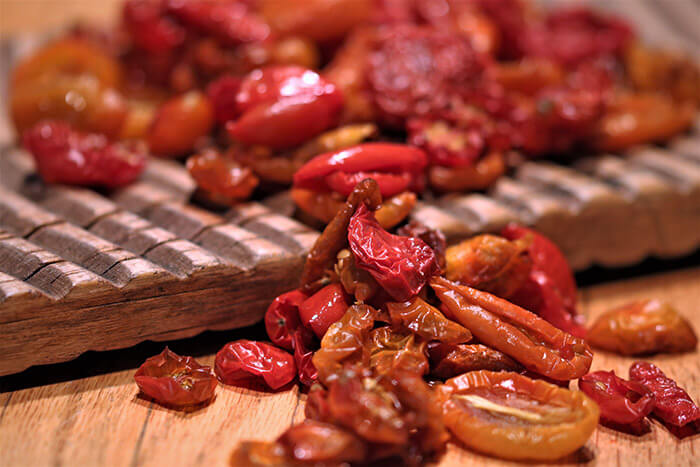 Tomatoes are a natural BFF to blue cheeses. While blue can be made with cow's, goat's or sheep's milk, all varieties share a common production technique which involves ripening them using cultures of the mold Penicillium. The green or blue veins are created during the aging process by spiking with stainless steel rods to aerate the cheese and encourage the mold's growth. It's not hard to see where the spikes went in on this hunk of Glacier Wildfire Blue. To learn more, check in with our friends at The Cheese Lady for great info on many cheeses, blue and beyond.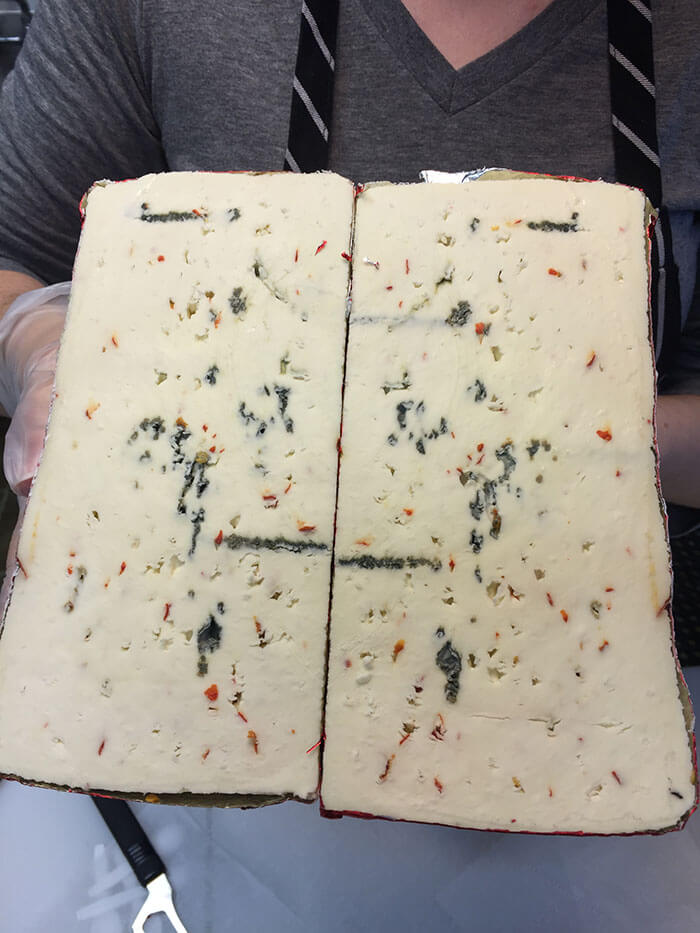 For this salad I chose Delft. It's a buttery cow's milk cheese with a clean finish – a bit sweet and not too salty. This cheese comes from the Netherlands and is so named for its resemblance to Delftware pottery. The blue veins and milky whiteness resemble the lovely pottery, as if broken and put back together.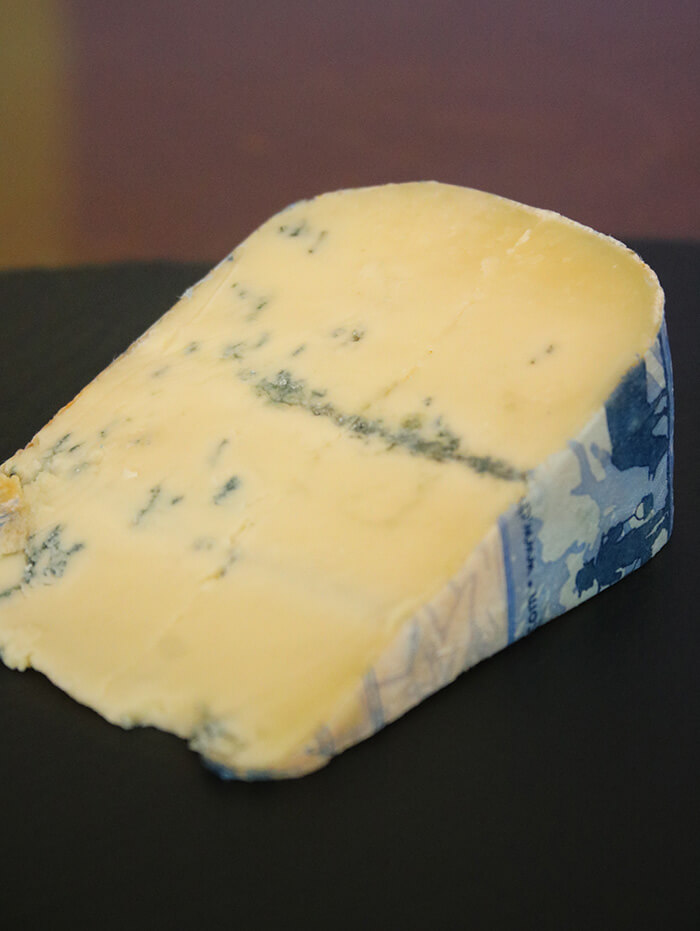 Print
Wonder Woman Superfood Salad with Curried Avocado Dressing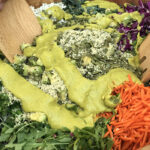 This superfood salad with creamy dreamy curried avo dressing will make you feel good about every decision you have ever made. It's mean, it's green, it's vegan, and it's chock-full of protein. But forget all that, it's super delicious and oh so satisfying.
Author:
Yield: Chef's Choice
Category: Entree, Salad
Cuisine: Vegan
Ingredients
Greens
Tuscan kale (aka lacinato, dino, cavolo nero or black kale), cut in thin ribbons
Rainbow chard, sliced
Baby kale
Spinach, chopped
Arugula, torn
Watercress
Pea shoots
Veggies
Grated carrots
Grated turnips
Grated radishes
Purple cabbage, thinly sliced
Steamed broccolini, chopped
Avocado, chopped
Plant-based Proteins
Quinoa, cooked according to package
Beluga lentils, cooked according to package
Pumpkin seeds
Sunflower seeds
Hemp hearts
Chia
Toppings
Golden raisins
Microgreens
Curried Avocado Dressing
1 Tablespoon ground cumin
1 teaspoon ground coriander
1 teaspoon ground turmeric
3 cloves garlic, peeled
1 1/2 ripe avocados, peeled, pitted, cut into chunks
3/4 cup white balsamic vinegar
1/2 teaspoon salt
1/4 teaspoon ground black pepper
1/4 teaspoon red pepper flakes
1/2 cup extra virgin olive oil
1/4 cup water, or as needed
Instructions
In a small sauté pan, toast the cumin, coriander and turmeric for about one minute, until fragrant.
With the motor running, drop the garlic into the bowl of a food processor. Turn off and add the avocados, pulsing a few times to a chunky puree. Add the vinegar, toasted spices, salt and peppers and pulse several times until combined.
With the motor running, drizzle in the olive oil until smooth, adding water as needed to desired consistency.
Notes
Makes 2 1/2 cups. Store in the refrigerator, in an airtight container.
This dressing is designed for a hearty green and grain salad so is aggressively seasoned. If you want to use this creamy green goodness in a more delicate dish, cut back on the spices and garlic a bit.
If you don't have white balsamic, use another mildly flavored and light colored vinegar, like rice vinegar.
Curried Avo Dressing is wonderful as veggie dip, a sandwich spread, fajita topper, potato salad dressing and so much more.
Don't you want to just dive headfirst into this Harvest Grains Salad?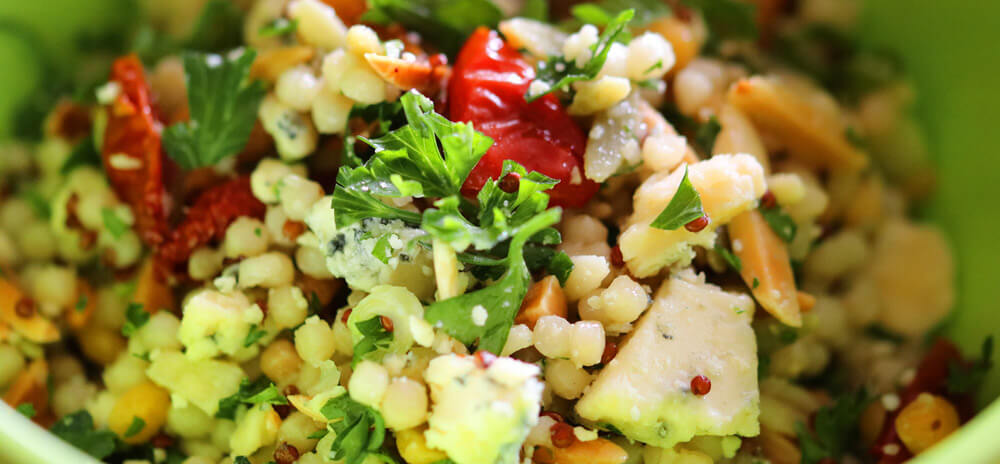 © Copyright: KatyKeck.com 2017. All rights reserved.
Hey, we want to hear from you!
Don't forget to Comment, Share & Subscribe to our blog.