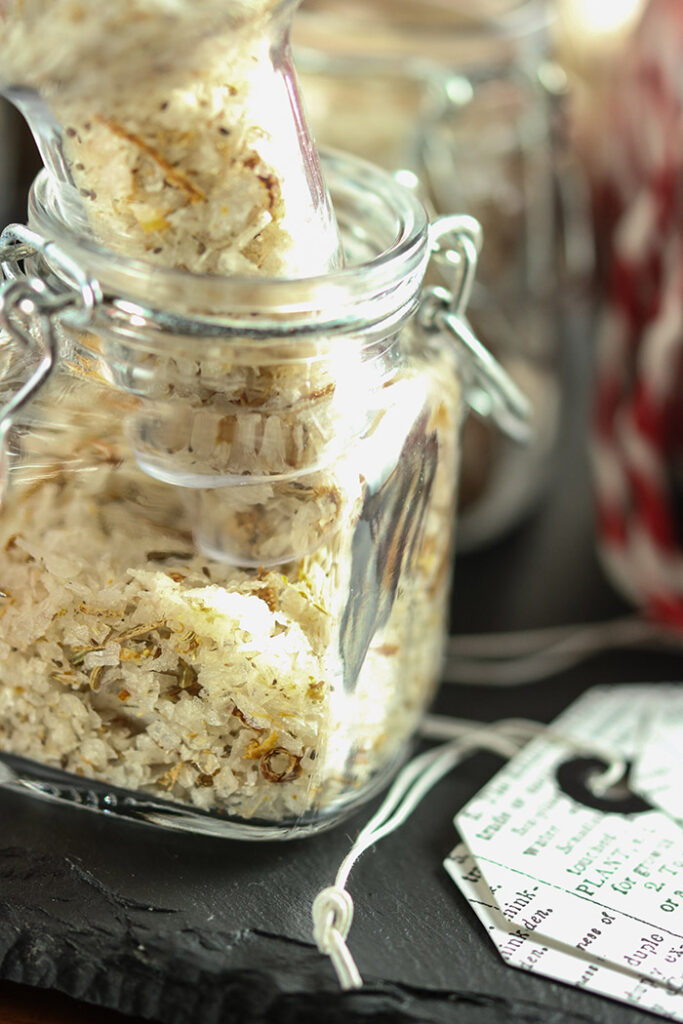 Salt & Pepper in da House
Seasonings Greetings! Just saying that reminds me of the Christmas card from years ago where I clipped measuring spoons to my lobes and stood among hip-high bags of spices in a market – caption: Seasonings Greetings. Cheesy? You betcha. But that's the way I roll. And giving gifts that are edible is another way I roll. Be honest. What rivals something homemade? Maybeeeeeee….something that you can use up? I think so. This salt & pepper gift pairing does double duty as homemade and consumable, and it is a perfect stocking stuffer. Or a gift exchange. Or a hostess gift.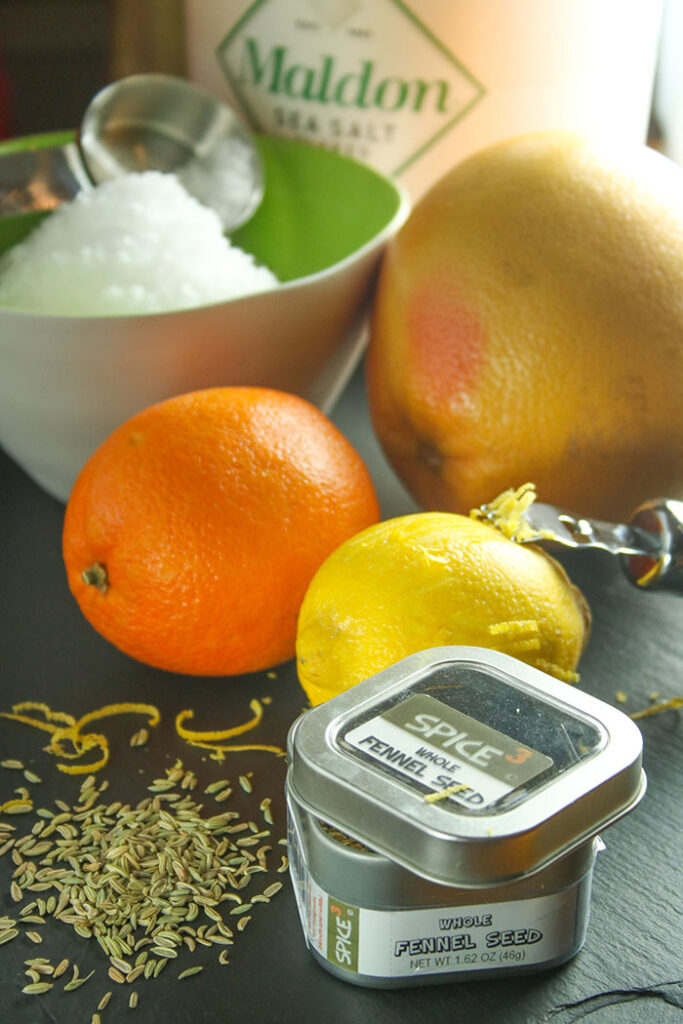 Citrus and Seeds
This salt blend benefits from a quick round of oven-drying citrus zest. Combining orange, lemon and grapefruit adds just the right amount of sweetness and acidity. And, the added fennel and celery seeds add a hint of fresh herbs, but provide a shelf life longer-lasting than fresh.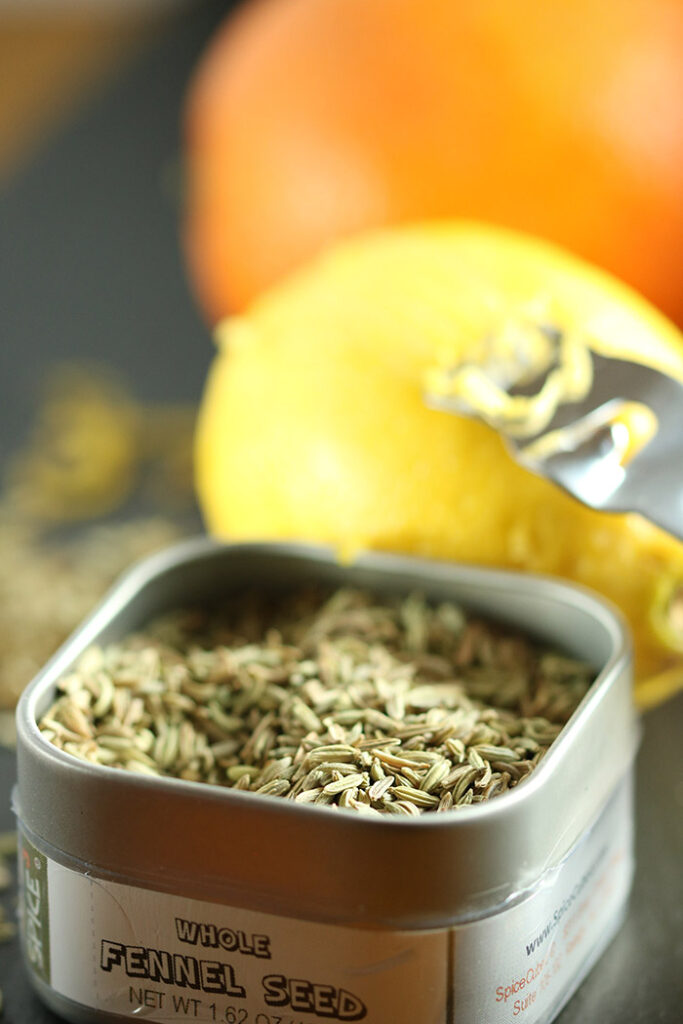 Picking the Right Salt
I am a big fan of Maldon Sea Salt and use it for its flaky form as a finishing salt. It's delicate and thin, with crispy flakes. And great news! When I initially started making salts a few years ago (my maiden voyage in gift salts was a trio of this spiced citrus, along with kale-walnut and hazelnut-spice), I found a 3.3 pound tub of Maldon which had to be shipped from England, where the salt has been harvested along the coast since the early 1800s. Today that tub is available on Amazon. It makes using an uber high quality salt easily sourced and affordable for gift making, with plenty left over for personal use. Try it on anything that needs a sprinkle of salt – like chocolate espresso shortbread or salted caramels.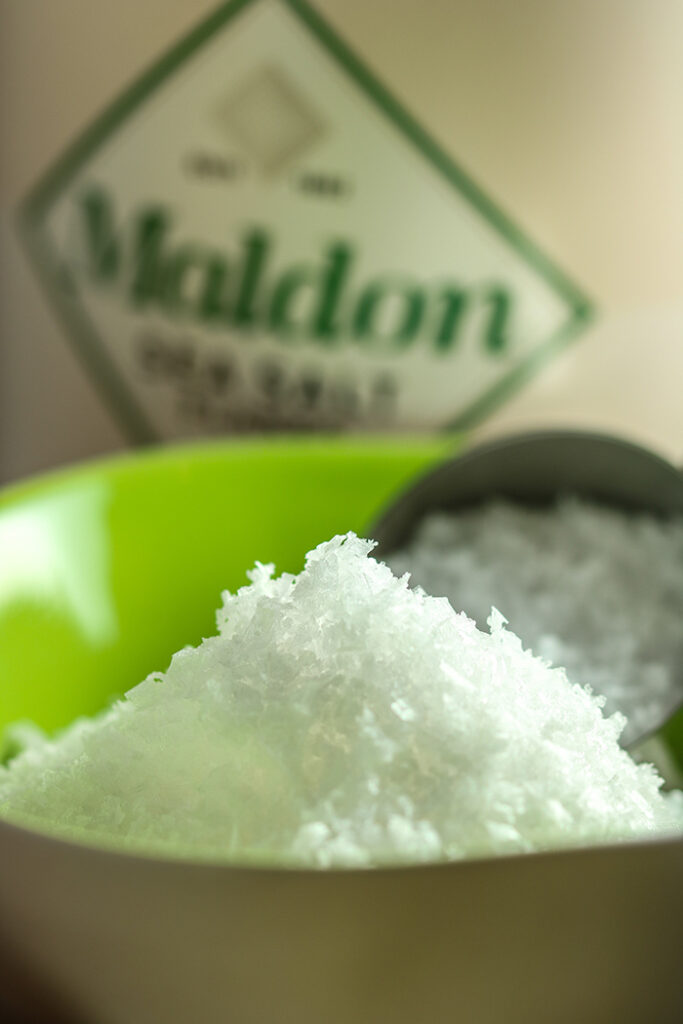 Zesting the Citrus Peel
When zesting the citrus to make the salt blend, I like to use a bar tool that makes long thin strips (use the section with the little holes, not the channel knife.) But you can also easily use a microplane which works well in removing only the outer peel of the citrus. The key is to avoid grating too deeply, thereby grabbing the white pith which adds unwanted bitterness.
Mix all the salt ingredients and spread out on a parchment-lined sheet pan and pop in the oven. It should take about 20 minutes to dry out the zest, but check after 15 minutes and give the salt a stir.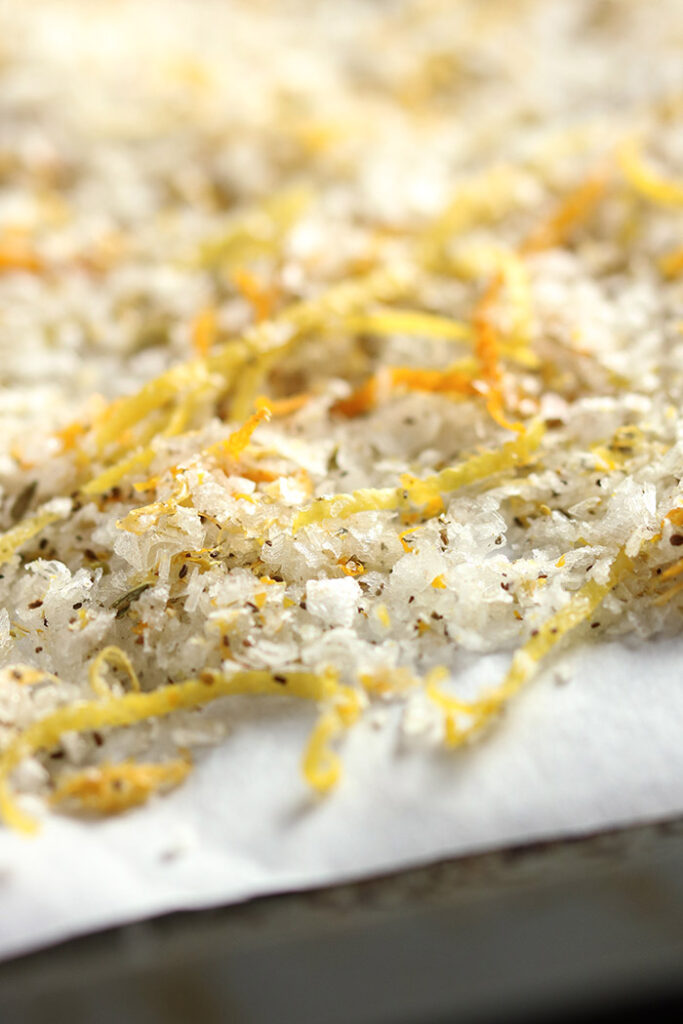 From Zesting to Zesty
And what's salt without pepper? Salt: sister from another mister. Pepper: brother from another mother. Salt & Pepper: we are fam-i-ly! This particular pepper blend was introduced to me by a dear friend. I made my own ratios so the end result is a bit different, but she was spot on in marrying cardamon and coriander with black pepper to get a blend with more zip than any ingredient could deliver on its own. Yahoo!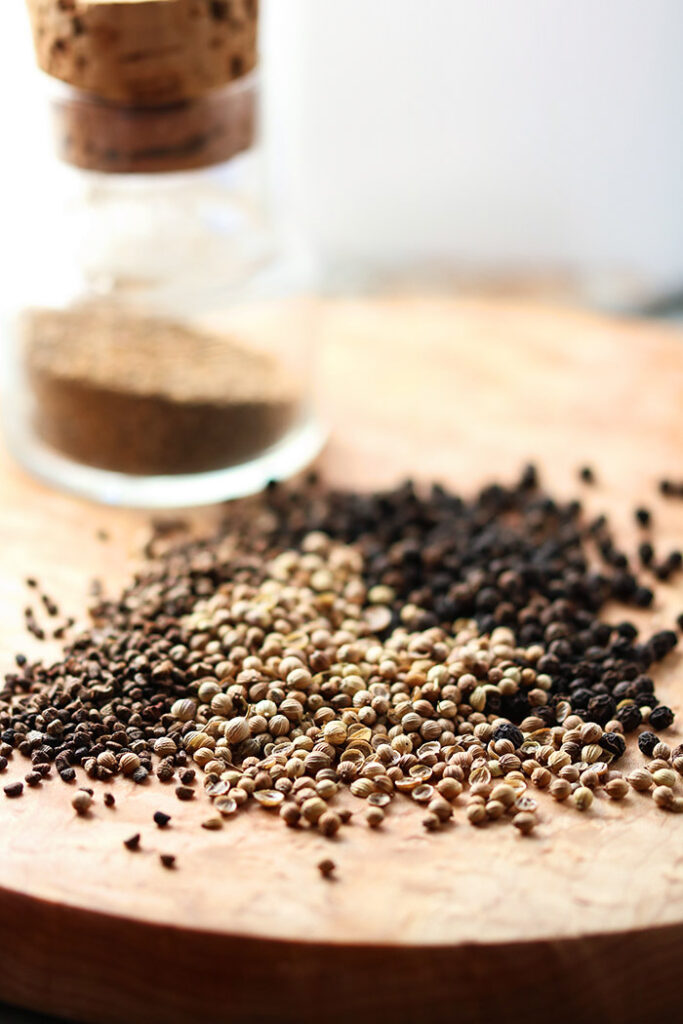 Once the blends are assembled and the salt is fully cooled, the only thing left to do is put them in cute little spice jars, tied with a decorative label identifying the goods inside. I have taken these to a gift exchange, and this was the top sought after gift once the stealing began. Showing up with an armful of these salt & pepper gifts at any holiday party is sure to earn you the Best Guest tiara!! Enjoy!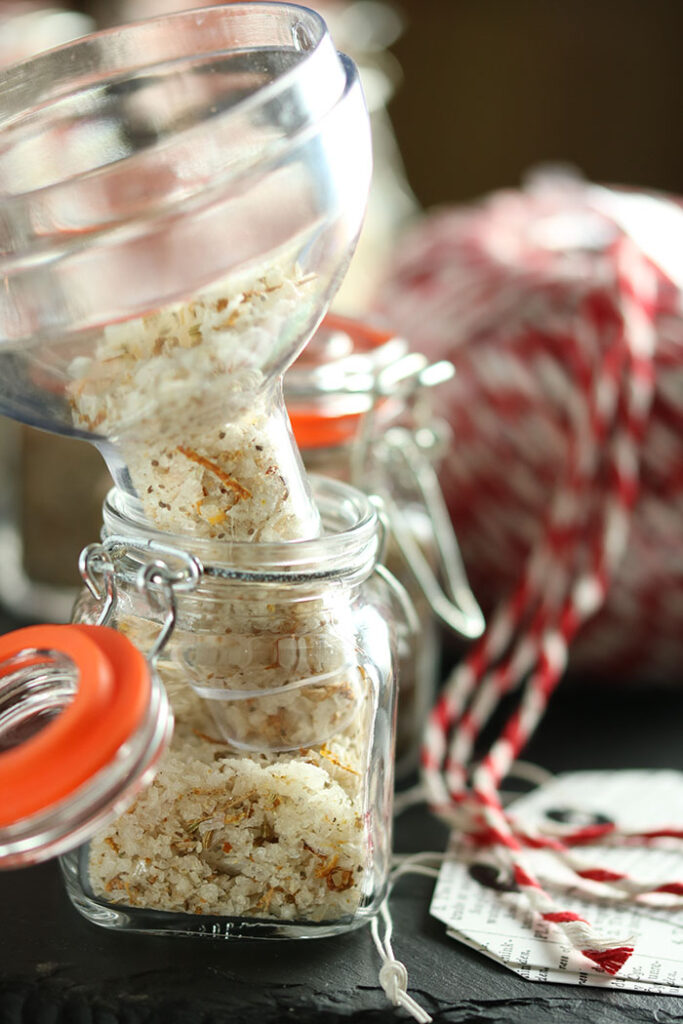 Print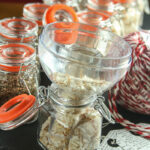 Give the Gift of Homemade Salt and Pepper Blends
---
Author:

Total Time:

1 hour

Yield:

8

pairs (100ml jar)

1

x
Description
Nothing is better than a handmade holiday gift. In my book, bonus points if it can be consumed and if it adds a little sumthin' sumthin' to my pantry. This spiced citrus salt and zesty pepper blend is my favorite spice combo! Salt & Pepper, you rock!!!
---
Spiced Citrus Salt
3 cups

flaky sea salt, such as Maldon
Zest of

3

oranges (I like the long strands of using a bar zester, but a microplane works too).
Zest of

2

lemons
Zest of

2

grapefruits

1 Tablespoon

celery seed, ground in a spice grinder

1 Tablespoon

fennel seed, ground in a spice grinder
Zesty Pepper Blend
1 cup

ground black pepper

1 cup

coriander seeds

1/2 cup

cardamom seeds
---
Instructions
Make the Spiced Citrus Salt:
Preheat oven to 275oF. Line sheet pan with parchment.
Mix salt with citrus zests and ground seeds. Mix until well combined. Spread evenly on the parchment paper and bake until the zest is fully dehydrated, about 20 minutes. Check after about 15 minutes and stir the salt, turning over the bottom which may still be a bit wet. Once completely dried, remove from oven and allow to cool completely.
Transfer to sterilized airtight containers. Stores well for at least 3 months.
Makes 4 cups and will fill 8 100ml (3.4 ounce) jars.
Make the Zesty Pepper Blend:
Grind each seed separately, in batches as needed, in a spice grinder, mini chopper or food processor.
Mix all spices together.
Transfer to sterilized airtight containers. Stores indefinitely.
Makes 2 1/2 cups and will fill 8+ 100ml (3.4 ounce) jars.
Notes
For zesting citrus, I prefer the long strands from a bar zester versus the shorter zest from a microplane. However, I've been known to do a bit of both and combine.
Prep Time:

40 minutes

Cook Time:

20 minutes

Category:

Spices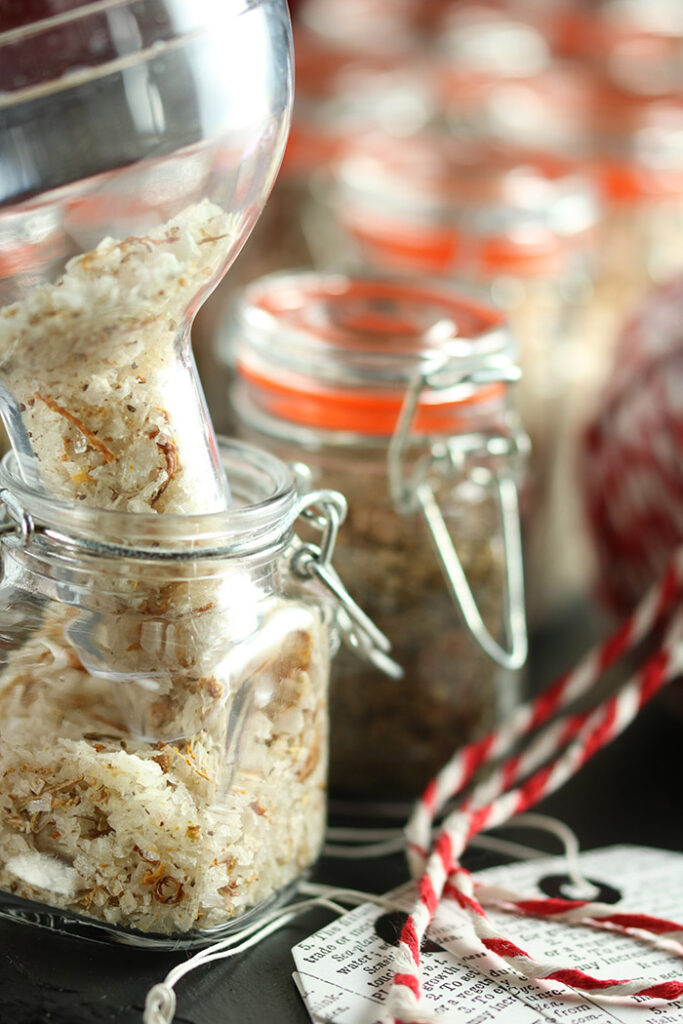 Don't forget the yumster English toffee that I wrote about last year. It, too, makes a wonderful holiday gift. Cookie Exchange ladies – brace yourselves. This is headed your way!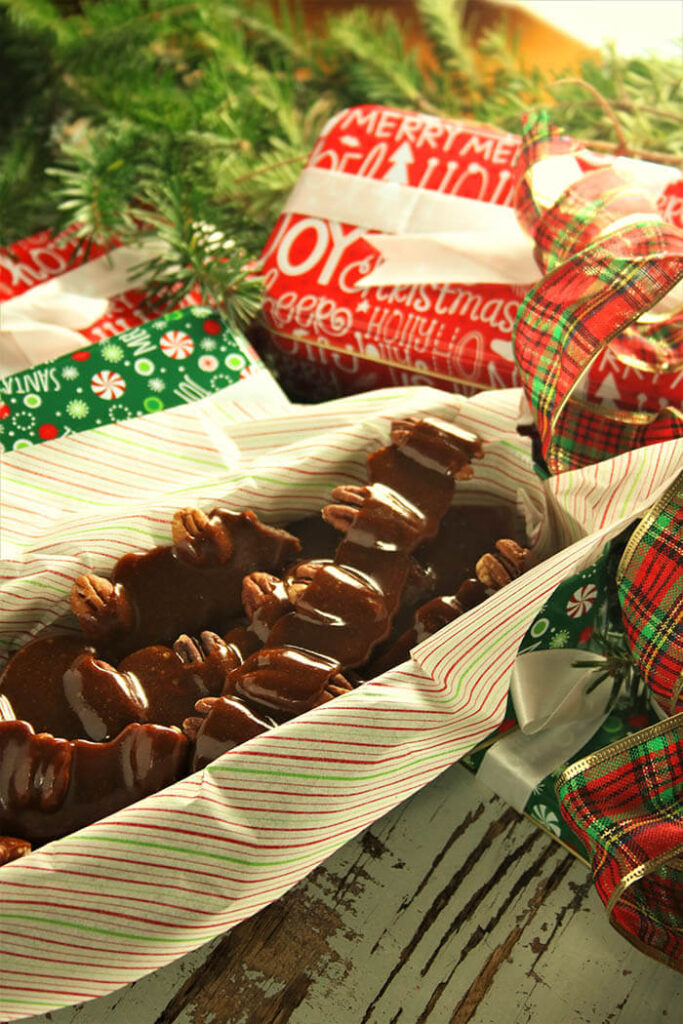 This post contains affiliate links. For more of my must-have items, visit my shop.
© Copyright: KatyKeck.com 2017. All rights reserved.
Hey, we want to hear from you!
Don't forget to Comment, Share & Subscribe to our blog.