I have been hankerin' for a soup swap for years now. But only since I started this blog did it actually happen. Consider this my second post – after the sausage-making party – in my series on How to Get Pot Luck-y. Like the sausage event, as the kids are calling it, the soup swap is a party that sort of plans itself. Sure, there is a bit of organization involved, but in the end, set up and prep (and even investment, for that matter) is minimal, and every one leaves fat and happy. It's a great way to entertain without having to do all the heavy lifting tout seul, solo, by your lonesome.

DC's Chicken Corn Chowda; Elle Capitan's Hearty Organic Veggie & Chicken; Em's Creamy Lemon Chicken.
I used to hear "pot luck" and think it was a bad thing. Cringe a little. I certainly wasn't going to host one. Maybe too much ego. Surely too much ego – "I can do it all!!!" I just didn't get it. A random mishmash of food that doesn't go together and is of questionable food safety. I was in Michigan for years before I understood the concept of "a dish to pass" – I still can't quite explain it. There IS no passing. But Pot Lucky – that's quite different. Host a party with a theme and offer suggestions for contributions and watch the magic happen.  And the bonus of a soup swap is you get all of the above, PLUS a freezer full of soups …….THAT YOU DIDN'T EVEN HAVE TO MAKE!
Disclaimer (lest you think I am a food snob): I am fully aware that there is often anxiety with inviting me to dinner – for no damn good reason, I'd like to say. Despite the fact that my friend Cindy runs ahead swearing that burgers are my favorite food group, I rarely get invited out. Big mistake, people. I am a grateful guest – perhaps more so because I know what entertaining entails. I'm not judgmental; I'm uber thankful. I save all the judgement for restaurants lacking (or completely missing) hospitality. We all have PhDs in whether or not we are being treated well and bad service is inexcusable, especially when  you are paying for it. Even if the food is off – it happens – well-trained staff will have you feeling like a million bucks by the time you leave. But complain about a home-cooked meal??? Not on your life.
So how to Soup Swap?
There are many ways it can happen – like a cookie swap – everyone brings two quarts, leaves with two quarts; brings 4….leaves with 4. Or bring X leave with X and no minimum required. I, probably because I am a bit co-dependent, chose to have everyone bring one quart for every soup swapper – N minus one to dole out; the last one to share. (I hope Mrs. Holler is happy I am using my algebra). This way nobody is staring at their creation being the last one picked.  No 5th grade volleyball anxiety! Probably the hardest part of this method is to get an advance commitment so everyone knows what N is. For my Pot Lucky, N equaled 6. Some of the swappers were teams – so they had to thumb-war over how to divide 5 quarts! One couple each brought a soup so they took home two quarts of every flavor. Toward the end, I included a few people that didn't want to cook and were happy to just come and have a taste.

Justin's Fabulous Shrimp-Free Cannellini Bisque
For this, my maiden voyage, I called in a ringer – a fellow foodie who was as excited as I about the party theme and, on top of it, a recent graduate of a Culinary School. He was there to add some cred to the gathering. He was also there to NOT FORGET the shrimp that was his killer soup garnish. Sigh. His soup was phenomenal regardless – if it weren't for my labels, nobody would have known. In fact all the soups were phenomenal.  The Chicken Corn Chowder incorporated bacon, chicken and corn raised and grown by the soup-maker.  That IS Pot Lucky!! My only instructions were "no can + can + can" soups and "NO VELVEETA."  It definitely helps to invite friends who like to cook.

There was minimal planning – I coordinated soup choices to eliminate dupes and make labels (which included "made-on" dates) – and minimal set up: everyone got one mug, one spoon and one napkin. Y'all are on your own from here. And everyone took charge of heating and serving their own soups. I made a big salad and had some crusty breads and cheeses on hand. Oh, and plenty of wine. And in the spirit of Pot Lucky, there were a couple guests that stayed a bit later and loaded the dishwasher. Bless you.

All I really had to do in advance was make my own six quarts to share and swap. Being a bit of stickler for that food safety thing, I chilled my two pots of soup in large bowls with ice water, changing the water and adding ice til the pots were down to 45 degrees. Even when cooking single batches, I will fill the sink with ice water and make sure to drop the temp so that the soup/sauce/etc. is cold before transferring to freezer containers. Muy importante! Most guests froze their 5 give-away quarts and brought them in coolers that we left outside til the end when the swapping happened. Remember that above all this is a party (one that fills your freezer, thank you very much!), not a military drill, so be flexible. Have fun!  Let your guests get involved! Relax and let the night roll out as it will.  For a first attempt, I will deem this a success.  "Green mints were served and a good time was had by all."*

Brett & Christy's Vichyssoise; My CaribBean One Pot Wonder with pineapple salsa
Here's my recipe for the CaribBEAN (bah dum bum – I'll be here all week) One Pot Wonder. Everyone loves this soup – it's so hearty and satisfying, but doesn't leave you overstuffed like chili tends to. It's also got a great dose of flavor, chocked full of ginger and jalapeno. And it could not be easier or faster. Really.
Like all quick cook techniques, it's key to use quality ingredients: pork loin or tenderloin and quality beans. I've been using Bush's Best for more than a decade and it's a bean that holds its shape and comes out of the can intact, not mushed at the bottom, without absorbing the brine it's canned in and without the overly salty, muddy taste of a lesser bean. It is all I ever use. I wish you could see my pantry – it looks like Super Target.
I love the texture contrast of the pork with the sweet potatoes but this dish could stand alone if you are pork-adverse, or it would also work well with chicken or a sturdy fish. Adjust cooking times accordingly. The garnish is totally optional, but the fruity topper is a great balance to the gingery heat of the soup.
Katy's Soup to Swap: CaribBean One Pot Wonder
1 pound sweet potato, about 2 medium potatoes
2 Tablespoons olive oil
2 Tablespoons minced ginger
3 garlic cloves, minced
1/4 jalapeno, minced
2 stalks celery, diced
1 green bell pepper, diced
1 small onion, diced
1 pound pork loin, trimmed and cut in 1/2" pieces
1 teaspoon ground cumin
½ teaspoon salt
¼ teaspoon ground black pepper
3 16-ounce cans Bush's Best Dark Red Kidney Beans, rinsed and drained
1 14 ½-ounce can diced tomatoes
1 14 ½-ounce can chicken broth
Serving Suggestion: Garnish with a spoonful of salsa made from 1 cup chopped pineapple, 2 sliced scallions, and 2 Tablespoons chopped cilantro. Serve with hot sauce.
Prick the sweet potatoes with a fork and microwave on high for 6 – 8 minutes until tender, but not fully cooked. Set aside. When cool enough to handle, peel and cut into ½-inch dice.
Heat the olive oil in a large stockpot. Add the ginger, garlic and jalapeno and sauté until soft, about 2 minutes.
Add the celery, green pepper, and onion and cook until translucent, about 5 minutes.
Season the pork with the cumin, salt, and black pepper. Push the vegetables to one side of the stockpot and add the pork, browning on all sides.
Add Bush's Best Dark Red Kidney Beans, tomatoes, broth, and sweet potatoes and bring to a boil. Reduce the heat and simmer for 25 – 30 minutes, or until the pork is tender. Taste, and adjust seasonings.
Serve with pineapple cilantro salsa and hot sauce, if desired.
Makes 3 quarts and serves 8
Next Pot Lucky: BYOPT – bring your own pizza toppings. Stay tuned.
*Show of hands (read: click on the link below and comment): Back in the day, did your hometown paper  finish every wedding story with "green mints were served and a good time was had by all?"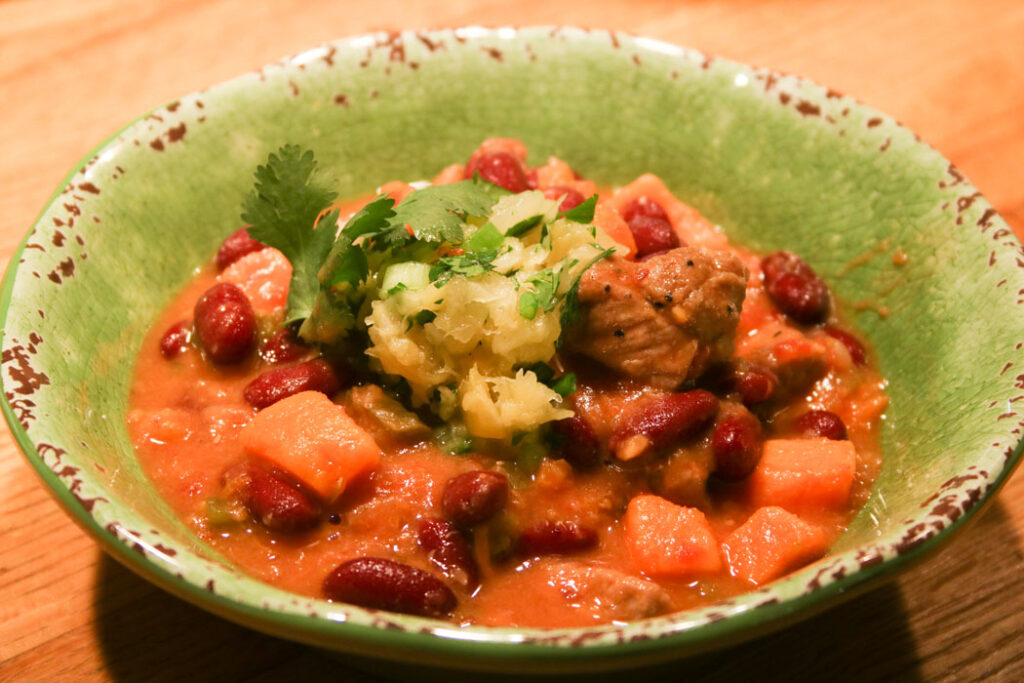 © Copyright: KatyKeck.com 2016. All rights reserved.
Hey, we want to hear from you!
Don't forget to Comment below, Share & Subscribe to our blog.