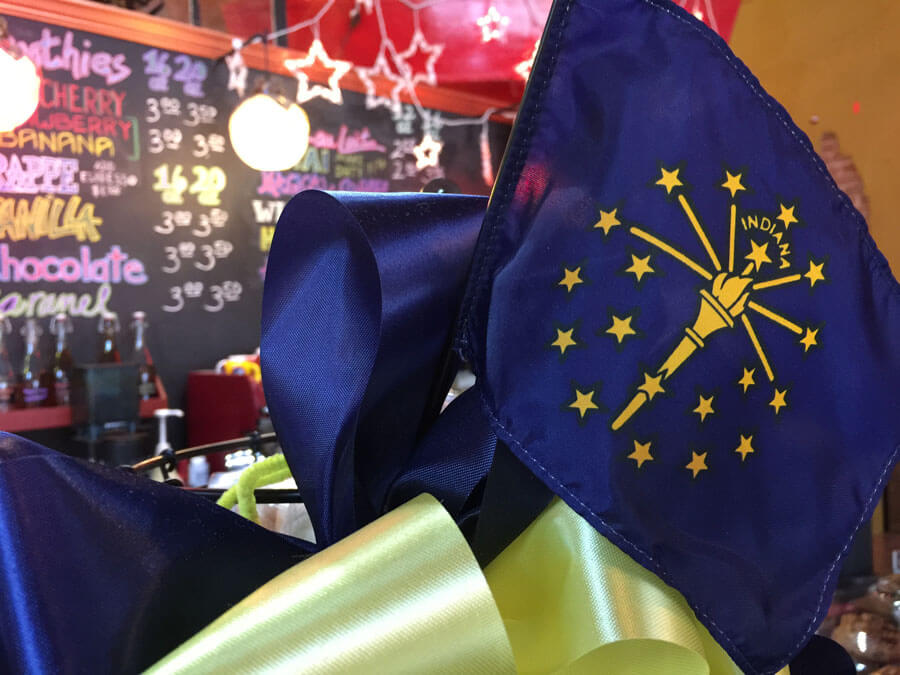 Whoever said you can't go home again (okay, it was Thomas Wolfe) didn't make it to River Days and a hometown bicentennial. Because, well…Yes! You! Can! And it is worth every minute. That joint knows how to put on a party. Heaping helping of that Hoosier Hospitality! (Side bar: if you are here for a recipe, hold tight. Yummy meatloaf coming next post.)
Mt. Vernon, Indiana…the scene of many of my crimes. Turns out Mt. Vernon turned 200 at the same time as the great state of Indiana. Founded as McFadden's Bluff nearly a decade before, the name changed in 1816 to Mt. Vernon as a nod to our founding father. Many states have a Mt. Vernon because of George; always the overachiever, my state has two. I'm from the one in Posey County, named for General Thomas Posey who grew up next to the original Mt. Vernon and was rumored to be George's illegitimate son. It also has the distinction of being the last town in Indiana, located exactly where the Ohio and Wabash Rivers flow together on both the Kentucky and Illinois borders. The tiptoe of the State.
In honor of Indiana's bicentennial, the state – the 19th to join the union – decided to throw an epic celebration starring an Olympic-style torch (the emblem on our flag) relay, crisscrossing 3200 miles and 92 counties over 5 weeks. The torch carried by Hoosiers (selected from a pool of many thousands) ranged from coaches to community leaders, elected officials to every day Joes…alive and in memory of those gone before…from infant to elder. Passing the flame from torch bearer to torch bearer, this beacon moved around the state via every imaginable mode of transport – in period costumes, on horseback, carnival ride, boat, old timey bicycles, Indy car (duh!), farm equipment, on foot, fire truck, skateboard, harness racehorse, ambulance, pub cruiser, and more….any mode symbolic of the history and heritage of Indiana.

Creation of the 130 torches carried by the 2000 bearers was the result of collaboration between seven engineering programs at Purdue, who spec'd it for form, function, design and durability. Each torch, like the flag it resembled, had 19 stars: 13 for the colonies on top, 5 for the next states joining the Union around the middle, and one big fat one for Indiana at the base of the flame. Beside sourcing materials and fuel within the state and complying with codes in 92 counties, each torch had a selfie cam and Wi-Fi capabilities to sync to the caravan in tow, upload the images, and keep track of every bearer. Not on my watch!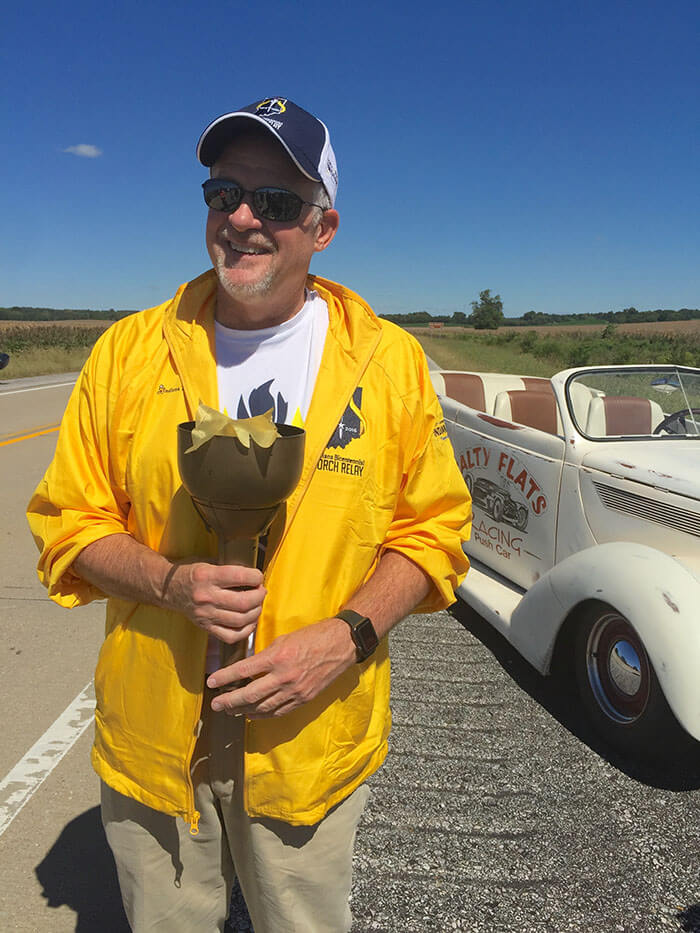 I can't tell you how exciting it was to watch my brother Rich carry the torch in honor and memory of our father Bill Keck …drum roll please, Mt. Vernon's Citizen of the Millennium. Rich told me that when he heard about the Bicentennial Torch Relay and that they wanted the Torch Bearers to be community leaders, he thought it was too bad that Honest Bill, as we affectionately called our car dealer dad (Cheech & Chong, Yaasssss!), wasn't alive to be recognized for his tireless efforts to make his community a better place to live. Then Rich found out that you could nominate someone posthumously: "I proudly carried the torch for my sisters, for myself, in memory of not only a great man, but a great dad. I think his favorite quote tells you everything about him: 'I like to see a man proud of the place in which he lives. I like to see a man live so that his place will be proud of him.'" And that's a REAL Abraham Lincoln quote.
The torch passed through our town on Day Three which was also 9/11. And, its arrival coincided with the town's annual River Days festival. Pet Parade, Bands, Grill Offs, Smoke on the Ohio, Art, Symphony, Festival Parade and Fireworks. All rolled into one fat and happy weekend. Ever since the historic band shell and Riverbend Park were restored, the town has been throwing the ultimate party each September. Lucky us that the two major events coincided on the calendar.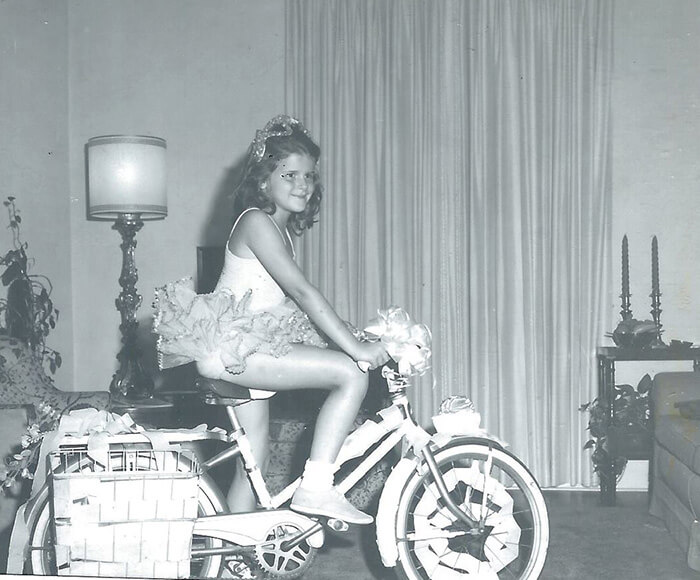 They had me at pet parade. As a former winner for "best use of crepe paper in a bicycle tire", I'm a huuuuuge fan. Alas, times have changed – you neither need a pet nor be a child to participate. Nine contestants and ten awards. Everyone was a winner! With culinary tendencies, I was partial to the kids who baked the state a birthday cake with 200 candles, accompanied by their dog who'd apparently been hitting the blue frosting, although the Grinch family with antler-clad pooch was pretty darn cute. I was mystified by the grown woman with the grocery cart tricked out like a frigate. When I looked inside – gasp, there were rats. She screamed, "we're Pi-rats" as loud as she could. Ahoy matey!

And then there was street food, including a BBQ contest. These people take their pig seriously. I tried to talk to a few, but they were having none of the distraction. So I made a note to return for dinner, and moved on to the catfish and ice cream people. Many of the 40 some food booths were fundraisers for local churches and such. I took my time and found myself wending my way through the tents and booths. People could not have been nicer. I've been gone too long for vendors to remember me, but they all remembered Dad.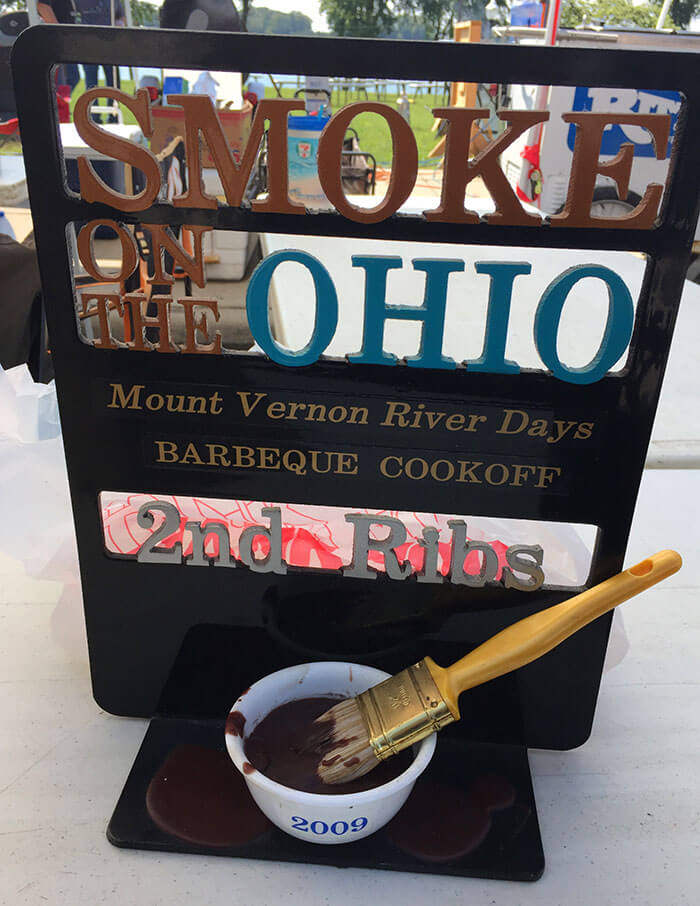 We took a brief time out to visit Tin Man Brewing in nearby Evansville (sadly now closed – sniff sniff). While I was never really around after turning 21, my memories of the brewing tradition in Southern Indiana were that of the dismal watery Sterling Beer brewed locally. My, how times have changed! Tin Man Brewing has a righteous collection of home brews. Nestled in a former boarding house, Tin Man combines the feel of an old tavern and a modern tasting room. We had enough people drinking five-flavor samplers that I feel I can say with confidence that I had it all and declare it delicious.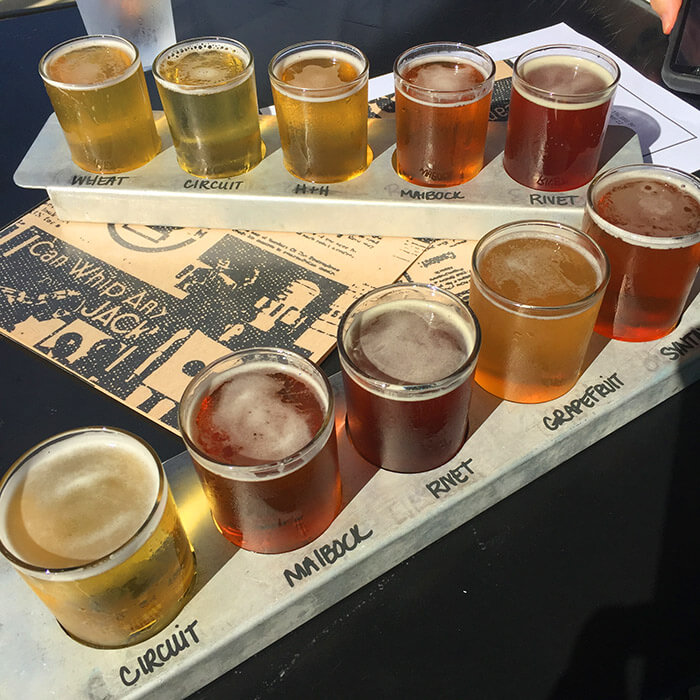 Back in time for the big parade, we took it all in. Not to be outdone by my bro's honor of carrying an official torch on Sunday, I did a BYOT. Amazon Prime, Baby! I bought the cheesiest torch with batteries, a silk flame and LED lights to haul around all weekend. It turned out to be a great way to meet people. The torch was not arriving until Sunday at 11am, but mine was in da house starting Friday. I got a lot of "Is that the torch?" to which I would reply "It is A torch!" I mainly brought it for family photo opps – it was very clear that the official torch with its state police escort would wait for no one. And we needed a torch for the ubiquitous family photo opp on the William H. Keck bypass. Yup! Pops has a roadway named after him.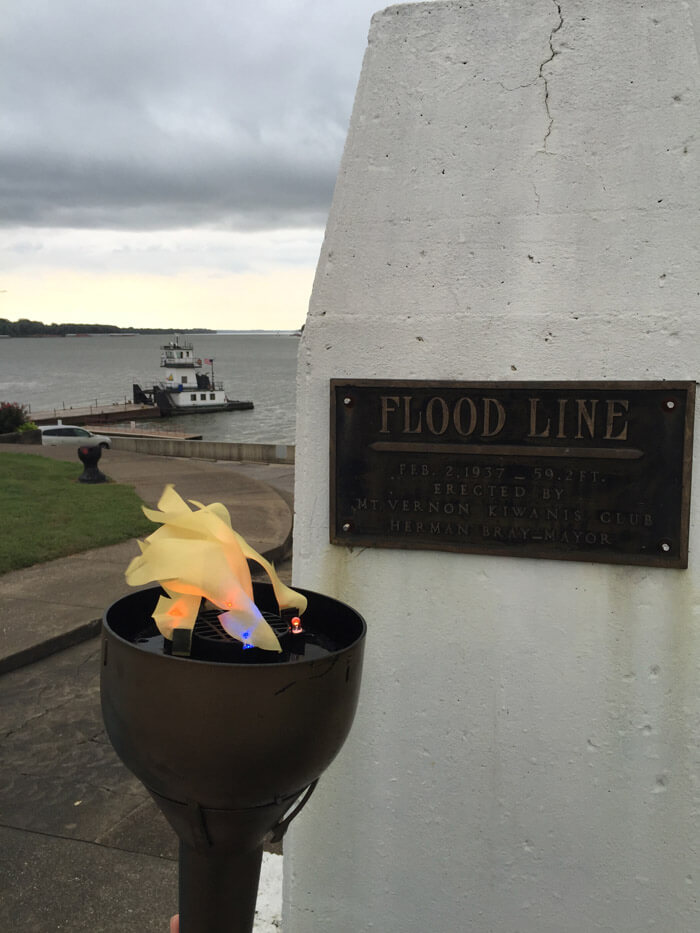 I had my fun walking around town and meeting people with the faux torch, taking selfies and texting images. Meet Joe from the hand-cranked ice cream shop. Or the guy from Life Below the Water who was traveling with a tankful of local river fish. Or the BBQ boys. They were just a few of the many who got torchy with me.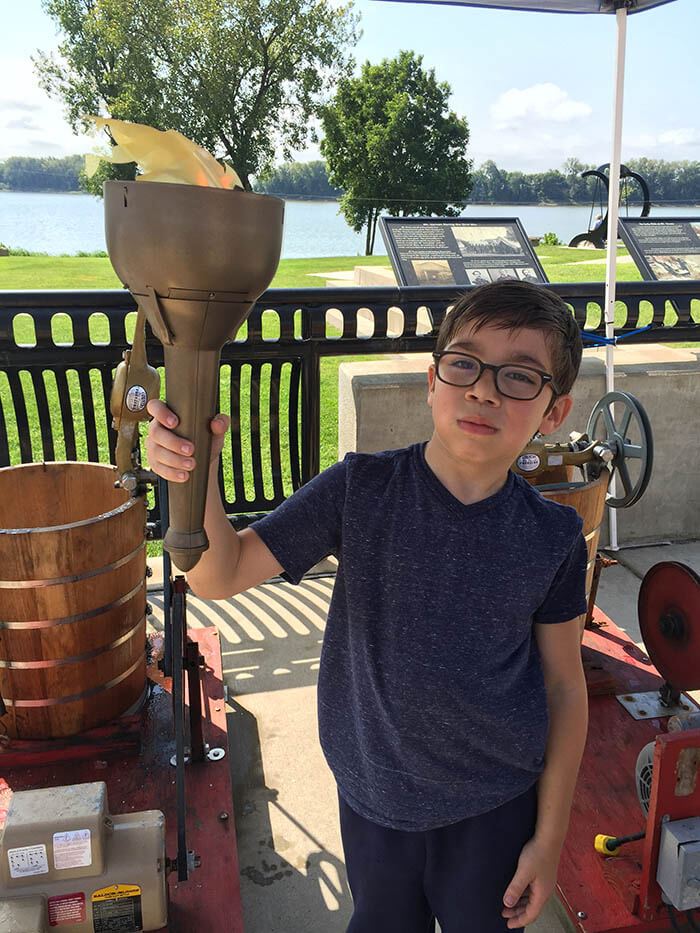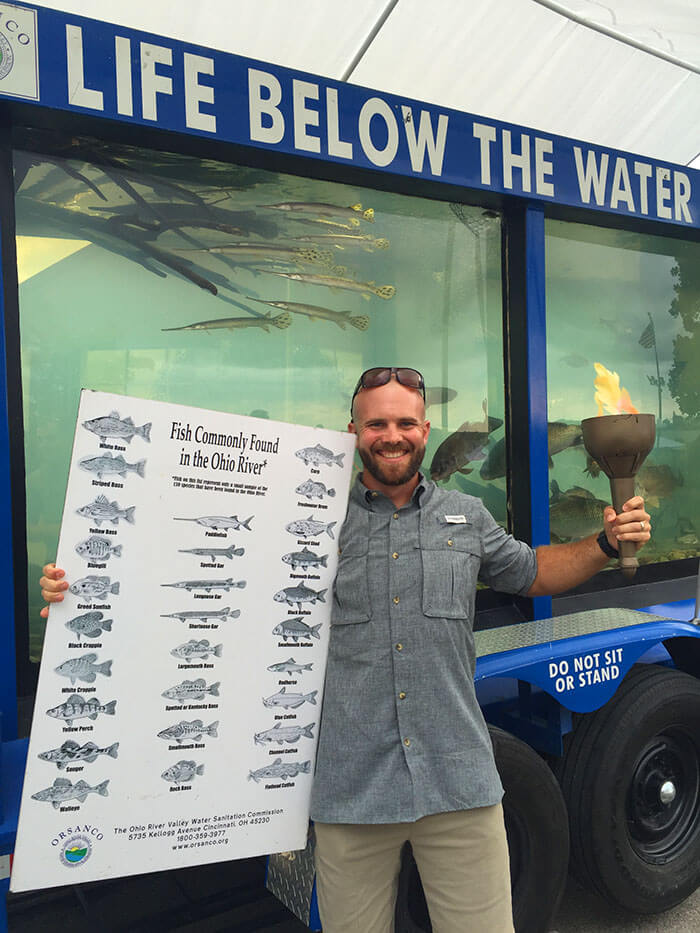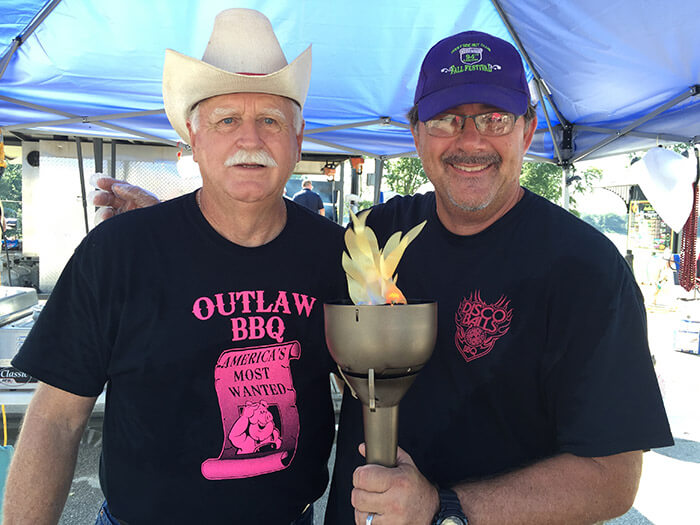 Time for a final stroll through the booths and checking out the monstrous pork tenderloin sandwiches, corn on the cob, "Pieholes & Viddles", and "Deep Fried Goodies". So much cholesterol, so little time!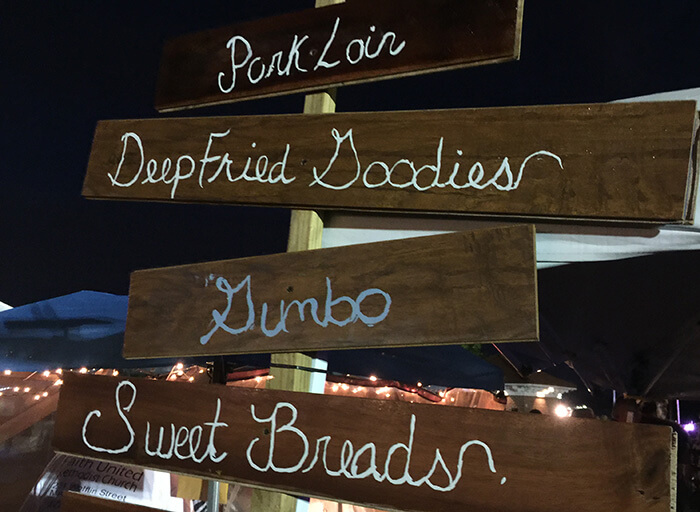 If only I had known that Brains were a mere $5 – I would have loaded up long ago. We grabbed our grub and a blanket and settled in for the 40 piece Wolfgang Orchestra and Chorus, along with spectacular fireworks.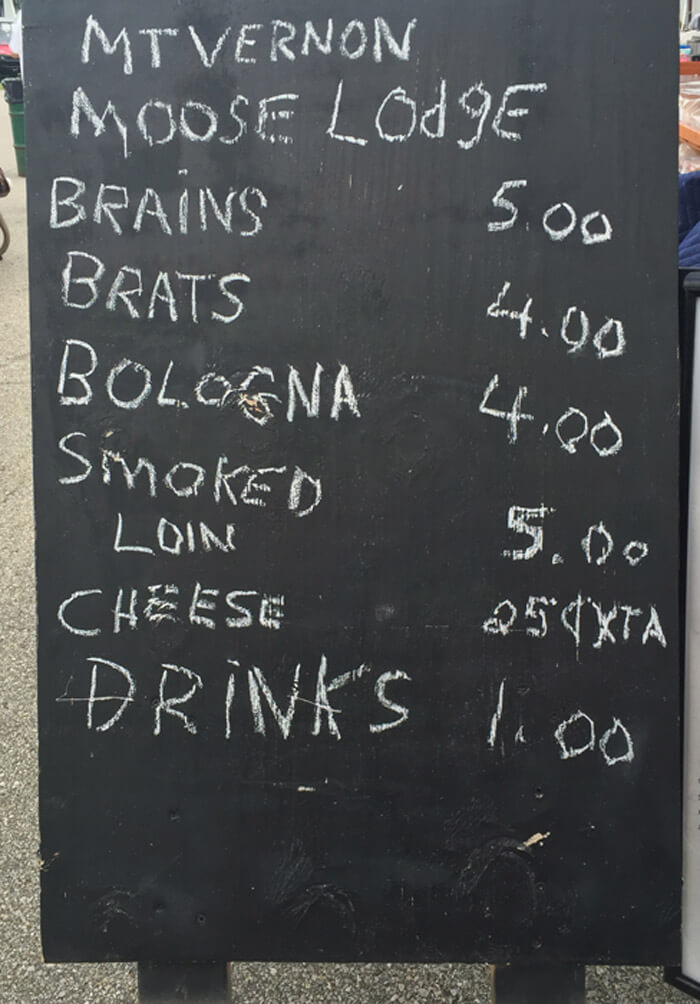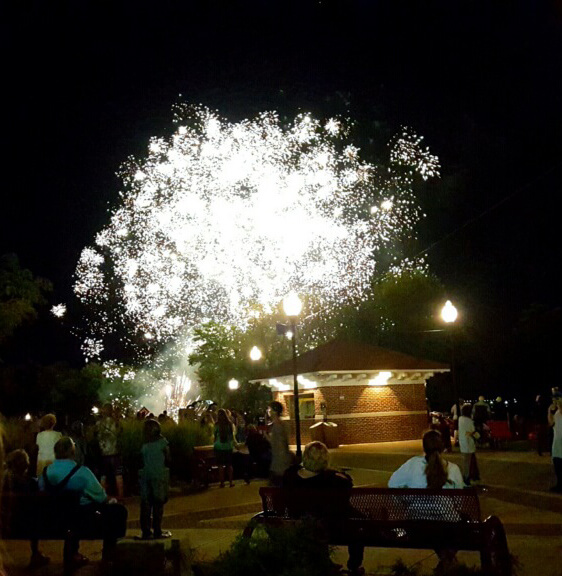 The next morning on a near cloudless day the torch arrived on the steps of the beautiful county courthouse, right on time at 11am with near military precision. Following a moment to remember 9/11, the torch continued on its Sunday 124 mile journey, first in the hands of the former mayor high atop a fire truck that bore his name, a mile or so with Rich in a 1937 Ford Coupe "Rat Rod", and on to the lighting of the torch born by high school athletic director Leigh Ann Latshaw.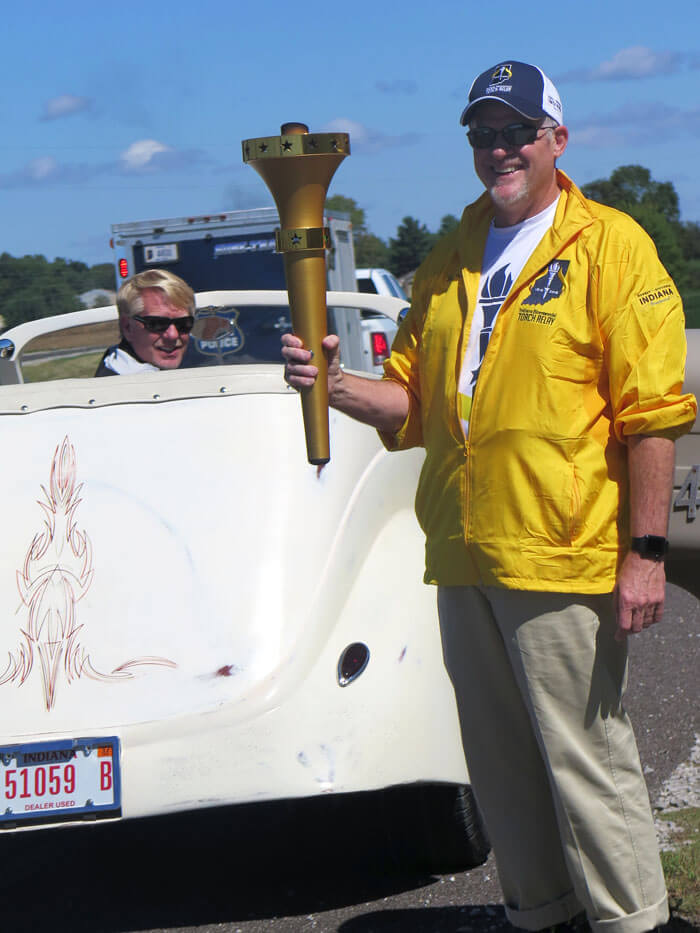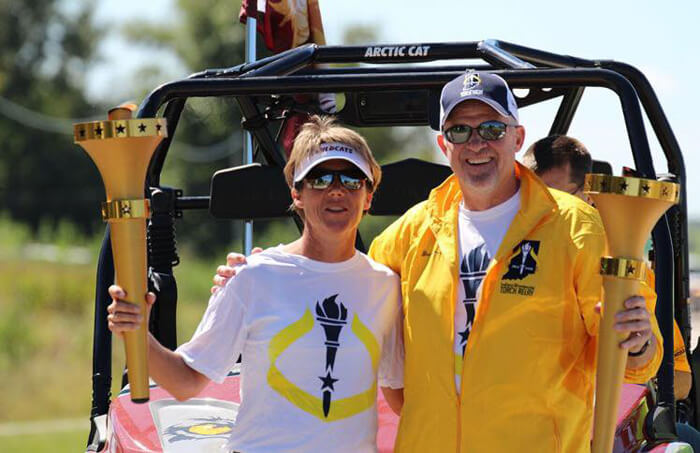 And just like that, the flame moved on…heading north…leaving as quickly as it appeared.
Kudos to the State of Indiana for an amazingly well done and perfectly orchestrated relay, no doubt years in the making. #HoosierPride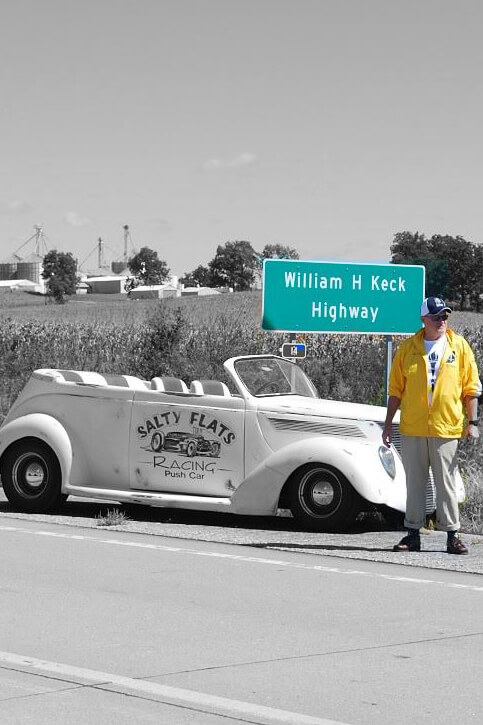 All that was left to do was a roadside gathering by the Papa Bill Bypass. And just like the torch, a tradition passed to the next generation, as my brother and his three generations documented the day gathered by the side of the road, just like my Dad and his three had done before. Going home is great indeed.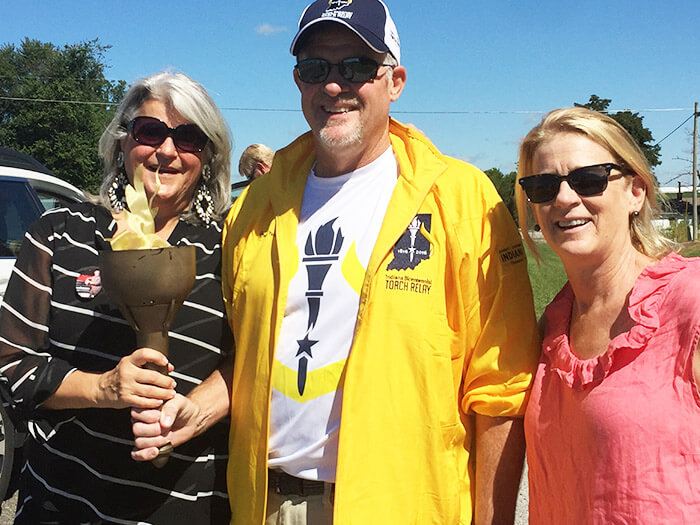 Photo credits: Keck Family, Mary Watson, and IndianaTorchRelay.com
© Copyright: KatyKeck.com 2017. All rights reserved.
Hey, we want to hear from you!
Don't forget to Comment, Share & Subscribe to our blog.
Save