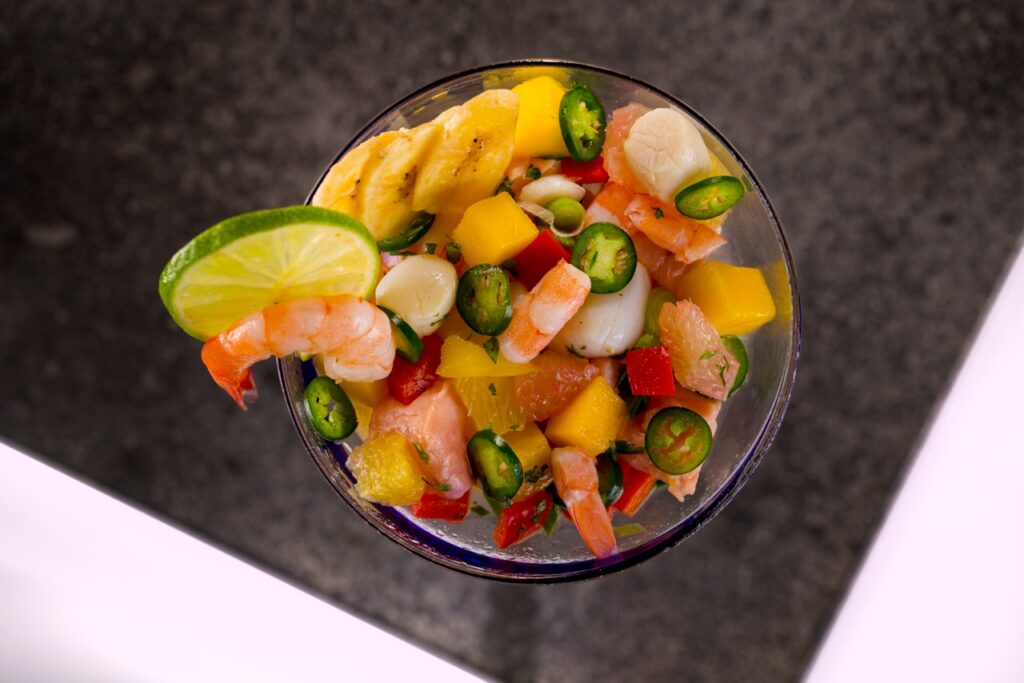 Taste the Tropics. Lime-cured fish, spicy jalapeños and tropical fruit. It's a fruity fresh twist on a traditional recipe.
Ingredients
1/2 pound medium shrimp, shelled and deveined
1/2 pound bay scallops, trimmed of muscle
1/2 pound salmon fillet, cut in ½ " pieces
1 diced red pepper
3 scallions, sliced on diagonal
1 minced jalapeno
1 cup lime juice, or enough to cover
1 Tablespoon olive oil
2 Tablespoons orange juice
1/4 cup chopped cilantro
1/2 mango, diced
1 pink grapefruit, cut in sections and diced, juice reserved
1 orange, cut in sections and diced, juice reserved
Salt and pepper
Garnish: Fried Plantain Chips
Directions
Blanch the shrimp in boiling water, for 1 – 2 minutes, until no longer translucent. Drain and refresh in cold water. Cut into 1/2″ pieces.
Combine shrimp, scallops, salmon, red pepper, scallions, jalapeno, and lime juice. Refrigerate, covered, for 2 – 3 hours, stirring occasionally.
Drain off most of the liquid. Whisk together olive oil, orange juice, and cilantro. Pour over fish and add mango, grapefruit, orange and their juices. Season with salt and pepper. Refrigerate until ready to serve.
Garnish with fried plantain chips
Serves 10-12