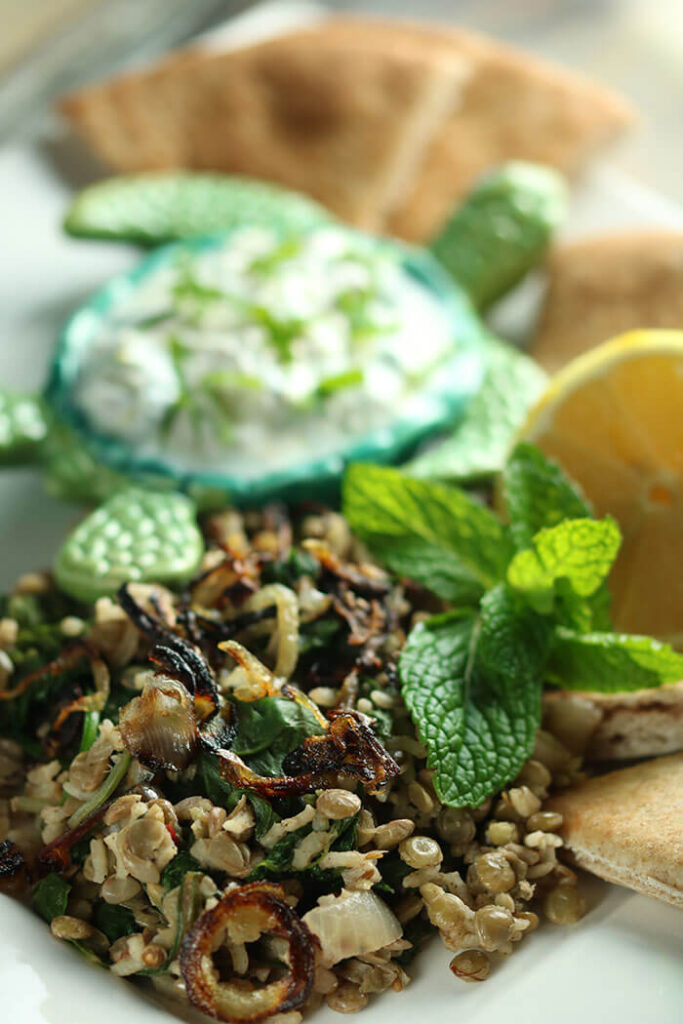 Muja what? I can hear you from here. Mujadara! You can spell it many ways and you can cook it even more. This dish – a combo of lentils and rice, sassed up with so many wintery spices that you will want it for your BFF – seems a lovely way to break bread and bow our heads in solidarity to our brothers and sisters in the Middle East. #GreaterAs1 The culinary roots of mujadara date back to Genesis, when Jacob bought Esau's birthright with a meal of lentils. While the version I share here with yogurt and caramelized shallots is more Lebanese, the dish is also popular with Syrian and Egyptian Jews who historically tend to eat it twice during the week: a simple (hot) meal for Thursday before a more elaborate Shabbat, and then again cold on the Sabbath. Mujadara often serves as a Lenten dish for Arab Christians.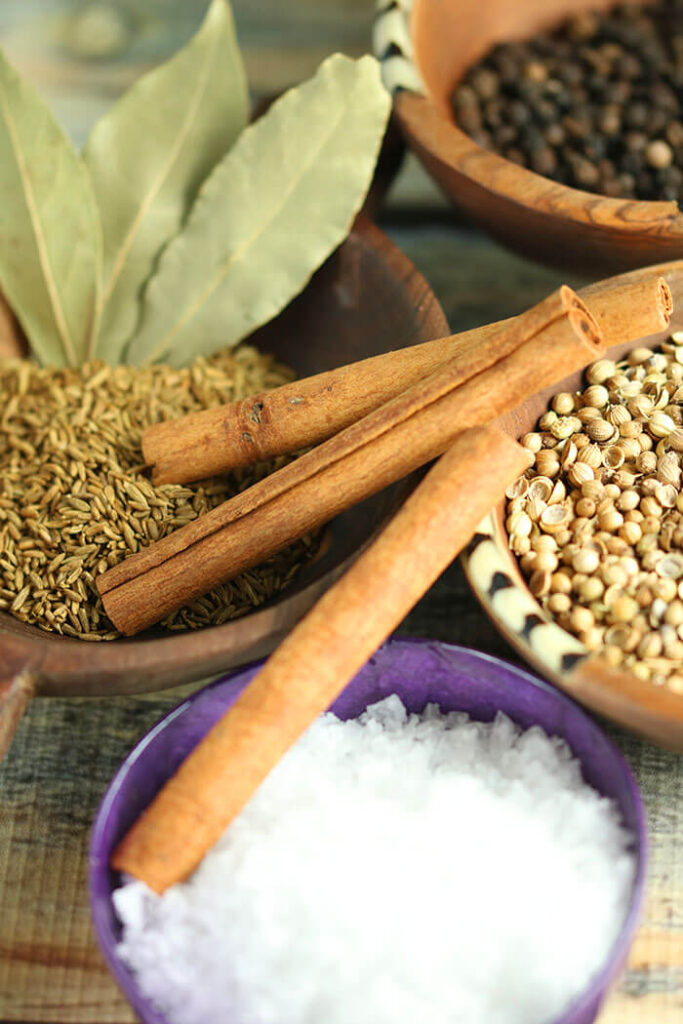 Some versions of mujadara let the caramelized onions do all the talking. But given it's the coldest dreariest time of year, I have added all the wonderful pungent spices that you might find in other Middle-Eastern dishes: coriander, cumin, cinnamon, allspice and plenty of pepper. Trust me; they will brighten your mood. When I can, in a dish like this, I use whole spices (not peppercorns, but cumin and coriander, yes!) Since they will be simmering in liquid for a while, there is sufficient time to soften them up. As usual, they get a few minutes in oil before the liquid to toast them and to allow the spices to release their fragrance. Rarely will I add any spice directly to liquid. I can always taste that raw spice in the back of my throat if I was in too big of a hurry to take that one measly moment that I needed to toast it. For shame.
You may also notice that I have added a healthy dose of greens to this version of mujadara. Because I can. And because it's winter and because they are good for you and because they add a hit of color. I know it seems like a lot, but I have made it with half that and prefer it with a generous portion. Up to you. (More, more, more, more.)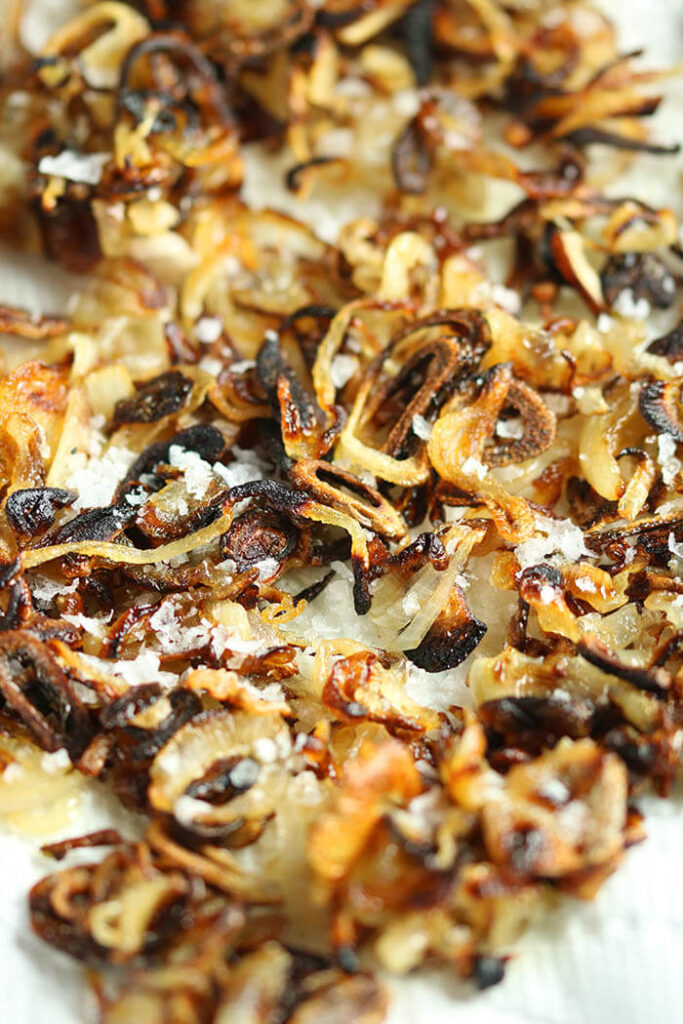 And a note on the crispy shallots: they really are caramelized not crispy here. If you want to make crispy shallots – which would be a great texture contrast – you really need to use a lot more oil and fry them. That's not really the way I roll, but I do love the taste and texture. If you are leaning that way, you should make sure the thinly sliced shallots are patted dry and then toss them in a 50/50 combo of flour and cornmeal. Heat several cups of oil to about 300oF and drop the shallots in, frying til crispy, draining on paper towels. I used to do something similar for a lentil salad at New World Grill and while we didn't have a deep fryer – the horror – let's just say our technique was not far off. I. Just. Can't. (But by all means!)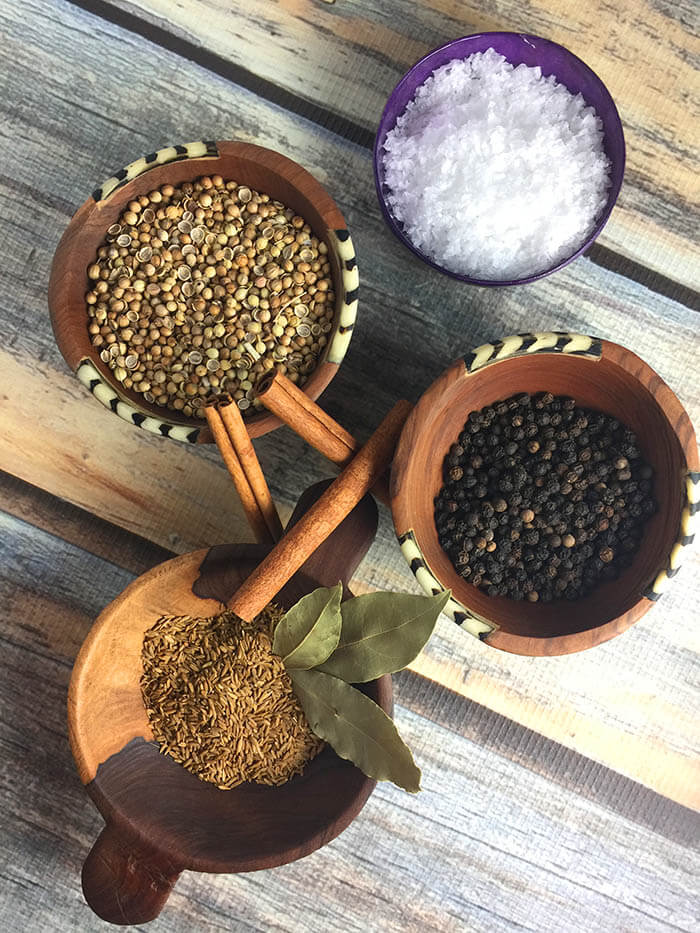 Print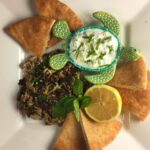 Mujadara
---
Author:

Total Time:

1 hour 15 minutes

Yield:

6

- 8

1

x
Description
Mujadara is a warm and wonderful combo of lentils and rice, sassed up with so many wintery spices that you will want it for your BFF.
---
Mujadara
1 1/4 cup

brown or green lentils

1/4 cup

extra-virgin olive oil, divided

6

shallots, very thinly sliced by hand or in a food processor

1 1/2 teaspoons

kosher or sea salt, divided

1

large onion, chopped

2

garlic cloves, minced

1 cup

long-grain rice

1 Tablespoon

coriander seeds

2 teaspoons

cumin seeds

1

cinnamon stick

1/2 teaspoon

ground allspice

1/2 teaspoon

ground black pepper

1/4 teaspoon

ground cayenne

1

bay leaf

2

5-ounce packages (about

8 cups

) mixed greens, like kale, chard, and spinach, chopped
Zesty Yogurt Dip
1 cup

plain Greek yogurt

1 teaspoon

whole coriander, toasted and coarsely cracked

1/4 teaspoon

salt

1/8 teaspoon

ground black pepper
Zest of

one

lemon

2 Tablespoons

chopped mint
---
Instructions
Make the Mujadara:
Par-cook the lentils by simmering in a medium saucepan with 4 cups of water for 10 minutes. Drain any remaining liquid and reserve the lentils.
Divide the olive oil, placing 2 Tablespoons in a large skillet and heat over medium. When the oil is shimmering, add the shallots and cook until well browned and crispy, about 30 minutes. As the shallots brown, remove and transfer to a paper towel and drain. Sprinkle with 1/2 teaspoon salt. If making this ahead, store wrapped in paper towel in an airtight container, once cooled.
Add the remaining 2 Tablespoons olive oil in a stockpot with a tight-fitting lid and heat over medium heat. Add the chopped onion to the stockpot, stirring occasionally, until golden brown, about 20 minutes. Add garlic and cook for 1-2 minutes. Stir in rice and sauté 2 minutes. Add the coriander, cumin, cinnamon stick, allspice, black pepper, and cayenne; sauté for one minute until fragrant.
Add 2 cups water to the pot, along with the bay leaf, the remaining 1 teaspoon salt, and the reserved lentils. Cover and simmer over very low heat until the lentils and rice are almost tender, about 15 minutes more.
Rinse the greens and distribute across the top of the rice and lentil mixture, checking to see if the rice/lentils require any more water. Cover and cook 5 minutes more, until rice and lentils are tender and greens are wilted. Remove from the heat and let rest, covered, for 5 minutes. Remove the cinnamon stick and bay leaf. Stir to combine greens.
Make the Zesty Yogurt Dip:
Combine the yogurt, coriander, salt and pepper. Cover and refrigerate until serving time. To serve, add the lemon zest and chopped mint.
Makes 1 cup.
Serve topped with crispy shallots and Zesty Yogurt Dip, along with warm pita.
Prep Time:

15 minutes

Cook Time:

60 minutes

Category:

Sides

Method:

Stovetop

Cuisine:

Middle-Eastern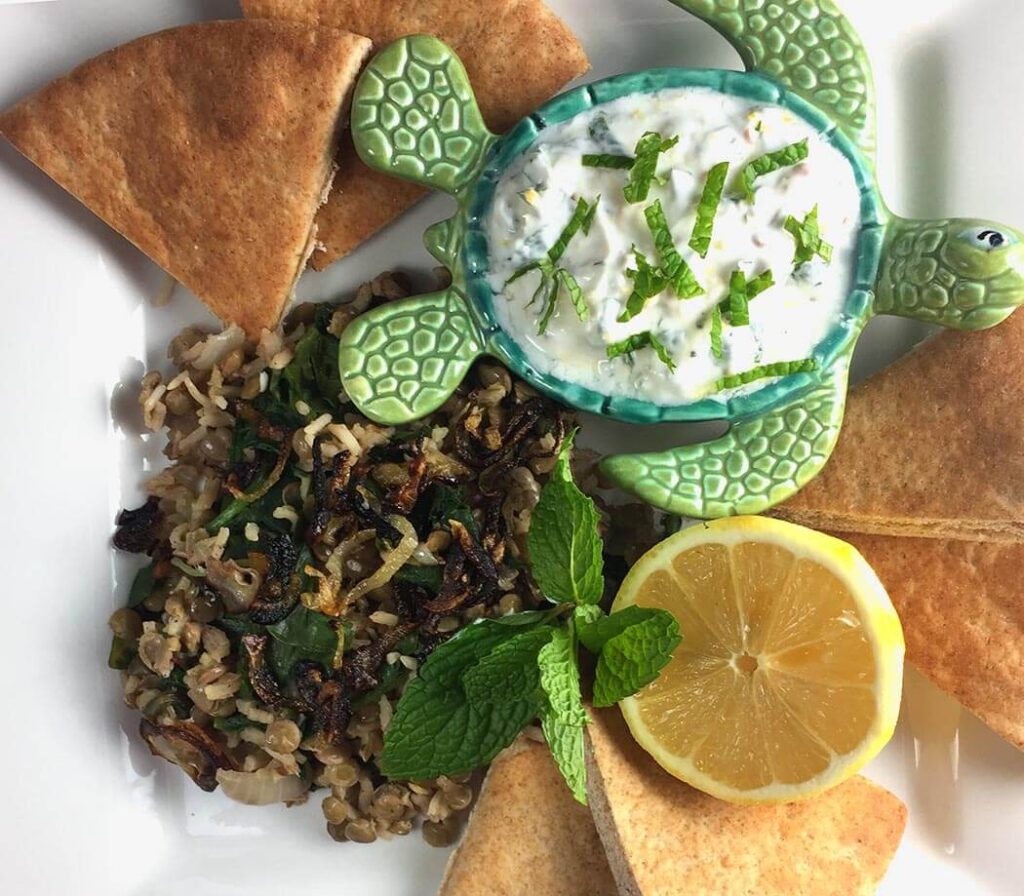 This makes a great vegetarian entrée, but I took it to a friend's who just happened to have a big ol' pot of curried chicken thighs, and it was a match made in heaven. #damndelicious.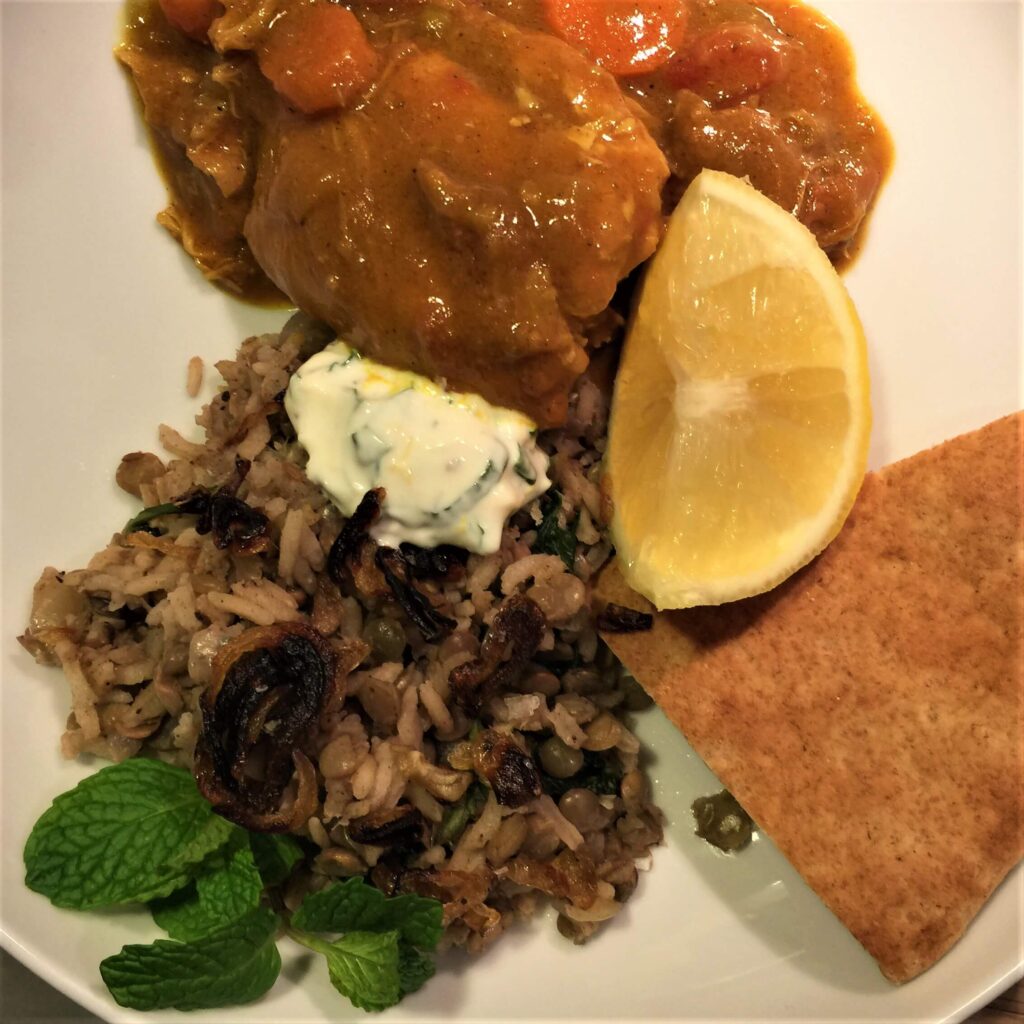 © Copyright: KatyKeck.com 2017. All rights reserved.
Hey, we want to hear from you!
Don't forget to Comment, Share & Subscribe to our blog.
Save