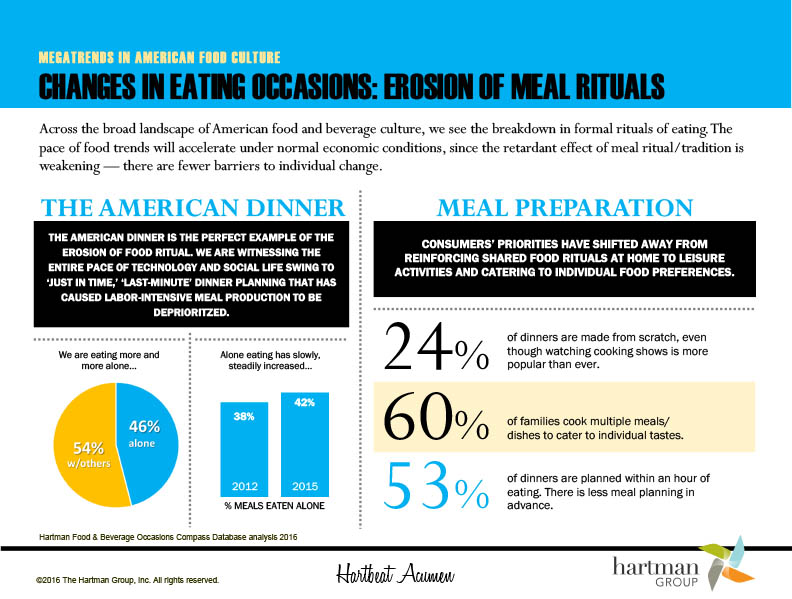 Say it ain't so!!  This sad infographic appeared this week from a consulting company that focuses on food and beverage trends.  For me, the really sad part is the title – Erosion of Meal Rituals.  According to the Hartman Group, more people are eating meals alone and most meals are planned in less than an hour.  The last part sounds really good to me. With a well-stocked pantry, and the fact that spring has sprung and sweet peas are starting to appear, this soul-satisfying dish can be whipped up in no time.  But it's just as easy to make this for two – or three – or four or more – so please don't eat alone.  Breaking bread with friends and family is one of life's great treats and truth be told is the real soul-satisfying part of any meal.

This spicy horseradish lemon dressing is a fantastic vinaigrette to make in a big batch and have on hand.  I always have four or more vinaigrettes available at any time and the flavor profile of each can take a dish in a whole new direction.  Lemon/EVOO is a staple, doctored here with a dose of spicy mustard and horseradish. I love a creamy miso dressing, an Asian ginger/soy/sesame oil one and of course something balsamic-based – maple, raspberry, white balsamic, etc.  The possibilities are endless.
Using classic French technique, salt and pepper are added first with the acid so that they can dissolve before drizzling in the oil in a thin stream for a perfect emulsion.  Seemingly every kitchen in France had a different benchmark as to what was the right amount of seasonings.  And no matter how I did it, I was American and it was wrong. Oh wait, I was an American Woman, and it was really wrong.  I will dedicate a whole post to the classic technique, but for today we will just dump and whisk.  As an American, I reserve the right to change the technique and I find that using a grainy salt and pepper in just a measured dose at the end – here I use it strategically on the avocado where its texture and flavor make it a standout – allows for more control over sodium intake which isn't a bad thing. Certainly not as bad as eating alone.  These are my favorite salts today – Maldon Sea Salt Flakes
and Maine Coast Sea Seasonings.

Sweet Peas, Tuna and New Potato Salad
1 pound small new potatoes
½ pound fresh (or frozen) shelled sweet peas
10 ounces tuna (I prefer chunk light tuna in water – especially love the pouches that need no draining)
5 ounces arugula
1 avocado, sliced or chopped
Salt and Pepper to taste
Spicy Horseradish Lemon Vinaigrette
1/3 cup lemon juice
1/3 cup extra virgin olive oil
1 Tablespoon prepared horseradish
1 Tablespoon spicy Dijon mustard
Bring a pot of salted water to a boil. Add potatoes and cook until tender, about 8 minutes.   Drain liquid and let potatoes cool to room temperature.
While the potatoes are cooling, place an inch of water in the pot and bring to a boil.  Transfer the peas to a steamer basket and add the basket to the pot and cover.  (Frozen peas can just be thawed – no need to cook).  When tender (about 2 minutes), remove the basket and run under cool water to stop the cooking.
Prepare the Spicy Horseradish Lemon Vinaigrette:  Combine all ingredients in a shaker with a tight-fitting lid and shake to combine well, or place in a small bowl and whisk to combine.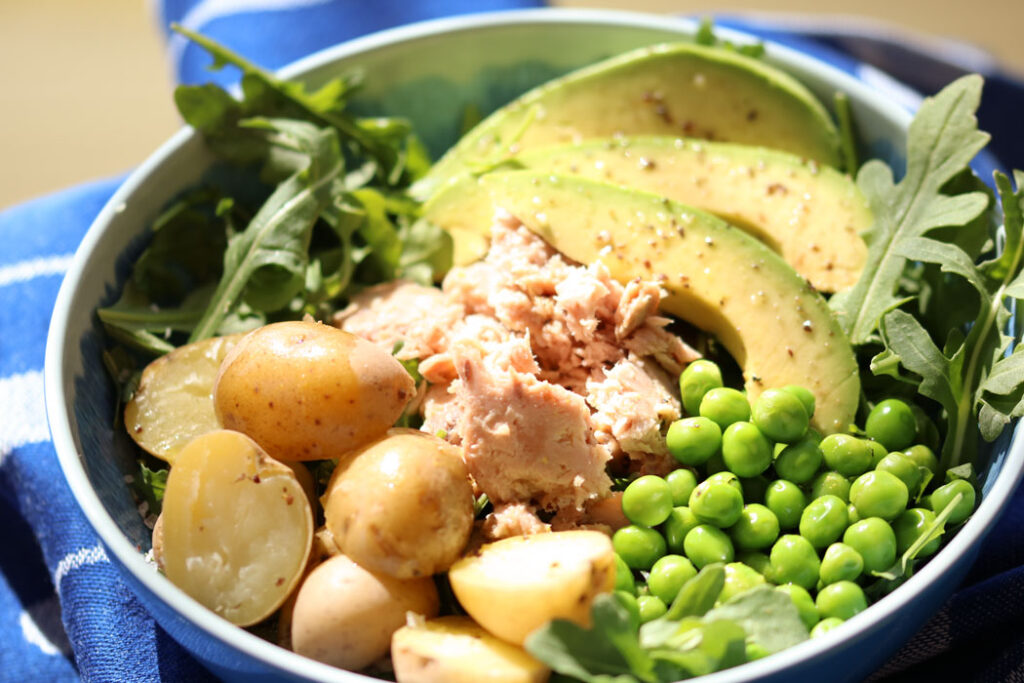 Arrange greens in four bowls and divide and arrange potatoes, peas, tuna and avocado. Drizzle with spicy horseradish lemon vinaigrette.  Or combine all ingredients in a large serving bowl and drizzle with the dressing and toss to combine. Season with salt and pepper to taste.
Either way – composed (aka deconstructed) or tossed – it's as fresh as the spring air.
Serves 4.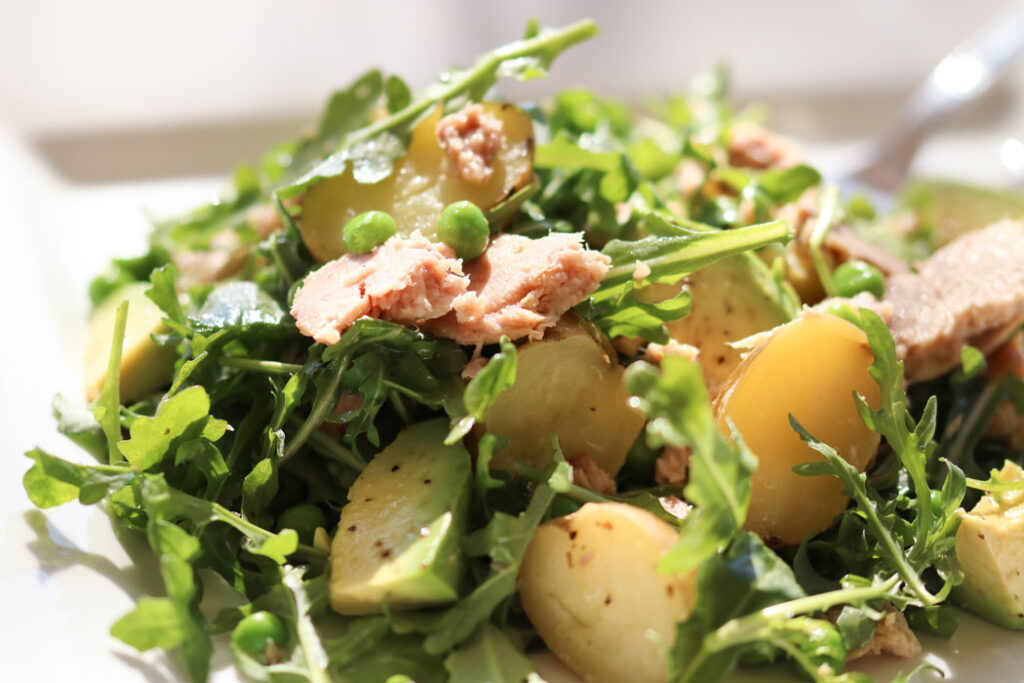 © Copyright: KatyKeck.com 2016. All rights reserved.
Hey, we want to hear from you!
Don't forget to Comment below, Share & Subscribe to our blog.