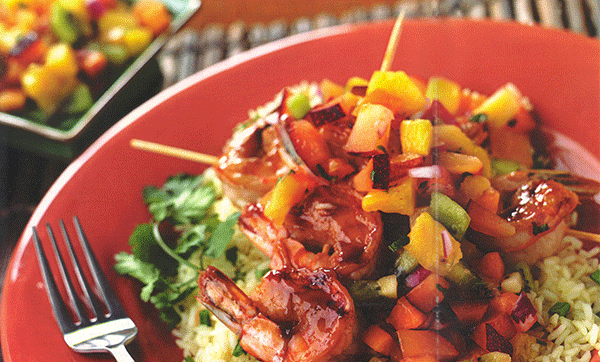 This 'Taste of the Tropics' works all year long. Throw the shrimp on the grill in the summer, or broil when it's too cold outside, while dosing up on the Vitamin C from the zesty tropical fruit salsa.
Plum Glazed Shrimp with Pineapple Salsa
1 1/2 cups Peanut Plum Glaze
3 cups Pineapple Salsa
2 pounds cleaned 16-20 Shrimp, tail on
Olive oil
Salt and Pepper to Taste
Coconut Peanut Rice
Cilantro Sprigs
Prepare the Peanut Plum Glaze:
¾ cup plum jam
½ cup crunchy natural peanut butter
½ cup fresh orange juice
¼ cup fresh lime juice
2 teaspoons soy sauce
2 teaspoons finely grated fresh ginger
1 teaspoon minced jalapeno
Simmer all ingredients in a saucepan until reduced by about 1/3rd and thickened, about 15 minutes. Set aside and keep warm.
Makes 1 ½ cups
Prepare the Pineapple Salsa:
1 cup peeled, seeded, and diced papaya
1 Tablespoon fresh lime juice
1 cup diced pineapple
1 cup diced mango
1 kiwi, peeled and diced
2 Tablespoons minced red onion
2 Tablespoons minced scallions
1 Tablespoon fresh lemon juice
1 Tablespoon fresh orange juice
1 Tablespoon chopped mint
Combine the papaya with the fresh lime juice. Add the remaining ingredients, except mint, and stir to combine. Cover and refrigerate until ready to serve.
Add the mint just before serving.
Makes 3 cups
Prepare the shrimp:
Soak 12 8"-bamboo skewers in water for 15 minutes. Prepare grill or heat broiler.
Thread 3 shrimp per skewer and brush with olive oil. Season to taste with salt and pepper.
Cook the shrimp on the grill, until desired doneness, about 2 minutes per side. During the last 30 seconds on each side, brush on the glaze. Transfer to a sheet pan, and brush again with the glaze.
Prepare the Coconut Peanut Rice:                                                           
3 Tablespoons olive oil
1 medium Spanish onion, diced
1 1/2 cups long grain rice, such as Basmati
1 1/2 cups chicken stock
1 ½ cups unsweetened coconut milk
Salt and freshly ground pepper
¾ cup chopped scallion
¾ cup toasted coconut flakes
1/3 cup toasted chopped peanuts
Heat the olive oil in a saucepan with a tight fitting lid.
Add the onion and sauté until transparent, about 5 minutes.
Add the rice and stir to coat until the rice turns opaque, about 1 minute. Add the chicken stock and coconut milk and bring to a simmer. Add salt and pepper to taste.
Cover the pan tightly and cook until all liquid is absorbed and the rice is cooked through but not gummy, about 20 minutes.
Fluff the rice with a fork and stir in the scallions, toasted coconut and peanuts. Serve immediately
To Serve:
Mound the coconut peanut rice in the center of the plate. Cross two skewers of shrimp on top of the rice. Spoon the pineapple salsa over the shrimp.
Garnish with cilantro sprigs.
Serves 6