I'm not quite sure how I ever made it through to dessert all those years that I mashed potatoes with a – uh, masher. Oh sure, there was always a brother who made a mean mash with just the right amount of chunks left it. But in my family, the men (technically, THE MAN) were supposed to do the carving. That or keep the mimosas cold. The real magic, I think, behind having a potato ricer is that kids of all ages want to get involved. It's like a giant garlic press and the potatoes come out all wormy and stuff. What's not to love? And kids actually volunteering for food prep is win-win. Thank you, Ali Price!
I can't tell you the exact date that I started my ricer love affair, but I remember the moment like it was yesterday. It was in the early years of New World Grill and I had a rare evening off and chose to dine at the James Beard house. I couldn't tell you who was in the kitchen, but I remember clearly being seated with Nicole Routhier, author of beautiful books on Vietnamese food, and Florence Fabricant of the NY Times. There was breaking news and Florence arrived a bit late. As she settled in, Florence talked about an upcoming dinner that she and Frank Prial, NY Times' wine writer, were hosting to benefit the NY Public Library. For a good number of years, the Times offered these magical dinners – which today would be auctioned online and raise a ton of money in minutes – for a flat ticket price, all proceeds to support NYPL. Florence and Frank always offered FOOD & WINE, Times style. There were other dinners, hosted by famous people, all over town at the exact same time. I was most intrigued by Calvin Trillin's. He invited the guests into his home and served take-out – or to be more precise, the best Chinese take-out NY had to offer. He had stationed minions all over Chinatown, striking with military precision to bring each dish, the most iconic offering from each restaurant, one by one, on a carefully calculated timetable ("…..like the Entebbe raid"………according to the Times) to be served at the precise moment of each dish's peak.

I asked who was cooking for Florence and Frank's party and she said she was – of course. I offered to do the event-time cooking to finish off her prep, so she could be with the guests. To say she was skeptical would be an understatement.   She did know who I was and had already written about New World Grill, but I was a newbie. Nicole insisted she take me up on the offer.   I left knowing the date and time but little else. I doubt I even thought to panic until the week before. Then, total anxiety set in. Especially when I found out she was making Terence Brennan's short ribs and mashed potatoes for the main, or more accurately she was making Terence Brennan's short ribs and I was making mashed potatoes. Sure sure sure – it seems simple, but the simplest food is always an acid test of one's cooking ability. Did you see The 100-Foot Journey? Helen Mirren had her acid test dish to confirm Chef's talent – and it was seemingly simple. Same deal for Florence's potatoes – under-season the water, turn the mash to glue, too wet, too dry, too bland – the stakes were incredibly high. To make matters worse – or as it turns out better – she had forgotten her ricer, "whatever that was", I thought. She called her husband to bring it over and then handed it off to me. Luckily it didn't come with –nor need – an owner's manual.  I had this.   Salted water to cook, white pepper and a lot of butter to finish. Thankfully my performance was worthy of an invitation to greet the guests and a hug from Florence, neither of which were expected. Johnny Carson himself might as well have invited me to the couch. Thank you, ricer.
Incidentally, Florence also introduced me that night to Indiana's goat cheese producer – Judy Schad of Capriole Farms. After the short rib course, there was a salad with fuyu persimmon and Wabash Cannonball cheese from Capriole Farms. Seriously – I need to get out more.

Perfect Mashed Potatoes
Mashed potatoes are an excellent blank slate for seasoning as you like. A few posts ago, I used the pistachio pesto recipe to flavor the riced potatoes. Today I am adding fresh goat cheese and thyme.   But while using a ricer is simple and flawless, potatoes cooked like this are best mashed to order, so dedicating the burner and the last minute attention may be more than you can swing at a stove-intensive holiday like Thanksgiving.
Fear not – there is a great make-ahead mashed potato recipe in Rick Rodger's Big Book of Sides
(I get credit for the recipe, but truth is I stole it from my sister-in-law.) Rick's books (including The Turkey Cookbook: 138 New Ways to Cook America's Favorite Bird
and Thanksgiving 101
) are right up there with ricers in the Thanksgiving must-haves.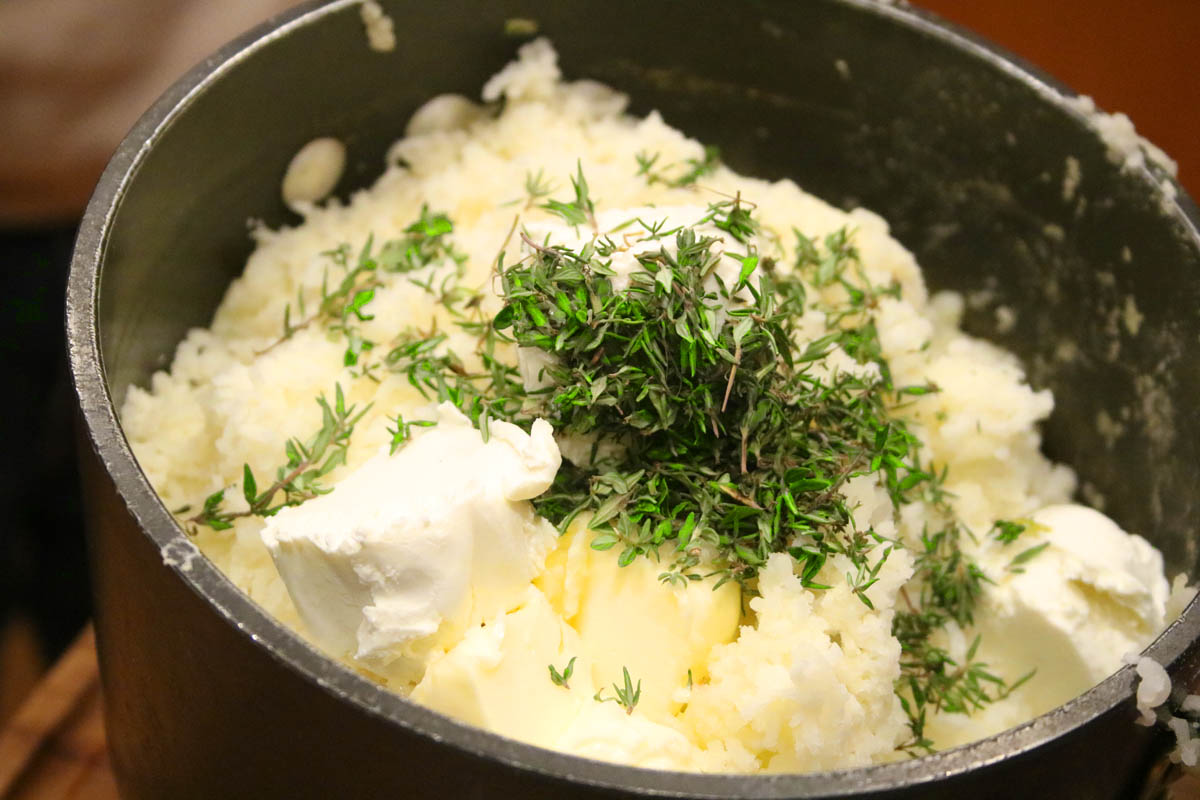 Ingredients:
4 Russet potatoes, about 3 pounds, peeled, quartered, and covered in water
½ cup milk, half and half or cream, warmed (microwave is fine)
4 ounces fresh goat cheese, cut in chunks
3 Tablespoons butter, cut in chunks
3 Tablespoons fresh thyme leaves
sea salt and freshly ground pepper
Put the potatoes in a large pot, season with 2 Tablespoons salt and cover with cold water. Bring to a boil and cook until the potatoes release easily when pricked with a fork, about 15-20 minutes. Drain well.
Press the potatoes through a Potato Ricer
into a bowl.
Add about half the milk, as well as the goat cheese and butter. Stir until mixed, adding more milk, as needed to desired texture.
Add the fresh thyme and season with salt and pepper.
Garnish with pats of butter and sprigs of thyme.
Serves 4-6 – depending on how serious (About Mashed Potatoes!!) you are.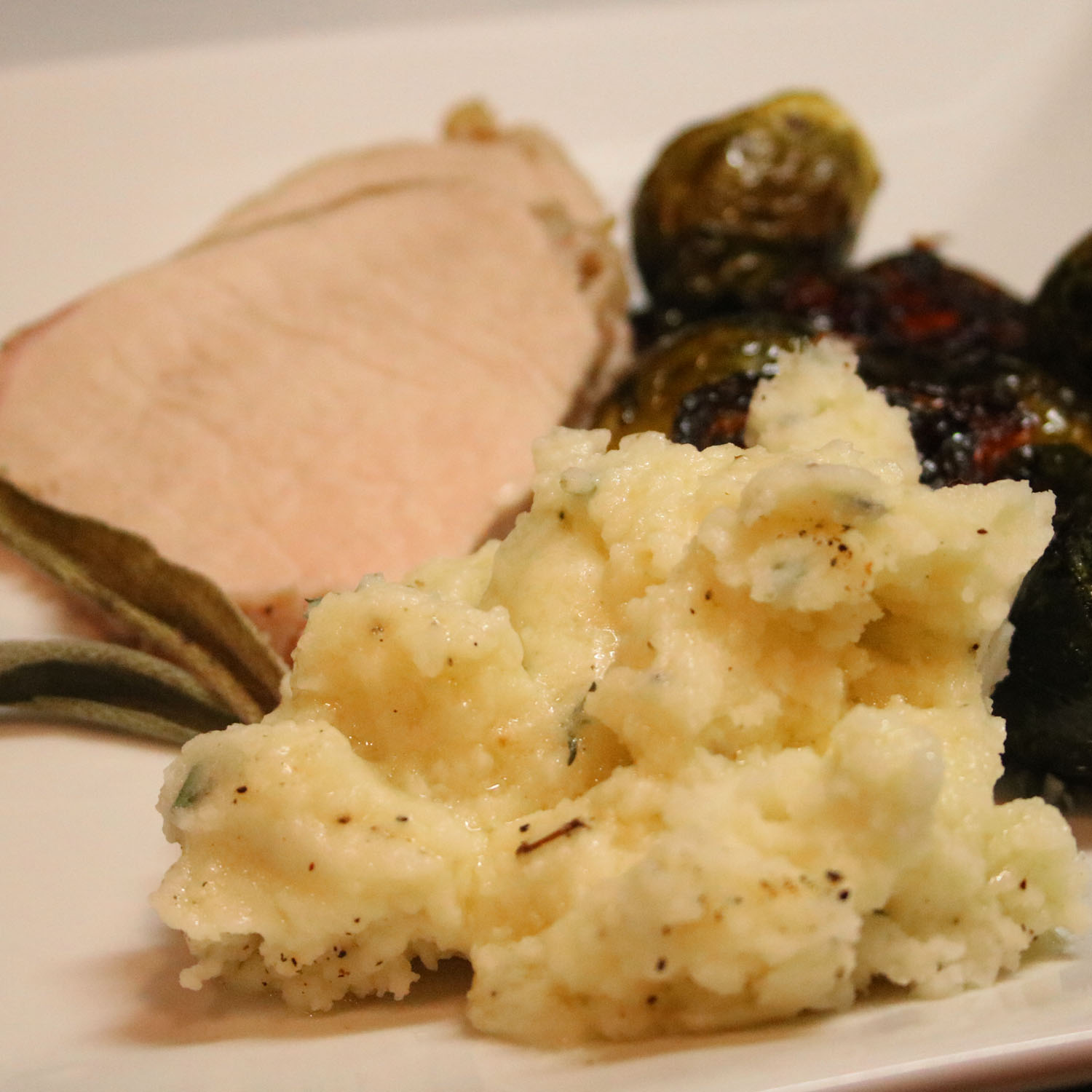 © Copyright: KatyKeck.com 2015. All rights reserved.
Hey, we want to hear from you!
Don't forget to Comment below, Share & Subscribe to our blog.