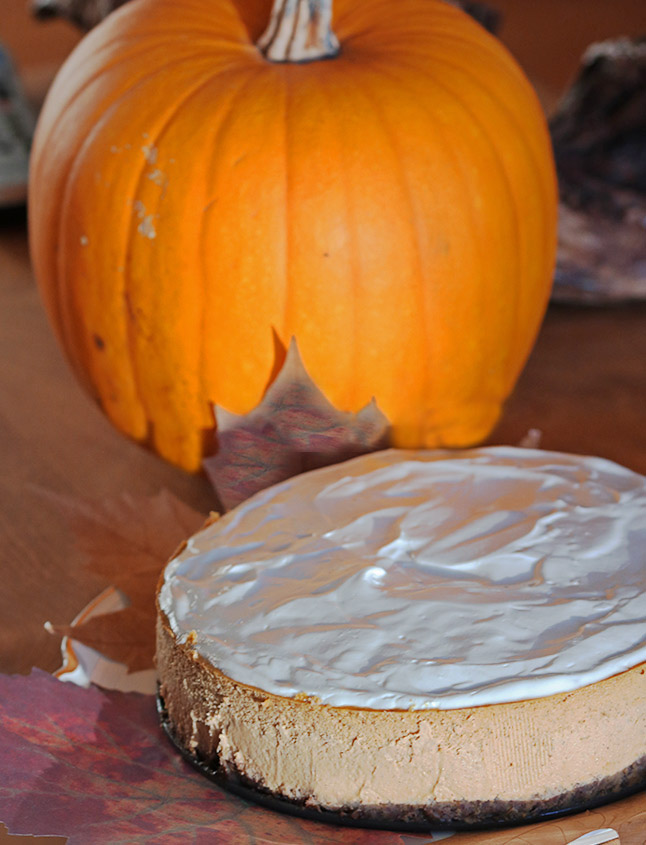 Time is nigh for setting the table and facing that big ole mess we call family…and all that that entails. This seems to be the one holiday when everyone descends on the same day and comes with baggage instead of picnic baskets. But let's be real – we are indeed so lucky that we can in fact gather, break bread and give thanks. I am hoping the biggest debate your gang faces on Thursday is sweet potato or pumpkin. (I'm looking at you Val – duh, pumpkin!) And my picnic basket this year is loaded with a secret weapon – a dessert that you can make a day or two ahead. Check that box. Move on. Worry about the Beaujolais Nouveau and who will do the dishes. Dessert is mission-accomplished. This pumpkin ginger cheesecake falls smack in the middle of the "consider it done" category. That of course assumes you can keep it safeguarded til after dinner on Thursday. It's tempting.

Thanksgiving dinner often gets a bad rap for being a brown meal. But I love the vibrant colors of fall squashes, pumpkins and gourds. Use them for table settings, roast them for a side or salad, make a quick bread, or whip them up in a dessert.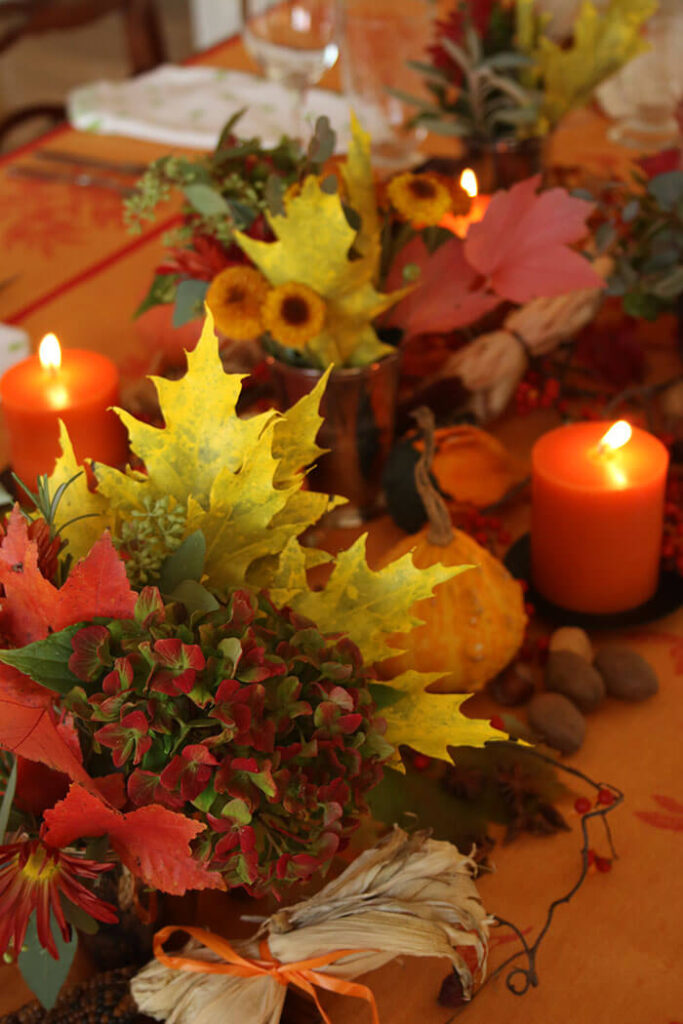 Cheesecakes are pretty flawless desserts to prepare even if you haven't made them before, as long as you follow a few simple tips. They are super sturdy, so you don't need a deft hand. I would argue quite the opposite. You really don't want to be dainty with the batter – don't incorporate lots of air, do bang the pan, get aggressive. Be bold. If you follow my instructions and read the accompanying notes, you will be a star performer – dare I say, a pastry chef. Start with your ingredients at room temperature, use a good quality springform, and use a food processor, not a mixer. A processor will combine the ingredients without incorporating air which will cause the cheesecake to puff and fall, leaving a crater in the center. Allow all the time needed for cooling to room temperature and then refrigerating. It takes time, but not active time. And know that if all else fails – craters or cracks – you will be slathering a cream topping on and that can cover a multitude of mistakes. Yes, indeed. You are definitely a pastry chef.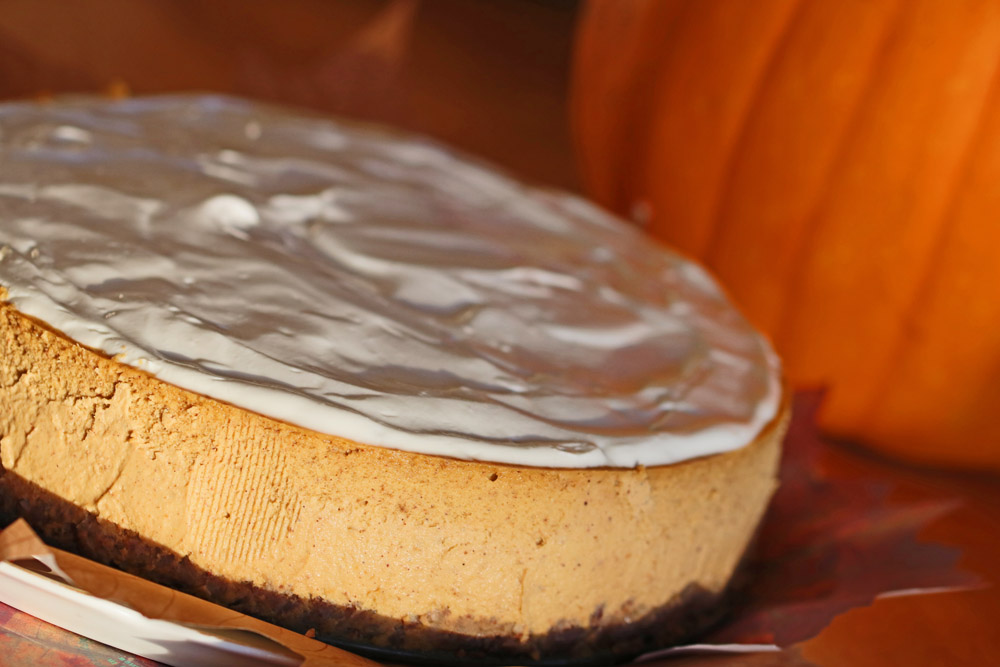 Print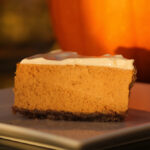 Tennessee Whiskey Pumpkin Ginger Cheesecake
---
Author:

Total Time:

2 hours

Yield:

Serves

1

2

1

x
Description
This pumpkin ginger cheesecake is surprisingly light, yet creamy. The nutty crust has that I want more-ish quality! And, a dose of Gentleman Jack Daniels keeps the party rolling.
---
Crust:
3/4 cup

all-purpose flour
1/2 cup dark brown sugar
1/2 cup finely chopped pecans
1/4 cup melted butter
Filling:
15 ounce

can pumpkin puree

24 ounces

cream cheese, room temperature
5 ounces Gentleman Jack Rare Tennessee Whiskey
1 cup sugar
1 1/2 Tablespoons vanilla extract
1 Tablespoon ground ginger
1 teaspoon ground cinnamon
1 teaspoon ground clove
1/2 teaspoon ground nutmeg
6 eggs, at room temperature, lightly beaten
Topping:
1 cup

sour cream

2 Tablespoons

Gentleman Jack Rare Tennessee Whiskey

2 Tablespoons

powdered sugar
---
Instructions
Make the Crust:
Preheat oven to 350° F. Combine flour, brown sugar, pecans, and melted butter and mix until crumbs adhere. Press into a 9 or 10″ sturdy nonstick springform pan and bake for 10 – 12 minutes. Remove and cool. Wrap pan in heavy duty foil. Reduce oven temperature to 300°F.
Make the Filling:
In food processor, puree pumpkin until smooth. Add cream cheese and puree until smooth. Add Gentleman Jack, sugar, vanilla, ginger, cinnamon, clove, and nutmeg and pulse until mixed. Add eggs and pulse 2 – 3 times only until just combined. Do not overprocess.
Pour filling into cooled crust and bang pan on the counter to eliminate extra air. Place in a roasting pan and fill with hot water, halfway up the side of the springform. Bake for 1 1/4 – 1 1/2 hours or until set. It may still be a bit wobbly in the center, but it will firm up as it cools.
Turn oven off and leave the cheesecake in the water bath in the oven for 30 minutes more. Remove the roasting pan from the oven, and carefully remove the springform from the water. Remove foil and cool on wire rack until room temperature. Refrigerate until fully chilled.
Make the Topping:
Combine sour cream, Gentleman Jack, and powdered sugar and spread on top of cheesecake. Refrigerate until set.
Gently run a knife or thin metal spatula around inside edge of pan. When cheesecake has released, open outer pan ring and remove.
Notes
Feel free to substitute a dark Rum or Bourbon if you prefer.
Tips to cheesecake success:
Room temperature ingredients
Combine the filling without beaters or a whisk. I use a food processor
Wrap the springform pan in foil and bake in a roasting pan filled with hot water half-way up the cheesecake pan
Cool slowly and refrigerate well before serving
More tips on how to remove the pesky springform bottom below in comments
Prep Time:

30 minutes

Cook Time:

90 min (plus chilling time)

Category:

Desserts

Cuisine:

American
Happy Thanksgiving and Gobble Gobble!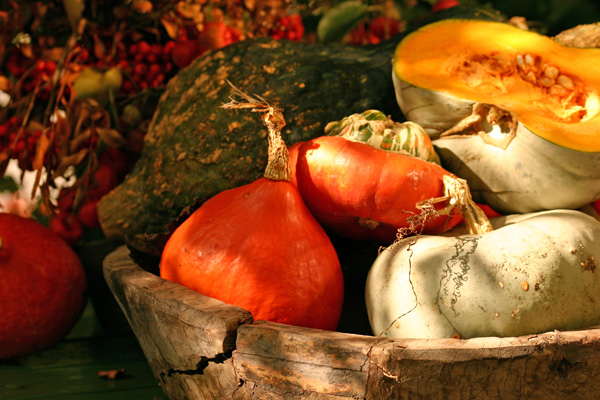 This post contains affiliate links. For more of my must-have favorites, including the mashed potato essential – a potato ricer – and the best book ever on Thanksgiving, visit my shop.
© Copyright: KatyKeck.com 2017. All rights reserved.
Hey, we want to hear from you!
Don't forget to Comment, Share & Subscribe to our blog.