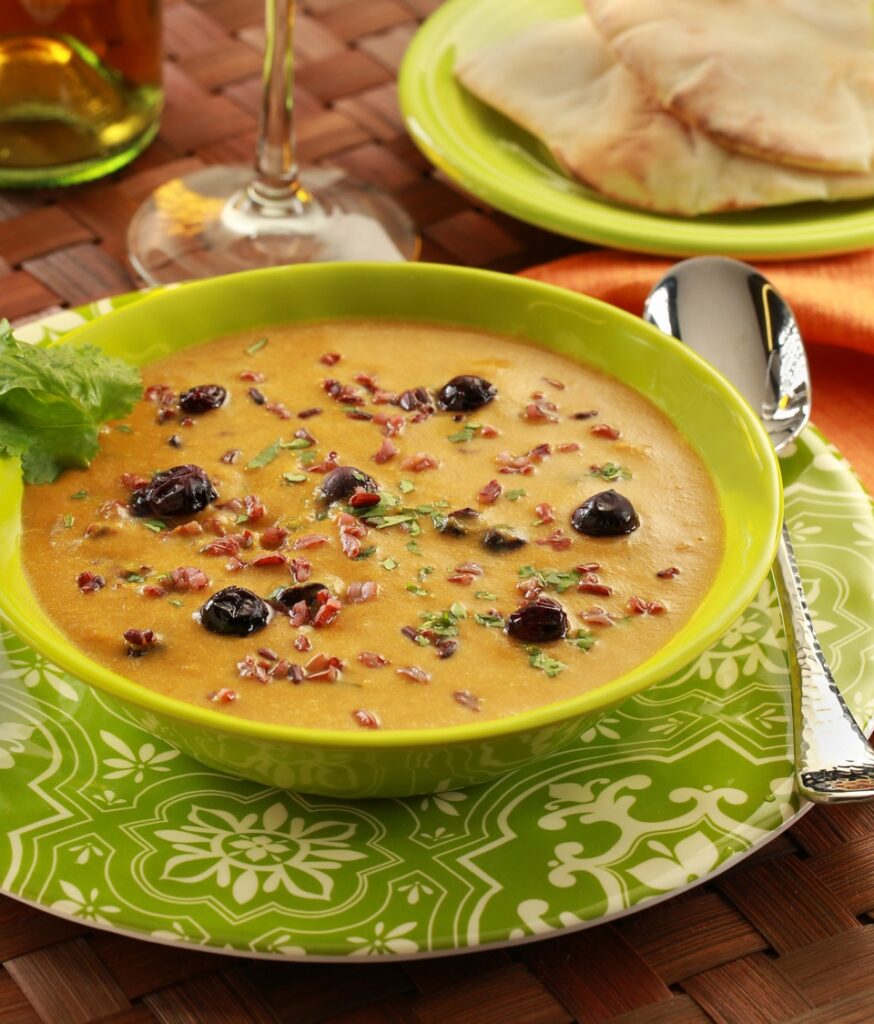 This fragrant soup will warm your soul on a cold winter day. Spices and ginger create an exotic perfume and are the perfect counterbalance to roasted blueberries, with just a hint of sweetness. Coconut milk (or coconut milk drink) is a relative newcomer to the beverage market. It adds some nice richness to the soup, but only has 45 calories per cup – infinitely better than the fat-laden canned coconut milk from the tropics.
Ingredients
1 cup Black Japonica Rice
8 cups chicken broth, divided per below
1 Tablespoon olive oil
1 onion, chopped
4 cloves garlic, minced
1 Tablespoon grated fresh ginger
1 jalapeno pepper, seeded, ribs removed and minced
4 pods cardamom, slightly crushed
2 teaspoons ground coriander seed
2 teaspoons ground cumin
1 teaspoon ground turmeric
1/2 teaspoon ground cinnamon
1/4 teaspoon ground cloves
2 carrots, peeled and chopped
1 large potato, peeled and diced
1 cup yellow split peas, cleaned and rinsed
1 cup fresh blueberries
2 teaspoons plus 2 Tablespoons lemon juice, divided per below
2 teaspoons honey
2 cups unsweetened coconut milk
1 Tablespoon tamarind paste, softened in 2 Tablespoons boiling water, strained
Garnish: 2 Tablespoons chopped fresh cilantro
Directions
Preheat oven to 400° F.
In a large saucepan with tight-fitting lid, bring 2 cups chicken broth to a boil. Add black Japonica rice, stir once, and reduce heat to a simmer. Cover and cook 50 – 55 minutes or until rice is tender and liquid is absorbed. Remove from heat and let stand covered for an additional 10 minutes. Fluff with a fork.
Meanwhile, heat olive oil in large stockpot over medium-low heat; cook onion, garlic, ginger, jalapeno, and spices, stirring, until onion is softened and mixture is fragrant, about 5 minutes.
Add remaining 6 cups of chicken broth to pot, along with carrots, potatoes, and split peas. Bring to a boil, then reduce heat, cover and simmer for about 20 – 30 minutes or until vegetables are tender. Discard cardamom pods (they float!).
Meanwhile, place blueberries in a shallow baking dish. Combine 2 teaspoons lemon juice with honey, and drizzle over blueberries. Roast for about 7 minutes, or until blueberries are about to pop.
Blend or process soup mixture, in batches, until pureed; return to pot. Add remaining 2 Tablespoons of lemon juice, coconut milk, and tamarind paste; stir until heated through.
Divide black Japonica rice and roasted blueberries among 6 shallow soup bowls and ladle soup in. Garnish with chopped cilantro.
Serves 6
Nutrients per serving:
290 calories, 4 gms fat, 36 calories from fat, 2 gms saturated fat, 0 mg cholesterol, 796 mg sodium, 12 gms dietary fiber, 11 gms protein