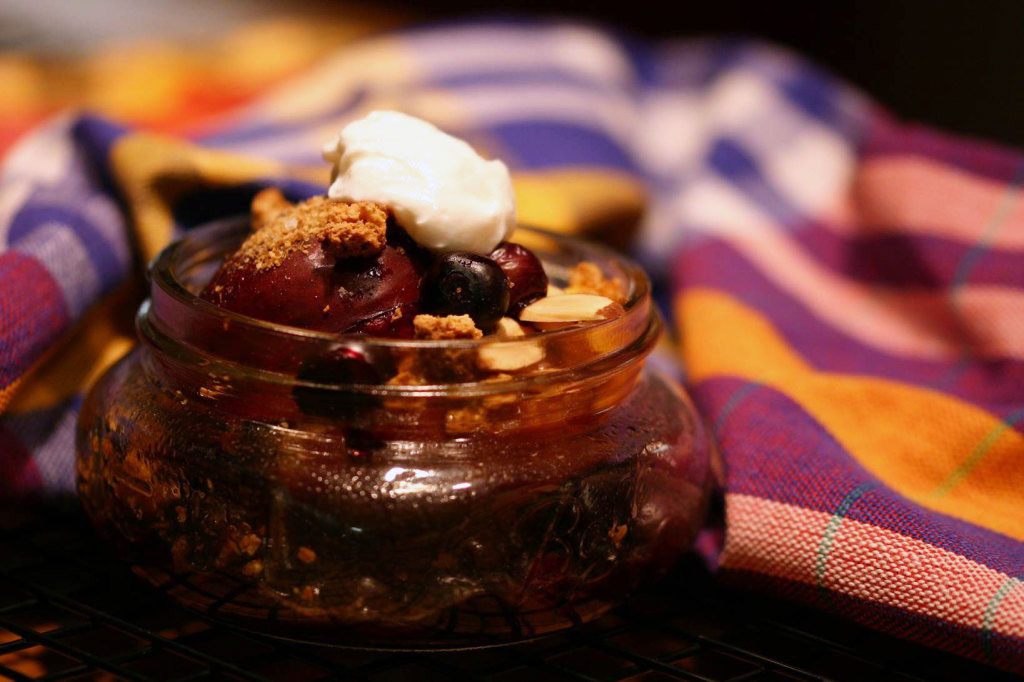 A-comfy-cozy-warm-and-toasty-sit-by-the fire-and-sip-port-dessert. Cutting the butter that normally makes a command performance in the topping, this dessert weighs in at only 117 calories and 2 grams of fat. Ah, but it feels like so much more.
 Ingredients
Crumble Topping
6 Amaretti Italian cookies, coarsely crumbled
1 Tablespoon brown sugar
Pinch of salt
Fruit
2 fresh Chilean Nectarines, halved, pits removed
1/2 cup fresh Chilean Blueberries
2 fresh Chilean Plums, halved, pits removed
2 Tablespoons port
1 Tablespoon sliced almonds, toasted
1/4 cup non-fat Greek Yogurt
Directions
Preheat oven to 400° F.
Prepare 4 – 4" (1 1/2 cup) ramekins by coating the sides with a thin layer of butter.
Mix the crushed cookies, brown sugar and salt together in small mixing bowl.
Arrange 1/2 nectarines, cut side up in each of the four prepared ramekins. Divide the blueberries among the dishes. Place the 1/2 plums, cut side down, pushing the nectarines at an angle, so they overlap slightly. Drizzle each with the port. Sprinkle crumble on top and divide nuts among the ramekins.
Place ramekins on a sheet pan, and bake for 18 to 20 minutes, checking the topping after about 15 minutes. Place a small square of foil over the ramekin, if the topping is starting to darken. Fruit should be tender and juicy when pierced.
Serve warm with dollop of Greek yogurt on top.
Serves 4
Nutrients per serving:
117 calories, 2 gms fat, 18 calories from fat, 0 gms saturated fat, 0 gms cholesterol, 47 mg sodium, 3 gms dietary fiber, 4 gms protein