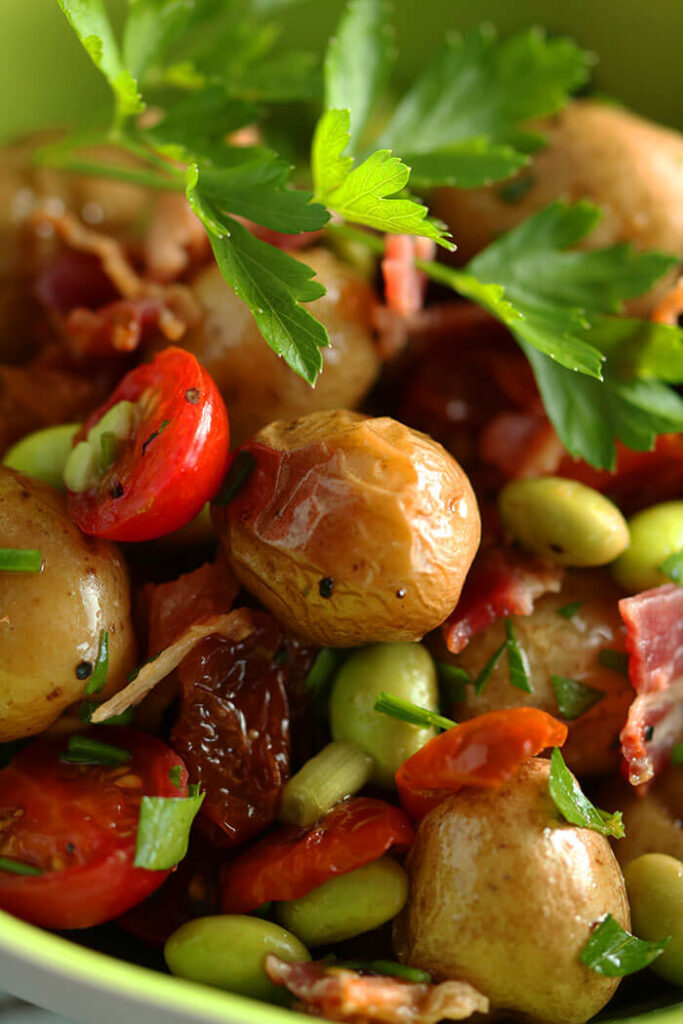 Having a German grandmother exposed me to vinegar-style potato salad from an early age. Don't get me wrong, we had our share of mayo-based summer spuds too, but I developed a taste for the briny acidity and mustard of German-style potato salads at a very early age. What I didn't see at that time however, growing up in Southern Indiana, was roasted potato salad…only boiled taters in our tater salads. It was only after I developed some culinary chops that I realized the beauty of roasted potatoes…well, TBH, roasted everything. Not only does roasting develop a bit of sweetness from caramelizing the natural carbohydrates, but it saves you from ditching all those wonderful nutrients that are lost when draining the water.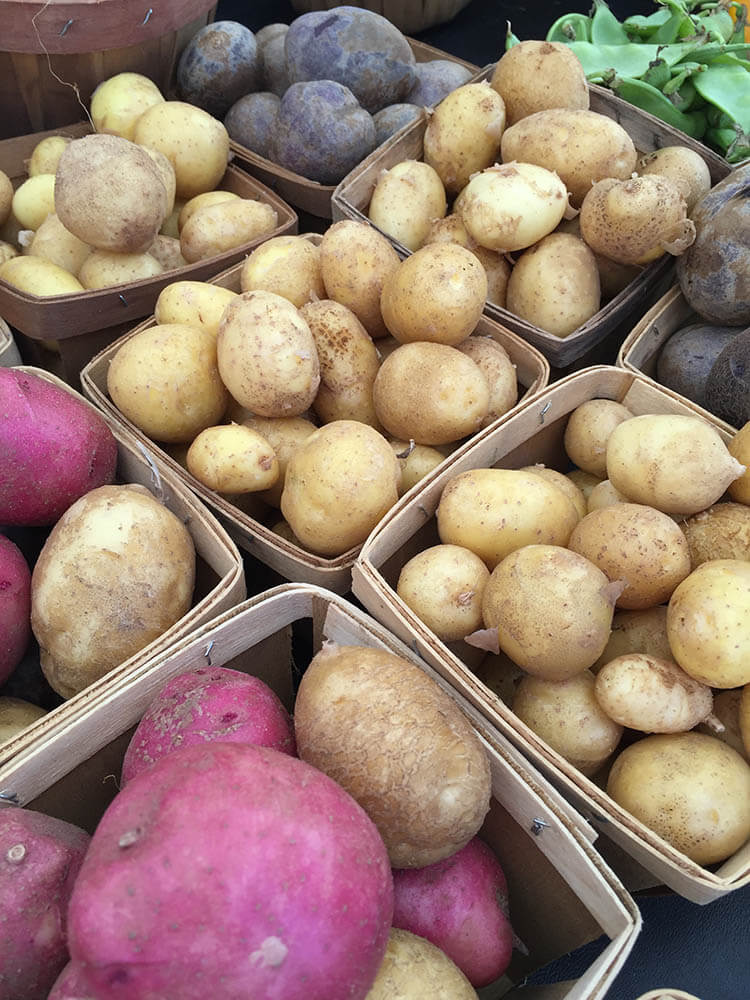 I am able to find tiny marble-sized potatoes both at the farmers market and in the grocery store. There are several brands at the supermarket, including The Little Potato Company. They offer an assortment of cherry-sized fresh creamer potatoes…Baby Boomer, Blushing Belle, Little Charmers, Chilean Splash, among them. If you can't find a small potato in your market, I recommend roasting new potatoes whole and cutting to size once they have cooled. Not only does it better hold the nutrients, but it also helps keep them a bit creamier which is a good thing in salads. If you were making an oven-roasted side dish, you might want the added golden surfaces from a pre-cut potato. It's a matter of personal taste, so go with what you know. A whole larger potato will definitely increase cooking time, so keep that in mind.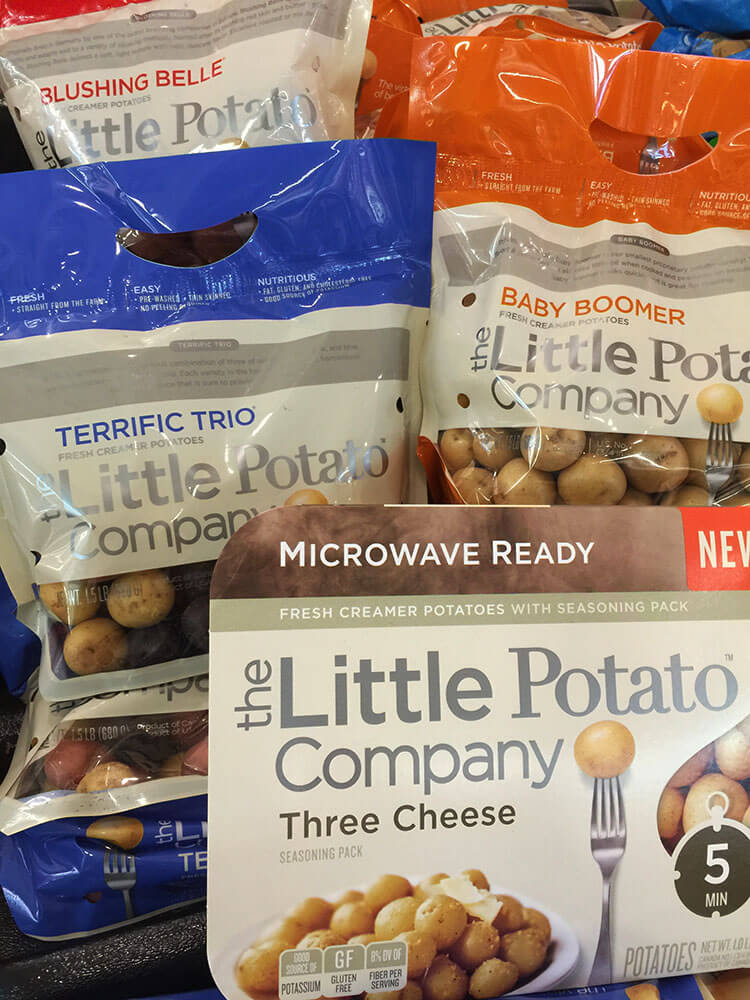 Now is the perfect time to think about preserving the late summer bounty of tomatoes, so I am counting on you to look back to the post You'll Thank Me in the Winter Oven-Dried Tomatoes. If you don't have any on hand and aren't ready to work on your winter supply, either substitute with sun-dried tomatoes (so inferior!!) or just use fresh tomatoes for the whole recipe, either the heirloom cherries called for in the recipe or chopped Romas or Beefs, enough to make up the one cup tomato total (1/2 cup dried + 1/2 cup fresh). Don't forget to adjust seasonings, especially salt, if you are only using fresh. The oven-dried tomatoes will bring salt from the prep, so I have cut back on the salt in the recipe in anticipation.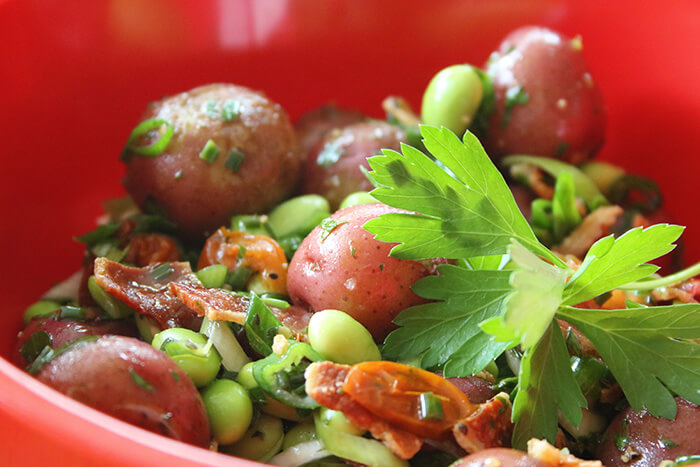 If you are so lucky as to have leftover roasted potato salad, try adding it to a breakfast quesadilla along with scrambled eggs, shredded cheese, and a little avocado, all sandwiched between flour tortillas. And be sure to keep my number handy because I'm gonna wanna show up for that!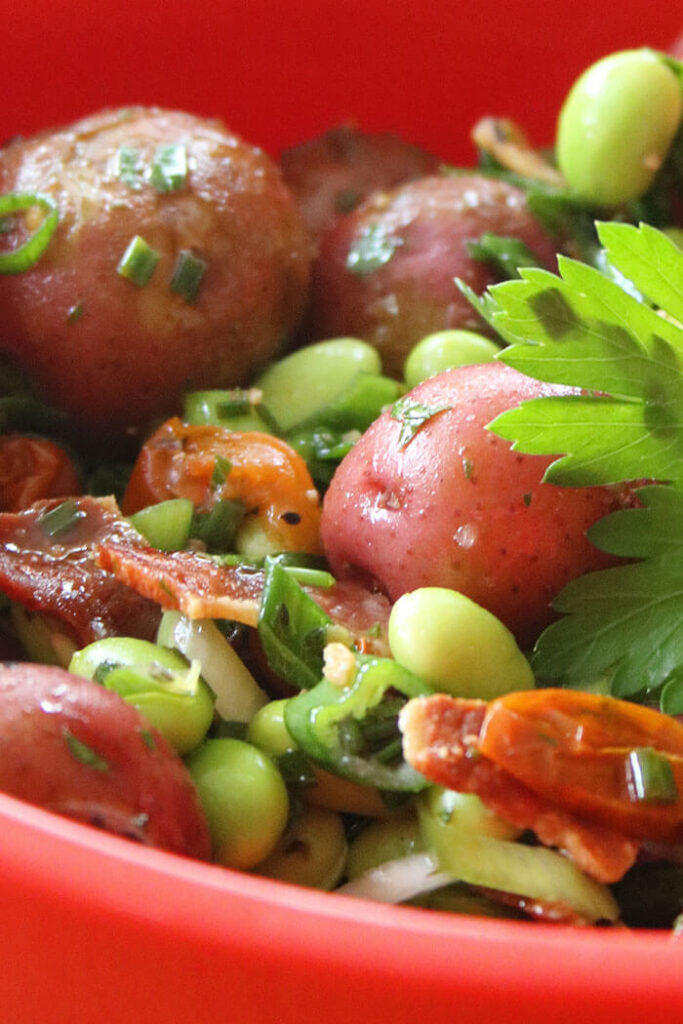 Print
Wonder Woman Superfood Salad with Curried Avocado Dressing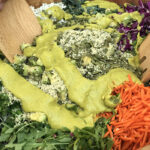 This superfood salad with creamy dreamy curried avo dressing will make you feel good about every decision you have ever made. It's mean, it's green, it's vegan, and it's chock-full of protein. But forget all that, it's super delicious and oh so satisfying.
Author:
Yield: Chef's Choice
Category: Entree, Salad
Cuisine: Vegan
Ingredients
Greens
Tuscan kale (aka lacinato, dino, cavolo nero or black kale), cut in thin ribbons
Rainbow chard, sliced
Baby kale
Spinach, chopped
Arugula, torn
Watercress
Pea shoots
Veggies
Grated carrots
Grated turnips
Grated radishes
Purple cabbage, thinly sliced
Steamed broccolini, chopped
Avocado, chopped
Plant-based Proteins
Quinoa, cooked according to package
Beluga lentils, cooked according to package
Pumpkin seeds
Sunflower seeds
Hemp hearts
Chia
Toppings
Golden raisins
Microgreens
Curried Avocado Dressing
1 Tablespoon ground cumin
1 teaspoon ground coriander
1 teaspoon ground turmeric
3 cloves garlic, peeled
1 1/2 ripe avocados, peeled, pitted, cut into chunks
3/4 cup white balsamic vinegar
1/2 teaspoon salt
1/4 teaspoon ground black pepper
1/4 teaspoon red pepper flakes
1/2 cup extra virgin olive oil
1/4 cup water, or as needed
Instructions
In a small sauté pan, toast the cumin, coriander and turmeric for about one minute, until fragrant.
With the motor running, drop the garlic into the bowl of a food processor. Turn off and add the avocados, pulsing a few times to a chunky puree. Add the vinegar, toasted spices, salt and peppers and pulse several times until combined.
With the motor running, drizzle in the olive oil until smooth, adding water as needed to desired consistency.
Notes
Makes 2 1/2 cups. Store in the refrigerator, in an airtight container.
This dressing is designed for a hearty green and grain salad so is aggressively seasoned. If you want to use this creamy green goodness in a more delicate dish, cut back on the spices and garlic a bit.
If you don't have white balsamic, use another mildly flavored and light colored vinegar, like rice vinegar.
Curried Avo Dressing is wonderful as veggie dip, a sandwich spread, fajita topper, potato salad dressing and so much more.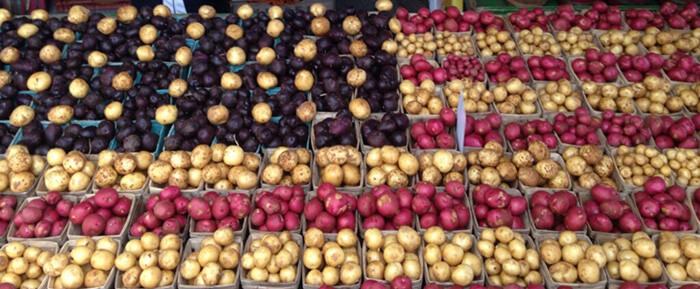 © Copyright: KatyKeck.com 2017. All rights reserved.
Hey, we want to hear from you!
Don't forget to Comment, Share & Subscribe to our blog.