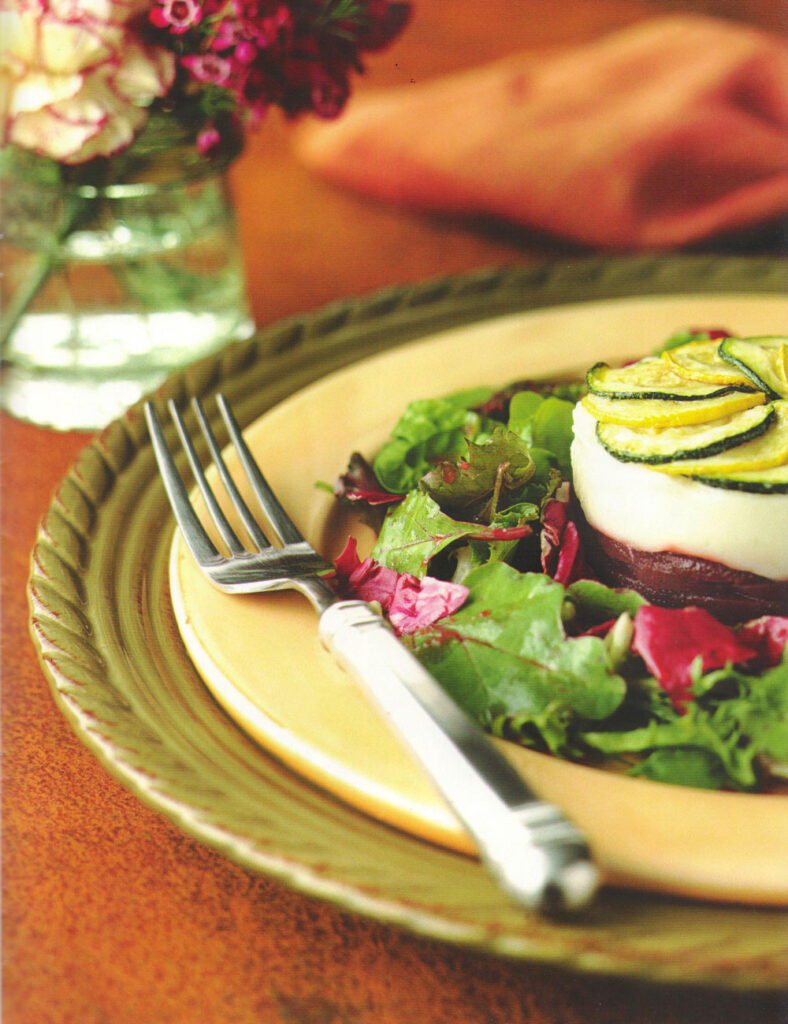 Beets and goat cheese are a match made in heaven. Adding the goat cheese to roasted potatoes elevates this root vegetable appetizer to a whole new level of sublime.
Ingredients
Vinaigrette
1/4 cup fresh beet juice
1/4 cup olive oil
1 1/2 Tablespoons fresh lemon juice
1 clove of garlic, roasted at 350oF for 20 minutes, peeled
1/8 teaspoon salt
1/8 teaspoon pepper
Napoleon
1 pound beets, scrubbed
1 pound baking potatoes, scrubbed
3 ounces of soft herbed goat cheese, cut into bite-sized chunks
1 Tablespoon butter
¼ teaspoon salt
1/8 teaspoon white pepper
1/3 cup milk, warmed
1 medium zucchini, thinly sliced
1 medium yellow squash, thinly sliced
Olive oil
Directions
Make the vinaigrette:
Place all the ingredients in the blender and blend on high until emulsified. Keep refrigerated until ready to use.
Makes about ½ cup.
Make the napoleon:
Roast the beets and the potatoes at 400oF until a fork inserts easily, about one hour. When cool enough to handle, peel both.
Press the roasted potatoes through a ricer, or mash by hand. Using a handmixer, begin to whip the potatoes, while adding the goat cheese, butter, salt and pepper and slowly drizzling in enough milk to reach desired consistency. Taste and adjust seasonings.
Thinly slice the beets and set aside.
Brush the zucchini and yellow squash with oil and grill or sauté until golden, about 1 – 2 minutes per side.
In a 3-inch ring, stack the vegetables by layering the beets, then the whipped potatoes, and finish with a layer of alternating rounds of zucchini and yellow squash. Repeat, to create 6 vegetable stacks.
Transfer the napoleons to an ovenproof dish and keep warm at 200oF until ready to serve.
To serve, place the warmed napoleons in the center of the salad plate and scatter the salad mix around the outside edge. Drizzle the beet vinaigrette from the end of spoon over the greens.
Serves 6