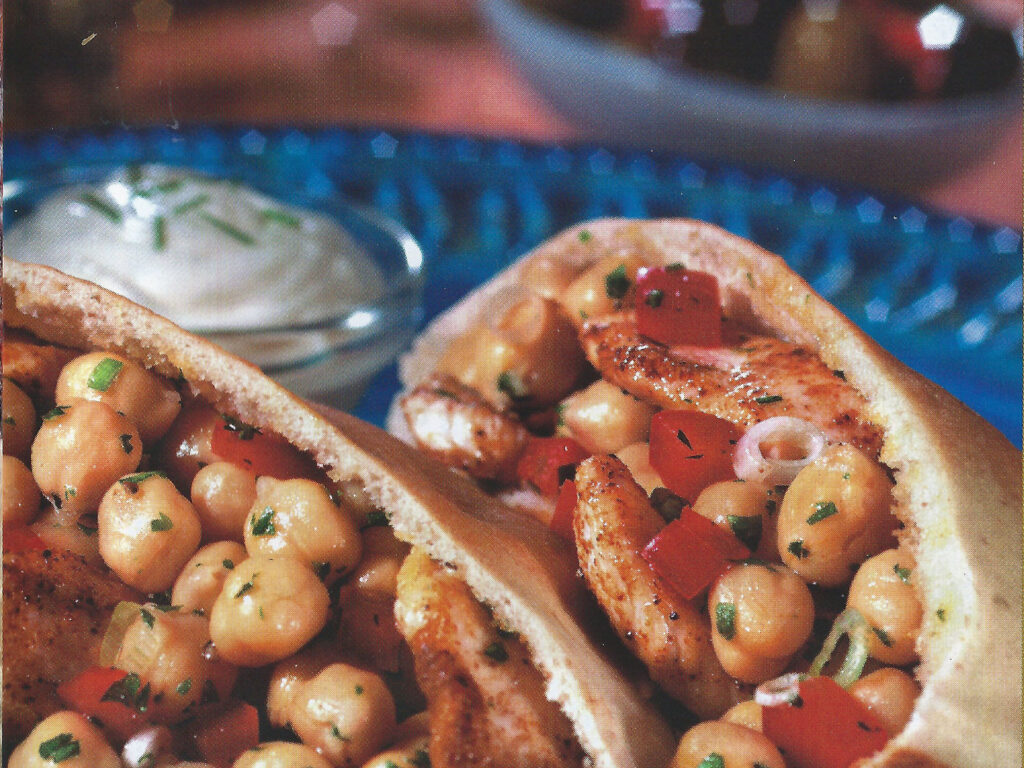 Coriander, cumin, garlic and lemon zest bring back immediate memories of the perfume of grilled meats on the streets of Casablanca. This recipe brings all those flavors together, but in a very quick simple few steps to get it on the table.
Ingredients
1 Tablespoon ground cumin
2 teaspoons ground coriander
1 teaspoon chili powder
1 teaspoon salt, divided below
1 pound chicken breast, cut in 1" cubes
¼ cup olive oil, divided below
4 cloves garlic, thinly sliced
juice (about ¼ cup) and peel of two lemons, zested or finely grated
¼ teaspoon ground black pepper
2 16-ounce cans garbanzo beans, rinsed and drained
3 scallions, thinly sliced
1 red pepper, diced
¼ cup parsley
6 onion (or plain) pita pockets
Garnish: non-fat plain yogurt
Directions
Combine the cumin, coriander, chili and ½ teaspoon salt in a plastic bag. Add the chicken and shake to coat with the seasonings.
Heat one Tablespoon olive oil in a sauté pan. Add the garlic and sauté until golden, about 2 minutes. Transfer the garlic to a small mixing bowl. Add the chicken to the sauté pan and sauté until cooked through, about 5 –6 minutes. Transfer the chicken to a large mixing bowl.
Meanwhile in the small bowl with the garlic, add lemon peel, ¼ cup lemon juice, the remaining 1/2 teaspoon salt, and black pepper. Drizzle in the remaining 3 Tablespoons olive oil in a thin stream, whisking to combine.
Add garbanzo beans, scallions, and peppers to the chicken. Toss the salad with the dressing and stir to combine. Stir in parsley. Taste and adjust seasoning.
Cut the top off the pitas to open. Divide the salad among the pitas, and top each salad with a dollop of plain yogurt to garnish.
Serves 6