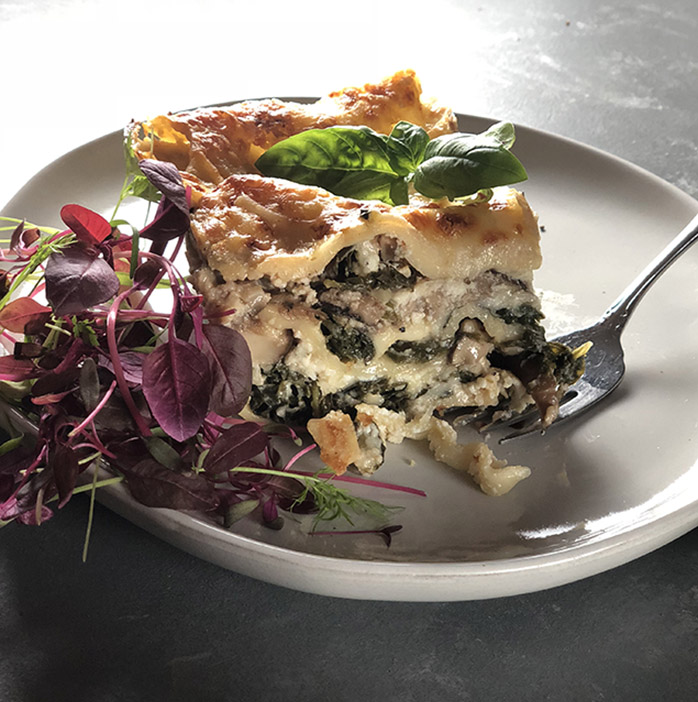 Let me be the very last to wish you a Happy New Year. Can I make amends by being the first to say Happy Valentine's Day? I'm hitting you up with a delicious shiitake kale lasagna today, and it's just about perfect for showing the love. Ooey gooey goodness. Check. Next-level comfort food. Check. Flavors that are literally layered. Check. Check. Check. (A lot of layers requires three checks!) What distinguishes this dish from my normal recipe style is that it takes a bit of time. Did I say a bit? Half the damn day. (I exaggerate – a lot). Hence the love factor, as in it is a labor of love to prepare. And in fact, it was a labor of love that I even bring it to you. You can thank my two neighbors that showed up on my doorstep, knocking timidly, hands extended and holding up a cherished lump of frozen kale mushroom lasagna. "Could you? Would you? Figure out what this is?" they asked. They'd found it in the back of the freezer, and it had been a gift. They loved it and wanted more. It was the last little slab. This kind of reminds me of Monica and Phoebe trying to recreate Phoebe's grandmother's chocolate chip cookie recipe. Anybody?
I tried it and knew if it was going to be a project I'd undertake, I would surely have to kick the flavors up a notch. I tested this a couple of times, once with the oven ready noodles – no bueno in my mind, but you do you – and it kept getting better. The last one we made together. One thing I learned then and there is that it's fun to cook with friends, maybe even more fun than cooking for friends. Who knew? This is a perfect recipe – since it has 6 components – to either make over a couple of nights, getting the sub-recipes ready to assemble, or even better, enlist some friends, giving each their own ingredient to prep. I was worried that it was really a bit involved for my blog – I like to roll simple and flavorful. But the reality is lasagna was never meant to be an everyday dish. In Italy, it is a special occasion dish, eaten in smaller portions as a starter. Argh! Americans!! Must we supersize everything??!! I told my colleague Elena Tedeschi from Well Rooted Kitchen that I was working on this, and she gave me a side-eye glance and begged to be reassured that I was not adding ricotta. Wait, what? I always had. Before I could answer, my rolodex brain flipped back to realize that of course the traditional would have been made with béchamel, or besciamella in Italian, a white sauce. I assured her I had a béchamel, conveniently leaving out that I ALSO HAD RICOTTA!!!!!! What am I, an American…adding more when less would have done? Yup! Sorry, not sorry. Not only do I add ricotta, I season the hell out of it. Blame it on the first round with the oven-ready/no-cook noodles. I was trying to keep the dish moist. I will not apologize.
I remember a Washington Post article about the Americanization of lasagna. They are not wrong. The article describes in detail the variations throughout regions of Italy both in terms of recipe and special occasion where you might find it served. The thing they have in common is just how special this dish is, and how laborious – and even expensive – it can be. I think this one fits in right about there. Classic dishes are more likely to be made with homemade thin, nearly translucent noodles. I do short-cut this with a dried pasta, but I try to find an Italian brand, like De Cecco, which is thinner. Bonus points for an artisanal pasta maker. Because lasagna noodles are used by the piece, not the weight (how many pieces are needed to cover a layer?) but sold by the weight, not the piece, it's tough to guess how much you will need. I used a pound of that inferior no-cook domestic brand, but only 1/2 pound of De Cecco.
I have worked over the years with the legend, Marcella Hazan. She is no doubt rolling in her grave over this version. While a laborious gesture of love, her lasagna was certainly not overstuffed. I would argue that the thing mine has going for it is that there are two distinctly different (and perfectly seasoned, I might add) vegetables – kale and shiitakes – that are the stars. But you can still distinguish all other layers individually – pasta, béchamel and ricotta. I have seasoned each component separately, and you can taste them distinctly. But enough about me, let's get this party cooking. Have you called your friends yet to schedule a lasagna fest?
Shiitake Kale Lasagna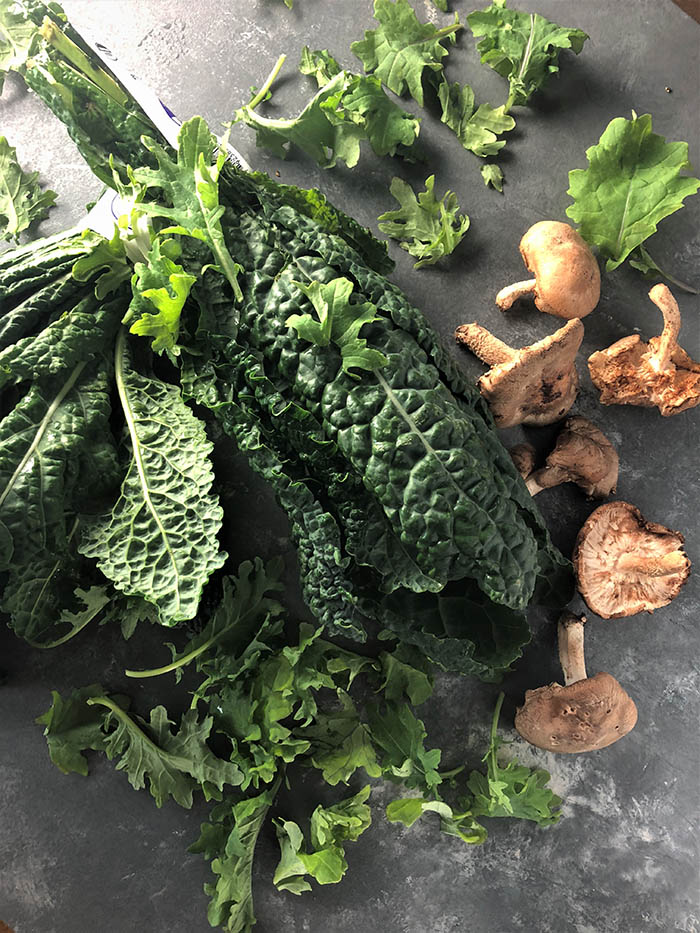 Prep the Vegetables
I am using two kinds of kale, as well as shiitake mushrooms, in lieu of meat for this non-traditional – go ahead and say it – Americanized, Katy-ized version of lasagna. Both Lacinato (also known as dino, Tuscan, black, or flat) kale and baby kale are sautéed, then sweat to a reduction. They get a dose of red pepper flakes for their seasoning. Shiitake mushrooms are sautéed in butter and the pan is then deglazed with Marsala wine.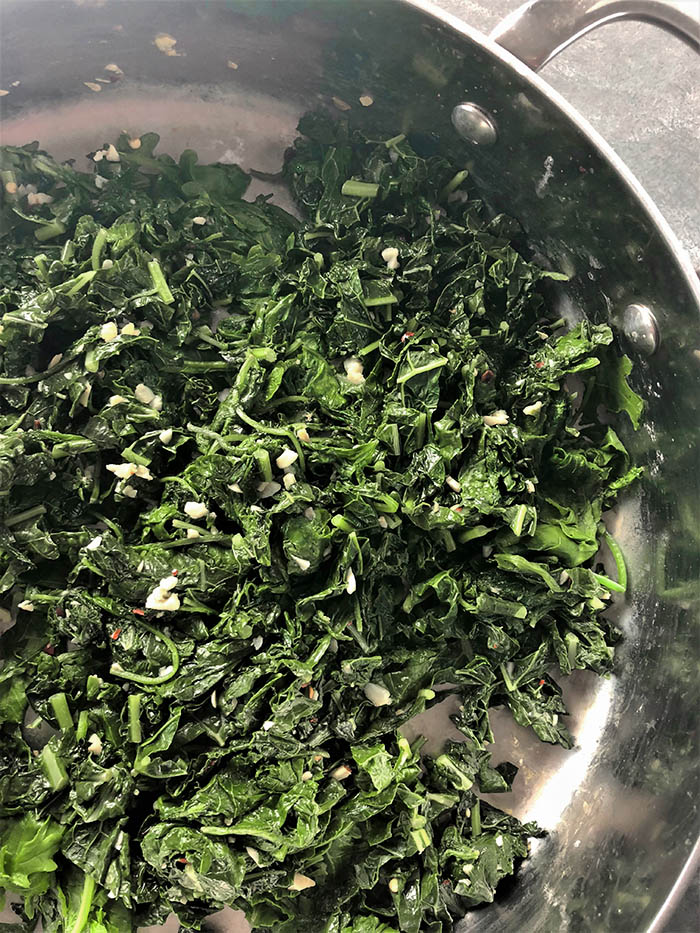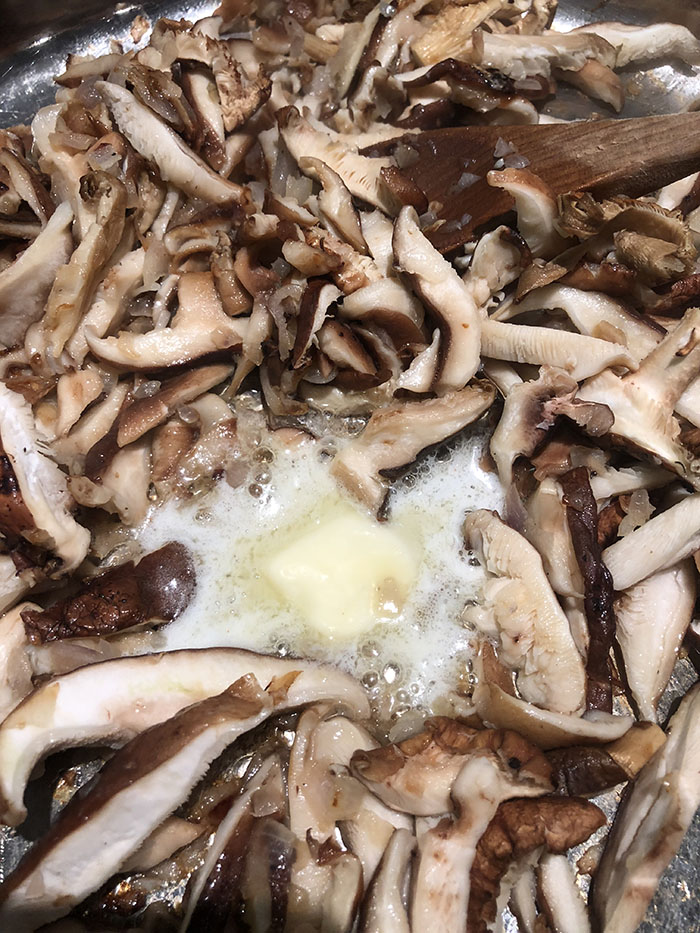 Make the Besciamella
This white sauce is normally butter, flour and milk, but because of the double dose of starch – flour + noodles – I cut the milk with vegetable stock. Don't try to make sense of that – just know I am lightening up the béchamel a bit by not solely using milk for the liquid. Like all roux-based sauces, it's 1 Tablespoon fat to 1 Tablespoon flour to 1 cup of liquid. Got that? I hope by now you have that mastered. So, it takes 1/4 cup fat, in this case butter, to result in one quart of sauce. Tricky math – 1/4 cup dry is 4 Tablespoons and one quart liquid is 4 cups. Voila! I'm seasoning this with some coriander – just because it plays well with the earthy vegetables – and some nutmeg, albeit more French than Italian. Stay with me.
Season the Ricotta
Elena: Just skip this section and forgive me.
I thin the whole milk ricotta with some milk, and season it with lemon zest, fresh basil and thyme, and a dash of red pepper flakes. Easy peasy.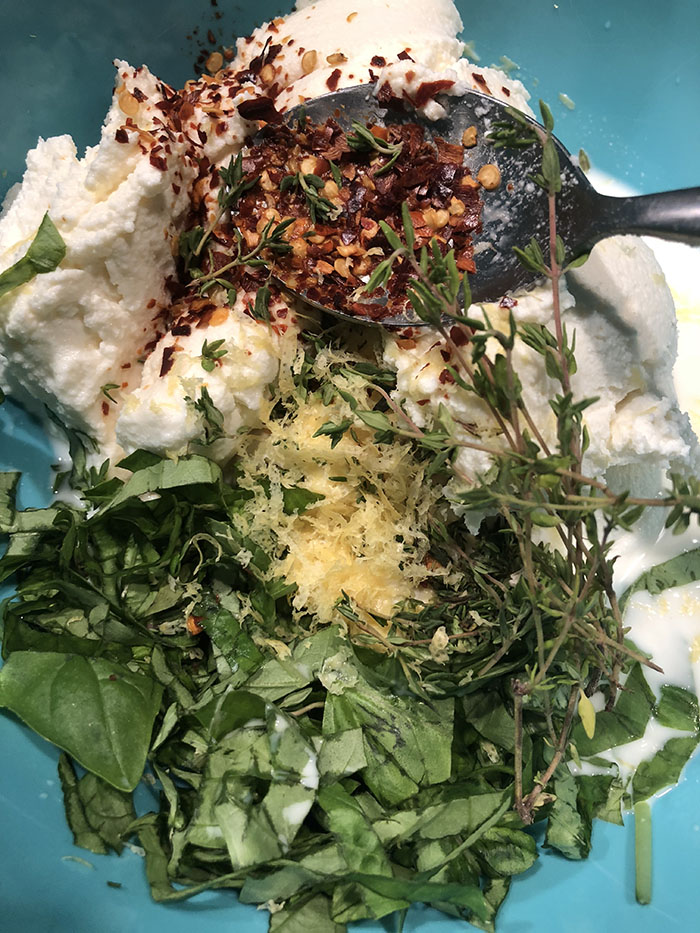 Cook the Noodles and Grate the Cheeses
As mentioned, look for a high-quality Italian-brand dried pasta. The amount needed will depend on the number of pieces per pound. Figure 13 to 15 noodles, which is hard to determine when you are shopping, so buy the one pound box. Before you cook, lay the noodles out in a pan and see what you will need to cover three layers. I like to do the first and third layer cross-wise and the middle layer lengthwise. That makes it easier to hold together when you cut the lasagna. If all layers go the same direction, you will no doubt trigger a noodle landslide. Nobody wants that.
For the cheeses, I used Pecorino Romano (a classic), goat Mozzarella (cow will do) and Fontina Fontal (super melter). Each cheese brings its own special flavor notes and texture, but at a minimum you want a finely grated super flavor like a Pecorino and a hand-grated melter like a Mozz and/or Fontina. Shout out to The Cheese Lady for filling my life with options!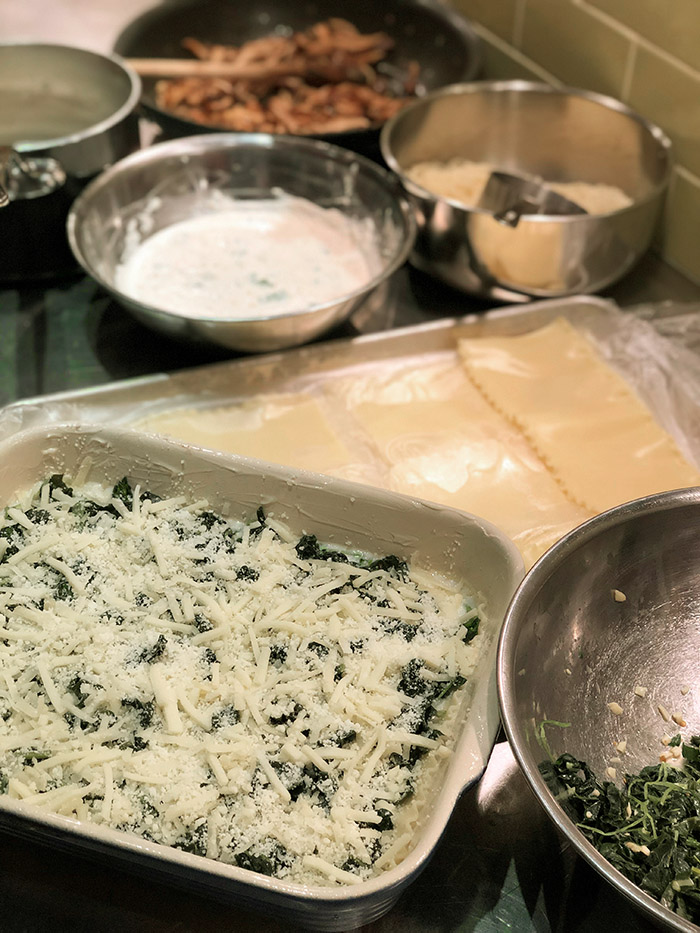 Layer the Shiitake Kale Lasagna
At the risk of TMI, I have provided a detailed list of the layering order with specific details on how much of each ingredient to use. Maybe its me, but I often find myself trying to figure out why I end up with some arbitrary ingredient portion left over or trying to count layers and doing long division, especially if the details are buried in a verbose paragraph. It makes the printout lengthy but you can NOT go wrong. Not on my watch!!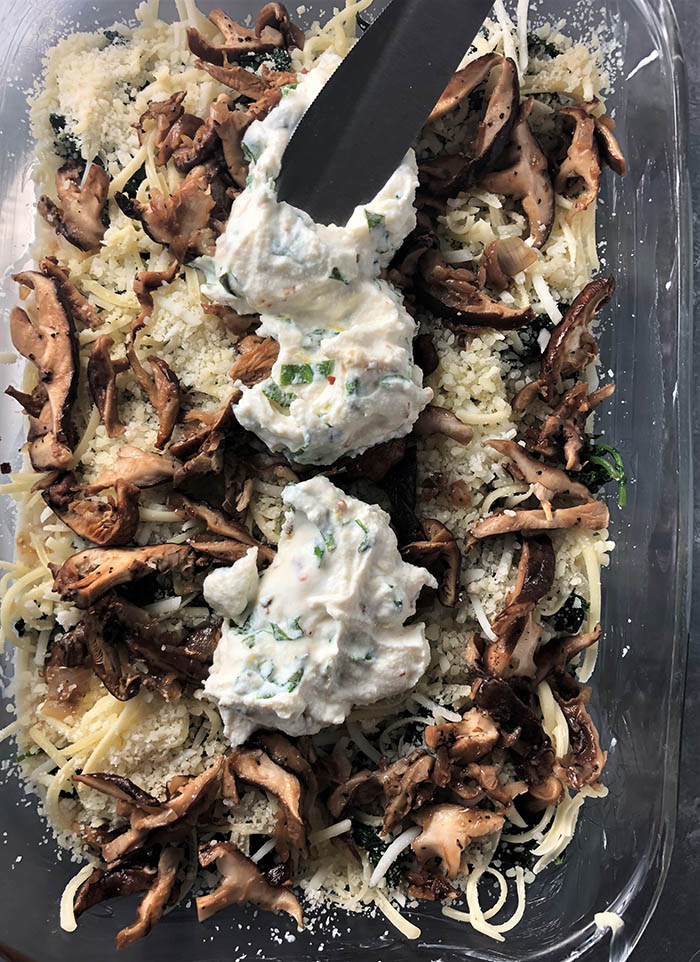 I hope you will find a cold wintery night and a couple friends to either help you prep or at least to pour your wine as you go. You will be the belle of the ball if you mic-drop this on the table. Some red wine and a big salad – maybe with a touch of sweetness like juicy pears – and settle in. Buon Appetito.
Print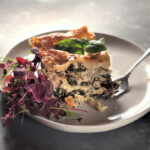 Loaded with Love Shiitake Kale Lasagna
---
Author:

Total Time:

2 hours 30 minutes

Yield:

12

servings

1

x
Description
This shiitake kale lasagna is a dreamy wintery dish, chock-full of earthy greens and mushrooms, with a cozy dose of melty cheeses and warm spices. Enlist your friends and make a night out of prepping the layers and assembling, then settle in to reap the rewards.
---
Kale
1 Tablespoon

olive oil

3

cloves garlic, chopped

2

bunches of Lacinato (dino, Tuscan) kale, cut into thin strips (chiffonade)

2

5-ounce packs of baby kale

3 Tablespoons

water

1/4 teaspoon

salt

1/4 teaspoon

red pepper flakes
Mushrooms
1 Tablespoon

olive oil

2

shallots, chopped

1

–

2

Tablespoons butter

12 ounces

shiitake mushrooms, trimmed and sliced

2 Tablespoons

Marsala wine

1/4 teaspoon

freshly ground black pepper
Béchamel Sauce (makes 1 quart):
4 Tablespoons

butter

1/4 cup

all-purpose flour

2 cups

of milk

2 cups

of vegetable stock

1/2 teaspoon

salt

1/2 teaspoon

ground coriander

1/2 teaspoon

freshly ground black pepper
Grating of fresh nutmeg
Ricotta
1

pound ricotta cheese
Zest of

one

lemon

1/3 cup

milk

2 Tablespoons

chopped fresh basil

2 teaspoons

fresh thyme

1/2 teaspoon

red pepper flakes
1 pound Italian-brand lasagna pasta (you will need about 15 pieces)
Cheese Mix:
1/3

pound Pecorino Romano, 1 1/4 cups grated

1/2

pound goat (or cow) Mozzarella, 2 cups grated

1/3

pound Fontina Fontal, 2+ cups grated
---
Instructions
Preheat oven to 325oF. Butter a 3-quart 9 x 13 baking dish.
Prep the layers:
Kale: Heat olive oil over high heat in a large sauté pan. Add chopped garlic and sauté for 2 to 3 minutes. Add chopped Lacinato kale and the baby kale and stir to wilt. You may need to add the greens in batches, until there is enough room to add more. Add 3 Tablespoons water and cover. Cook for about 2 minutes, then remove the lid and cook about 2 minutes more until the liquid is evaporated. Season with salt and red pepper flakes.
Mushrooms: Heat 1 Tablespoon olive oil in a large sauté pan. Add the shallots and cook about 4 minutes until shallots are golden. Add 1 Tablespoon butter and the shiitakes, cooking for 4 minutes until cooked through. Add an additional Tablespoon butter, if needed. Deglaze the pan with 2 Tablespoons Marsala wine, scraping up the brown bits. Season with black pepper.
Béchamel Sauce: Heat 4 Tablespoons butter in a large saucepan over medium heat, whisking in the flour until smooth. Cook the roux for several minutes, letting it bubble at least one minute, until lightly golden. Add the milk and vegetable stock, in a slow drizzle until all is incorporated. Season with salt, coriander, pepper and nutmeg. Simmer for 10 minutes. Taste for seasonings and adjust.
Ricotta: Mix all ingredients in a small bowl and set aside.
Pasta: Cook the noodles according to package directions in salted water, undercooking by about two minutes. Drain and rinse with cold water. Drizzle a little olive oil on the noodles and lay them out on a foil-lined sheet pan, with plastic wrap between the layers. Cover with a damp towel if you are holding for a little while or wrap tightly in plastic wrap and refrigerate if you are prepping a day ahead.
Cheese: Combine the three cheeses together in a small mixing bowl and set aside.
To make assembly easier to follow, I am listing each layer separately, along with how much to use. Layer as follows:
Béchamel Sauce – 1 cup
Lasagna Noodles – cross-wise, about 3 – 5 pieces, depending on brand, trimmed to fit
Béchamel Sauce – 1 cup
Kale mixture – 1/2 of the mixture
Grated cheese – 1/3 of the mixture
Mushrooms – 1/2 of the mixture
Ricotta filling – 1/2 of the mixture
Lasagna Noodles – lengthwise, about 3 – 4 whole noodles, trimming as needed to fill ends
Béchamel Sauce – 1 cup
Kale mixture – 1/2 of the mixture
Grated cheese – 1/3 of the mixture
Mushrooms – 1/2 of the mixture
Ricotta filling – 1/2 of the mixture
Lasagna Noodles – cross-wise, about 3 – 5 pieces trimmed to fit
Béchamel Sauce – 1 cup
Grated cheese – 1/3 of mixture
Place on a sheet pan to catch bubble-overs, and bake, covered with foil sprayed with oil to prevent sticking, for 40 minutes. Remove the foil and raise the oven temperature to 425oF. Bake for an additional 20 to 25 minutes until the cheese is starting to brown and the lasagna is bubbly.
Let stand for 10 minutes before cutting and serving.
Notes
The prep time here is directly correlated to how many people and how much wine. I am a speedy chopper and prepped in less time than shown. If you are a leisurely chopper or socializing, it may take longer. Or, many hands make light work.
Prep Time:

90 minutes

Cook Time:

1 hour

Category:

Entree

Method:

Stovetop, Oven

Cuisine:

Italian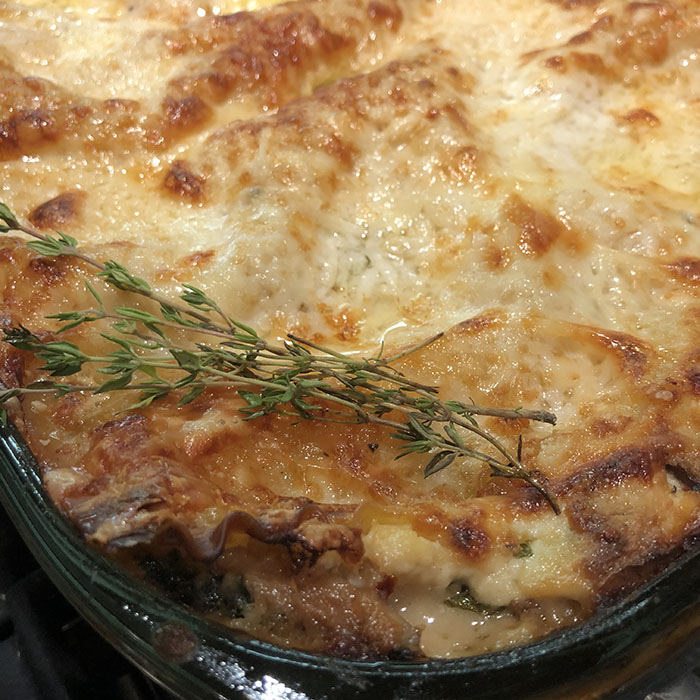 © Copyright: KatyKeck.com 2019. All rights reserved.
Hey, we want to hear from you!
Don't forget to Comment, Share & Subscribe to our blog.