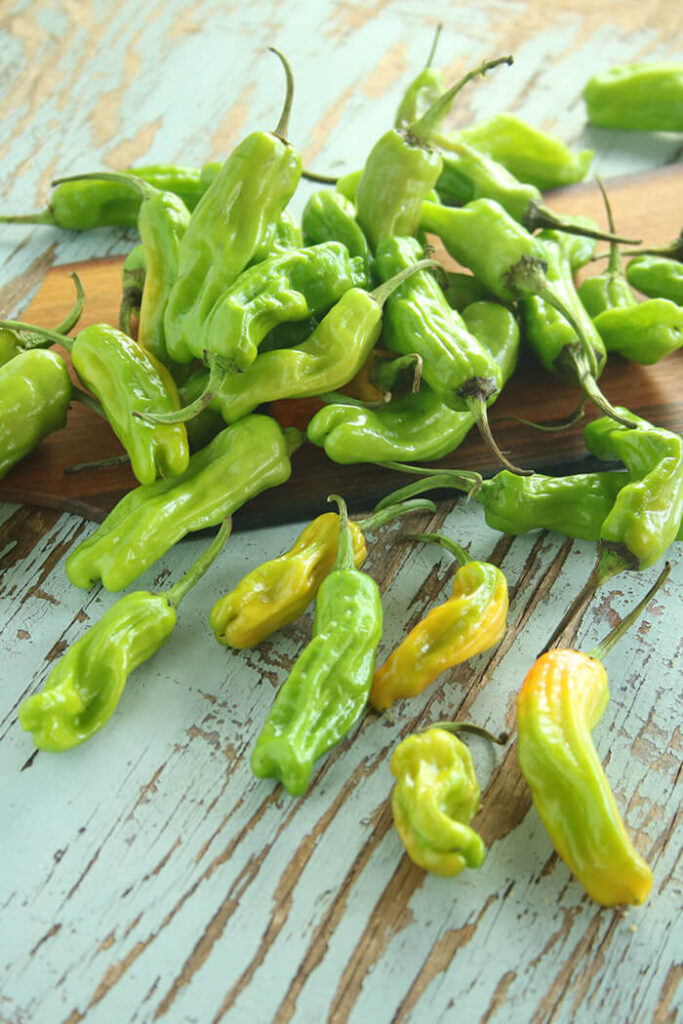 In this impending season of eating too much – and loving every minute of it – here's an appetizer that is a real crowd pleaser and won't bust the gut. Roasted shishito peppers! Super-fast to prep, full of flavor with just an occasional touch of heat, shishito peppers have an "I-want-more-ish" quality to them and are pop-able like edamame, though they have the added benefit of being just as good at room temp.
Shishitos are a Japanese pepper, long and slim and a bit twisty, with a tip that allegedly looks like a lion's head (shishi in Japanese). A bit citrusy and herbal, they are pretty close to the Spanish Padron pepper. Cooking them until blistered brings a smokiness that makes this a veritable party in your mouth.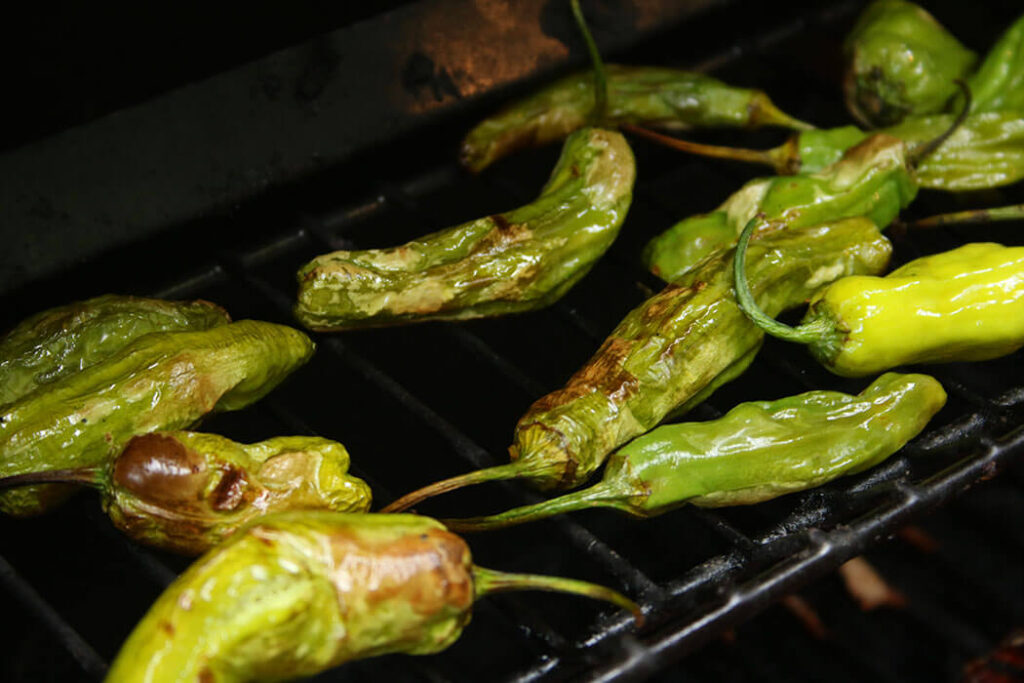 Not long ago shishitos would have been impossible to source outside a fancy greenmarket, but now they are widely available at the grocery, thanks to Melissa's, the largest distributor of specialty produce in the country. I love the unique items that Melissa's carries, ranging from tiny coconuts (coquitos) to dried Bhut Jolokia chiles. And I have a special place in my heart for Melissa's owner Sharon Hernandez who once blessed me with a gift of culinary history – one of Julia Child's beloved sandwich presses – the very one that almost took me down.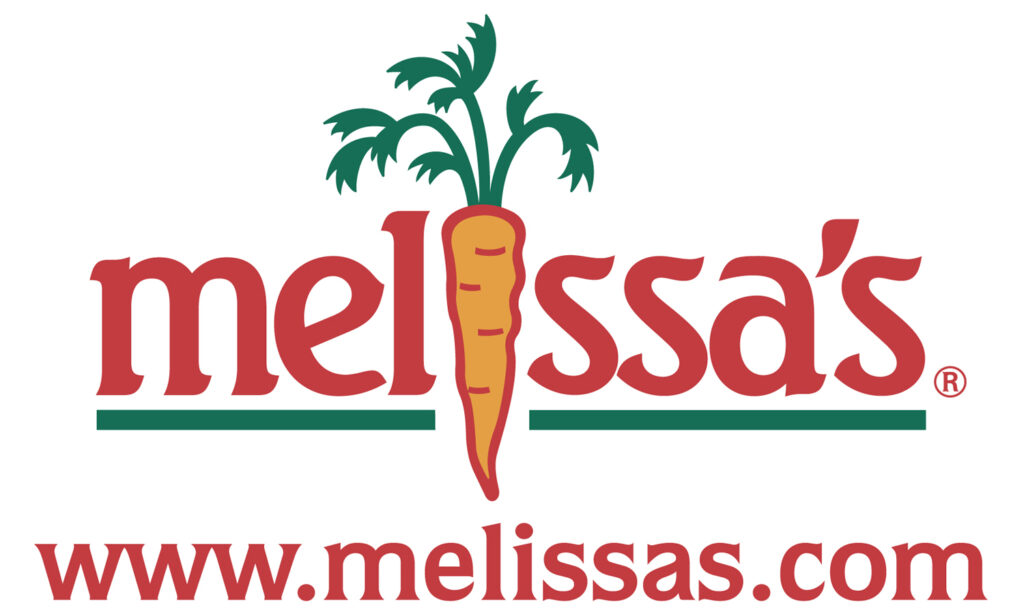 During the run of the Rosie O'Donnell show, I styled cooking segments with Julia Child on many occasions. This particular day Julia was scheduled to appear live and demonstrate a lovely recipe for a toasted Croque Monsieur sandwich. Rosie, who built her shtick on an alleged pedestrian palate, was making her spin on the famous French fancy. Wonder Bread in place of Pepperidge Farm Toasting White, Bologna in lieu of Black Forest Ham. No Gruyere – just Velveeta. And the plan was that Rosie's sandwich would not be precious and pressed, but 1-foot high. Bigger is funnier, or so was the show's mantra.
As the foodstylist for the show, I had assembled all the groceries and props, but awaited Julia's arrival to make the "beauty" sandwich. She was hauling her prized shell-shaped sandwich iron from her Cambridge home, and with that I could create the final dish. She arrived on schedule, and I made several test sandwiches for her approval. Routine as always, we were good to go.
As the show counted down to its live cold open, I fired up the burner and started browning some butter. Through an epic fail on the part of the special effects department (heads rolled that day) and completely unbeknownst to me, the smoke detector in my make-shift kitchen (better known as a hallway) at historic 30 Rock had not been disabled as was our norm. Being a landmark building, working with open flames and having an unventilated kitchen was strictly forbidden. That had never stopped us before.
No sooner did I turn on the flame than NY's Bravest stormed the building, throwing my pan against the wall and dragging off with the burners. Silent in the hallway, the alarm was blaring on set with a full studio audience. Mere minutes until the show went live… or would they have to throw to rerun? With just seconds to spare, the alarm was silenced, the audience calmed, and the call was made to continue with a live show. And NYFD was interrogating me as an enemy of State. Well, it wasn't that drastic, but they did take away my flame.
I found myself with few options. I had minutes, not hours; I had no burners or sauté pans. So, by hand, I smashed the cold bread into the iron to shape it shell-like. I hauled out a Preval paint sprayer and mixed up a combo of bitters and browning agent and lightly spray painted/"toasted" the bread. I dipped the cheese in the Propmaster's hot tea to melt it. It wasn't half bad. And, yes, it was the full extent of my equipment and tricks.
And then SHE sauntered from her dressing room, oblivious to the surrounding chaos, and passed final judgment on my creation. "Dear girl, it's awfully pale." She had no clue – her dressing room, like my hall, had no blaring sirens!! But she kept walking. And the show went on. And it was just another day in live television.

A few years later, long after Julia went to the big Panini Press in the sky, four sandwich irons came up at a culinary auction. Heavy hitters in the biz got into a bidding frenzy and I was left in the dust. My friend Gerry told me I was out of my league: "That's some tall cotton, girl." But not long after, thanks to Melissa's and Sharon's generosity that shell-shaped sandwich iron appeared on my doorstep. It is mine, all mine. It's hanging on my wall, just like Julia used to hang it…well, minus the hospital green pegboard with blue magic marker outlines drawn by her husband Paul, indicating the one and only place each gadget was to be stored. I pull it down every once in a while, but mainly it's retired out of respect to the woman who made it look so easy and laughed all the while.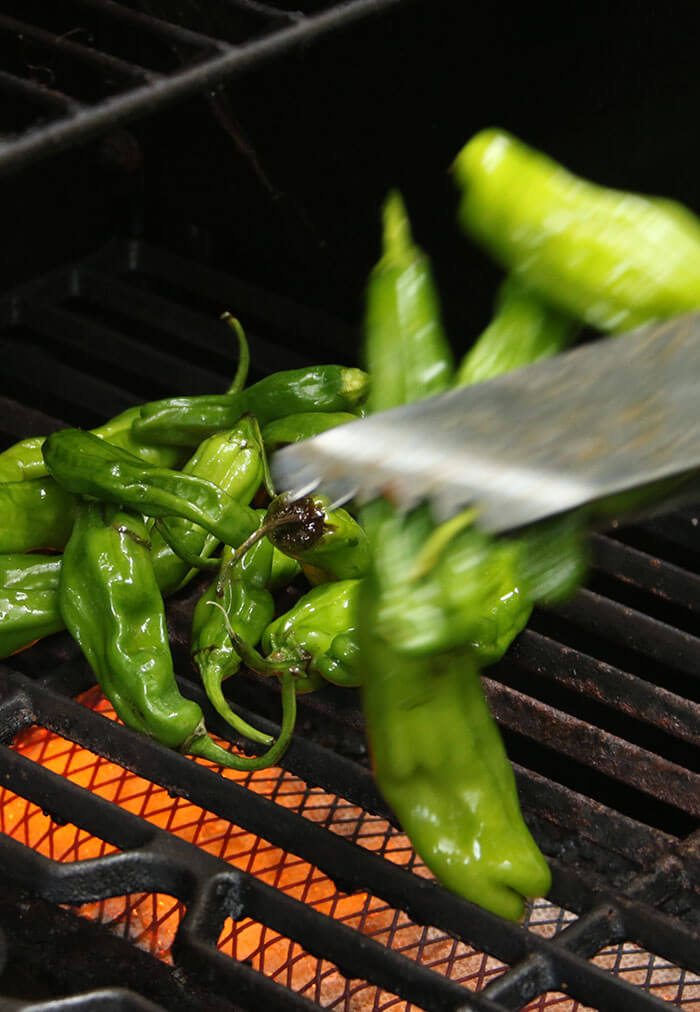 Blistered Shishito Peppers
Preheat oven to 500oF or prepare a hot grill.
Toss the peppers with olive oil, lightly to coat, and spread on a sheet pan if roasting.
Roast or grill for about 5 or 6 minutes until blistered.
Sprinkle with salt and serve.
Serves 4.
It's #NationalPepperMonth – you know what to do!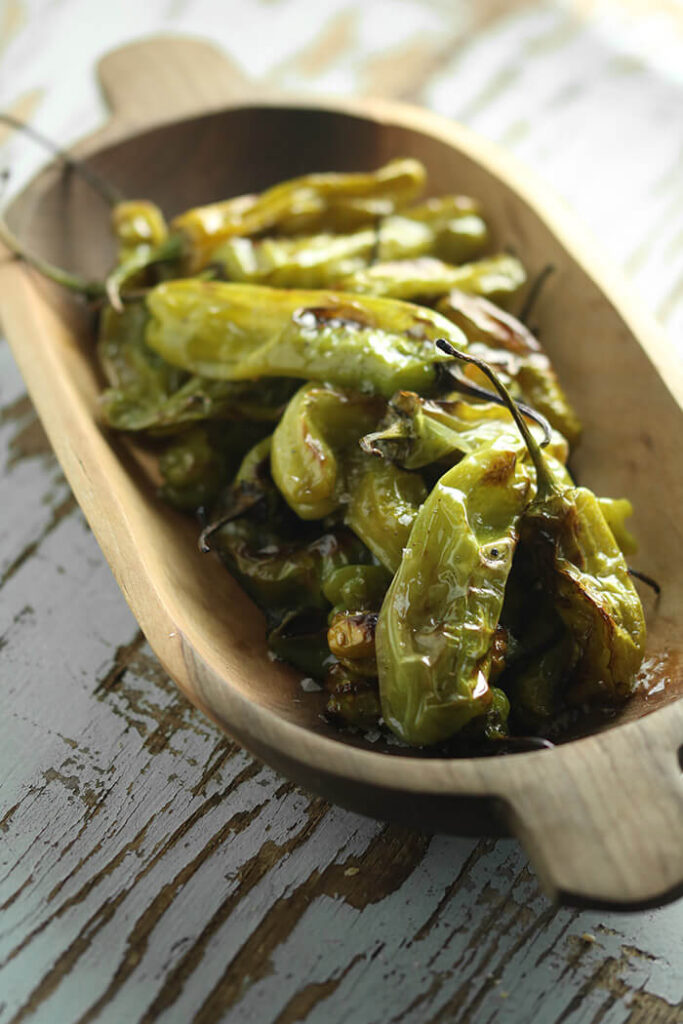 This post contains affiliate links.  For more of my must-have faves, check out my shop.
© Copyright: KatyKeck.com 2016. All rights reserved.
Hey, we want to hear from you!
Don't forget to Comment, Share & Subscribe to our blog.
Save