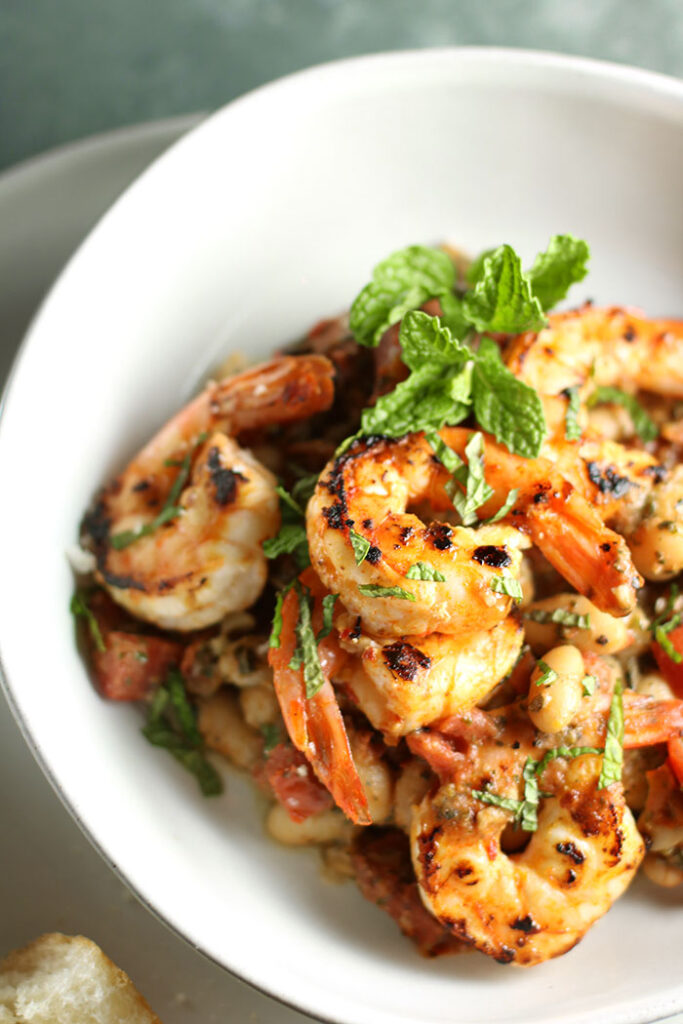 Winter Winds into Spring? Is that winds like a pathway or winds like gale-force nor'easter…AGAIN? It's the first day of spring and NYC is getting hit with the fourth nor'easter in three weeks. This one is coming with perhaps 16″ of snow. My stomach says "winter be gone". But the howling winds outside say "in due time." So let's agree to disagree. This shrimp & white bean dish with a flavor-packed pesto is a compromise. We CAN all get along. The beans and tomatoes cooked down to a hearty stew, but the pesto is tricked out with mint and parsley. I see you, spring.
Upgrade the Pesto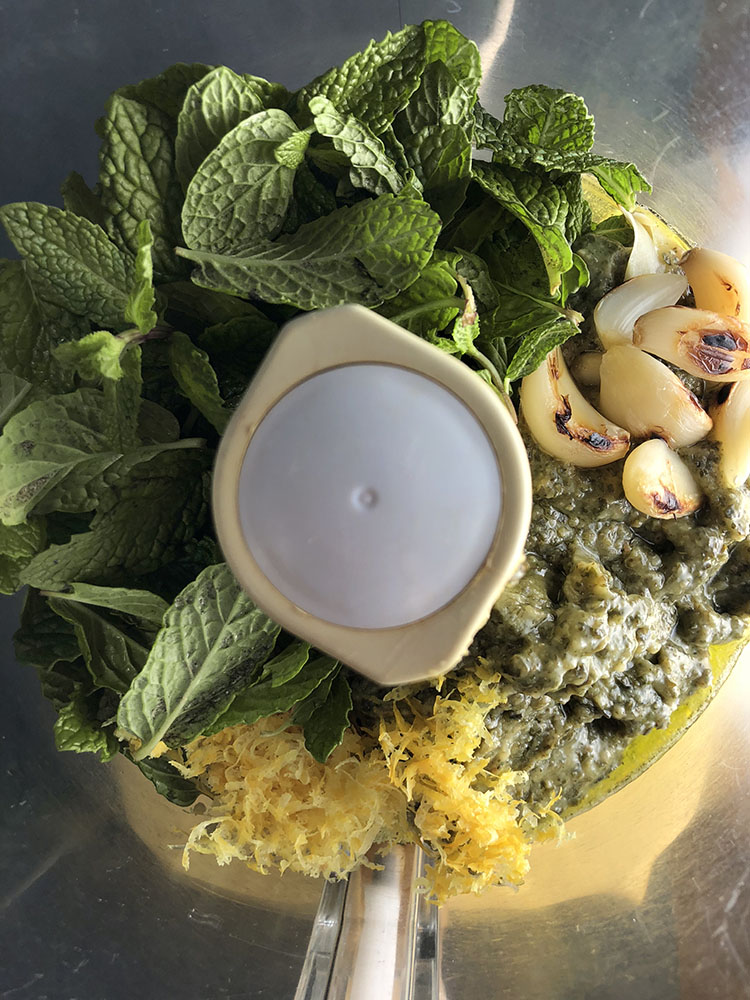 I know how you roll and I got you covered. Shortcut cooking. And before I digress on why I am not a fan of the term "hack", let's just acknowledge that shortcuts are what the pros do. Know when you can use a convenience product, like store-bought pesto, and when you need to put on the apron. I am right there with you on not re-inventing the wheel when it comes to already made products. But let's face it, the pesto can be a little one-note samba-ish. No real depth of flavor. So with only about ten minutes of pan roasting garlic, while picking mint and parsley off the stem, and zesting a lemon, we can add real layered flavor and bring some zip to this dish.
Kick Up the Shrimp
The spice in the shrimp is just enough to make you notice and pay attention. Hellllllo, shrimp. Welcome. You need to give it at least a little kick to soar above the tomatoes and beans which can be bland left to their own devices. It's all about building the flavors. This only needs a 15 minute marinade while you move on with the rest, then a quick sauté of two minutes per side and you are done.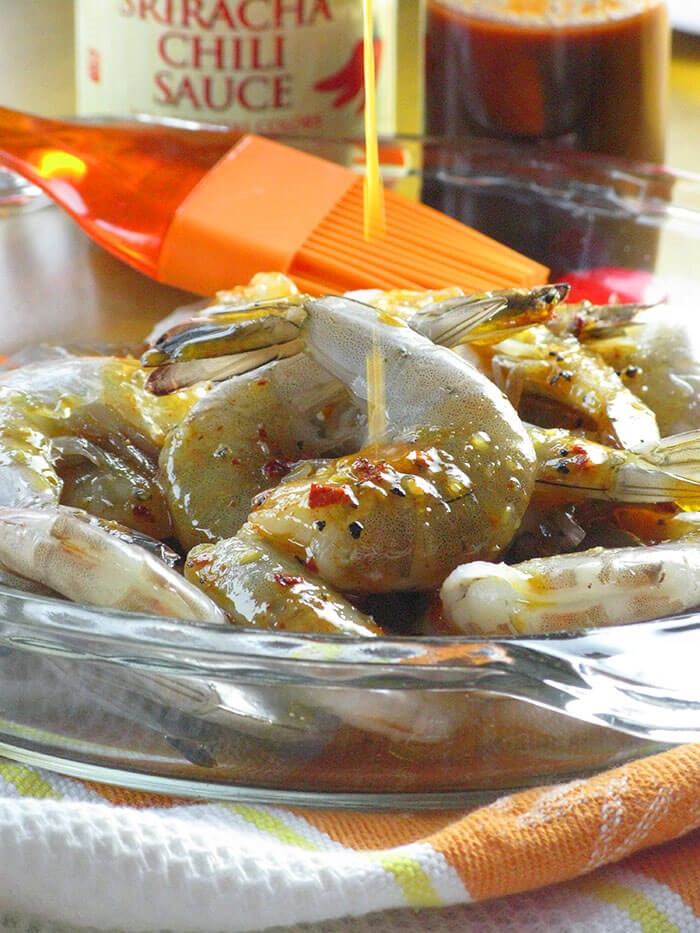 Prepare the Beans
Nothing goes better together than shrimp & white beans. And nothing makes me happier than opening up cans and dumping into a pan. Okay, okay, it's best to rinse the white beans, but come on!! I practically pioneered the dump & stir technique and I bring it to you on the reg. Throw the remaining ingredients in a large sauté pan and let 'er rip. You'll want to add the pesto last to maintain some green. Show of hands: how many knew that cannellini beans are white kidneys?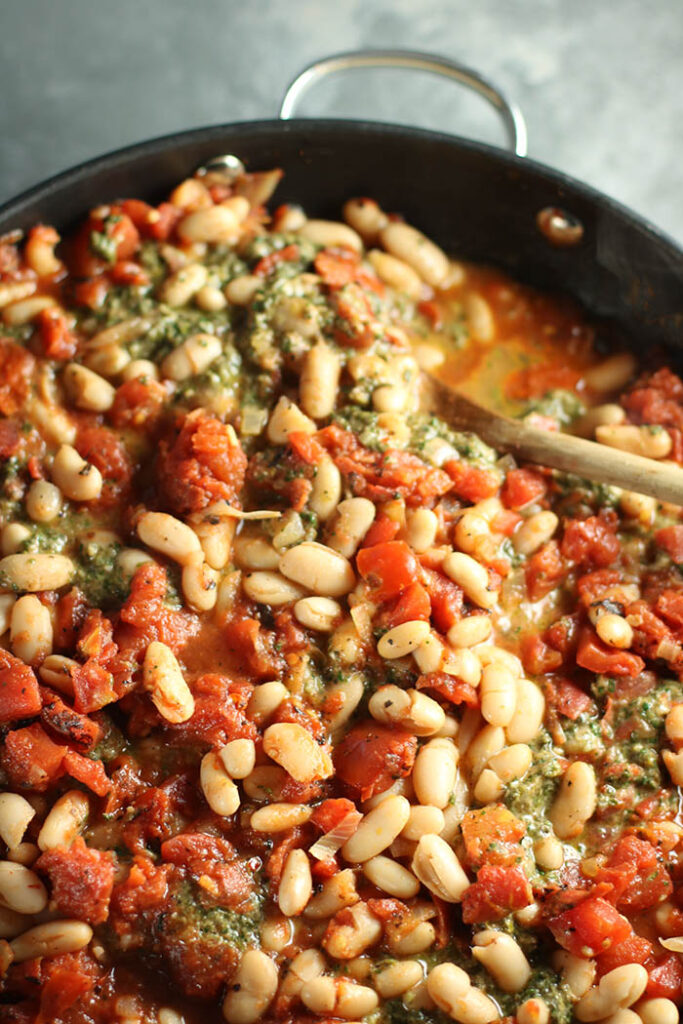 Garlic, shallots, lemon, mint plus shrimp & white beans and tomatoes. What's not to like? Take that pan above and divvy it into bowls, then top with the sautéed shrimp, a sprinkle of fresh mint and a crisp white wine and you are all set. Oh, did I forget? A big crusty loaf of sourdough is mandatory. So many carbs, so little time.
Print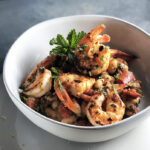 Spicy Shrimp & White Beans, Scented with Roasted Garlic & Mint Pesto
---
Author:

Total Time:

40 minutes

Yield:

6

servings

1

x
Description
You could really serve shrimp & white beans almost anytime of year, except perhaps the dead of summer (unless cold), but this dish is a polite nod to the arrival of spring. Comfy and cozy, the robust stew of beans and tomatoes, topped with spicy shrimp is lifted up by a pesto that has been doctored with mint and lemon. Yum!
---
8

cloves of garlic, not peeled

7 ounces

prepared pesto

1 cup

tightly packed mint leaves

1 cup

tightly packed parsley leaves
Zest of

one

lemon

3 Tablespoons

extra virgin olive oil, divided per below

1 Tablespoon

lemon juice

2 Tablespoons

Sriracha

1 teaspoon

red pepper flakes, divided per below

1 1/2

pounds shrimp, 16 – 20 (or

21

– 25), peeled and deveined

1

shallot, minced

2

or

3

14.5-ounce cans fire roasted tomatoes

1/2 teaspoon

salt

2

or

3

15.5-ounce cans cannellini beans, rinsed and drained
Garnish with fresh mint, cut into chiffonade (thin strips)
---
Instructions
Prepare the pesto:
In a large sauté pan over medium-high heat, roast the garlic, stirring from time to time, until the skins have charred evenly, about 8 – 10 minutes. Cool and peel.
Transfer the pesto to a blender or food processor and add the garlic, mint, parsley, and lemon zest. Blend until well-combined.
Marinate the shrimp:
In a mixing bowl, combine two Tablespoons extra virgin olive oil, lemon juice, Sriracha, and 1/2 teaspoon red pepper flakes. Add the shrimp and set aside for 15 minutes.
Prepare the beans:
Add the remaining Tablespoon of olive oil to the large sauté pan. Heat over medium heat and add the shallots, sautéing until soft and lightly golden, about 4 minutes.
Add tomatoes and their juices, salt and remaining 1/2 teaspoon red pepper flakes. Bring to a simmer, cooking until liquid is reduced and slightly thickened, about 5 minutes. Add beans and pesto and warm through, about 5 minutes. Remove from heat and keep warm.
Cook the shrimp:
In another sauté pan, cook the shrimp over medium-high heat until cooked through, about 2 minutes per side, being careful not to overcrowd the pan. You may need to do this in batches.
Serve:
Divide the bean-tomato mixture among 6 bowls. Top with the shrimp and garnish with fresh mint.
Notes
Shrimp is sold in one-pound bags, by size. A one-pound bag marked 16 – 20 contains between 16 and 20 shrimp. The higher the number, the smaller the shrimp.
This can easily stretch to 8 servings with the addition of the third cans of beans and of tomatoes, especially if you are using the smaller size shrimp (and therefore have more per pound).
Makes great leftovers, but you may want to add a little liquid if the beans have soaked it all up. Broth, tomato juice, white wine, or even a little water. Whatever you have on hand will work.
Prep Time:

10 minutes

Cook Time:

30 minutes

Category:

Entree

Method:

Stovetop

Cuisine:

Italian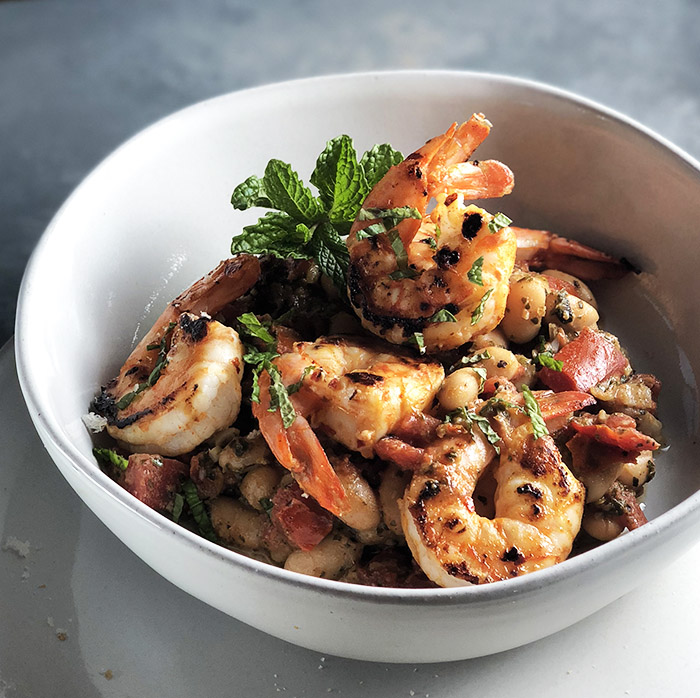 © Copyright: KatyKeck.com 2018. All rights reserved.
Hey, we want to hear from you!
Don't forget to Comment, Share & Subscribe to our blog.