It was a perfect confluence of events.  I was invited to a dedication at a local yacht club, complete with naval officers and Girl Scouts, and asked to bring a side to share.   I had just loaded up with fresh corn, heirloom tomatoes, peppers and tomatillos (it's true, I have been to five farmers market in six days – it's that time of year – and no, I don't have a problem, but thanks for your concern)!   And then a fabulous box filled with RiceSelect Texmati Rice appeared on my doorstep awaiting a review (two thumbs up), courtesy of culinary friends at Mambo Sprouts.  The wheels were already turning.  Rice. Grilled Veggies. Salad Bowl. Rice & Grilled Veggie Salad Bowl. Voila! A summer salad jammed packed with flavor was born.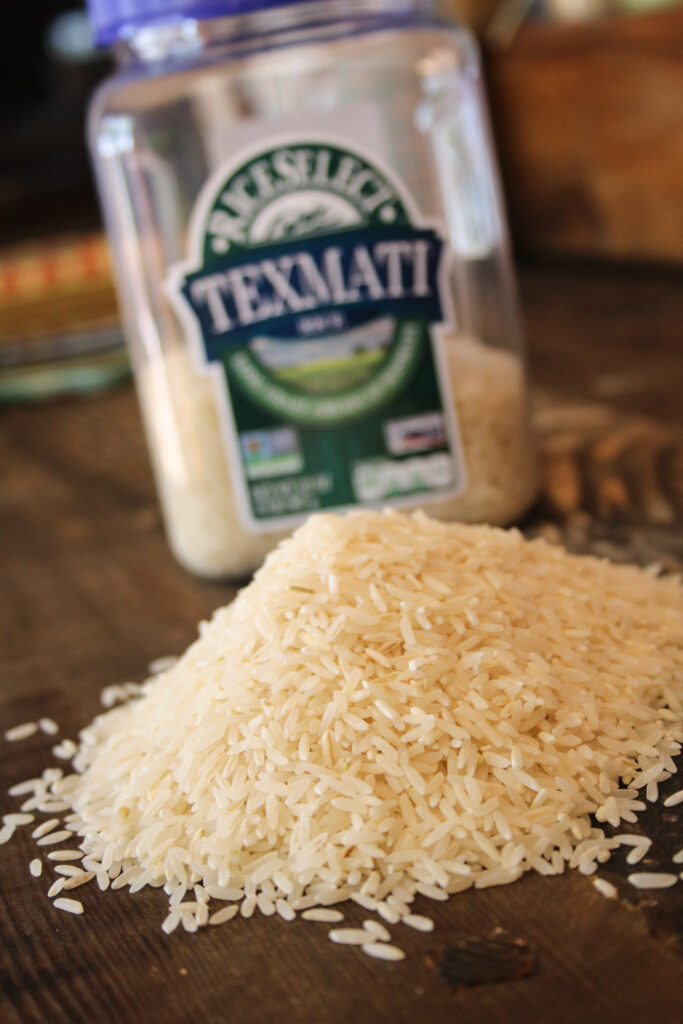 RiceSelect Texmati, in case you don't know, combines the best qualities of basmati and American long-grain rice and has a popcorn-y aroma and nutty taste. Because the grains cook up dry, separate and fluffy, it is the ideal choice for a rice salad.  Flavor + Texture.  Win. Win.  I was off and running to whip up a big batch of South of the Border Texmati Rice & Grilled Vegetable Salad.  With Lime Cilantro Dressing!!  Oh, yeah!
As my mind was spinning around southwestern flavors, I remembered a vinaigrette that was a fan-favorite in my earliest catering days.  Lots of cumin.  It was pretty basic – a bit of a one note samba by today's palate's cries for layers of flavor – so I dosed it with Sriracha, a serious hit of lime (juice and zest) and cilantro. Yum.   I can't be sure, though there are rumors of hoarding and hiding the leftovers, but I do believe this dish got better the next day.   Even the grilled romaine held up.  Especially with starch based dishes, it's always important to re-taste for seasonings and acid both before you serve it and again the next day.  To my palate, it was still well-seasoned the next day, but it's your kitchen, you be the judge.
Couple of quick notes to keep in mind as you are cooking:
Once the rice sits off the heat to absorb the final liquid, remove the lid, fluff it with a fork.  Since we are making a cold salad, drizzle a couple tablespoons of olive oil to coat and seal each grain. This will keep the rice from over-absorbing dressing later. And that friends, will let you serve it again over the next couple days.
The dressing recipe below makes a double batch and is a good one to keep on hand in the fridge. However if you want to store it for longer than a few days, add the cilantro to the salad, not the dressing.  The cilantro-free dressing will keep refrigerated for a couple weeks.
When chopping the grilled tomatillos, be sure to catch and add the juices to the salad. These liquids are a great way to add depth of flavor to your salad.  Single-handedly they add a rare combo – smoke AND acid
And zesting: if you aren't fully stocked with a Microplane Zester/Grater, why are we even friends? For real. These zesters put the joy in zesting.  No chance of getting too much bitter white pith in the zest. No more scraped knuckles. Perfect every time.  And they are awesome for grating hard cheeses or spices like nutmeg. Run. Now.
Let's get busy. This flavorful salad pairs perfectly with grilled meats or fish, or is a stand out as a vegetarian entrée.  Add toasted pepitas for a dose of protein if serving as a main.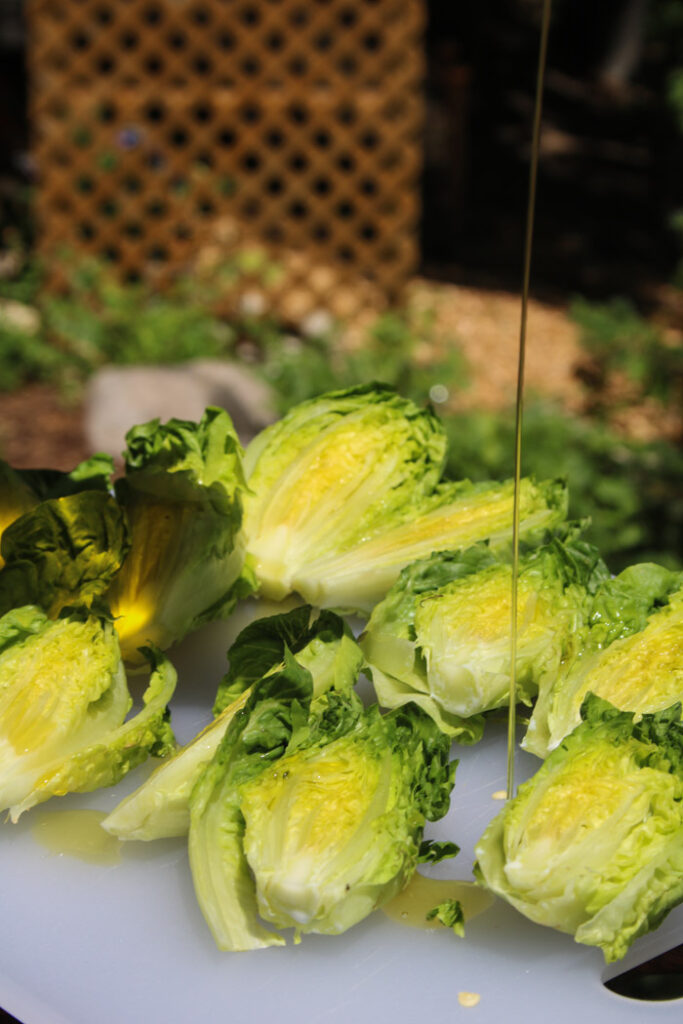 South of the Border Texmati Rice & Grilled Veggie Salad Bowl
1 1/2 Tablespoons olive oil, plus more to drizzle on Little Gems
3 tomatillos, husks removed
3 ears corn, husks and silk removed
1 poblano pepper
1 yellow bell pepper, trimmed and seeded and cut into 4 sides and tossed in olive oil
½ 6-pack Little Gems baby romaine (3 heads), trimmed and cut in half lengthwise
Ground coriander
6 ounces heirloom cherry and/or grape tomatoes cut in quarter wedges
4 ounces queso fresco, crumbled
1 Avocado, chopped
Cook RiceSelect Texmati rice according to package directions.  After you remove the pan from the heat and let it stand 5-10 minutes, transfer the rice to a mixing bowl and drizzle with 1 ½ Tablespoons olive oil, fluffing with a fork.  Set aside.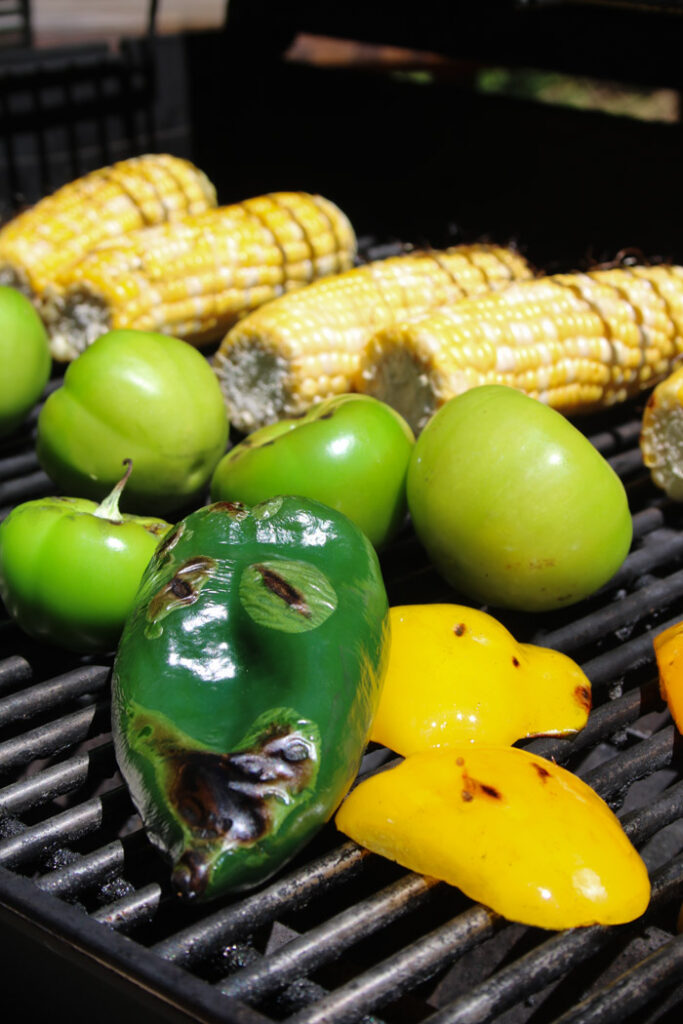 Grill the vegetables over a hot grill: tomatillos, corn, poblano pepper and yellow bell pepper.  Let the poblano char completely and transfer to a plastic bag to sweat.  When cool enough to handle, pull off the char under running water and remove stem and seeds.
Coarsely chop the tomatillos, poblano and bell pepper and cut corn from cob.  Add to the rice, along with any juices that release from the tomatillos.
Drizzle the Little Gems with olive oil and sprinkle with coriander.  Grill cut side down until the lettuce just starts to wilt and gets grill marks.  Chop coarsely and add to the salad.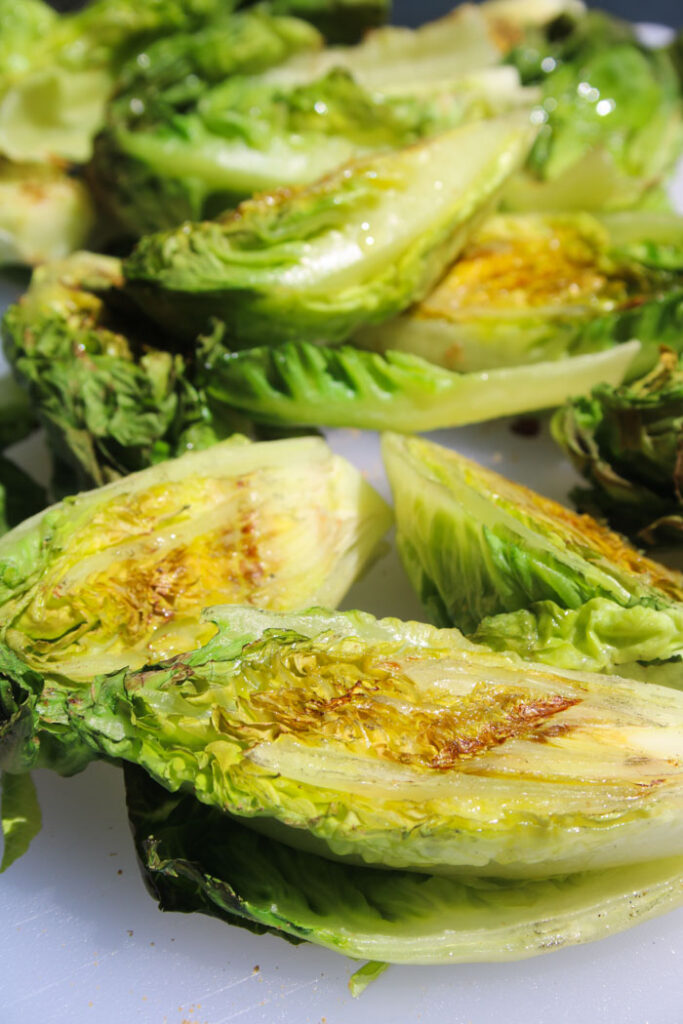 Add tomatoes, queso fresco and avocado, and dress the salad with the Cumin Lime Cilantro Dressing.
Adjust seasonings before serving.
Makes about 3 quarts and is a fabulous leftover.
Cumin Lime Cilantro Dressing:
1/3 cup EVOO
¼ cup chopped cilantro (see note)
2 Tablespoons rice vinegar
2 Tablespoons Sriracha
Zest and Juice of 2 limes
½ Tablespoon ground cumin
½ Tablespoon salt
Combine all ingredients in a mixing bowl and whisk to combine.
Note: This will make twice the dressing needed for this salad and it will keep for several weeks refrigerated if you add the cilantro to the salad instead of  the dressing itself.  Or make a double batch of the salad and use it all!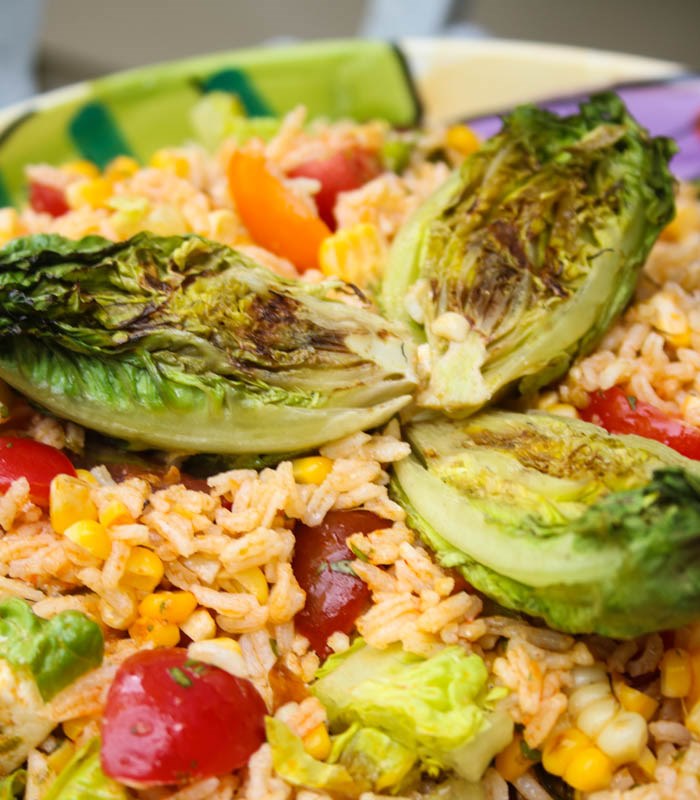 This post contains affiliate links.  For more of my must-have faves, check out my shop.

© Copyright: KatyKeck.com 2016. All rights reserved.
Hey, we want to hear from you!
Don't forget to Comment below, Share & Subscribe to our blog.
Save
Save
Save
Save
Save
Save
Save
Save
Save
Save
Save
Save
Save
Save
Save
Save
Save
Save
Save
Save
Save
Save
Save
Save
Save
Save
Save
Save
Save
Save
Save
Save
Save
Save
Save
Save
Save