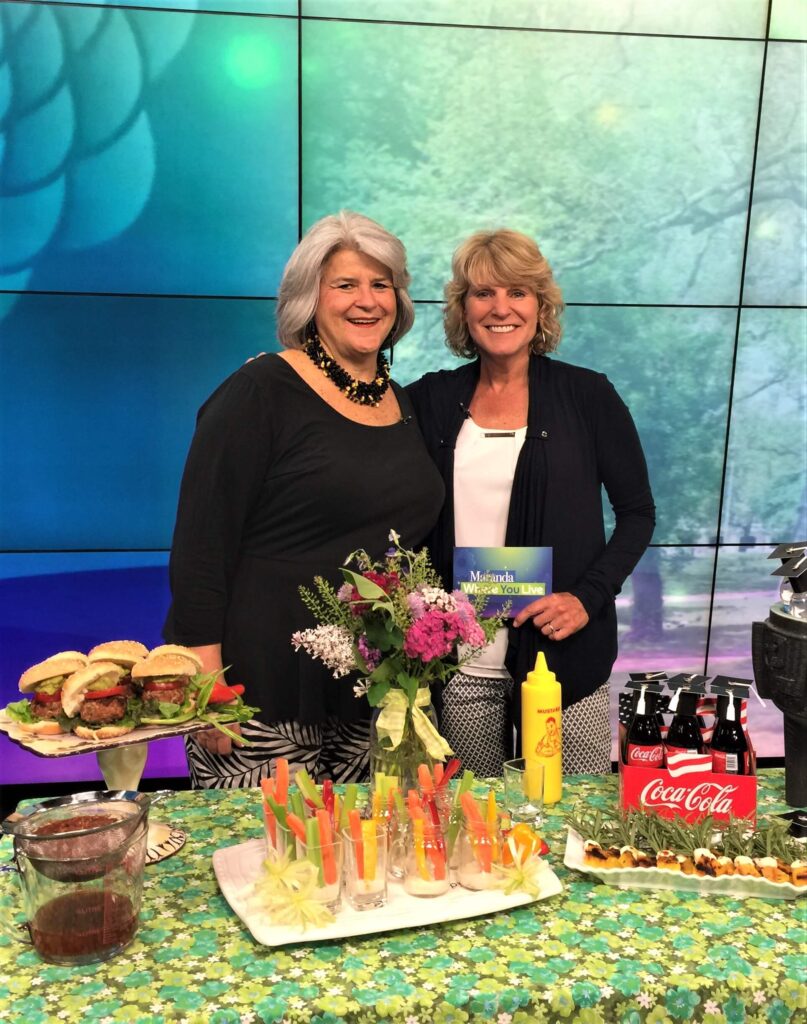 I just had the chance to join Maranda on WOTV 4 Women's program Maranda Where You Live to share with her viewers some ideas on how to zhouzz up a party –in this case graduation – by adding a few easy details that give it real style. For entertaining, like most things in life, it's the details that make the difference. Most of these style tips, with just a tweak here or there, will seamlessly slide from graduation, to Father's Day…even to a wedding celebration. It's summer entertaining at the brink of the season.
Summer Entertaining – Graduation with Style
I created a graduation celebration, themed around an outdoor event. In Western Michigan, we wait all year for this time. It's great because the temps are mild, the days are long, and who doesn't want to keep the masses and that mess outside. One of the tricky parts of any entertaining is how to avoid the long lines that form around buffets. I'm more likely to not at eat at a party than to stand in line, and as a host that is not something you want! To hack that, I created a menu that is grab and go. Everything is pre-served and portable. And I suggest scattering dishes around the patio, grouping two or three items together, to help spread the crowd. It's best to cluster around a central theme – maybe a vegetarian station, or a dessert station, or together by temperature – the hots, the colds…you get the idea.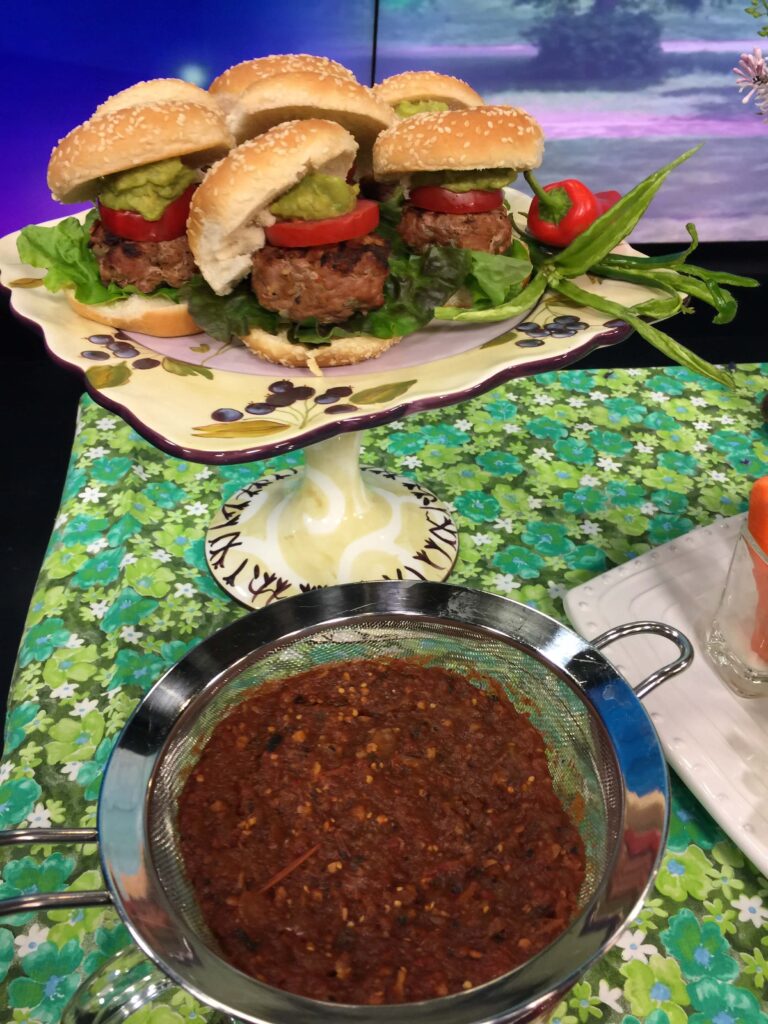 Kicked-Up Southwestern Turkey Burgers
One of the portables that I served was a slider. Assuming you don't want to grill while you have guests – though I am fully aware that some hosts love that distraction – these turkey burger sliders can be grilled earlier in the day and reheated to serve. But won't they dry out? Au contraire! By adding a jar of drained salsa to the ground turkey, the flavor profile is kicked up a notch and the salsa adds both moisture and depth of flavor. Its super simple and you are letting the salsa factory do all the heavy lifting of lots of chopping and roasting the chipotle.
Print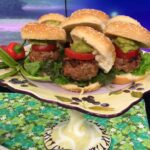 Kicked-Up Southwestern Turkey Burgers
---
Author:

Total Time:

30 minutes

Yield:

24

sliders or

8

full-size hungry-girl burgers

1

x
Description
Turkey burgers can get a real boost in the flavor profile category by just adding a jar of drained salsa to the ground turkey. The salsa adds both moisture and depth of flavor. Why not let the salsa factory do all the heavy lifting by roasting chipotles and doing all the chopping for you. More time to enjoy, less time in the kitchen.
---
16 ounce

jar of favorite salsa, drained and liquid discarded (or saved to season a sauce)

3

pounds ground turkey

3

shallots, chopped

2 teaspoons

ground cumin

1 teaspoon

salt

1/2 teaspoon

ground black pepper
---
Instructions
Pour the salsa into a fine mesh strainer, set over a bowl to drain. Set aside for 20 minutes or more until the liquid has been released.
Mix the turkey, drained salsa, shallots, cumin, salt and pepper by hand until mixed through and shape into patties.
Grill over a medium-hot fire until cooked through (timing depends on burger size). Poultry should always be thoroughly cooked.
Notes
These are best made ahead and left to chill in the refrigerator for an hour or up to a day or two. This gives the patty time to firm up.
They also freeze really well, and so I tend to make a large batch and wrap in plastic wrap, individually. I spread them out on a tray to freeze. Then once frozen solid, I transfer to a big Ziploc.
Prep Time:

10 minutes (plus draining and chilling time)

Cook Time:

20 minutes

Category:

Mains

Method:

Grilling

Cuisine:

Southwestern

Veggie Shooters
The next idea I showed was veggie shooters – using a shot glass or even a disposable clear plastic. By transferring the ranch dressing to a squeeze bottle (think diner ketchup or mustard bottle), you can put a squirt in the bottom of each shot glass without "sliming" the sides. Then just tuck in an assortment of fresh veggies – carrot sticks, celery, multi-color peppers, snow peas. And I tuck different combinations in each glass because not everyone will like them all, so pick let your guests pick what suits them. Could this be any cuter?
For all the dishes, both savory and sweet, I used herbs, flowers and vegetables to create super simple garnishes for each tray. It's that little extra touch that will let your guests know you "THOUGHT OF EVERYTHING"!!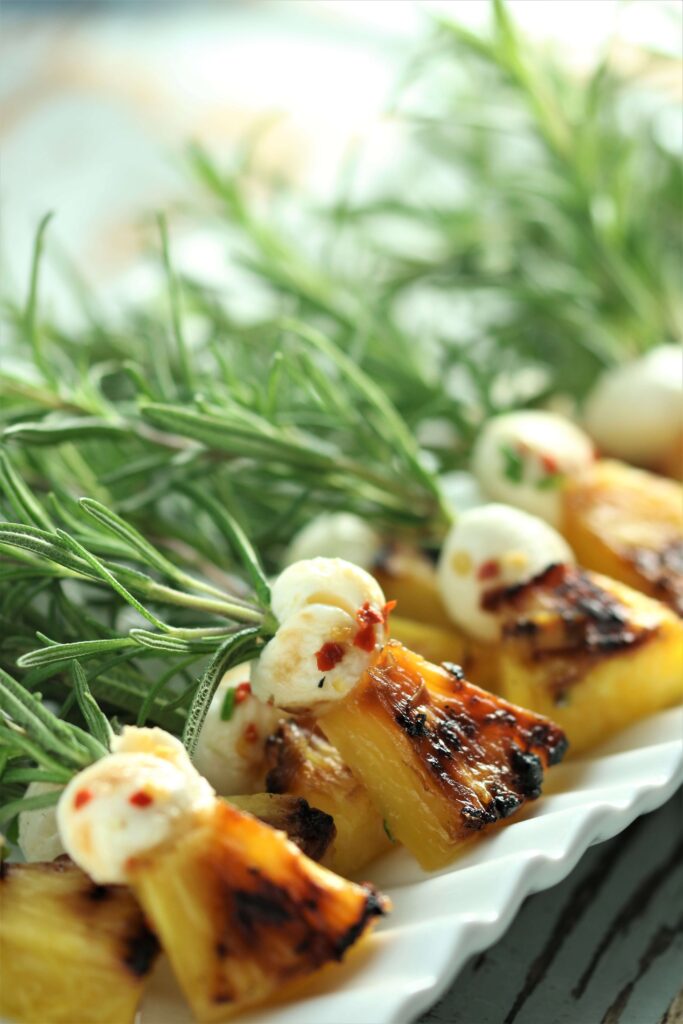 Fresh Mozzarella and Grilled Pineapple Skewers
For the last savory dish, I used rosemary sprigs in lieu of toothpicks – both flavorful and adorable. I marinated some mini mozzarella and grilled pineapple rings, then assembled. Very fresh tasting! Be sure to get the pot of rosemary at the nursery or garden center and plant what remains in your herb bed so it can regrow…because you ARE going to want to do this again. Cut the sprig with sharp scissors so you get a point and remove the bottom few leaves to create the "pick".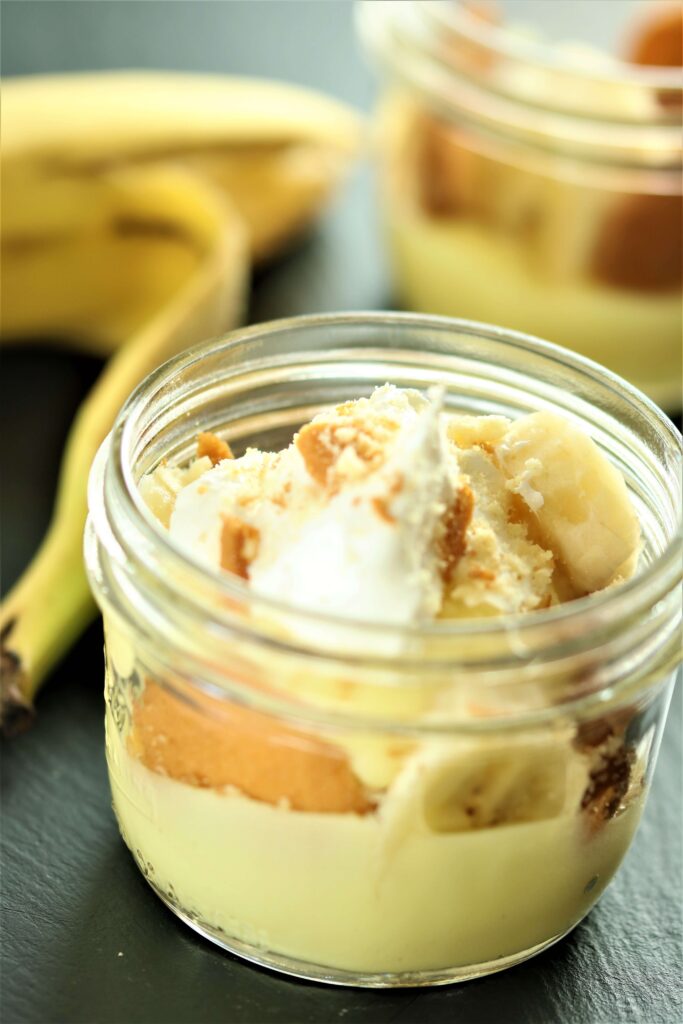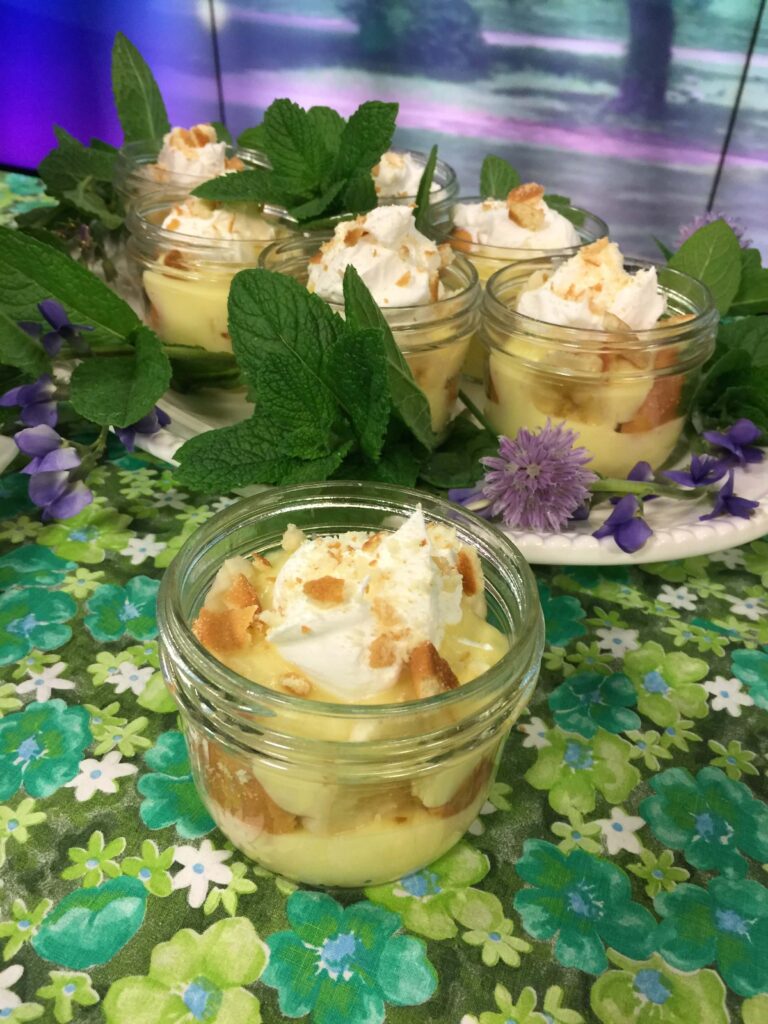 Mini Banana Cream Pies
For dessert and continuing with the portable idea – in this case pie – I used mason jars to create individual banana cream pies. This is a no-recipe recipe and takes good advantage of all basic supermarket items: vanilla wafers, banana pudding (2 minutes to mix with cold milk), sliced bananas and some whipped topping. Crush a few more wafers on top. Sometimes super cute goes a long way to mask shortcut cooking. Shhh don't tell anyone. That's a professional tip and I could get kicked out of my professional tip society. This dish lands squarely in the "People Love It!" category. A+!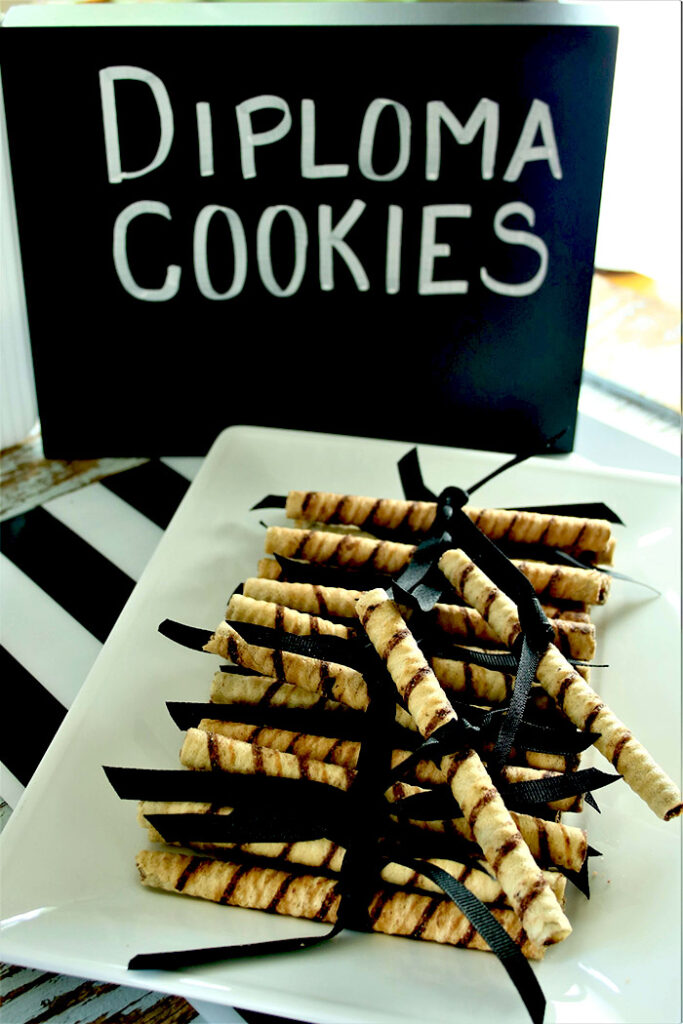 Diploma Cookies
And then just because I could……diploma cookies – using packaged pirouette cookies, tied with a ribbon. Adorable. Easy. Win. Win.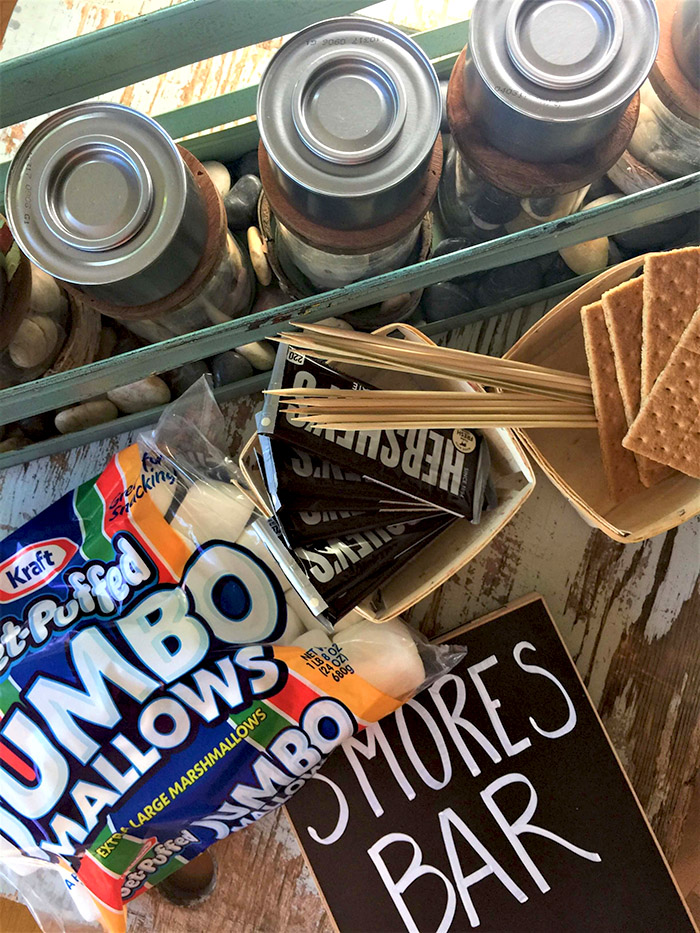 DIY S'mores
There is always a pride of ownership when you contribute to a meal, so let your guests help cook dessert with a DIY S'mores Bar – featuring GIANT Kraft Jet-Puffed marshmallows. (I'm personal friends with JP, the Jet-Puffed guy!)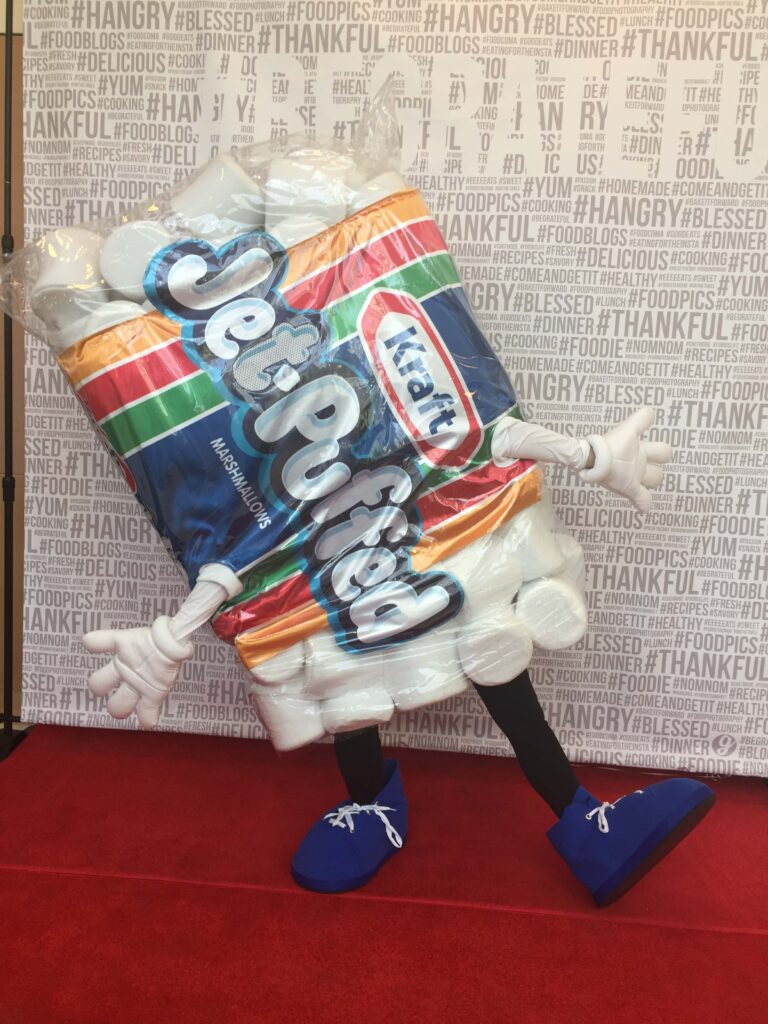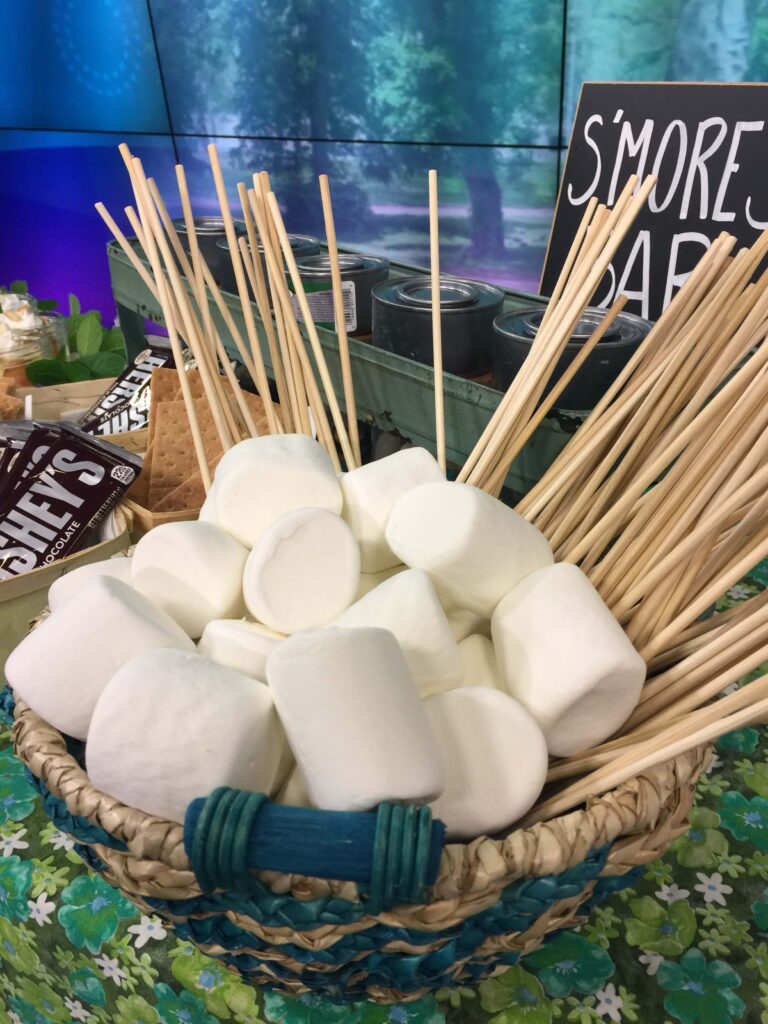 There are a lot of ways to set up the fuel station – creating a bed of river rock – or even charcoal briquettes as a prop – to surround the fuel. Make sure to place this in a low wind area, with proper ventilation and pay attention to potential flammables, keeping them far away. (It wouldn't hurt to have a fire extinguisher under the table, because like an umbrella, if you have it, you won't need it). Now you can find Green Heat products that are environmentally friendly and bio-degradable, as well as safe for direct contact with food. They are plant-derived, and come from corn-based ethanol and are non-toxic. Look for those – good for you, good for the planet.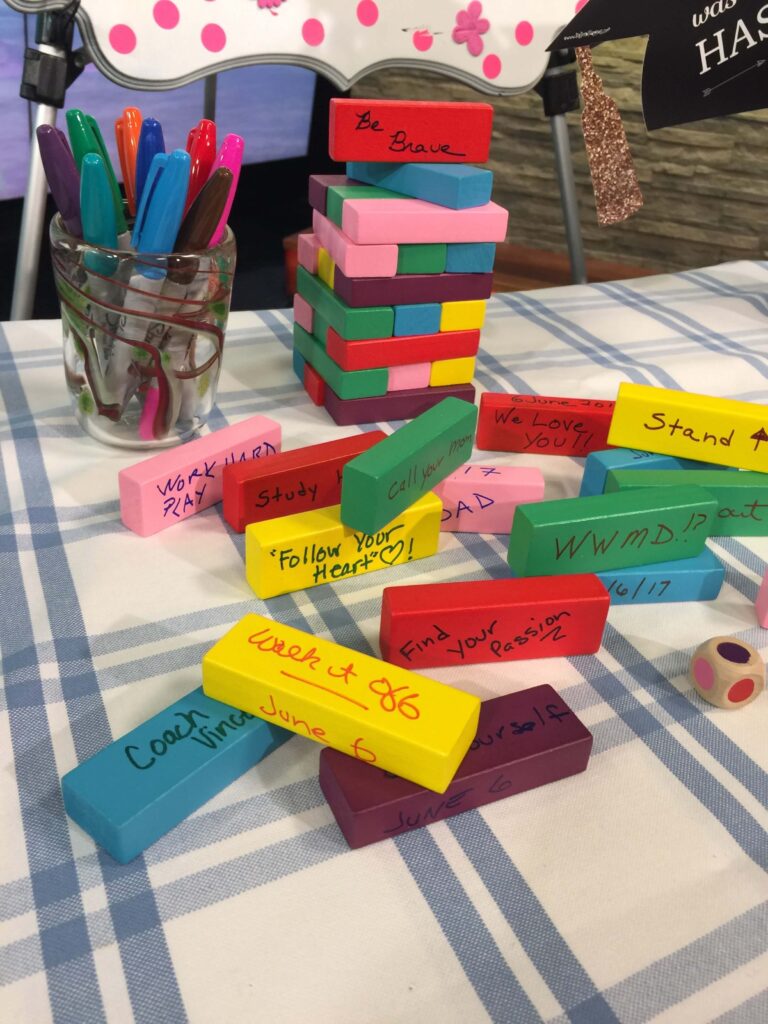 Making Memories
I ended the segment with a couple ways to make memories, something that is important for every celebration. Using a Jenga set – along with a bunch of markers – guests can add their wishes or advice, date and sign it – and the grad will have a keepsake to remember this day forever. Can you imagine the day when Bubba Junior will be playing Jenga with his grandchildren and a smile will cross his face thinking about this incredible party you hosted – back when?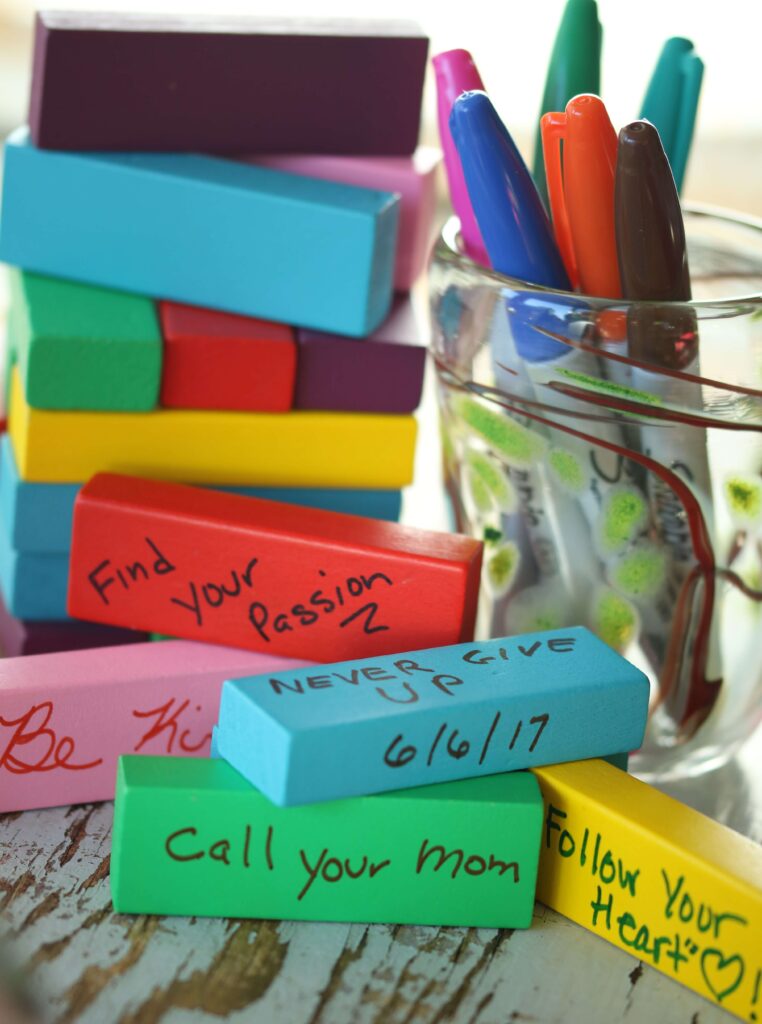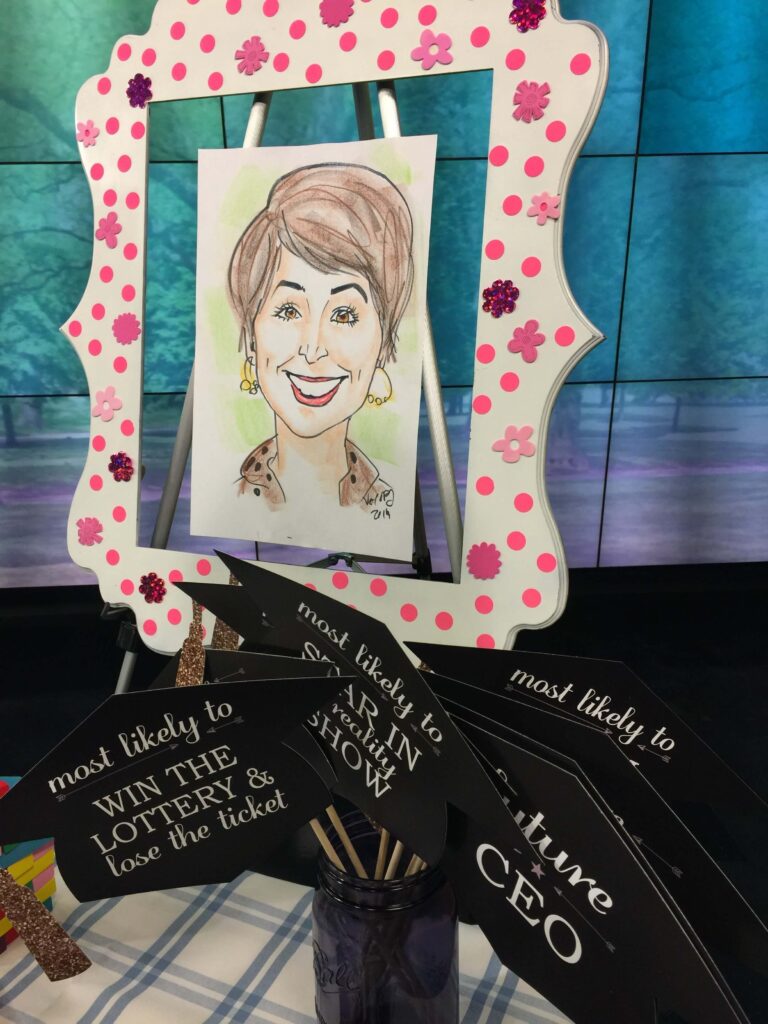 And the final portable for the party: a photo booth. Along with a few photo booth-type props (mortarboards on a stick) and one giant frame, this show can go on the road….grabbing photos of the grad and guests throughout the party. The frame can be decorated for a princess, a sports career, or the college that lies ahead. Just screw a couple drawer pulls into the back so all those in the photograph can help hold it. By being hand-held, this has the added advantage of going from portrait to landscape orientation and from straight on to cockeyed. That variety of angles will inspire a lot of candid moments, making for a great souvenir photo book which you can give at Christmas when your grad comes home from college! And what a great chance to reinforce the idea of gratitude. He can print the photos and write the guests a note of thanks …for the support …for the gift… for being part of the day. Just slap a stamp on it and mail a photo of the guest and grad enjoying this wonderful celebration.
Have Fun! And that's an order!!!
The most important thing to remember is to enjoy the day. You have worked hard for whatever it is you are celebrating – getting a child through school, walked down the aisle, or even your own significant anniversary – put your focus on planning and prepping, but the minute the doorbell rings, close the door on stress and open the front door with a big old smile to greet your guests. This day is as much about your achievements as those of your graduate. No matter how awry a plan may have gone, no one but you will know. In the business, we have a saying no matter how a dish turns out: "That's the way we like it." That might be the most important lesson I ever learned from Anna Teresa Callen, the great Italian cooking teacher. She'd just shake her head and smile and in her wonderful Italian lilt, whisper…."Ah! That's the way I like it!"
Thank you Maranada for the kind invitation! And the rest of you, check out the segment on Maranda Where You Live!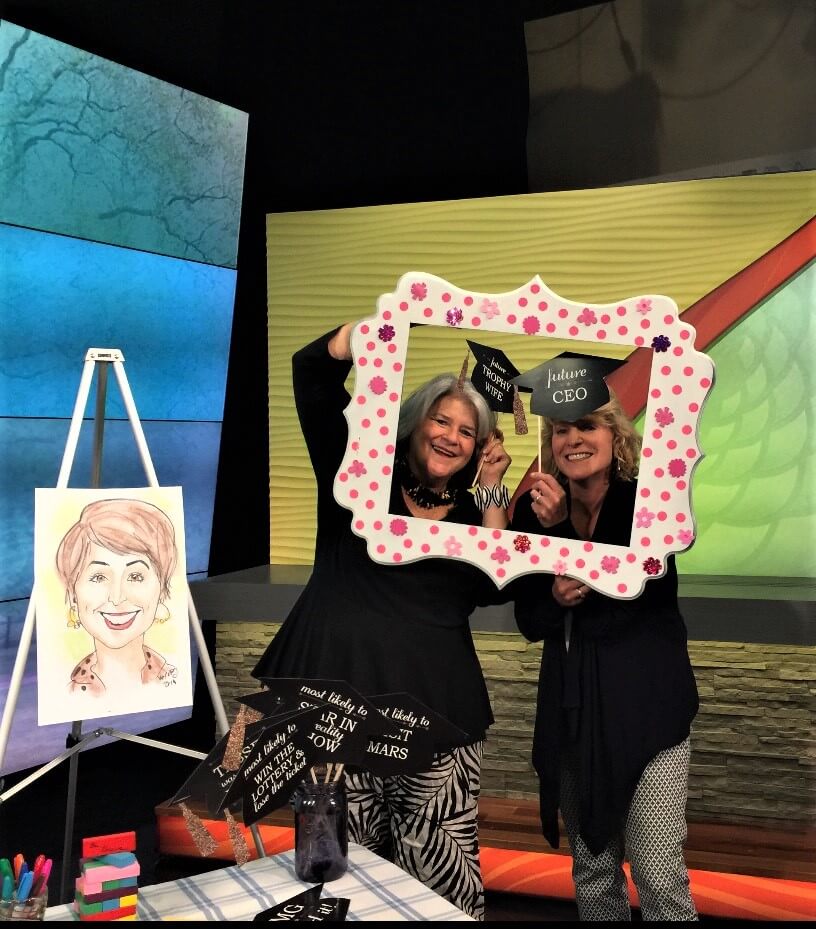 © Copyright: KatyKeck.com 2017. All rights reserved.
Hey, we want to hear from you!
Don't forget to Comment, Share & Subscribe to our blog.