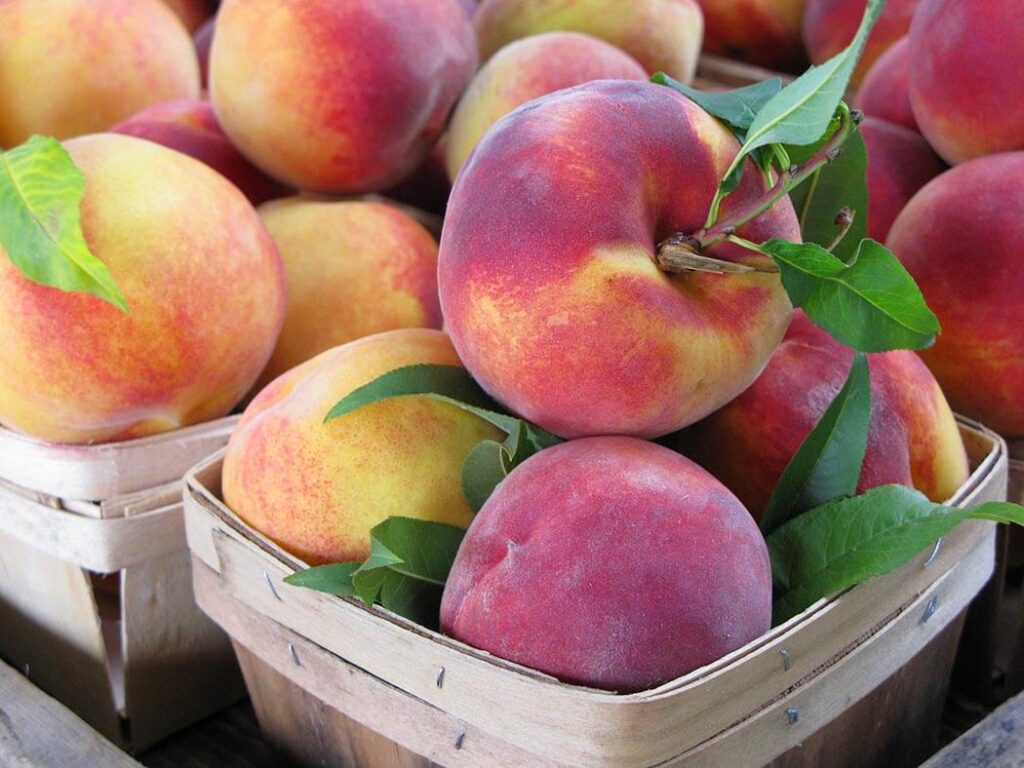 I can see the problem you are having.  A giant mound of peach perfection and you are so tired of fruit pie and cobbler (Okay, we should probably admit that is NOT really a thing, being tired of pie and cobbler).   But it's a holiday weekend and you MUST use that beautiful bounty ASAP yet you would rather be on the beach, boat, SUP or _____(fill in the blank). So with that last hurrah of summer celebration hurtling toward you at ram speed, here's a dessert that you can make in a flash, yet will look like you have been slaving away.  Stone fruit –still abundantly available – is the perfect choice for this "cobbler, not-a-cobbler."  Cut into wedges, a peach or nectarine is sizable enough to hold its shape (ain't nobody likin' fruit mush) and comes with its own good dose of pectin.  I throw in a few blueberries for a wee bit of flavor, color, and texture contrast, but warn against fruit with a high water content and thin skins (I got my eyes on you raspberries and blackberries.)
Normally a fruit cobbler comes with a streusel or pastry crumb topping, but I love this idea of biscuits.  I would say it's fresh and new, but since I created this dish at New World Grill some 20 years ago, I will settle on timeless. It's hard to find a fruit pot pie at all, and the ones I have seen are made with a double pastry crust.  This dish has no bottom – which means…..???? You got it!! No soggy bottoms!!! Pastry fraidies unite! You can do this!!  Just cook the fruit with a little cornstarch stove-top then drop biscuit dough on top. Super easy to serve as well because everyone gets a heaping spoon of fruit topped with a biscuit topped with …Ice Cream? Whip Cream? Greek Yogurt? Yes. Yes. And Yes. Please. It's dessert magic.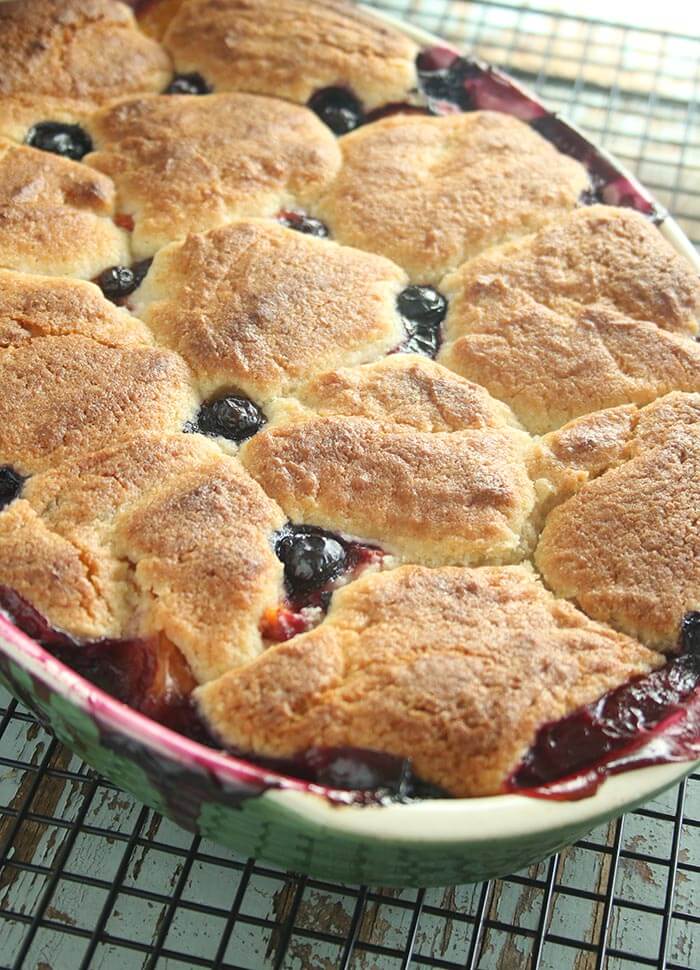 I have made this with peaches and nectarines (peel the peaches, but no need on the nectarines), but you might also try plums or apricots.  And cherries could be a nice alternative to the blueberries I use.  Just keep a sturdy skin in mind when improvising.  And always let a fruit dessert cool to avoid the juice-bomb.  This is best served same-day, an hour from the oven or reheated.  Biscuits are a bit of a diva when it comes to humidity, so the longer it sits around the less flaky they will be.
I learned to make traditional biscuits from a woman who said "handle them like you are holding hot coals."  (It was a KFC shoot and we must have made 1000 biscuits).  It was good advice – don't touch them much at all. Biscuits are made by cutting little tiny bits of ice cold butter into the dry ingredients, so that each pea-sized bit is flour-coated.  Then you gently add the liquid – buttermilk, perhaps – until it just holds together. If you hot-handle the dough, the butter will start to melt.  The butter should melt only once – in your honking hot 425oF oven – because that creates steam and that, my friends, provides lift. Voilà! Flaky!!
The other reason to lightly handle the dough is to avoid overworking the glutens which will make a tough and sometimes shrunken biscuit. (That joke just wrote itself. I don't even have to put it in words.)  I got you covered here, this dough is NOT fussy and is made in the processor and uses a small amount of boiling water to pull the dough together.  It's a bit of the opposite of everything I have just said – no hot coals.  This makes it super simple and you can get away with it in part because it is going atop hot fruit which will also create some steam.
Summer Fruit Pot Pie

Fruit Filling
8 cups pitted and sliced nectarines, about 8 pieces or 4 pounds
Juice of one lemon, about 3 Tablespoons (please zest it first and save the zest for the biscuit)
1/2 cup sugar
3 Tablespoons corn starch
1/2 cup cold water
2 cups blueberries
Biscuit Topping:
2 cups all-purpose flour
1 cup sugar
2 teaspoons baking powder
1 teaspoon salt
Zest of one lemon
6 ounces ice-cold butter, cut into bits
¼ cup + 2-3 Tablespoons boiling water
Preheat oven to 425oF. Butter a 9x13x2-inch 3-quart casserole.
Start the Fruit: Combine the nectarines with the lemon juice and sugar.  Set aside.  Dissolve the cornstarch in the cold water and set aside for 5 minutes.
Start the Biscuits: Combine flour, sugar, baking powder, salt, and lemon zest in the work bowl of a food processor.  Pulse to combine.  Cut in the butter with the food processor, by pulsing 8-10 times, until the mixture resembles coarse meal.  (You can also use a pastry cutter).
Back to the Fruit: Combine the nectarines with the cornstarch in a saucepan.  Bring the cornstarch-nectarine mixture to a boil, and cook for 1 minute.  Remove from heat and gently fold in the blueberries.  Transfer fruit mixture to the casserole.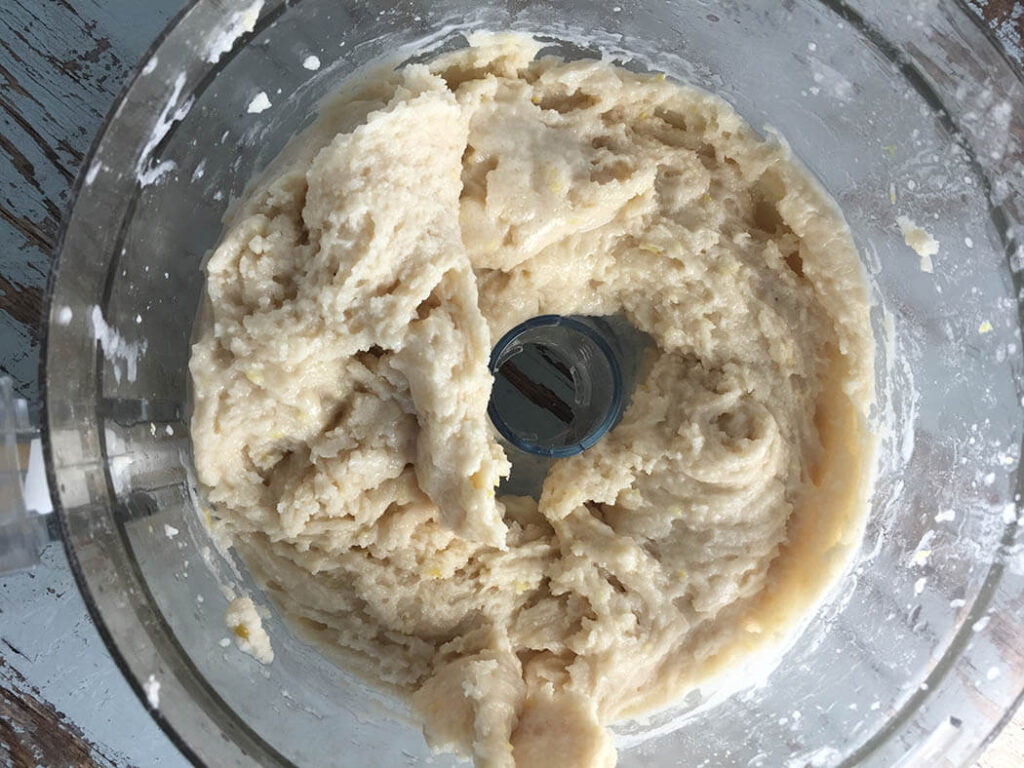 Finish the biscuits: Slowly pour in ¼ cup boiling water and pulse a couple times until just combined. Scrape down sides.  Add additional water one Tablespoon at a time, up to 3 additional Tablespoons.  Pulse with each addition until dough just comes together and becomes spoon-able.  It should remain a bit stiff and not turn gooey. If you add the water all at once, you run the risk of adding too much liquid and melting the butter.  Add it gradually and it will just slightly soften it.  Drop the dough by scant 1/4 cups onto the fruit to form 12 biscuits.  Use a spoon or small spatula to ease the dough out of the cup.  All that butter will let it slide out quite easily.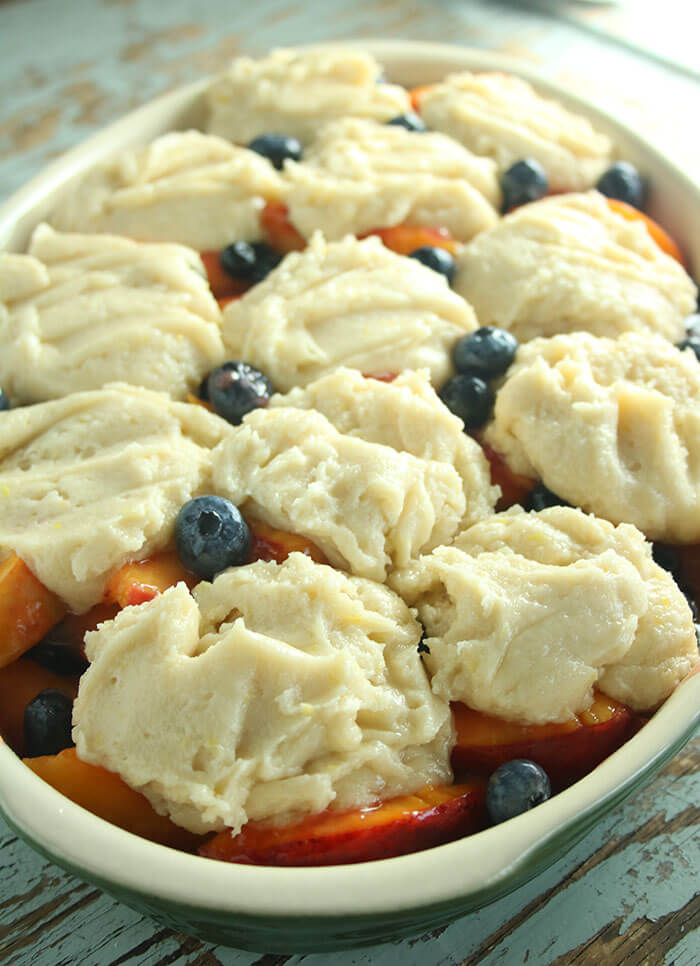 Bake in bottom third of preheated, foil-lined oven for 35 – 40 minutes until fruit is set, biscuits are golden, and a toothpick inserted in a biscuit comes out clean.  If the biscuits are getting too brown, cover loosely with foil for the last 10 minutes or so. Transfer to a wire rack to cool slightly.  Cool for about an hour, to let the juices set.  Serve while still warm or reheat if it has cooled. Top with ice cream, whipped cream, or plain Greek yogurt.
Serves 12 grateful guests.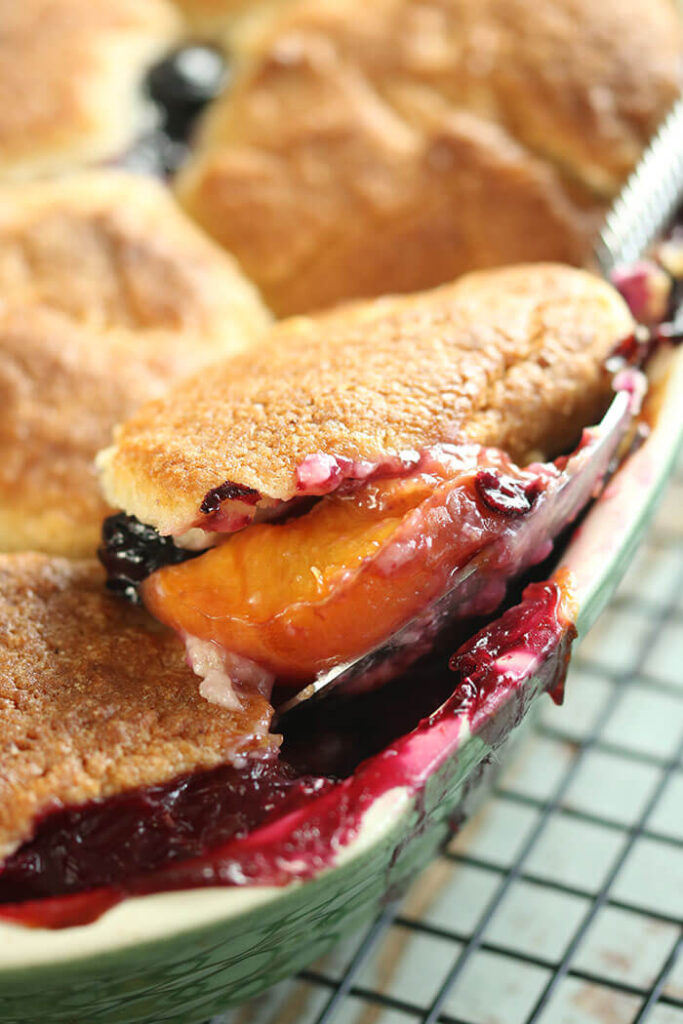 Still got peaches or nectarines a plenty? Don't forget our old friend – roasted beet and peach/nectarine salad!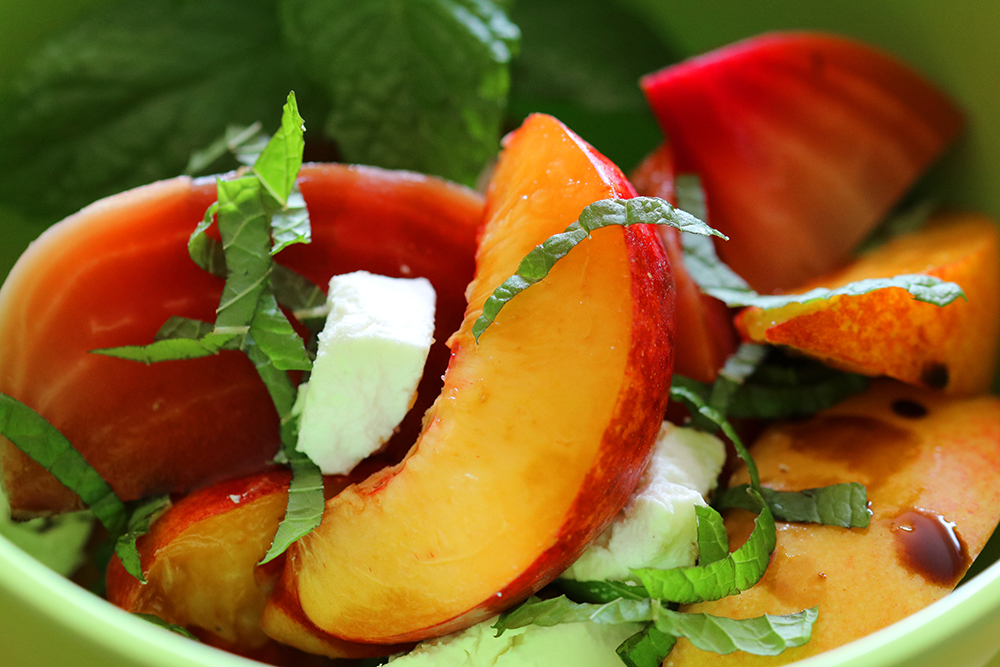 © Copyright: KatyKeck.com 2016. All rights reserved.
Hey, we want to hear from you!
Don't forget to Comment, Share & Subscribe to our blog.