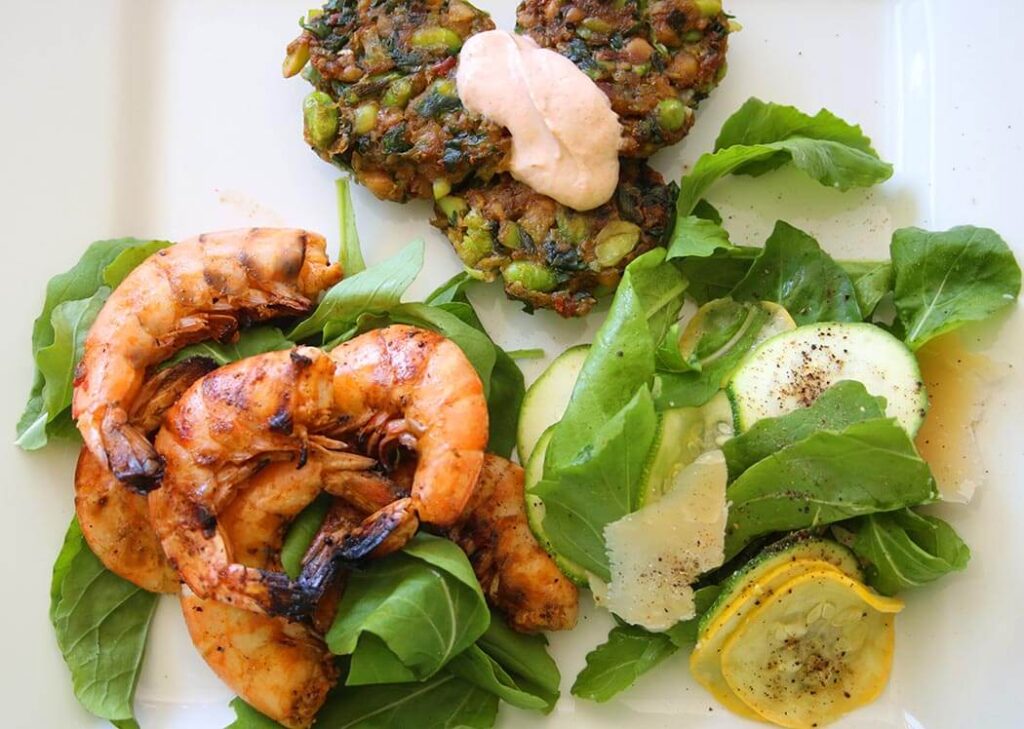 How is it exactly that "Salad Days" has gone from meaning green and naïve (Shakespeare's Antony and Cleopatra) to the more current American connotation of being at one's heyday or pinnacle?  So American, right?  Wait long enough and it can mean whatever you want.  And what I want is green – as in green salad with green (and yellow) summer squash.  It's reparation for making you go to that 425o kitchen last week, chasing a cherry pie.  This one is perfect for these oppressive muggy days. You won't have to turn on a thing.
I have to admit, I never really thought about raw squash as a tasty treat, finding it a bit pithy and bland. However a couple summers ago I was on a media tour for a client and met a journalist at a farm to table restaurant in NYC where I promptly fell in love with a version of this salad.  The trick is to thinly slice the squash – as paper thin as possible.  I like using a mandoline and particularly like the Matfer Mandoline
.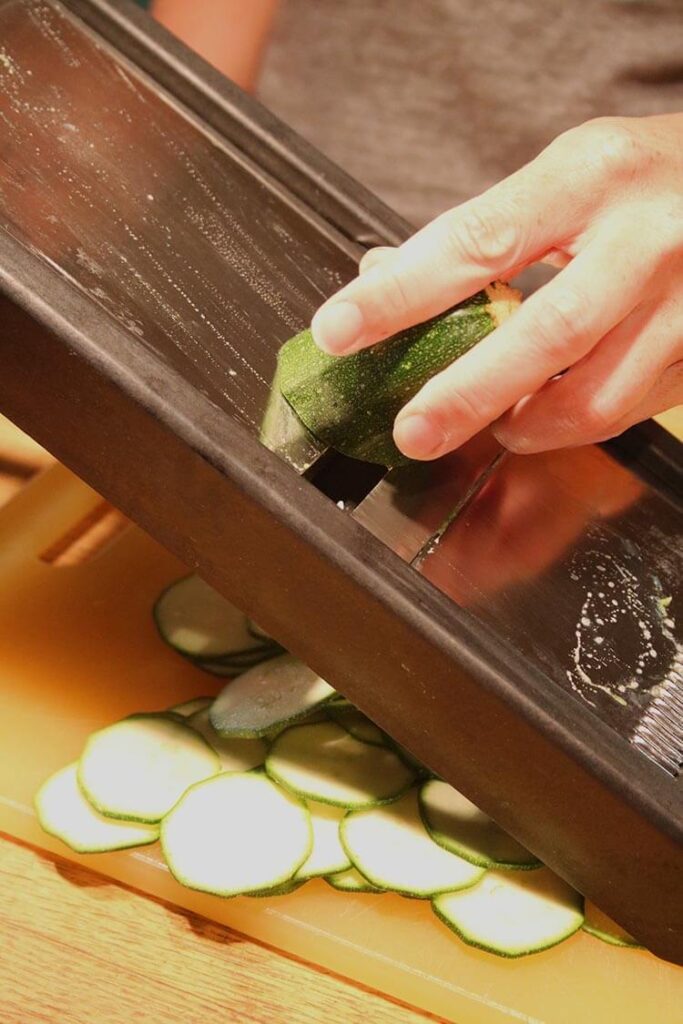 I once styled a cooking segment on the Today Show for the best chef in the Army, and he turned me on to this fine piece of equipment. I have had it for 15+ years and it is still in great shape.  It's got good safety features, so it's not scary like some mandolines, and it doesn't pit or corrode like the one I got in France a zillion years ago and need to toss.   Chef arrived on some kind of Army transport so he didn't have to worry about blades at TSA.  However his most important travel companion was an 8 1/2 x 11" flat piece of striped genoise sponge cake that was created by piping razor thin lines of alternating chocolate and vanilla batter.  He used it to line a tall glass trifle bowl for an elegant presentation.  And he carried it in a manila file folder.  Filed under P for pastry?  I was pretty much speechless. Given the turn of world events, I often wonder if our military still carry pastry in their file folders.
After first tasting that salad in NYC, I have tweaked it pretty much every time I make it and this is how it rolls this summer.  A dear friend recently delivered a spice jar filled with a pepper blend which I found I couldn't live without. I burned through that jar in short order and have now made my own.  Mine seems a lot darker than hers so I suspect mine has more black pepper.  She even recommends adding green peppercorns to the mix, but so far I have not tried that.   I love the KitchenAid coffee grinder to grind all my spices  – and now they have an even better model that comes with an additional bowl fitted with a blade optimized for spices, in addition to the primary bowl specifically tooled for coffee – two gadgets in one – KitchenAid Blade Coffee and Spice Grinder Combo
.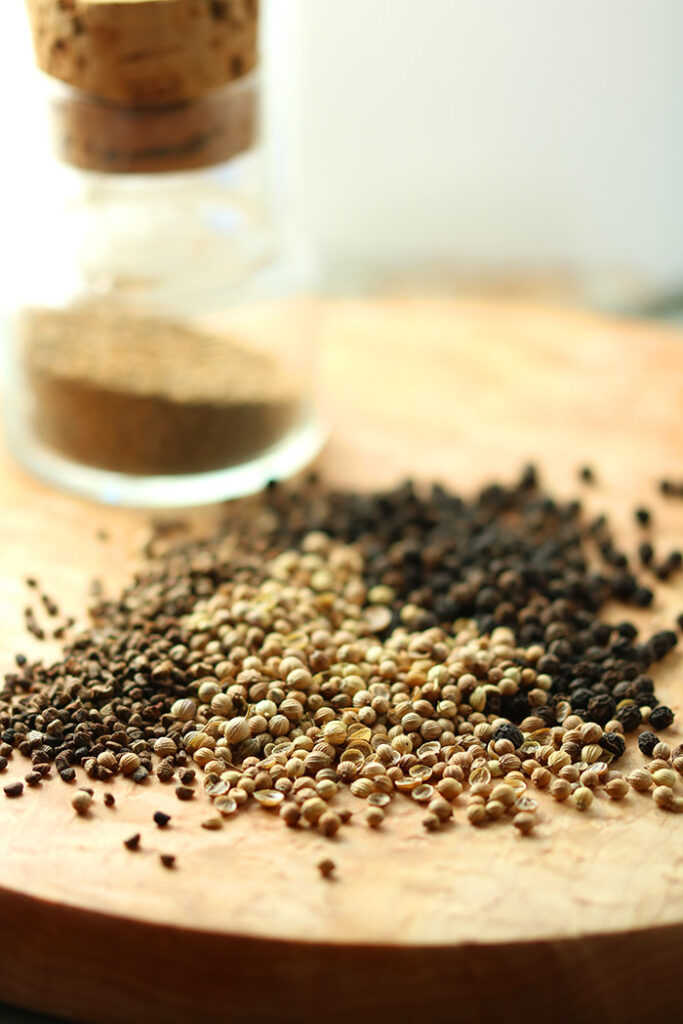 Zesty Pepper Blend
1 cup ground black pepper
1/2 cup cardamom seeds
1/2 cup coriander seeds
Grind each seed separately in a spice grinder or mini chopper.  Mix all spices together and store in an airtight container.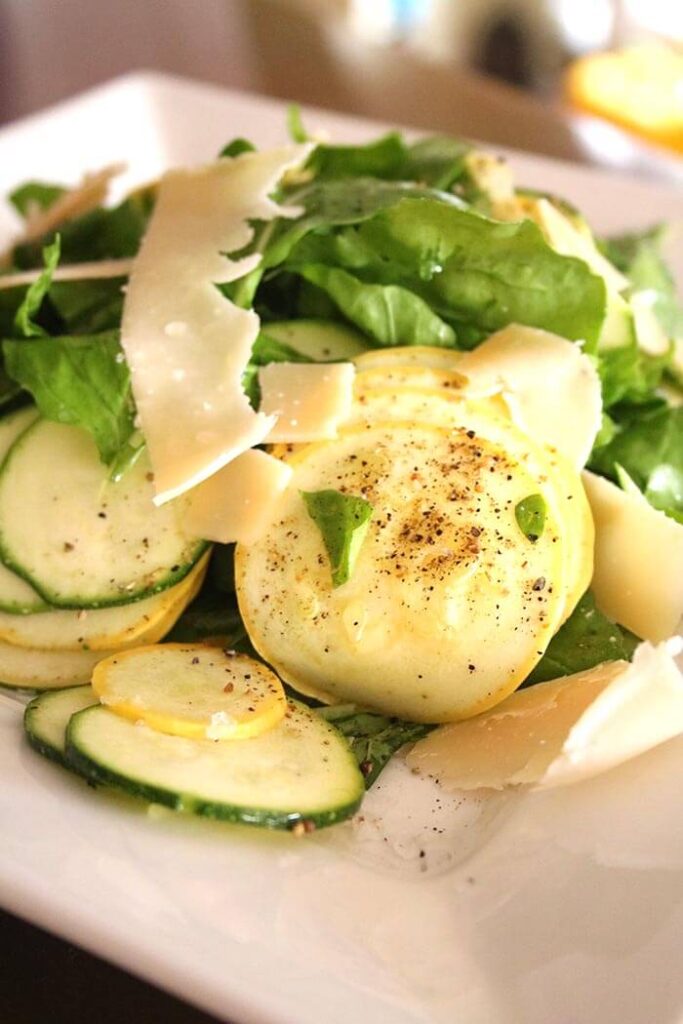 Summer Squash and Arugula Salad
1 zucchini
1 yellow squash
3 cups arugula
¼ pound sheep's milk cheese, such as Ewephoria, cut in shards or with a cheese planer
Seasoning: flaky sea salt like Maldon Sea Salt Flakes and zesty pepper blend
Dressing: equal parts fresh lemon juice and EVOO, whisked together
Trim the zucchini and yellow squash and slice thinly by hand or using a mandoline.
Arrange the summer squash and arugula on four salad plates. Grate the sheep's milk cheese on top and season with salt and zesty pepper blend.
Drizzle with lemon vinaigrette.
Serves  4.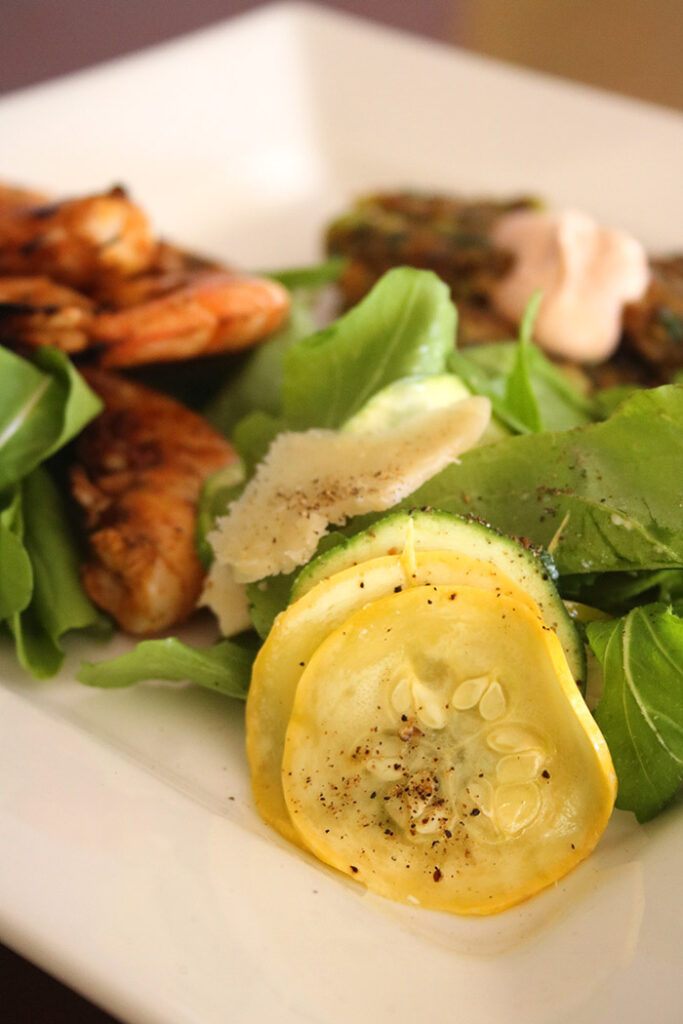 This post contains affiliate links.  For more of my must-have faves, check out my shop.
© Copyright: KatyKeck.com 2016. All rights reserved.
Hey, we want to hear from you!
Don't forget to Comment, Share & Subscribe to our blog.