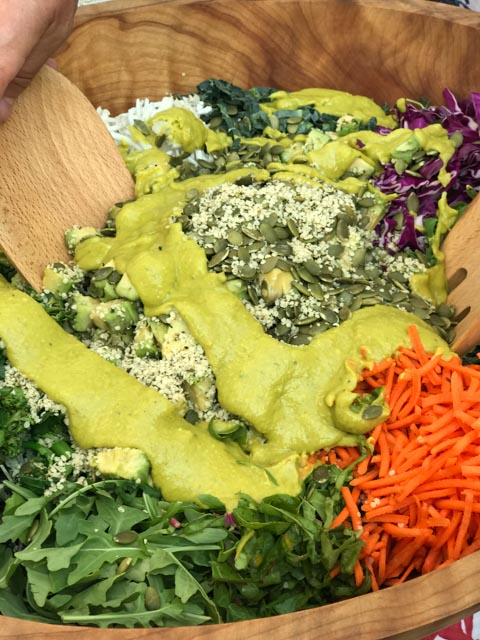 Are you still coming off that turkey coma from last week? Did you feast yourself silly?? Be honest – how many slices of pie did you do? This year we have the rare gift of an extra week between Thanksgiving and Christmas. So here's a dish that will ramp up your detox, so you have plenty of time to retox later. I bring you the Wonder Woman Superfood Salad. Or is it the SuperMAN Superfood Salad? Up to you.
Those who know me know that I am about as far away from being vegan as you can get. Indiana, people. We like our beef corn-fed. Sugar steak. Brats. Pork tenderloin sandwich (smashed and fried to within an inch of its – or my – life). Seriously, if you don't know what that is, click on the link to see a photo. The damn thing is twice the size of the bun.
Vegan, not so much. But there's something you may not know. I pretty much stick to plant-based protein for the first two meals of each and every day. Along the way (and thanks to Lyn-Genet), I have found that getting protein from seeds, nuts, and vegetables (broccoli!!!) gives me more energy than a big ole turkey sandwich on white bread. No more post-lunch slugging around. A plant-based dinner is not so far-fetched; it's free-will choosing to venture to a vegan restaurant that's outside my zone. Luckily wiser minds prevailed and the good people at Mambo Sprouts hosted a lovely dinner a few months back at Zest Kitchen in Salt Lake City. Shout out to Celiac and the Beast, Just Crumbs, Tea and All Its Splendor, and Delicious Table, among others who made the meal so special.
Superfood Salad – The Green Machine
This superfood salad is somewhat loosely based on the dinner I had that night. And with all the beautiful winter greens in the market now and feeling the need to clean up my act before I do it again, this seems to be the perfect time to hit you with it and get you jamming on my superfood wavelength. Consider this an un-recipe. I don't give proportions because you can do that. You also are not remotely locked in to all – or even any – of the ingredients I list. So please don't be daunted by the long string of ingredients below. They are all chef's choice. Being the overachiever that I am, I may have used all those things listed (I did!) in one salad. Don't judge. To be fair, I was filling a salad bowl the size of a hula hoop and serving about 30.
One of my favorite dark leafy greens is Tuscan kale. You may also know it as lacinato. Or dino. Or dinosaur. Or black. Or cavolo nero. It goes by so many names. A few years ago, recipes called for you to massage it with salt, but the way I see it…I don't get salt scrubs and there's no way my kale is getting better treatment than I. Just sayin'. As with all coarse greens, I stack them (having removed any tough ribs), roll tightly, and cut into the thinnest ribbons. This keeps you from getting a big bite of woody, tough greens.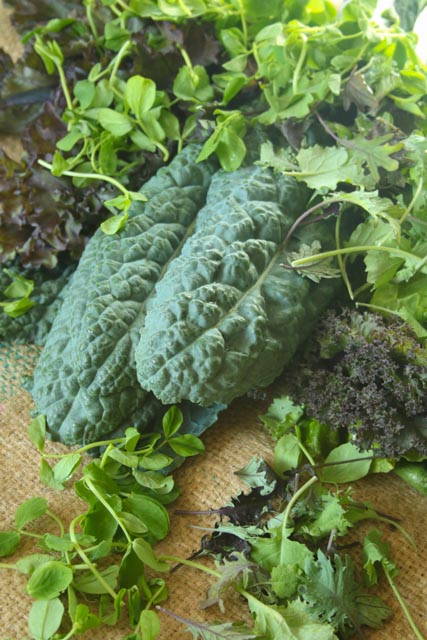 So many of the fancier greens now are available in baby style. Check out this gorgeous baby kale I found at the winter farmers' market. It needs nothing more than a quick rinse and a turn in the salad spinner. Dark leafy greens are all high in nutrients, but are especially rich in Vitamin K, iron and calcium, essential for building healthy bones. Eating these greens raw maintains the high levels of all nutrients.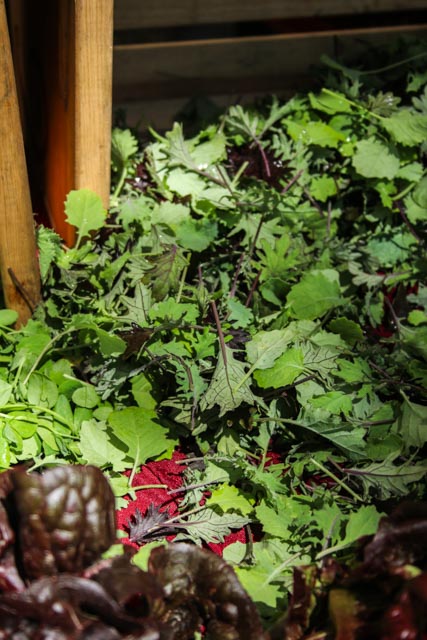 Adding Crunch
Once you have picked your greens for the base, play around with what I call the chunkies. Grated vegetables that add contrast in color, texture and taste. I used grated carrots, turnips, purple cabbage, some steamed and chopped broccolini, and avocados. Ultimately it will all get tossed together, but it's nice to present it composed so you can show off all the wonderful choices you have made, at least when it comes to salads.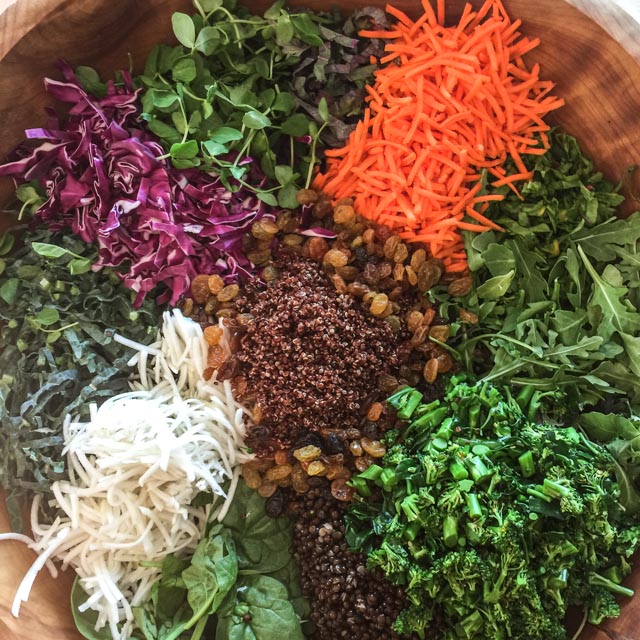 Power of Protein
Giving up on meat doesn't mean going protein-free. Did you know that pumpkin seeds have about 9 grams of protein per ounce? That's only a small handful. And hemp hearts are slightly higher – 10 grams per ounce. Those are the mainstays of my daytime meals, along with some sunflower seeds, chia and flax. Sometimes I add lentils or quinoa to the salad. Both require cooking – pretty fast – and both bring additional protein.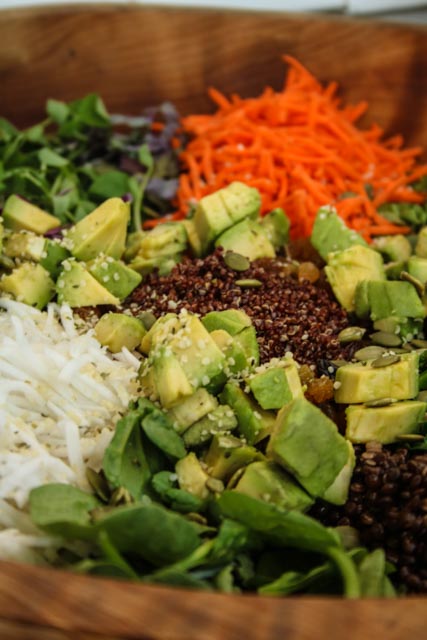 And I love microgreens. These jewels have been popping up in restaurants in recent years as a delicate garnish to sandwiches, salads and entrees. But in fact they are not so delicate when it comes to flavor and nutrition. Their nutritional value is about five times higher than their older sisters, and the flavor they deliver is quite concentrated. Have you ever tried a radish microgreen? Wowza! In the lifecycle of greens, microgreens come between sprouts and baby leaves or baby vegetables. Give them a whirl next time you see them.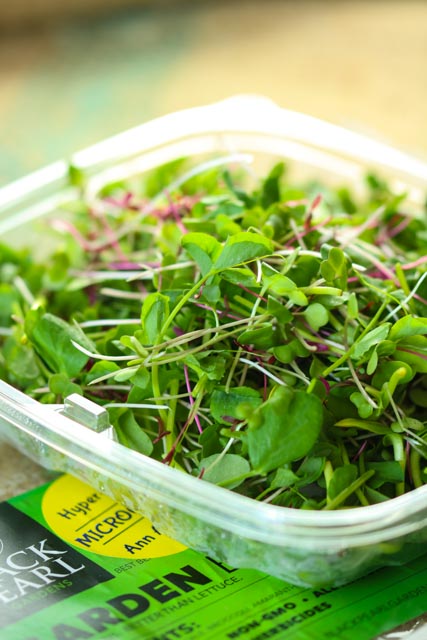 Curried Avo Dressing
Because there are a lot of textures in this salad, I wanted a creamy dressing to pull it together. And because many of the ingredients are a bit earthy, I wanted a bright flavor profile in that dressing. Avocado brings the creamy, and curried spices – cumin, coriander, and turmeric – bring the bright flavors, with an underlying earthiness that matches up with the greens. Because this dressing was made for a lot of hearty, sometimes bitter greens, I did not use a light hand in the flagrant flavor department. If you want to use this dressing on a lighter dish – say a chicken salad – you might want to cut back on the garlic and red pepper flakes. Then again, the full flavor version in the recipe below might turn your chicken salad into something pretty special. This is the best curried avo dressing around. Toasting the spices first brings depth of flavor and makes this dressing sing.
Don't limit it to a green salad – veggie dipper, sandwich slather, pita topper, fish sauce-r. Go! Now!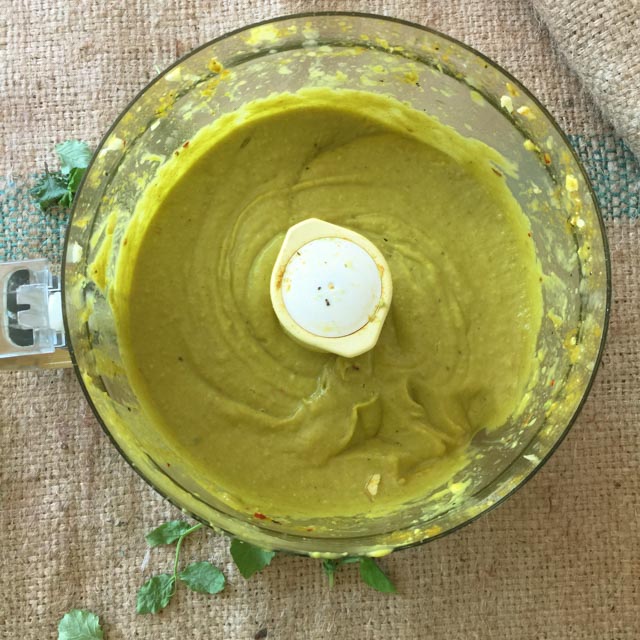 To add a little pop of sweetness to balance the full flavored dressing, I threw in a handful of golden raisins. It is a nice little surprise for the old tastebuds.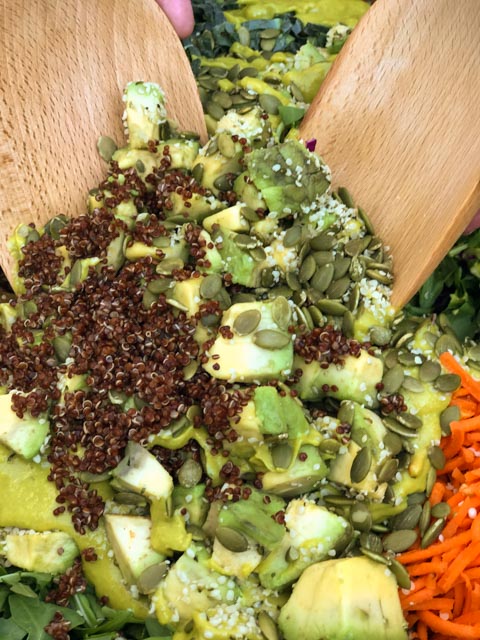 Print
Roasted Potato Salad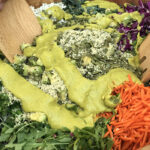 This roasted potato salad highlights the potato-y-ness of fresh-dug new potatoes, often lost with boiling. Being a just-say-nay-to-mayo gal, I love the bright flavors of lemon juice with lemon oil. It's a partay in your mouth! You're invited.
Author:
Prep Time: 15 minutes
Cook Time: 15 minutes
Total Time: 30 minutes
Yield: 6 - 8 Servings 1x
Category: Salad
Cuisine: Vegan
Scale
Ingredients
Vinaigrette
2 Tablespoons lemon juice
2 Tablespoons lemon olive oil or EVOO
1/4 teaspoon salt (you will need more if using fresh tomatoes in lieu of oven-dried or sun-dried)
1/4 teaspoon pepper
Salad:
1 1/2 pounds new potato (the smaller the better)
olive oil to drizzle on potatoes
1/2 cup shelled edamame
1/2 cup You'll Thank Me in the Winter Oven-Dried Tomatoes, or sun-dried
1/2 cup halved heirloom cherry tomatoes (or use 1 cup of either oven-dried or fresh)
4 pieces cooked bacon, crumbled
2 scallions, thinly sliced
1 Tablespoon chopped parsley
1 Tablespoon chopped chives
Plant-based Proteins
Quinoa, cooked according to package
Beluga lentils, cooked according to package
Pumpkin seeds
Sunflower seeds
Hemp hearts
Chia
Instructions
Make the Vinaigrette:
Whisk together the ingredients and refrigerate until needed.
Make the Salad:
Preheat oven to 425oF. Drizzle just enough olive oil over potatoes to coat very lightly and toss to combine. Transfer to a sheet pan and roast until tender, about 13 – 15 minutes. Remove and cool to room temperature.
In a medium bowl, combine the potatoes with the edamame, both kinds of tomatoes, bacon, scallions, parsley and chives.
Toss with the dressing and refrigerate until serving time. Taste and adjust seasonings, as needed.
In a small sauté pan, toast the cumin, coriander and turmeric for about one minute, until fragrant.
With the motor running, drop the garlic into the bowl of a food processor. Turn off and add the avocados, pulsing a few times to a chunky puree. Add the vinegar, toasted spices, salt and peppers and pulse several times until combined.
With the motor running, drizzle in the olive oil until smooth, adding water as needed to desired consistency.
How powered up are you now? I promise if you dive right in to the Wonder Woman Superfood Salad, you will feel good about every decision you've ever made.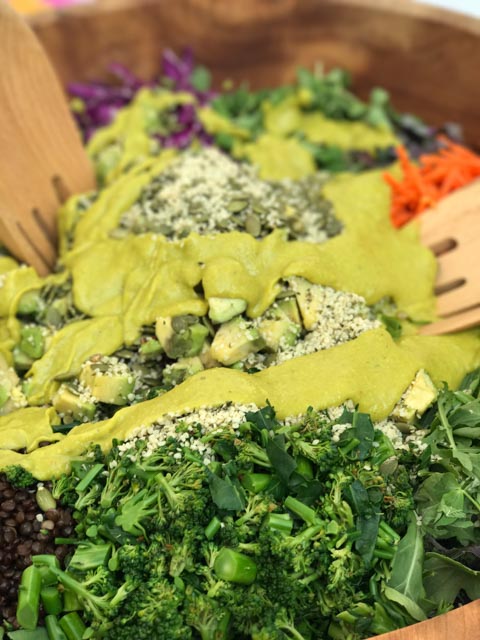 © Copyright: KatyKeck.com 2017. All rights reserved.
Hey, we want to hear from you!
Don't forget to Comment, Share & Subscribe to our blog.