One of the great surprises of pitching a tent in West Michigan was finding a cheese store, nay a Cheese Lady, which far surpasses all found in the multiple world capitals in which I have lived. I know that seems hard to believe, but I'm here to tell you it's flat out fact. Even Paris, with its iconic Androuët, home to one of my greatest meals ever, pales in comparison to The Cheese Lady. If it were the Cheese Olympics and I was the Russian judge – ok, not her, she's a bit mean – the American Judge, I would give Androuët a stingy 5.8. The Cheese Lady, a solid 10. Any quality cheese monger will have an extensive variety – The Cheese Lady carries some 150 cheeses from around the globe, with about 20% quality domestic cheeses. And sure, sure, sure, all respectable joints will include raw milk cheeses – something that was off limits in the US until relatively recently. TCL has raw in every category, including goat which is a bit rare. The big difference however is the Midwestern hospitality. Just imagine, if you will, a French monger shouting his most disdaining Mais No!!!  But just in case variety, raw milk, and hospitality aren't enough, Kathleen Fagan Riegler, the original Cheese Lady, wears a beret. Mais oui!!! I can feel my gruyere melting already.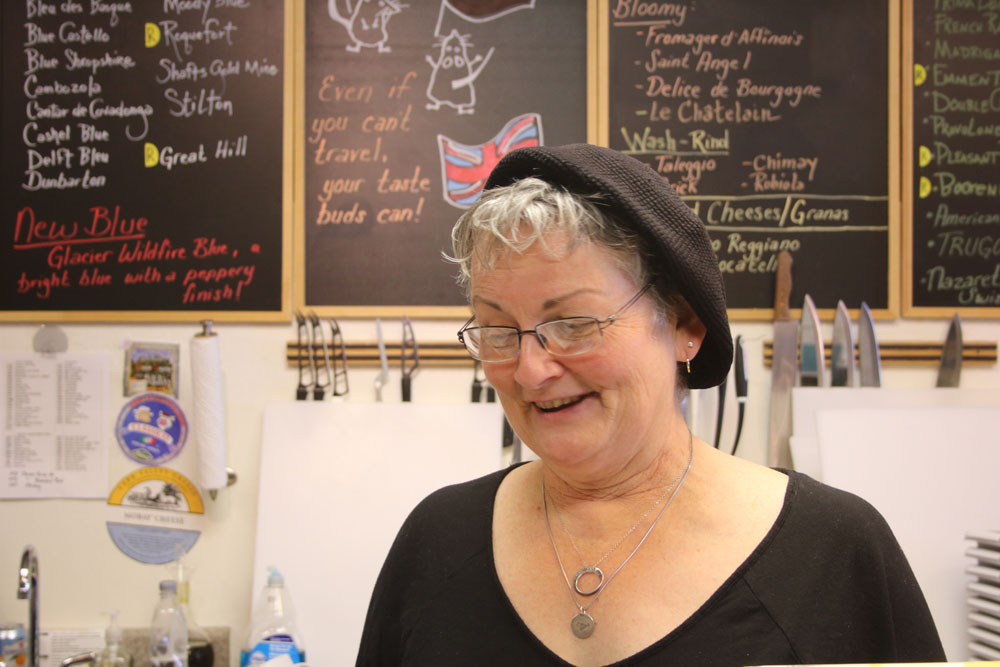 Kathleen spent nearly two decades on the road peddling le fromage for a big Chicago-based importer. Tired of the road, she set herself up at the Muskegon Farmer's Market and sold out each day. Kathleen loves the market: the energy, the diversity, the passion of both growers and customers, and I think even quite possibly annoying people like me who ask way too many questions. She loves us all. She also has a real gift for connecting with her customers and sharing her knowledge and enthusiasm. Because of the farmer's market, she developed a mentality and sensibility that focuses on sharing. Very few shops taste cheeses with their customers. Fewer still cut to order. This gift of sharing and generosity trickles down throughout the entire staff. They all totally embrace the living nature of cheese and the fact it varies from day to day, quick to point out whether this wheel needs immediate consumption or can wait a week. Customer service as it was intended!

Talk about right place at the right time! Kathleen was there to ride the wave of consumer interest in increasingly more intense flavors and America's (even West Michigan's) growing fascination with all things cheese. What you can't help but notice is the SISTERHOOD at The Cheese Lady that Kathleen has created. You business types might call this a franchise, but I assure you, it is so much more. This is a family of Cheese Ladies and the newest addition (sisters are scattered across Michigan from Traverse City to Kalamazoo) has been there since the beginning, right at the flagship store. Shelley Essebaggers Lewis. She approached Kathleen in the earliest of farmer's market days when the first tiny store was coming into focus, and Kathleen assured Shelley she would never be that busy. Six stores later, Kathleen is THAT busy. The time has come and Shelley is now the newest (official) Cheese Lady. Kathleen's goal is to be an increased resource to "The Sisters" and continue to source new products and learn and share. This move allows more time to visit and coach all the sisters. And Shelley is both ready and excited to officially take over the flagship that she has managed for years. Run right over and pick up some of the yummy cheese that I recently sampled and give her a big high five. The future of The Cheese Lady Muskegon is bright and tasty.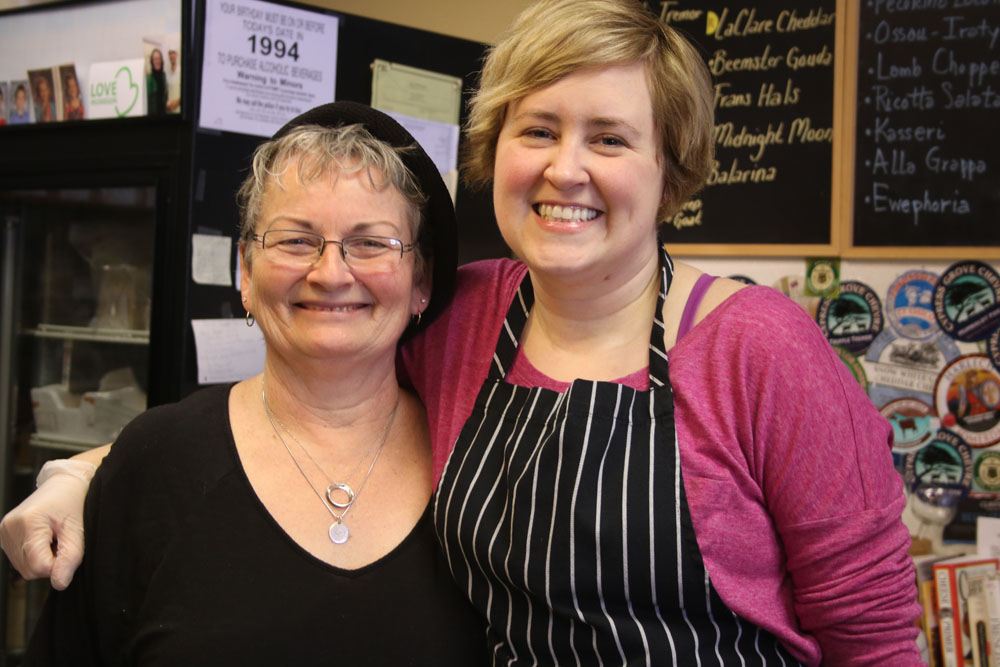 I spent the morning with them during a blizzard a few weeks ago. Winter cheeses, great for recipes and cooking, were on the menu. We cracked a couple huge wheels and I was surprised (probably shouldn't have been) that the flavors were so nuanced and nutty. I sometimes clump cooking cheese into a category less flavorful. Never again. Not on my watch. These cheeses would be great in French Onion Soup, Fondue, Gratins, Omelets and Mac & Cheese (recipe coming very soon – thinking about making it Saturday, with a nod to pimento cheese jazzed up with peppadews).

First up was a Cave-Aged Gruyere from Switzerland – a raw cow's milk cheese. The aging creates crystals giving the cheese a light crunchy texture and deep nutty taste. The wheels are a whopping 80 pounds. Super delicious and a fantastic candidate for best grilled cheese ever!
Fontina Fontal is a staple in North Italian pantries. It's a perfect melting cheese. The Lady likes to use it in mac & cheese to make the cheese sauce creamier. I suspect it will be going in mine! Cheddars have a tendency to separate when heated, so a cheese like this will keep the sauce from breaking.
Next up was Emmental, the classic "Swiss" cheese, which bares zero resemblance to the sliced stuff you get hanging on a rack at the supermarket. Emmentaler has a protected origin designation so that the integrity of true Swiss Emmentaler can be maintained by its stringent standards. The wheels often weigh upwards of 150 pounds. Emmentaler is a brined cheese, so there is a slightly salty taste. Pure perfection.

And then we finished off with some Pleasant Ridge Reserve. Yum. One of Wisconsin's most awarded cheeses, Pleasant Ridge is a raw milk cheese, made from the milk of a single herd, fed and managed using natural "Old World," hand-crafted practices. As the cheese ages, its flavor becomes more complex and concentrated and is both musty and mushroomy. Often eaten as a table cheese, it is also an excellent recipe cheese.
#BestMorningEver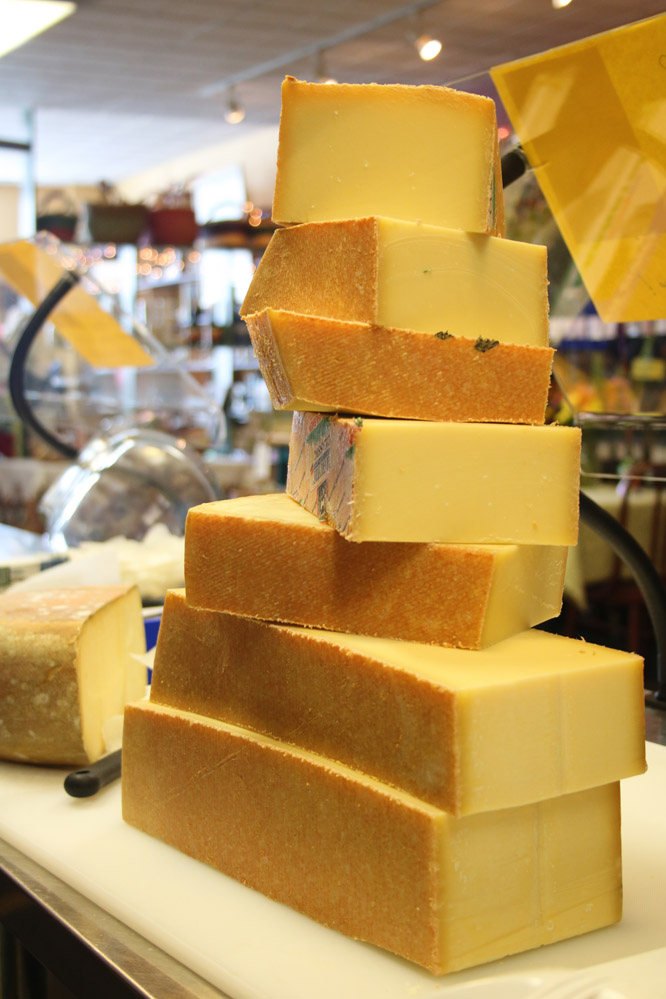 While not on that day's menu, I did have to squeak in a taste of truffled Gouda.  Melkbus is a raw milk Gouda made on small dairy farms around the Netherlands. Each style is numbered – this was #149, a buttery unpasteurized Gouda with Italian black truffles added to the curd before pressing.
O. M. G.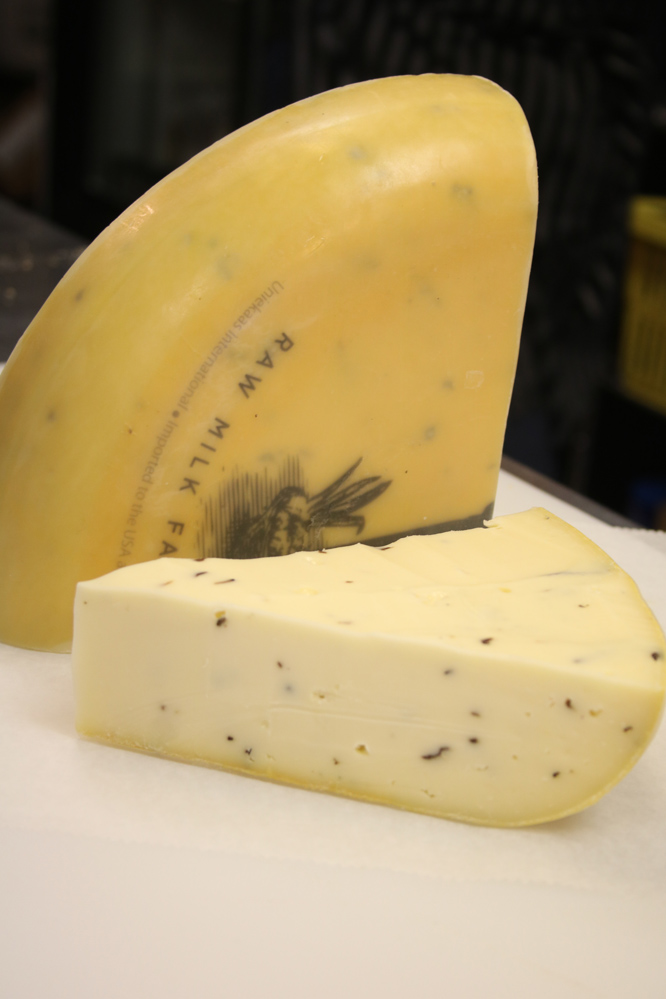 I am 100% sure that The Cheese Lady has upped my food cred among colleagues, friends and family alike. There are certain people that likely only invite me for Christmas because I come with a clown-car-sized suitcase filled with The Cheese Lady treasures. I can't tell you how many guests (it's a lot) visiting each summer bring coolers to stock up. Some even throw tantrums if we miss the opening hours. I'm pretty sure we should start some kind of petition to get Cheese Ladies Everywhere. I know I could use one on my NYC corner. Right now. My then-12-year-old cousin said she was pretty sure there should be one or two in every state, right before proclaiming The Cheese Lady as "my idol".
Cheese in the Spotlight: Two rather disturbing stories have surfaced in the media this week. One I reject wholesale – a GQ piece saying that cheese can be addictive. They say it like that is a bad thing? I know for a fact that cheese is good for you – hence the expression cheesy goodness, although there is a high probability that I invented that expression myself. Still. Just sayin. Isn't cheesy euphoria what we live for? The only part of that post that I do embrace? A retouched photo of Scarface with 20 kilos of uncut Colby.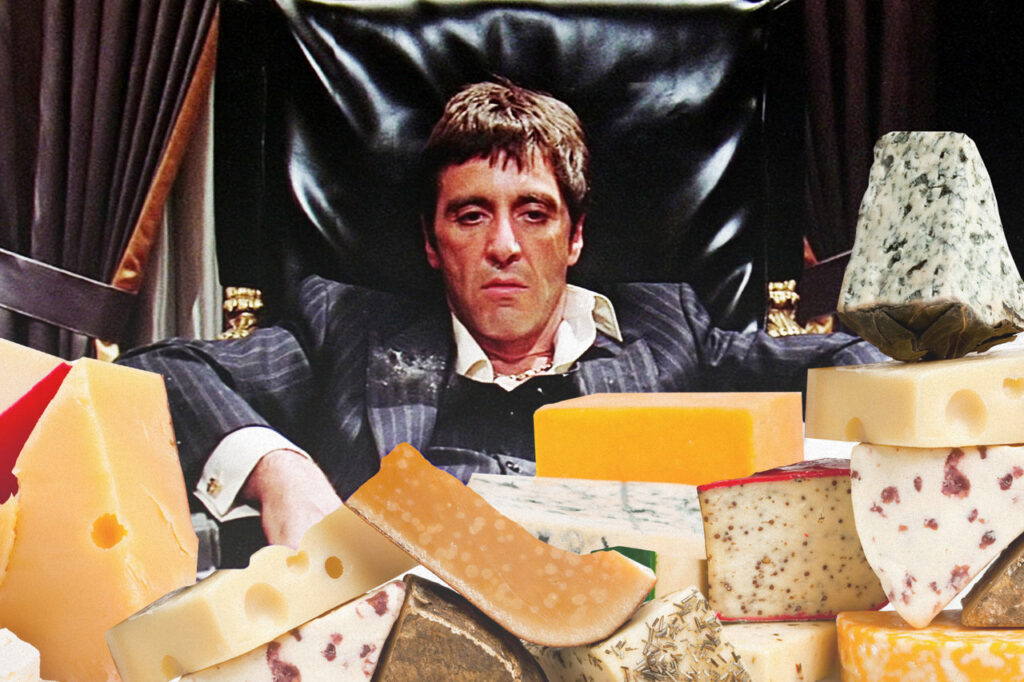 And then there is the distressing news about wood pulp in our cheese. Well, not in my cheese. Unfortunately NBC Nightly News filled the story with B-roll of beautiful cases of hunks of cheese. They went so far as to create an infographic showing what the acceptable 4% level looks like on a wheel. That's not where the cellulose (anti-caking agent) is found – it's in the little green shakers of "parmesan".  (They also report that some of those shakers have zero parmesan – all cheaper cheeses AND wood pulp). So another reminder to read your labels. And while you are checking out ingredients, check out expiration date. I can pretty much guarantee you that the cryovac Manchego or feta at the supermarket will have expiration dates from 6 months to a year out. Remember that bit about cheese being alive? Not so much when sealed in plastic. Just go already to The Cheese Lady where your lovely, breathing, creamy, runny, tasty, smelly, gooey piece of dairy heaven is cut to order and wrapped in French cheese paper. Have I made myself clear?
Courtesy of The Cheese Lady…some 30 second appetizers:
Manchego, Pear Preserves & Marcona Almonds
Eurocreme Stuffed Peppadews
Dried Figs Stuffed with Gorgonzola & Honey Drizzle
Taleggio & Tart Cherry Preserves
Mascarpone & Lemon Curd on Oatcakes
Fresh Chevre, Quince Chutney & Toasted Coconut
Toasted Baguette Toppers
Iberico & Olive Tapenade
Feta, Prosciutto, Honey & Fig
Raclette & Cornichons
Burrata & Artichokes
Valdeon Bleu & Creamed Honey
Irish Cheddar & Pear Jam
My Mac & Cheese recipe is coming soon! Stay tuned!! It's National Drink Wine Day so I think you know what you gotta do! Giddy up.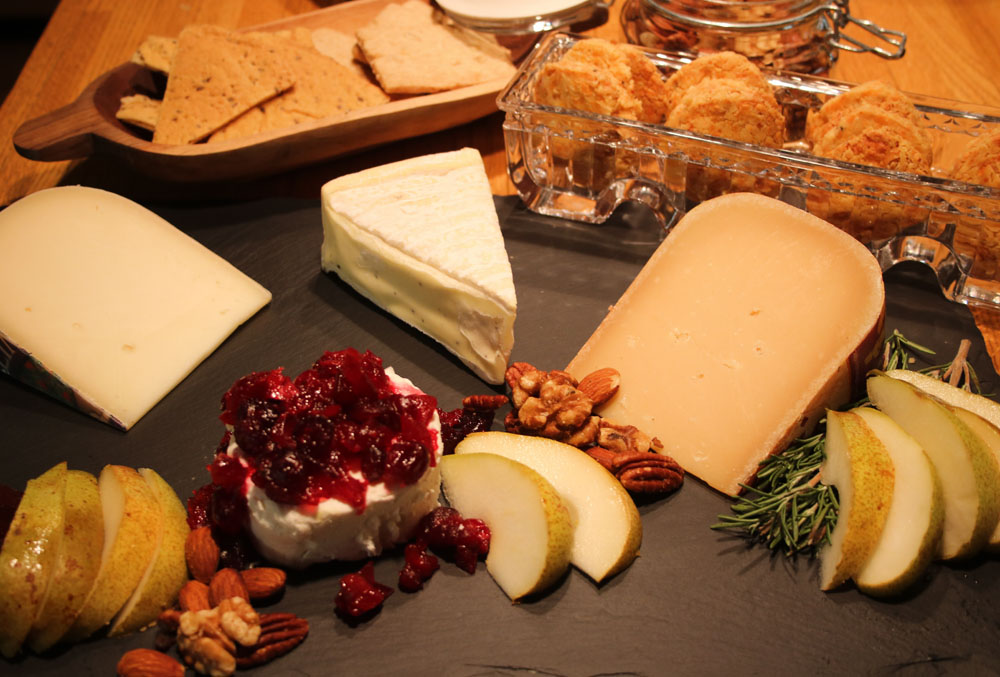 © Copyright: KatyKeck.com 2016. All rights reserved.
Hey, we want to hear from you!
Don't forget to Comment below, Share & Subscribe to our blog.