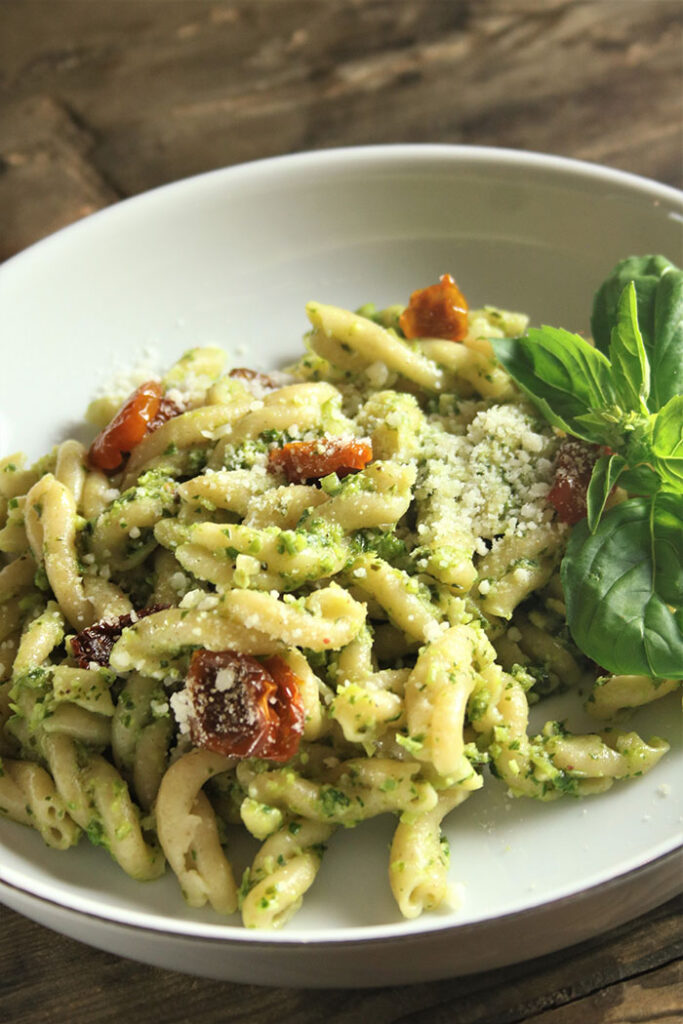 Finally! Ermahgerd!!!! Did you think that winter would ever end?? I for one did not. Today in NYC it was 90 and stickeeeeeeeeeeeeeeeeeeeee! But that means not only are the farmers' markets in full spring swing, they are pushing out the bounty that Mother Earth shares this time of year. Garlic scapes! Remember them? I am scooping them up to dose plain ole pesto with these fresh shoots and flowering stems of the garlic bulb, while also jam-packing the processor with not only basil, but also arugula and parsley. Arugula and Garlic Scape Pesto! Oh yeah!!
Those growing garlic will be familiar with this curlicue that shoots up from the buried bulb. I'm sending out this scape pesto recipe now because my readers are scattered across the globe, and it is found from May through July, depending on where you are. It usually starts shooting up about a month after the bulb's first leaves, and many will cut it back and compost to stop diverting energy so the bulb itself can fatten up. Resist! Just say no! Cut back, but don't compost. There are many things you can do with these stems, from chopping and adding to a potato salad, to making sauces like this scape pesto, to making those cute bundles below. They can be eaten raw, blanched, roasted or grilled. For a deep dive on all things you can do with these divine shoots, check out (and follow) Suzie Durigon at Just Crumbs. She has a wonderful post on everything you always wanted to know about scapes.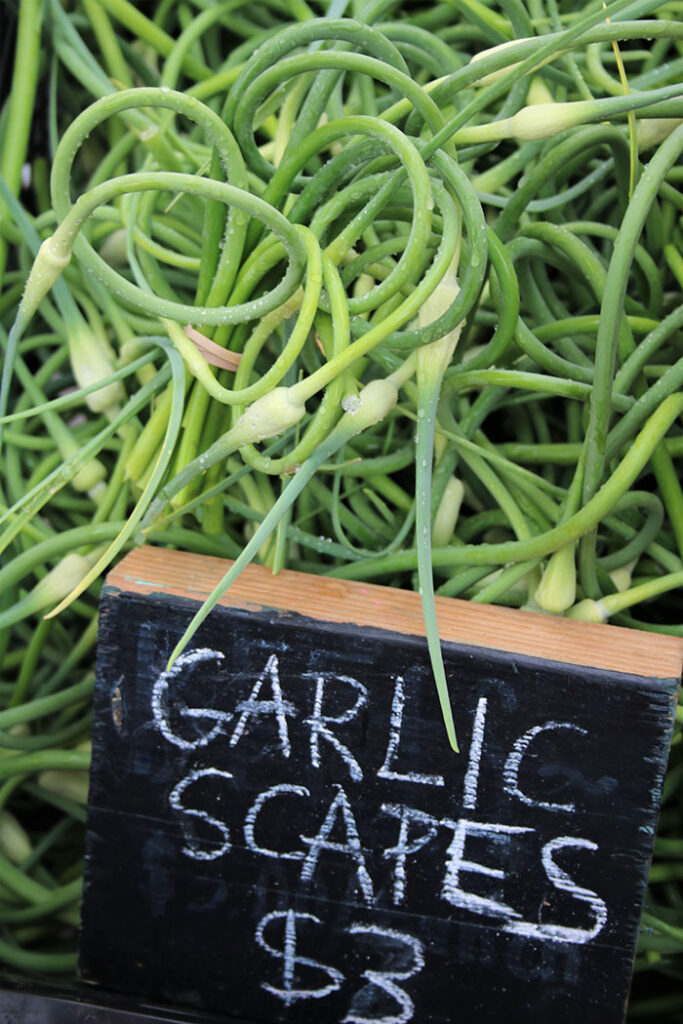 Try to find a farmer that will sell you a big bag. They last a month or so in a plastic bag in the fridge, and buying them by the piece can get pricey. I have seen them for a quarter each, but I shop at the end of the day and dazzle farmers with my true appreciation for this shoot. I can usually make off with a 2-gallon ziplock filled for just $10. As long as you are successful in your hunt, why don't you whip up a batch of Roasted Garlic Scapes? You won't be sorry. They have that I-want-more-ish quality like salted edamame, with a big dose of robust flavor. Plus they are easy-peasy and are a bit of a show stopper.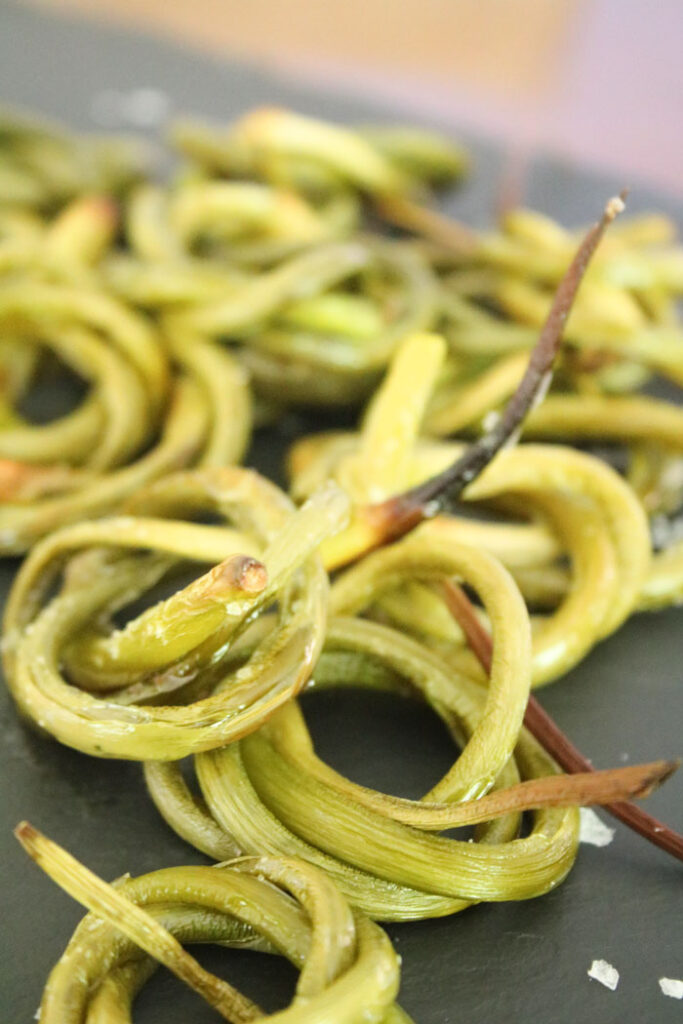 Arugula & Scape Pesto
The ingredients, ratios and directions are detailed below, but rest easy that this is a 5 minute processor recipe. The scapes, arugula, parsley, and basil give it a jewel-like green color and the Parmesan and sunflower seeds (so much cheaper and flavorful than pine nuts) give it some body. I am serving it here atop a fresh gemelli (did you know that is Italian for twins, as the pasta is doubled over and twisted together?) and oven-dried tomatoes. The tomatoes are from the freezer and were dried at the end of last season when they were at their peak. I linked the recipe below so you can keep it in mind for later this year. You could also add some of the other spring veggies, like peas or asparagus tossed in at the end of the pasta's cooking, or even some sauteed morels or other spring mushrooms. This flavorful pesto is not limited to pasta: drizzle it on a Caprese, marinate vegetables for the grill, or spoon it on a grilled steak or chicken breast. It's so universal you can also slather it on a panini.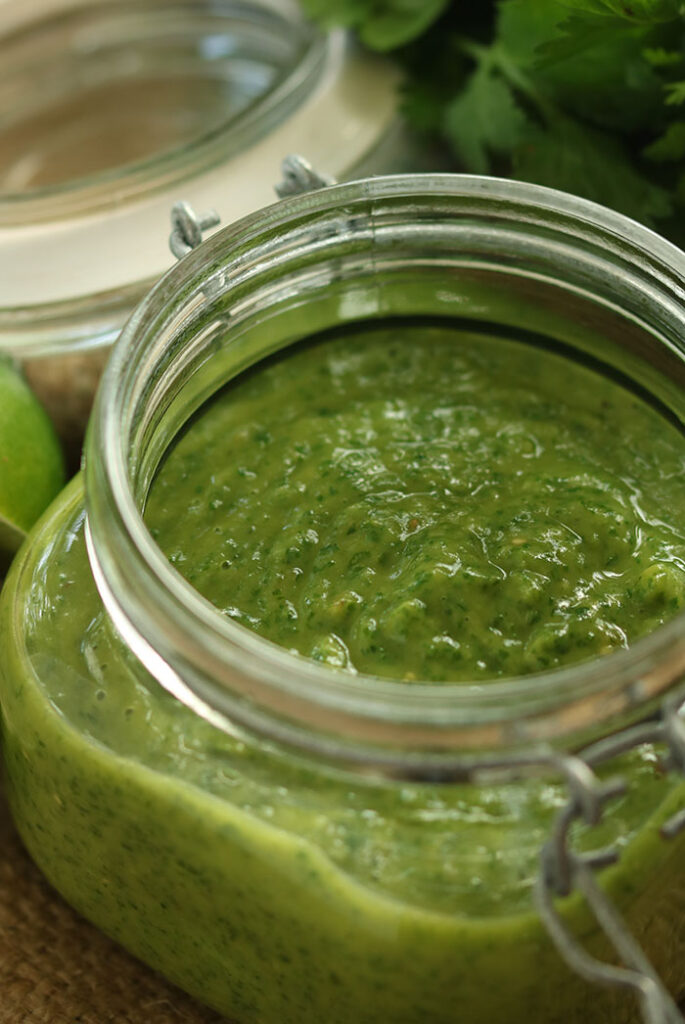 Print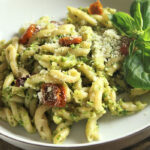 Arugula & Scape Pesto
---
Author:

Total Time:

5 minutes

Yield:

1 1/2 cups

1

x
Description
Swapping out more mature bulb garlic with just-in-season garlic shoots, while supplementing the basil with arugula and parsley, gives this scape pesto a bright and spring-like freshness that is great on anything from pasta to grilled fare to tomatoes and fresh mozzarella.
---
10

–

12

garlic scapes, trimmed and sliced crosswise

1 cup

tightly packed basil

1/2 cup

tightly packed Italian parsley

1/2 cup

tightly packed arugula

1/2 cup

grated Parmesan cheese

1/4 cup

raw sunflower seeds
Juice of

one

lemon

1 teaspoon

salt

1/2 teaspoon

ground black pepper

3/4 cup

extra virgin olive oil
---
Instructions
Place the scape, basil, parsley and arugula in the work bowl of a food processor and pulse 8 – 10 times until coarsely chopped.
Add the remaining ingredients, except the olive oil, and pulse again to combine. With the motor running, add the olive oil in a thin stream until combined and desired texture is reached, scraping down the side of the workbowl as necessary.
Store in the refrigerator in an airtight container.
Notes
The salt in this recipe is based on using it with pasta. If you plan to use it in a non-carby way like a fresh mozzarella drizzle, then you may want to cut back on the salt.
Serving suggestion:
Serve on pasta – hot or cold; top a tomato and fresh mozzarella Caprese; spoon onto grilled chicken, steaks, fish or vegetables; or slather on a sammy.
Prep Time:

5 minutes

Category:

Sauce

Method:

Blender/Processor

Cuisine:

Italian
When you give this spring arugula and scape pesto a whirl, tag me on Instagram and as always, I LOVE to see your comments below.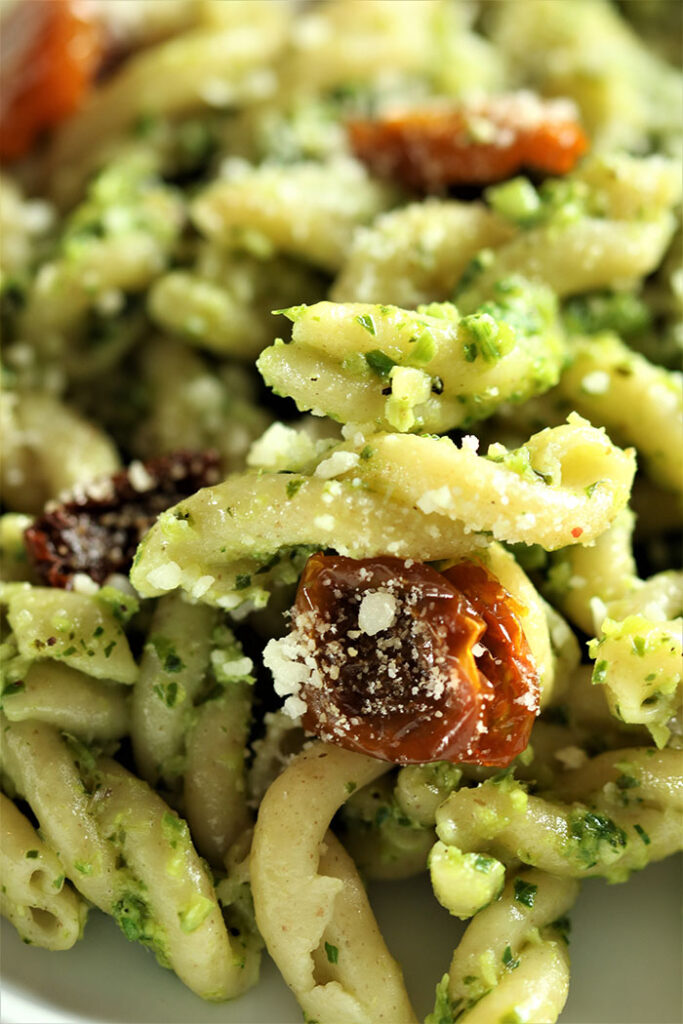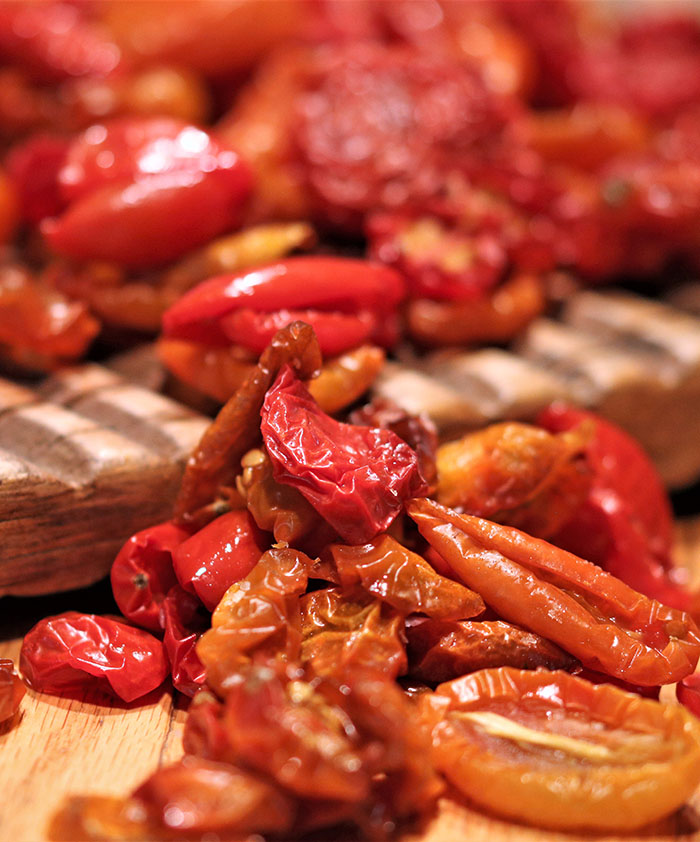 © Copyright: KatyKeck.com 2018. All rights reserved.
Hey, we want to hear from you!
Don't forget to Comment, Share & Subscribe to our blog.