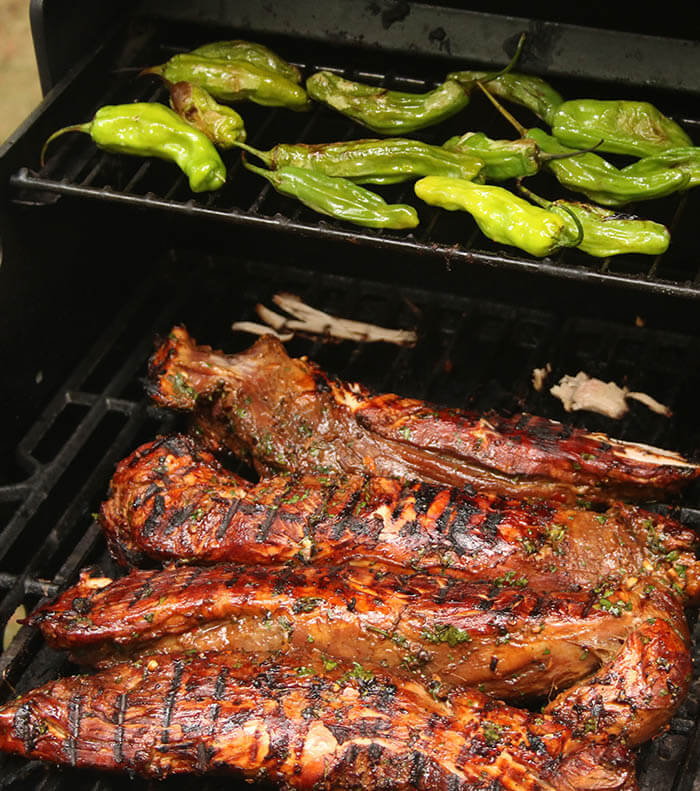 So many plums, so little time. The countdown is on for the end of the stone fruit season, but right now you can find perhaps a dozen plum varieties at both your local farmers' market or supermarket. A recent stroll down the grocery aisle revealed Pluots of the red, green, and dinosaur varieties, as well as Sunrise Reds, Midnight Moons, Damson, Greengage, Mirabelle and Stanley Rubies. The colors both outside and in reflect the rainbow. I love buying a few of each so that chopped and mixed you can create a colorful salsa with tastes that run from tart to sweet, then pump that flavor further with fresh lime, crystallized ginger and loads of fresh mint.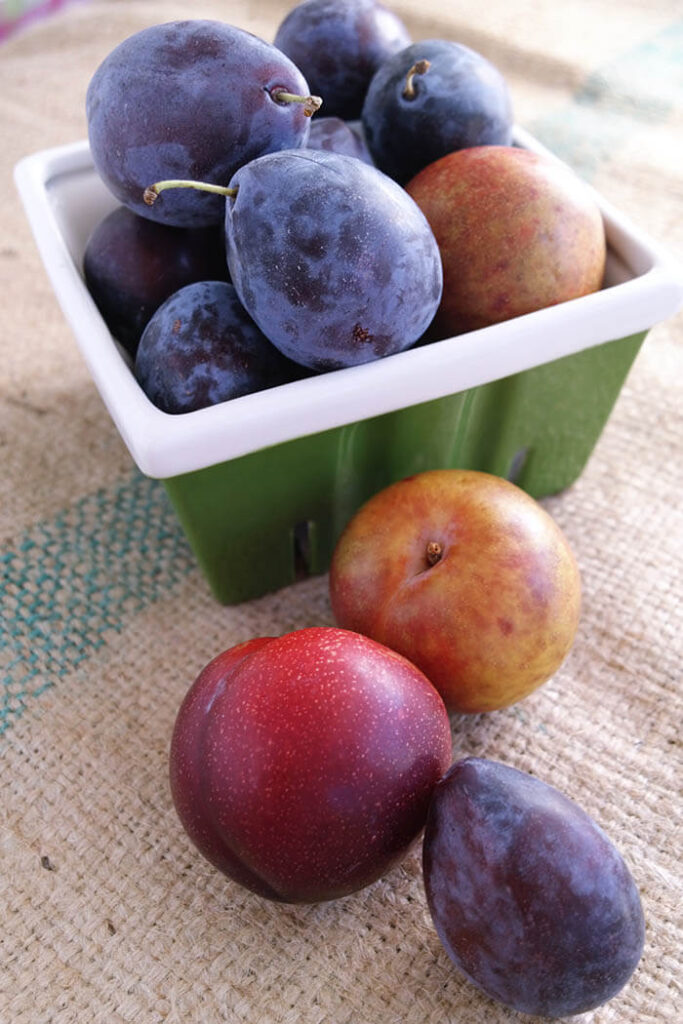 Plums are an essential flavor in many Asian cuisines, but especially Japanese and Chinese. While neither the salsa nor the pork marinade are authentic, they reflect my modern update on classic cuisines using the palate of flavors and pantry staples that represent their birth regions. I first traveled to both Japan and China shortly after my year-long stint in four kitchens in France, where I drilled down on classic techniques. That travel, more than anything else in my life, transformed both my palate and thoughts toward technique, opting for less reliance on fat-first flavor and relying more heavily on quick cooking techniques and bold aromatics, like ginger. It has been said I am a fiend for ginger. That is no lie.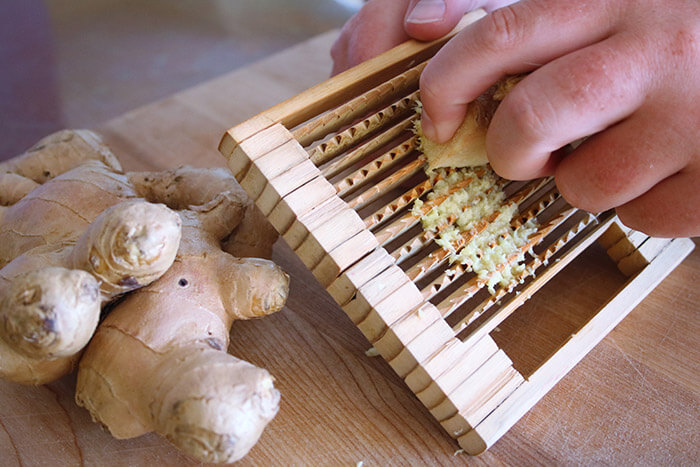 I found this bamboo ginger grater on one of my trips, and it is much easier to clean and gives a higher yield of grated ginger than a microplane. If you ever see one, snag it. The two recipes in this post rely on crystallized ginger for the salsa (love the little texture contrast that crystallized gives when mixed with fruit) and fresh for the marinade. Fresh ginger is also a terrific meat tenderizer, so this marinade works well with less primo cuts of meat.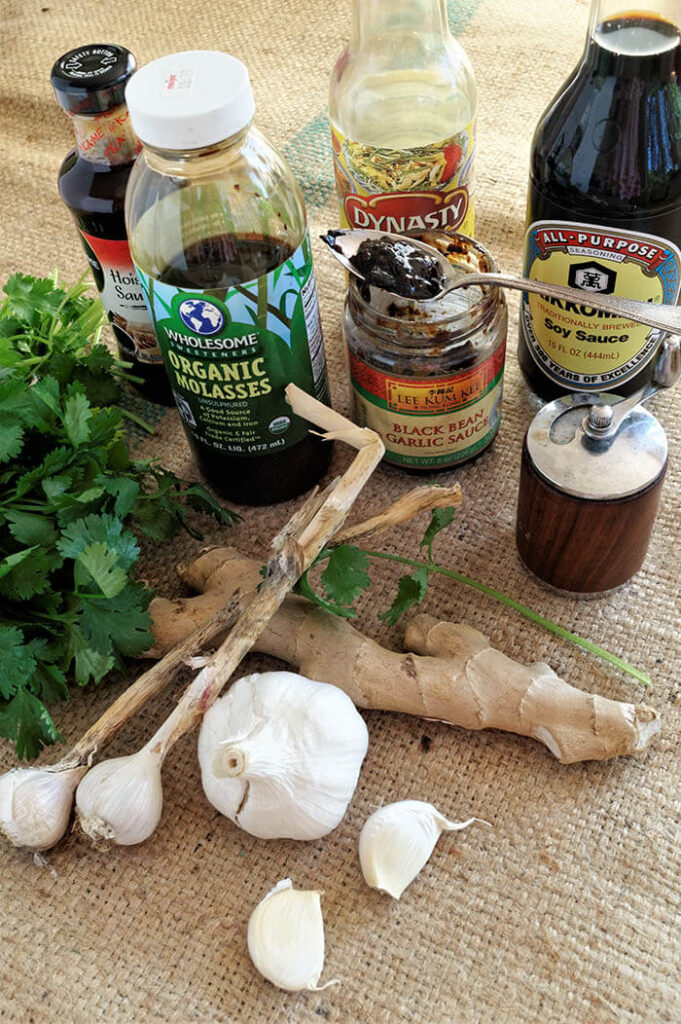 Asian Marinated Pork Tenderloin
This marinade recipe in its first iteration came about from a bet with the great Josh Wesson, lord of all things food and wine pairing. Once during Aspen's Food & Wine Classic, he smugly dared me to serve up blue fish in any possible way that would EVER pair with a wine. Once thought to be too oily to be wine-friendly, the pesky poisson was handily tamed by this robust marinade. I WON. I don't remember where we landed for the wine, but believe it was a Gewurztraminer or something in the Alsatian family. The marinade went on to earn me a spot in the Gourmet Magazine Healthy Menu Awards final round, and in yet another reboot it was featured in Great Women Chefs. Until I saw the parade of plums this week, I had not thought of the marinade in quite a while, but dusted it off and tweaked a few ratios and ingredients, and it's just as full of flavor (and simple to prepare) as I remember. And as is required to qualify for my list of favorite "dump and stir" recipes, this Asian marinated pork lets some of the store-bought ingredients like black bean garlic paste and hoisin do the heavy lifting, flavor-wise.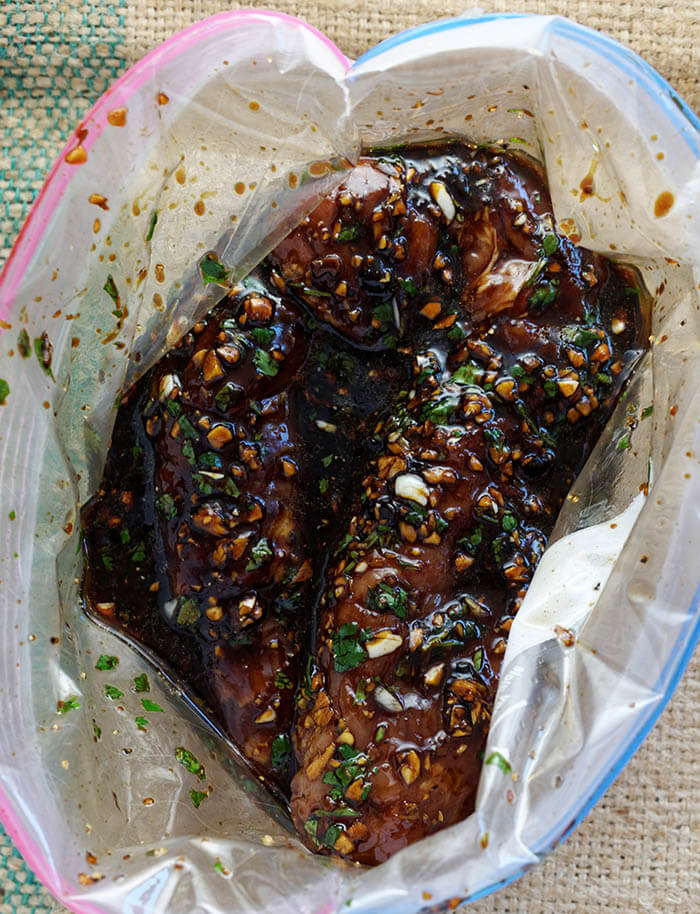 Print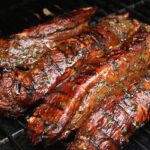 Asian Marinated Pork Tenderloin & Ginger Plum Salsa
---
Author:

Total Time:

45 minutes

Yield:

Serves 6
Description
With all the plums in season right now, it's the perfect time to whip up a little Asian-inspired Ginger Plum Salsa. And what could be better than serving that with this flavor-rich and a snap to prepare Asian Marinated Pork Tenderloin?
---
Ginger Plum Salsa
2 cups

pitted and diced plums (assorted varieties, about

4

or

5

plums)

1/2 cup

diced, peeled cucumber

2 Tablespoons

minced red onion or

1

scallion, thinly sliced
Juice of

one

lime (about

2 Tablespoons

fresh lime juice)

1 Tablespoon

honey

2 Tablespoons

chopped crystallized ginger

1/4 teaspoon

red pepper flakes

2 Tablespoons

chiffonade (thin ribbons) of fresh mint
Asian Marinade
1/4 cup

sesame oil

2 Tablespoons

grated ginger

2 Tablespoons

soy sauce

2 Tablespoons

chopped cilantro

4

cloves garlic, minced

1 Tablespoon

hoisin

1 Tablespoon

black bean garlic paste

1 Tablespoon

molasses

1/4 teaspoon

ground pepper
2 1-pound pork tenderloins, trimmed of silver skin and fat
---
Instructions
Make Ginger Plum Salsa
Combine the plums, cucumber and red onion (or scallions) in a small bowl.
In another small bowl, whisk together the fresh lime juice, honey, crystallized ginger and red pepper flakes. Pour over the fruit and stir to combine. Cover and refrigerate until ready to serve.
Add the mint just before serving.
Makes 2 1/2 cups
Make Asian Marinade
Combine all marinade ingredients and marinate the pork at least 30 minutes and up to overnight. If you are marinating for more than 1 hour, refrigerate, covered.
Grill Asian Marinated Pork Tenderloin
Remove meat from marinade and pat dry. Start over a hot grill to mark, then cook on a cooler part of the grill (with the lid down) about 20-30 minutes until the internal temperature reaches 145oF. Alternatively cook in a 425oF until meat reaches temperature, 20-35 minutes.
Remove from the grill or oven and let rest 10 minutes before carving.
Serve alongside ginger plum salsa.
Prep Time:

20 minutes (plus marinating time)

Cook Time:

25 minutes

Category:

Main

Method:

Grilling

Cuisine:

Asian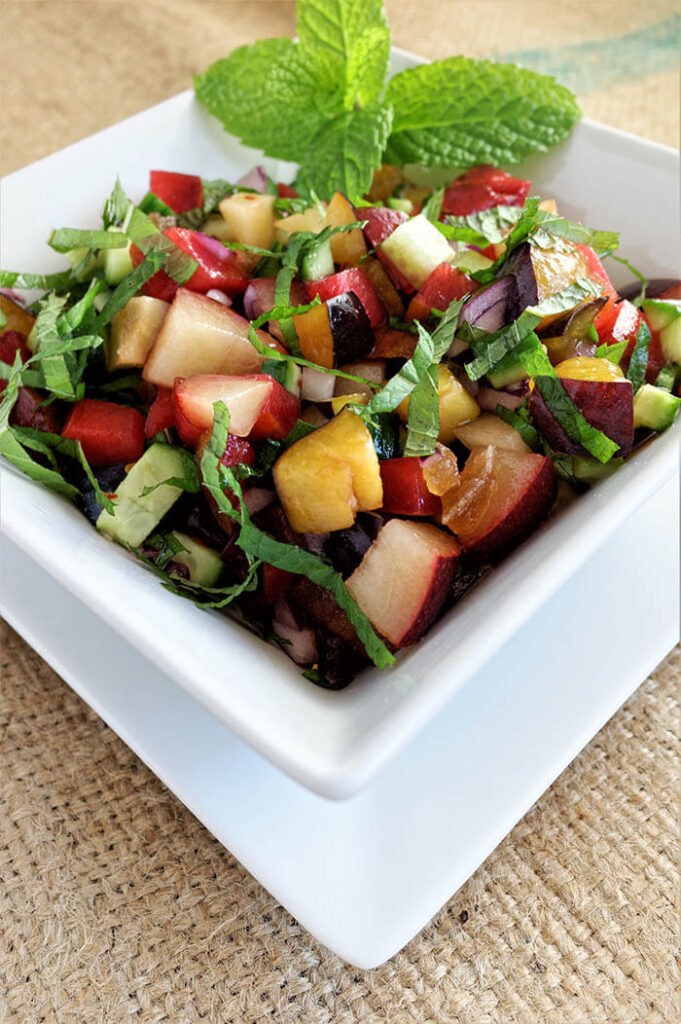 Fresh mint and lime juice really elevate the flavors in the salsa and brighten the whole plate.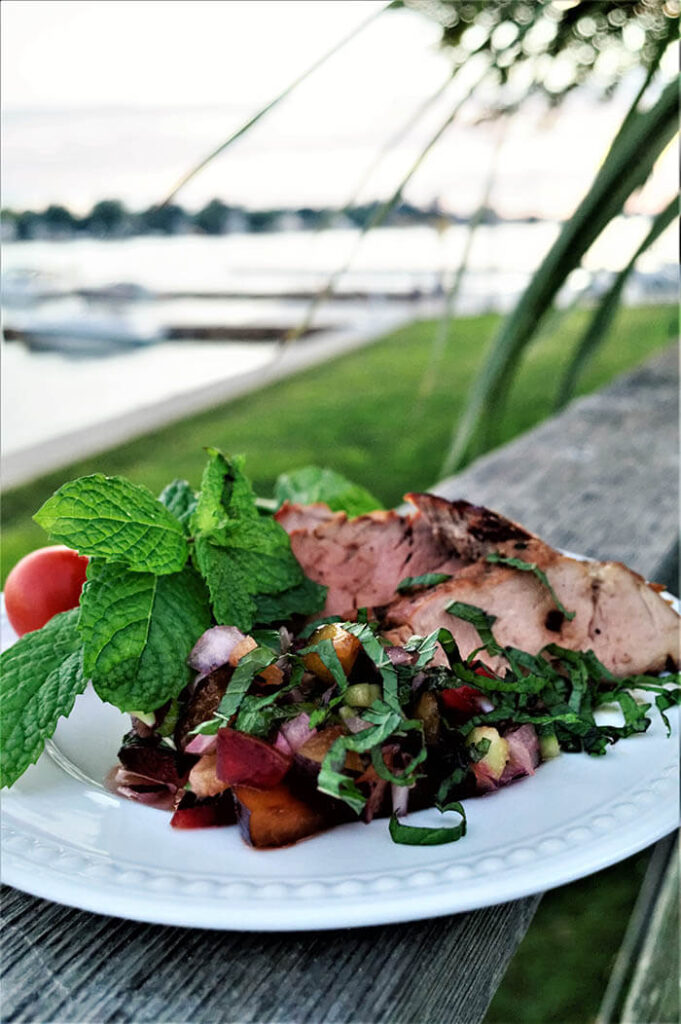 This post contains affiliate links. For more of my must-have items, please visit my shop.
© Copyright: KatyKeck.com 2017. All rights reserved.
Hey, we want to hear from you!
Don't forget to Comment, Share & Subscribe to our blog.