There's still time to lend an ear, grab an ear, shuck an ear, do what you must…to make this peak-of-the-season fresh corn salad that was on the menu at last week's Summer Harvest Bounty feast. I have shared this recipe before and while it's a no-recipe recipe, I've been ask to fill in some blanks.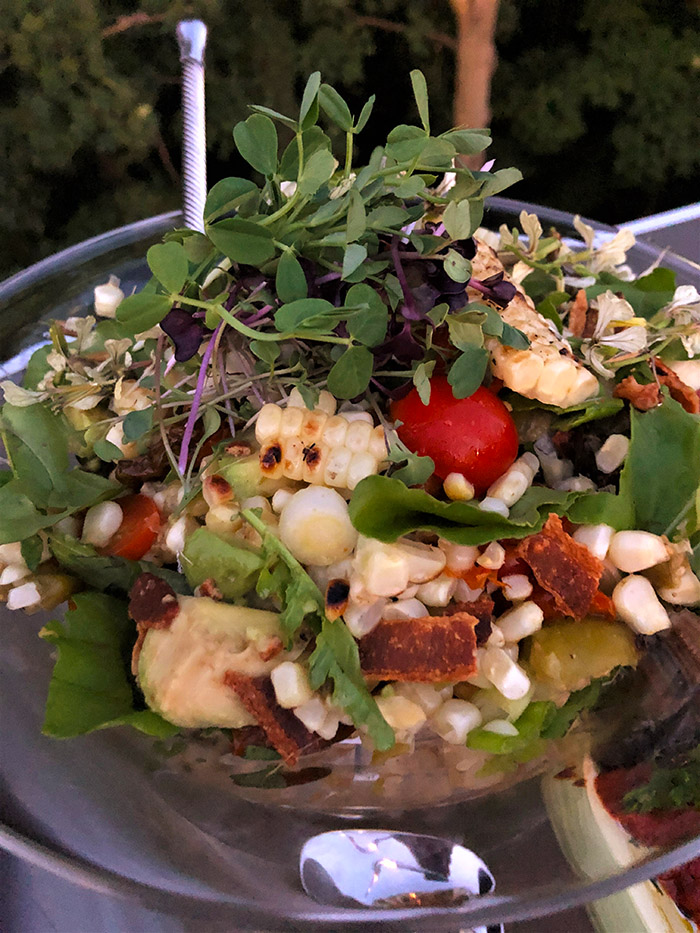 Nothing is better than late summer tomatoes and corn. Local farmers here in west Michigan know that I am a bit of a fiend when it comes to sourcing products. I have been known to hit four different markets and source my meal from half a dozen farmers in any given week. So much for reducing the carbon footprint from eating local. Gotta have corn from Ham Family Farm. Arugula only from Grandson's Garden. (Don't miss the world's best $2 pot scrubber from 9-year-old weaver Liam!) Bacon from Creswick Farms (THEY have zero carbon footprint). Organic salad mix with nasturtium blossoms from Summer Blend Gardens. And don't get me started on Laughing Tree Bakery breads. For the love of all that's sacred, Charlie and Hilde, make more Elbridge Parmesan Olive bread!! It gets a little competitive most Saturdays.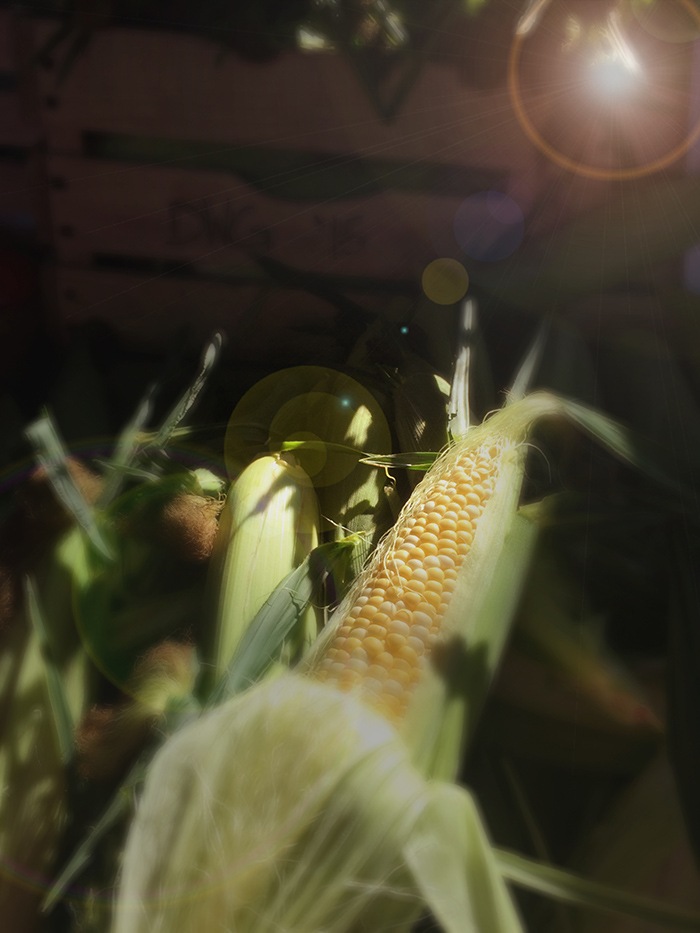 With all that commitment to sourcing ingredients, who has time to follow a recipe? Truthfully I am a bit ambivalent about recipes. I think there is nothing sweeter than a well-tested recipe that works every time. They are worth their weight in culinary gold. (I'm talking about salt, people!) However, this time of year and with perfect ingredients, they can get in the way. There are no right or wrong ingredients for this dish. And no right or wrong amounts. What's in season? What's picked at the peak of perfection? What sounds good today?? But for those that prefer it, I have updated this recipe to show how I make it. You do you; I'll do me.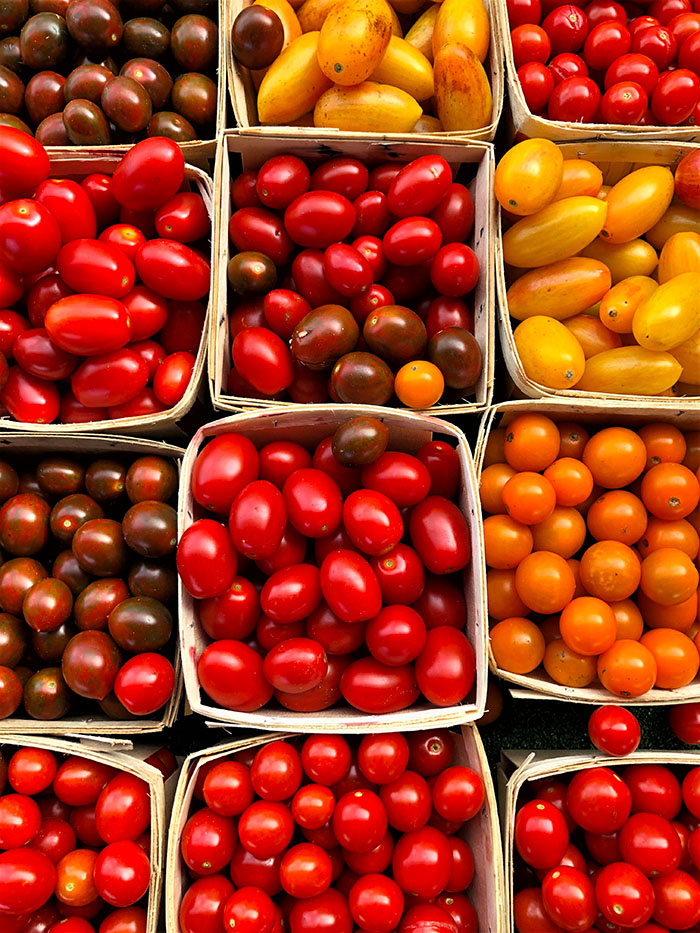 Fresh Corn Salad – Yes, Please!
My go-to must-haves for this corn salad are always the basics – obvs corn and tomatoes. And I almost always include tomatillos. The grilled or roasted tomatillos provide the acid, and the bacon and avocados provide the fat, thereby eliminating the need for a dressing. It's a self dressing salad – pure genius!!! The rest of the ingredients always vary and the proportions are flexible to taste. You can assemble all the ingredients except for greens and bacon well in advance. Just toss the more fragile ingredients in at serving time and don't overmix – I love the big chunky pieces of corn cut from the cob. It tells everyone you got your hands dirty. That makes it taste so much better. What are you waiting for?

As always, check the seasonings. If anything, I usually grab a generous sprinkle of smoked serrano salt. That's salt and pepper in one-stop shopping – almost as brilliant as the self-dressing salad. Or Maldon salt – my flaky favorite. Fresh cracked pepper. Done.
IF by some miracle you have leftover corn salad, it makes a fabulous addition to a quesadilla. But more than likely, you too will have a guest that grabbed the serving bowl and polished it off using a giant serving spoon. 🙂

Hey hey hey – I said everything BUT the farmer. But anyway here's my corn guy from Ham Family Farm – always good for a recipe or produce update.

Print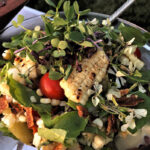 Everything but the Farmer Farmers' Market Corn Salad
---
Author:

Total Time:

35 minutes

Yield:

Serves

8

.

1

x
Description
This farmers' market fresh corn salad is a real crowd pleaser. Serve it when corn and tomatoes are at their peak, or sub out for other in-season ingredients.
---
4

tomatillos, husked and thrown on a hot grill until charred; chopped when cool

4

cobs of corn, shucked, rubbed with a little olive oil, then grilled until a bit of color; cut from the cob

3

scallions, sliced thinly

2 Tablespoons

peppadew peppers, or other brined spicy peppers, chopped

1

poblano pepper, charred over a hot grill, then sweat and peeled; discard seeds and chop

1

avocado, chopped

1 cup

halved cherry heirloom tomatoes or chopped larger tomatoes

4

pieces crispy bacon, crumbled

2 cups

arugula, whole leaves if small, otherwise coarsely torn

2 Tablespoons

fresh basil, chopped
---
Instructions
Prepare all ingredients per details above.
Combine all ingredients in a mixing bowl, adding the bacon, arugula and basil when you are ready to serve. Gently stir to toss, keeping the corn chunks intact.
Check seasonings, adding salt and pepper, if needed.
Notes
Leftovers are fantastic in a quesadilla or omelette.
Prep Time:

25 minutes

Cook Time:

10 minutes

Category:

Salad

Method:

Grilling

Cuisine:

American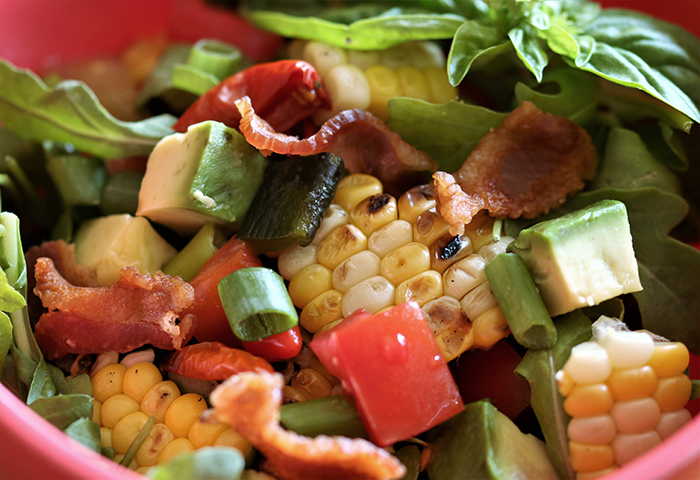 © Copyright: KatyKeck.com 2019. All rights reserved.
Hey, we want to hear from you!
Don't forget to Comment, Share & Subscribe to our blog.
Save
Save