So before the pumpkin cheesecake,  I have a little story – we've had a teency tech glitch (I was no where near that) that apparently has kept about half of you from receiving these posts for the last month or so. No wonder you're freaking. (Wink. Smile.)   However, I have a not-so-secret vault where you can find all the fabulous fabrications you've missed – it's safe and sound, right where I left them on my website – katykeck.com/blog. Whew!  And thank you for sticking with me, even though I appear to be the laziest blogger EVER, seemingly not posting for weeks.  And now back to the pumpkin patch…………
A recent trip "up north", as the Michiganders call it, involved some massive pumpkin finds. A couple were the size of Volvos and claimed to weigh more than 1400 pounds. Is there a scale for that? My sister said they looked like Jabba the Hutt – I think she's right.  That extreme brush with fall produce reminded me of this Pumpkin Ginger Cheesecake that I hadn't made in years. It's a carefully (not really) guarded secret recipe from the early days of New World Grill. When we first opened, with a kitchen only slightly larger than the one I had shared in Paris, there were way too many kinks to work out in the work flow to do desserts. So they were primarily outsourced. In house, we had a signature grilled fruit (genius – so far ahead of its time that the Zagat guide said "some things shouldn't be grilled". Duh. Really?), but the rest came from elsewhere. There was no reason on earth not to buy Ciao Bella gelato – they had every flavor imaginable and they custom produced whatever you needed. The chocolate ganache cake, while not the stuff of legends, was very good and had the shiniest sheen on top. A weency bit too shiny??  Perhaps.  Because Eric Asamov, CSI-slash-Restaurant Critic at the NY Times, received a slice with a thumb print on it. Total oops, but did he have to include that in his otherwise glowing review?  I did what I had to – made a million copies of the review (the NY Times, people!!!!) and got busy with an ink pad, covering every press kit with inky thumbprints.

Our first fall at New World, the good folks at Jack Daniels offered the James Beard Foundation a $10,000 gift if 200 chefs featured their product on our menus throughout November. I created this recipe using Gentleman Jack Rare Tennessee Whiskey, a twice-filtered premium bottling. The Gentleman Jack Pumpkin Cheesecake was such a hit and so clearly made in-house that we were no longer able to get away with any commercially produced desserts (other than Ciao Bella). I got to add pastry chef to my ever-growing job description.   While I feel a special loyalty to the Gentleman, you can also try Jack Daniels or play around with bourbons (pecans in the crust) or dark rum (ginger in the filling), if the mood strikes. Dark rum would be a nice Island Twist with the ginger.
Now that I was officially a pastry chef (in between being a hostess, plumber, and expediter), I learned an awful lot about making cheesecake. We were a boutique (read: frickin small) venue, but I still cranked out 500 or more cheesecakes a year. I developed about a dozen different flavors which for me was the easy part. The part that took me a while to master was the equipment and techniques. Cracks and sinkholes were Public Enemy Number One. If you want to be serious about this you need a heavy duty, coated springform pan. Flimsy ones leak. Springs break. And aluminum might react with your filling flavor. Any good cooking supply store will carry them – and they are closer to $20 than $6, but they should last a very long time, especially if you don't make 500 cheesecakes a year. Analon, Calphalon, and Kaiser make sturdy pans. The highest priority of a springform is being leak-proof.

Cheesecakes are best baked in a water bath, or bain marie. French for Mary's Bath, the bain marie's original namesake is likely an ancient alchemist named Mary, though some sources credit the Virgin Mary who was also extremely well-known for her cheesecakes. (Never.) Cheesecakes, like alchemy, benefit from gradual temperature changes. Try to rush this recipe and you will definitely get cracks.  While the prep time is minimal, it takes about 5 hours of planning and tempering the ingredients and cake. Your best results will come with room-temperature cream cheese and then slowly heating the cake in the oven in a water bath, followed by slow cooling – first in the bath in the turned off oven, then out of the bath on the counter. Because I was doing this professionally, I rued cracks in the cake, but fear not – I have topped this with a sour cream layer which will cover all cracks.  You're welcome.
Another culprit of cheesecake deformity – which in case you have forgotten DOES NOT AFFECT HOW DELICIOUS THIS IS – is sinking. The evildoer behind the dreaded sink is air – first a pretty little puff, then a giant cave in. My tip for avoiding sinking middles is to incorporate as little air as possible – hence the use of a food processor, not a standmixer. And you will note that I only pulse in the eggs at the very end with just a few pulses. (Eggs are another culprit that might fluff up the cake – don't let them.)  And lastly, there is the pan tapping at the end – getting rid of any excess air.
The recipe below is sure to boost your hostess cred and – bonus – you now have a template for cheesecake production. I will share more flavors in the months to come.  But for now…….
Gobble Gobble.

Gentleman Jack Pumpkin Ginger Cheesecake
Crust:
3/4 cup all-purpose flour
 1/2 cup dark brown sugar
 1/2 cup finely chopped pecans
 1/4 cup melted butter
Filling:
15 ounce can pumpkin puree
24 oz cream cheese, room temperature
 5 ounces Gentleman Jack Rare Tennessee Whiskey
 1 cup sugar
 1 1/2 Tablespoons vanilla extract
 1 Tablespoon ground ginger
 1 teaspoon ground cinnamon
 1 teaspoon ground clove
 1/2 teaspoon ground nutmeg
 6 eggs, at room temperature, lightly beaten
Topping:
1 cup sour cream
2 Tablespoons Gentleman Jack Rare Tennessee Whiskey
2 Tablespoons powdered sugar
Preheat oven to 350° F. Combine flour, brown sugar, pecans, and melted butter and mix until crumbs adhere. Press into a 9 or 10″ sturdy nonstick springform pan and bake for 10 – 12 minutes. Remove and cool. Wrap pan in heavy duty foil. Reduce oven temperature to 300°F.
In food processor, puree pumpkin until smooth. Add cream cheese and puree until smooth. Add Gentleman Jack, sugar, vanilla, ginger, cinnamon, clove, and nutmeg and pulse until mixed. Add eggs and pulse 2 – 3 times only until just combined. Do not overprocess.
Pour filling into cooled crust and tap pan lightly. Place in a roasting pan and fill with hot water, halfway up the side of the springform. Bake for 1 1/4 – 1 1/2 hours or until set. It may still be a bit wobbly in the center but it will firm up as it cools.
Turn oven off and leave cheesecake in water bath in oven for 30 minutes more. Remove roasting pan from oven, and carefully remove springform from water.  Remove foil and cool on wire rack until room temperature. Refrigerate until fully chilled.
Combine sour cream, Gentleman Jack, and powdered sugar and spread on top of cheesecake. Refrigerate until set.
Gently run a knife or thin metal spatula around inside edge of pan. When cheesecake has released, open outer pan ring and remove.
Serves 12.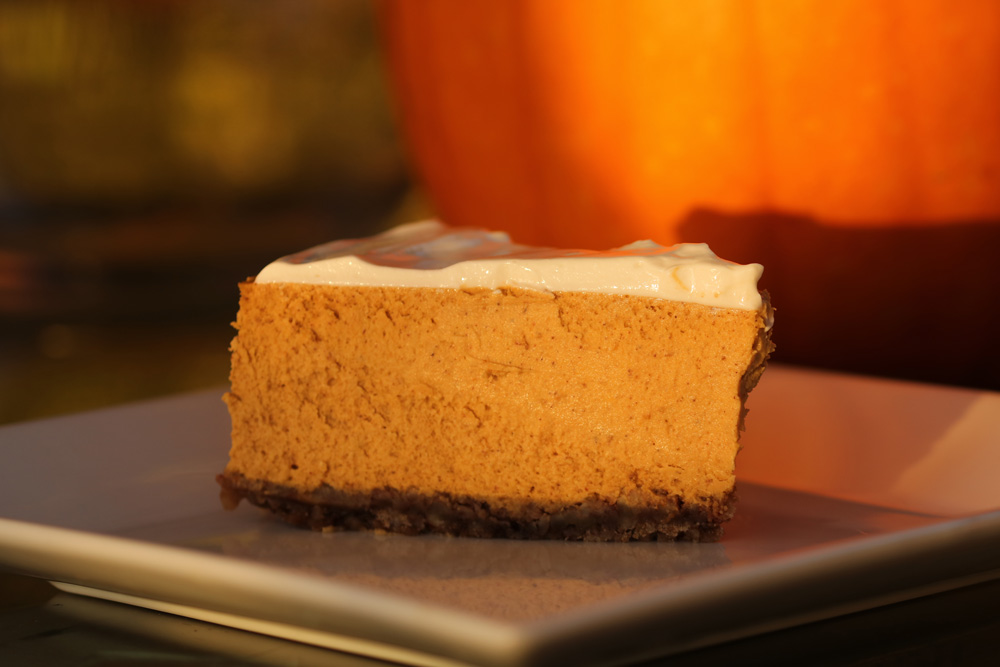 © Copyright: KatyKeck.com 2015. All rights reserved.
Hey, we want to hear from you!
Don't forget to Comment below, Share & Subscribe to our blog.