"In your Easter bonnet with all the frills upon it…………you'll be the grandest fella in the Easter Parade." Thank you Irving Berlin. I couldn't have said it better.  The New York City Easter parade, an annual event dating back to the late 1800s, has been a part of my spring tradition for decades.  The day starts with church – mine puts up a 12-foot wooden cross on Fifth Avenue and passersby add flowers to symbolize the new life that emerges from the death of Good Friday.  It's called flowering the cross.  After the service, we spend a couple hours at the parade, and then, of course, it's on to the ubiquitous Easter brunch. The last number of years I have gone to Bar Americain – a Bobby Flay restaurant – and I can't seem to order a single thing besides the Hot Brown.  It's high time I drill down on what makes this day so special – well, uh, other than the obvious, of course!!!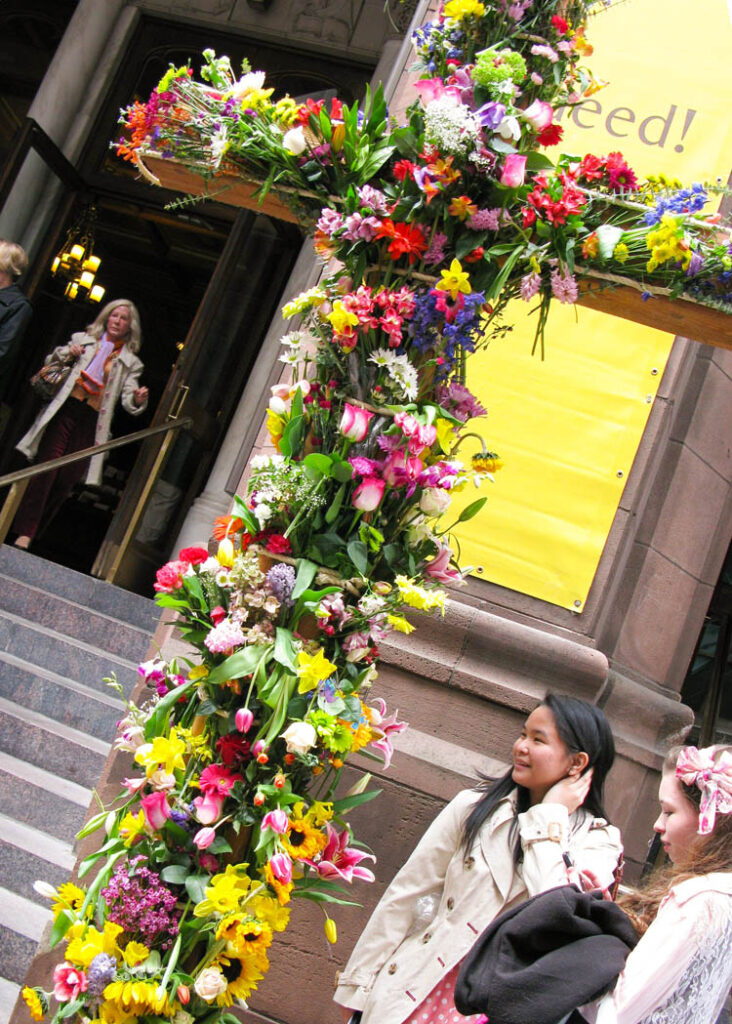 Starting with the parade: many outside of NYC know about our famous parades – Macy's Thanksgiving, St. Paddy's, tickertapes for winning sport teams. But the Easter Parade is nothing like this. It's really a promenade. It doesn't go backwards up Fifth Avenue like many of our parades. It goes back and forth and hither and yon. And it is filled to the brim with crazy hats and entire outfits. You know there is a great hat coming when the crowd parts and folks rush to another corner. Get ready when you see the throng gather round.

The "parade" traces its roots to the collection of highly ornamented cathedral churches that line midtown on Fifth Avenue – St. Patrick's Cathedral, St. Thomas' Episcopal and my Fifth Avenue Presbyterian among them. After the service, it was traditional that those who attended the churches would stroll to nearby sanctuaries to admire the floral displays and greet friends. No doubt showing off their Easter finery was part of the equation. At one time, horse and carriages went up and down the avenue, carrying their owners in style, but today it's pedestrian only. By 1890, the annual procession had become a significant event on the NY social calendar.

Through the 1950s the religious aspect began to wane and it became more about showing off and outdoing each other. That is certainly on display today. From tie-dyed poodles to political statements, you can see it all.

The kids and pets are all tricked out.
Crowds no longer top 1 million, but the joy and amusement is palpable. I have at least a dozen colorful souls I track down each and every year, and I refuse to leave until they are spotted.

These are some of the regulars that do not disappoint!
And the characters all have claimed their own domain – the guy with all the spikes is outside St. Pat's and the guy with the Ed Grimley hair and studs is in front of Saks.  The best part is that whether or not they have been to church this is a multi-generational gathering – with pets (I do hope that fat rabbit didn't go to church) – and memories are made.

The Ladies always sport colorful lids.

Only in New York – from the TKTS theater ticket booth to Central Park to the Knicks – and EVERYthing in between.

And the Easter bonnets are not limited to the ladies….
Traditions created and passed down. You can catch this feast-for-the-eyes every Easter – rain or shine – on Fifth Avenue between Rockefeller Plaza and 55th Street, from about noon to 3 or 4pm.

Nothings says Easter like a Nathan's "tube steak" and some jelly beans!
On to brunch.

Bar Americain brunch: Hangtown Fry with fried oysters, Mimosa and Rosemary Bee's Knees, and Preakness Benedict
I look at the menu again and again and know I am definitely wasting time – I'm going for the Hot Brown. Bobby Flay has a bit of southern flair, including Kentucky, at this restaurant. "Pimenna cheese" on the burger, pot pies, shrimp and grits. They all sound and look delish – but here I go again, once more ordering the Hot Brown. A Hot Brown, is an open-faced turkey sandwich (fresh roasted and sliced thick here) on Texas toast with a Mornay sauce, crisscrossed (or "Angel Wings") bacon slices and a perfect tomato slice. Yes, it's holy!
The sandwich was created by the Brown Hotel in Louisville, Kentucky in the 20s. The hotel – a National Historic Registry property – then drew more than a 1000 each night for dinner and dancing. In the wee hours, they needed a nosh. The chef created the Hot Brown to dazzle his diners. And dazzle it does.
So why does this super delish dish catch my eye each and every time? I finally figured it out. It was one of our special treat meals growing up. With Pop being in the Ford business and Mom being an excellent cook, we had and savored The Ford Treasury of Favorite Recipes from Famous Eating Places. The first edition was 1950 and there were five editions in total. The good folks at Ford Motor Company figured if you swooned over these dishes, you might jump in your car and hit the road. Ford had one of the largest culinary libraries in the world and these special editions were compiled by the Women's Editor of the Ford Times, Nancy Kennedy, with the recipes tested by the Women's City Club of Detroit. I once ended up at the James Beard house, seated next to Nancy, and she was squealing that I knew these books. What a small world!! The books were filled with tales of the inns and restaurants along America's roadside and had beautiful hand-painted illustrations. I used to drool over the artwork and dream of going places. The original five were published over about 15 years through the mid 60s, and then for the Diamond Jubilee of Lincoln's Mark V in 1978, there was a compendium of the best of the best.
After brunch, I grabbed my copy and thumbed through to find this iconic recipe that my Mom prepared to perfection – Hot Brown from the Brown Hotel, right up the Ohio River from us. I remember it so well. But wait a minute? This can't be right. The Hot Brown. The Brown Hotel. These Luscious Ford books. Family Road Trips. What is this I'm seeing? I. DON'T. BELIEVE. MY. EYES!!!!!! This little treasure attributes the Hot Brown to the Coach House in Lexington. That is so wrong!!! A little digital dive through the NY Public Library turned up a 1953 menu from the Coach House and sure enough they did have a "Coach House Famous Hot Brown". It was $1.35. But alas, they did not create it and they are not "famous" for it. Consider my bubble burst. But, I'm still ordering the Hot Brown at Bar Americain. And I will always know where it came from. Yum.
I shouldn't even have to give you a recipe for this because we've already gone over how to make a béchamel and what makes it a Mornay and the rest of the dish is by eyeball – but here you go, a version adapted from the Brown Hotel's website.  Check out that 1T butter: 1T flour: 1 cup milk recipe ratio that you already know about. You are totally welcome!!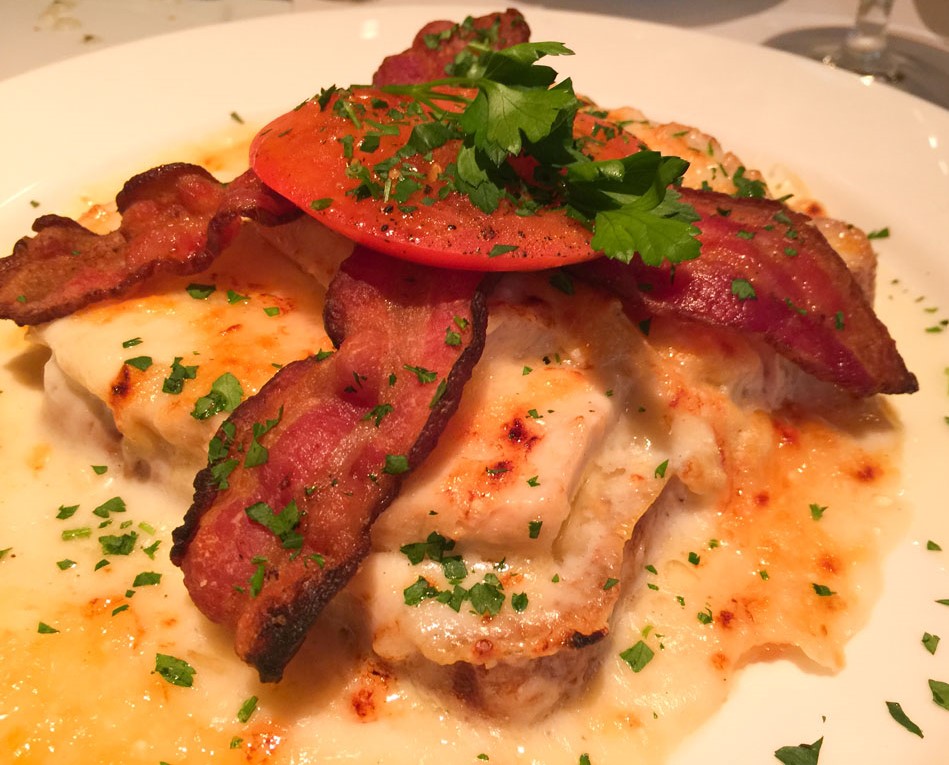 The Legendary Hot Brown
1 1/2 tablespoons salted butter
1 1/2 tablespoons all-purpose flour
1 1/2 cups heavy cream
1/4 cup grated Parmesan, plus more for garnish
Salt and pepper
4 slices of Texas toast (crusts trimmed), lightly toasted
14 oz. sliced roasted turkey breast, sliced thick
4 slices cooked bacon
2 slices ripe tomato
Chopped parsley
In a small saucepan, melt butter and slowly whisk in flour until combined to form a thick paste or roux. Continue to cook roux for 2 minutes over medium-low heat, stirring frequently. Whisk heavy cream into the roux and cook over medium heat until the cream begins to simmer, about 2-3 minutes. Remove sauce from heat and slowly whisk in Parmesan until the Mornay sauce is smooth. Season with salt and pepper to taste.
For each Hot Brown, place one to two (as needed to cover bottom) slices of toast in an oven safe dish and cover with 7 oz. turkey. Pour half of the sauce over the dish, completely covering it. Sprinkle with additional cheese. Repeat for second portion. Place dishes under broiler until cheese begins to brown and bubble. Remove and cross two pieces of crispy bacon on top of each and top with tomato slice. Return dishes to broiler for 30 seconds to heat tomato. Sprinkle with parsley and serve immediately.
Serves 2.

© Copyright: KatyKeck.com 2016. All rights reserved.
Hey, we want to hear from you!
Don't forget to Comment below, Share & Subscribe to our blog.