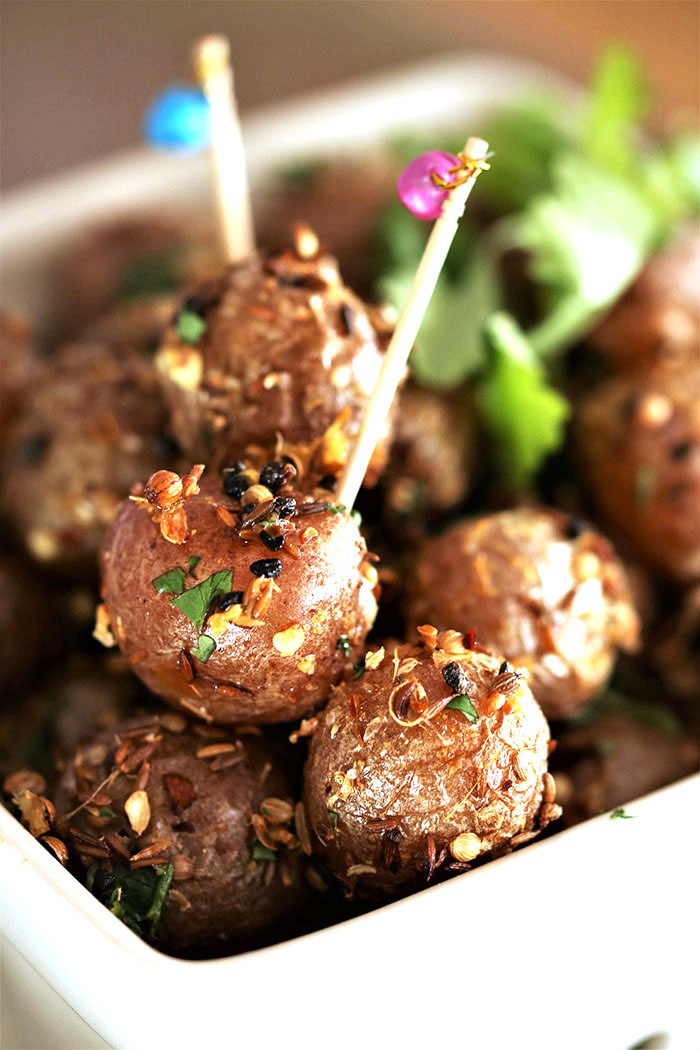 Are your lights on? It's Diwali, a Hindu festival of lights which started on the 7th this year. I recently had an opportunity to take these Indian spiced potatoes to a Diwali pot luck hosted by the New York Women's Culinary Alliance in honor of this annual fête. I am not going to lie – although I feel quite confident in the tastiness of this dish – it is a bit daunting to take my spin on classic Indian cuisine to a culinary celebration that includes many Indian professional women chefs. Cultural appropriation is a big thing these days and the culinary world is not exempt. I tried to slide my dish in unnoticed, but it's lack of "nametag", sparking a few "what IS this???" comments, and those cute little bell-clad picks that I snagged in Mumbai's Crawford Market ruined any chance of fading in the background. Oh, and I used habanero flakes instead of plain ole red pepper flakes!! These Indian spiced potatoes are no shrinking violet. Apologies to native Indian chefs for any pirating of their cuisine. And for Pot Lucky fans, rest easy. I already had an Indian feast on the docket for early next year. More taste treats in this flavor palate are on their way soon!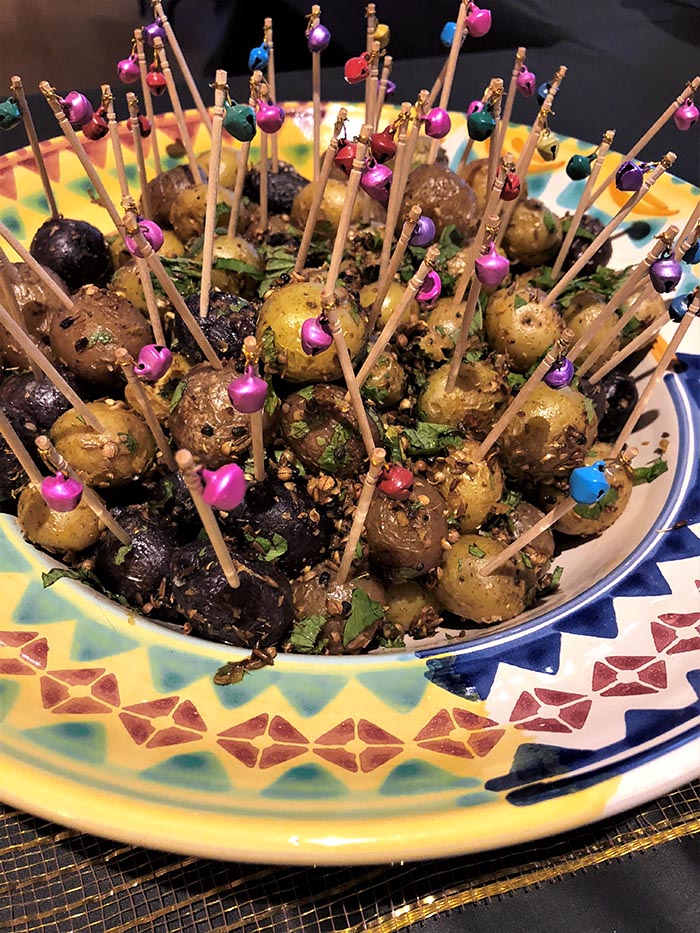 Diwali is a highlight of the Hindu calendar, celebrated in the fall here in the northern hemisphere. It is a triumph of light over darkness and good over evil. Sounds like something we could all use these days. "Light" has roots in most all world religions. While Diwali is celebrated for five days, the third day – today, as I write this – is the pinnacle, as it marks the darkest night in the Hindu calendar. Friends and family gather throughout the five days, and food is king.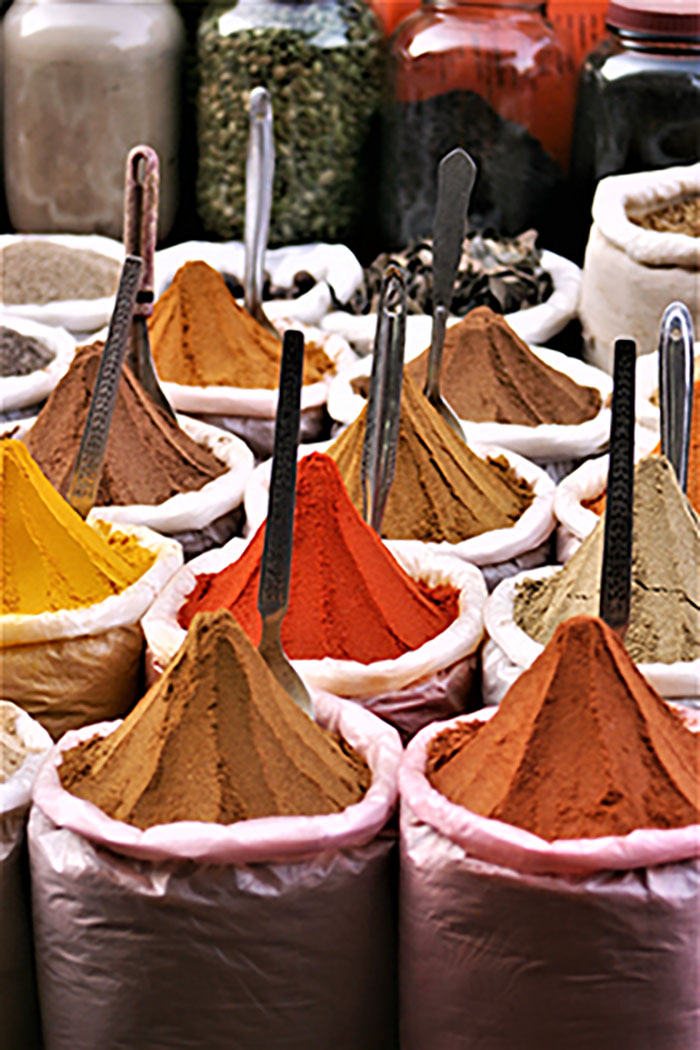 I spent about a month in India ten years ago with a group from Women Chefs & Restaurateurs. We covered all things food along the entire west coast of the subcontinent, from Thiruvananthapuram to Mumbai. While very enlightening and informative, with stops at so many wonderful spice markets, it is not where this recipe derives its inspiration. I came by this recipe, if not with cultural integrity, with honor. It was handed to me maybe 30 years ago by Louise Spicehandler. If you can't get spiced potatoes, with cumin, coriander and cardamom from a spice handler, then from whom? While I NEVER LOSE ANYTHING, this tattered print copy is, shall we say, temporarily indisposed. I suspect the original might have been copied from the NY Times, but since I can't currently locate it, I am not positive. Louise was a great source of recipes and encouragement in my pre-professional days, as I dipped a toe in the culinary stream. As usual, Louise meticulously noted her adjustments in the margins of this recipe, and I meticulously followed them, until I didn't. I think the ginger and the fresh herbs are my own, but to be honest, I never make it the same way twice. What do I have on hand? That's the way I like it!!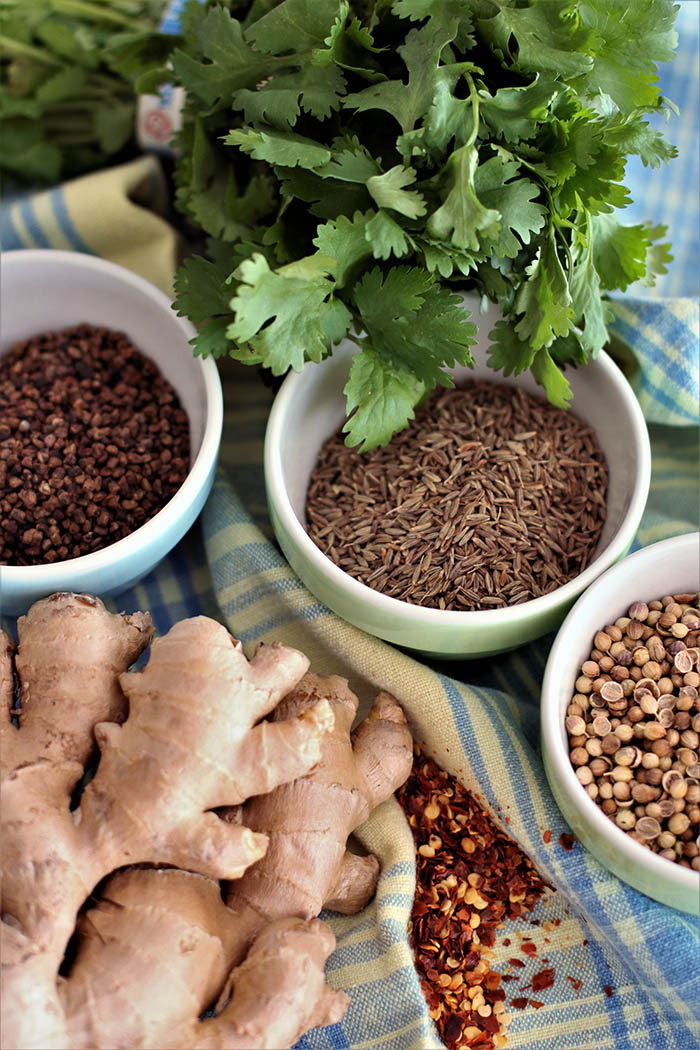 Indian Spiced Potatoes (Khatte Aloo)
Khatte Aloo, or sour (khatte) potatoes (aloo), are often made with diced, possibly boiled, big potatoes. I can't resist the cute little mouth-poppable rounds that are now found easily in your supermarket thanks to The Little Potato Company.  They are multi-colored, one-bite wonders, serving as a delivery system for a whole lotta spice. And, I like to roast the potatoes, coated in spices, to further release the spices' aroma.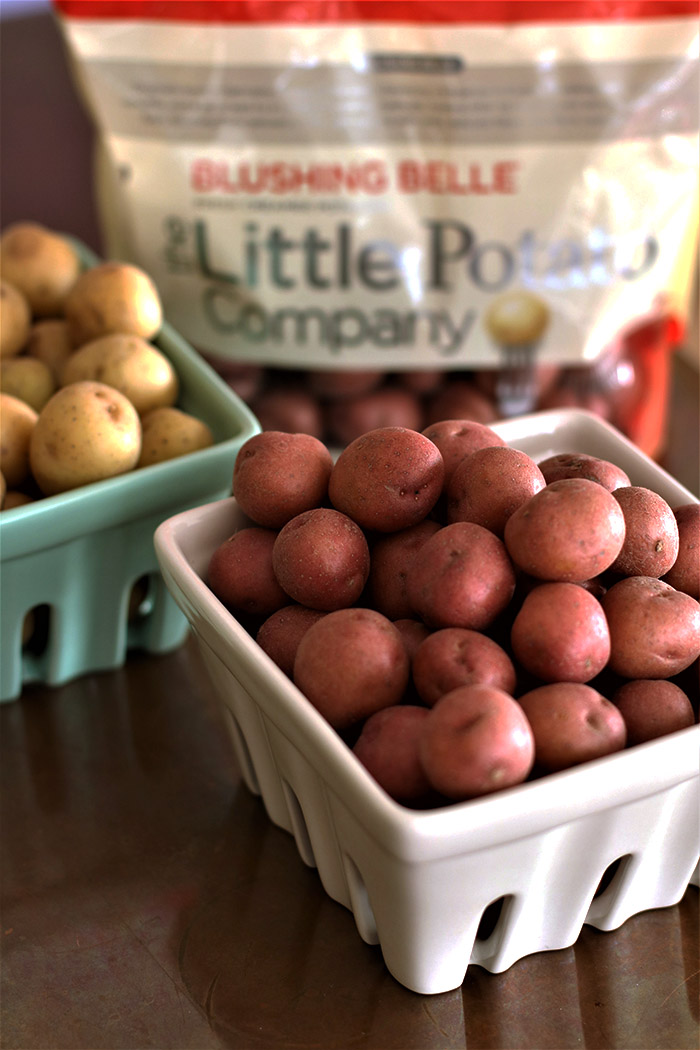 I have always used lemon juice, but I asked one of the Indian chefs at the pot luck, and she uses lemon and lime. That sounds amazing. However you chose to make them, don't overthink it. Large & diced or whole & small; spiced then roasted or boiled then spiced; whatever choices you make, Indian spiced potatoes are a great dish to serve with a pick as an hors d'oeuvre or even as a side dish at an Indian feast. I have also served them skewered with brats and peppers, both grilled first, then assembled for serving and topped with a tomato.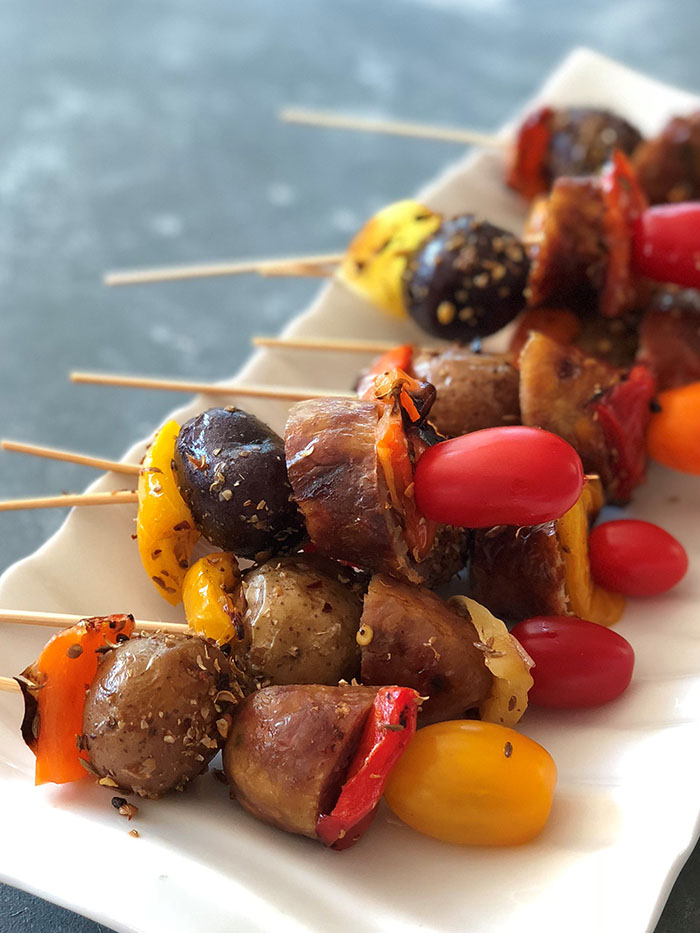 This dish is so quick and easy you might have time to run out and get yourself a henna tattoo! Then don't forget to light the candles. Enjoy!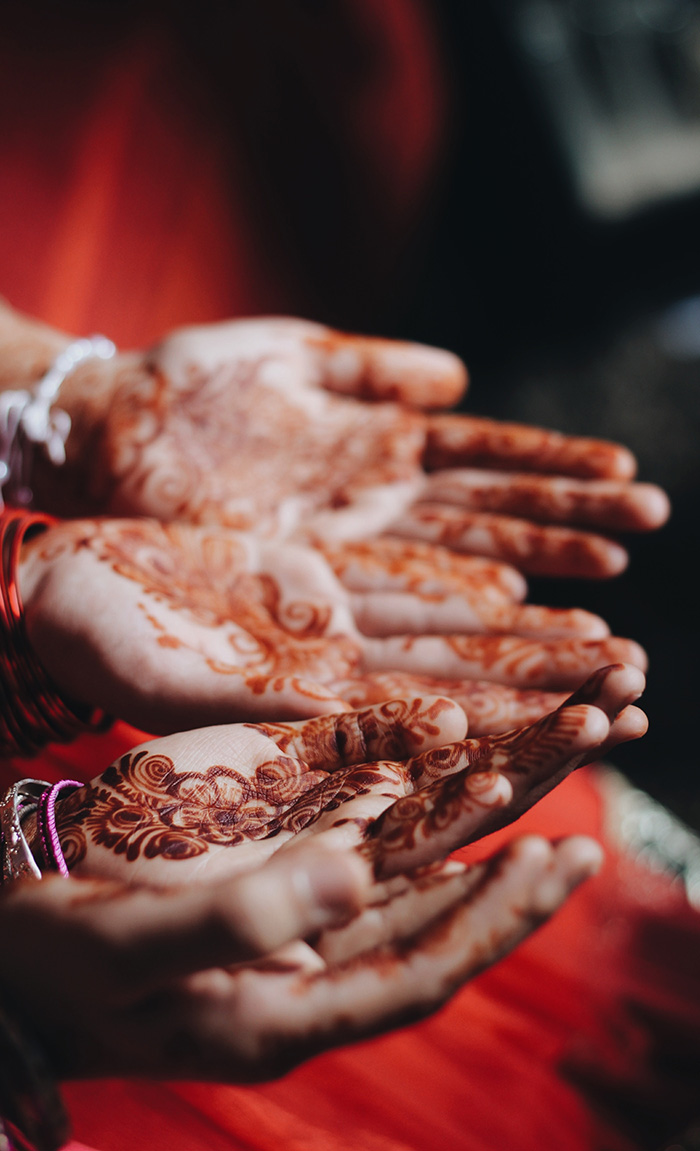 Print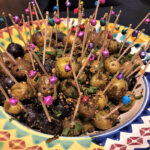 Celebrating Diwali with Indian Spiced Potatoes
---
Author:

Total Time:

30 minutes

Yield:

6

as side, or many as part of an hors d'oeuvre buffet

1

x
Description
Khatte Aloo (sour potatoes) traditionally are diced, possibly boiled, potatoes. I like to roast tiny multi-colored, one-bite wonders and dose them with a whole lotta spice! Taste buds…you have been warned!!!
---
1 Tablespoon

cumin seeds

1 Tablespoon

coriander seeds

1 teaspoon

cardamom seeds

1 1/2

pounds small (large marbles) potatoes
Zest of

one

and juice of 1/2 lemon, juice reserved

1 Tablespoon

grated fresh ginger

2 Tablespoons

extra virgin olive oil

1 teaspoon

sea salt

1 teaspoon

red pepper flakes

2 Tablespoons

chopped fresh mint

2 Tablespoons

chopped fresh cilantro
---
Instructions
Preheat oven to 425oF.
Pulse cumin, coriander, and cardamom about four pulses in a food processor or spice grinder until coarsely ground.
In a medium bowl, combine potatoes, lemon zest, and ginger. Drizzle with olive oil and stir to coat the potatoes. Season with cumin, coriander, cardamom, salt, and pepper flakes, stirring until the potatoes are spice-crusted.
Transfer to a sheet pan and spread out in one layer. Roast for 15-18 minutes until cooked through.
Transfer to a serving dish, scraping up additional spices left behind. Drizzle warm potatoes with lemon juice.
Serve warm or at room temperature, as a vegetable side dish or as an hors d'oeuvre. Before serving, toss with chopped mint and cilantro.
Prep Time:

10 minutes

Cook Time:

20 minutes

Category:

Appetizer, Side

Method:

Oven

Cuisine:

Indian
Keywords: Indian, Potatoes, Spicy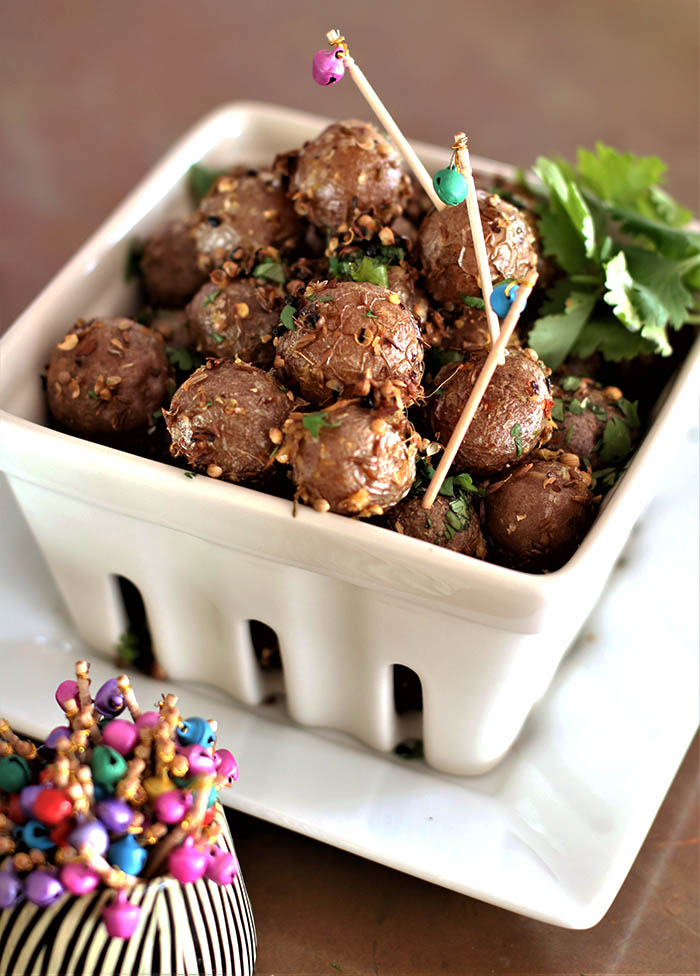 © Copyright: KatyKeck.com 2018. All rights reserved.
Hey, we want to hear from you!
Don't forget to Comment, Share & Subscribe to our blog.