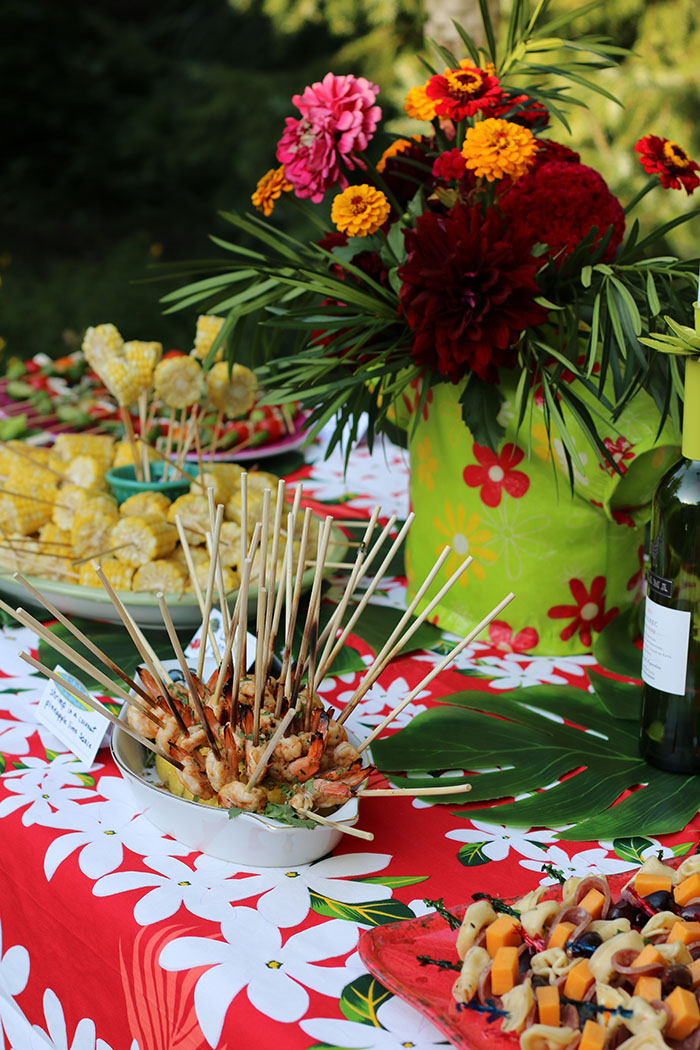 I probably say this every Pot Lucky – but the stick party was the best ever. Food on a stick! Skewered anything! Skewered everything! Kicked up Shish Kabobs……Swish Kabobs! It was the perfect storm of a late summer night with stunning weather, a beautiful pool patio with gorgeous gardens, amazing guests ready to have fun, and a commitment from people to bring their culinary A-game to the table. Literally – to the table.

Special cocktail: Limoncello Sparkler. Add lemon seltzer and Prosecco to Limoncello and garnish with mint and lemon slices.
Pot Luckys, for the uninformed, are my spin on the dreaded (to me at least) pot luck. The emphasis is on the Lucky. Menus are curated around a theme and the goal is to avoid supermarket fare stored in the office desk drawer all the damn day. Don't think you are fooling anyone by using a frilly pick. That does NOT make it special. I'm on to you. I know, I know. Not everyone that you want to invite is game for this, but there are so many ways for all to participate. Pot Luckys are always about the food, in this case the Swish Kabob, but since there was a lovely pool patio I layered luau onto the theme. That left room for people who don't cook to get excited about leis. I mean who doesn't love that? The order went out to don trop frocks and the crew did not disappoint. From banana slippers to tiki attire, it was a colorful group.

Atmosphere was easy to come by. Between the host's inflatable shark raft and my 4 zillion floating flip flop candles the pool was set. Lights in trees, colorful cloths, lots of flowers and a few banana leaves and you have yourself a party.

I always supply "placecards" to let guests write their own title on the dish. While I use this app to track the menu and help guests decide on a dish not already claimed, there are always last minute changes. Best to let guests create their own card on arrival. This time I slapped on a few stickers from a crazy stash that I had apparently hoarded. Who knew I was long in tropical stickers? I also ordered an inexpensive photo booth kit of tiki props from Amazon, which made taking photos a lot of fun.

We've done about a dozen Pot Luckys so far with a good list of more to come. Some of my favorites include the salad palooza, fajitas, sliders, and a nautical theme. For details on how to host your own, link here. Depending on the party (8 kinds of meatloaf or 6 flavors of soup), you can plan on leftovers for your freezer. But for other themes, like Swish Kabobs, you can expect the pineapple to get licked right off the dish, with nothing but amazing memories (and possibly a few compromising photos) to take away.
Food on a Stick

Tropical Shrimp on a stick; Chicken Satay on a stick with peanut sauce; Watermelon, Feta & Mint on a stick with a Balsamic glaze.
There are no rules on how to put food on a stick and though I provided a few menu ideas for each category (apps, sides, mains, desserts), I also sent people off to google food on a stick. Pinterest has its share of ideas. If it looks tricky, it might not hurt to give it a test run. I find that the online photos that have their subject carefully laying down might be displayed this way due to precarious skewerability. That's a word, right? If the photo shows the skewers upright and poked into a watermelon or pineapple or someone holding them, that's a safe bet. I hope my guests know by now that I appreciate the effort as much as the success. Not all things turn out, but they are always tasty…A+ for effort, and I love their enthusiasm for trying something new. I had an Italian cooking teacher who always said, "That's the way we like it!" in reference to any dish and any outcome. Applause. Applause.

Greek Salad on a stick; Chicken & Waffles on a stick.
Some dishes were cooked or prepared separately and then assembled and some were cooked on the skewers. Don't forget to soak your skewers if you are going to grill them. Also some had a single portion with a lot of skewer showing, appetizer-style, and some were loaded end to end, entree-style. Variety is the spice of life.

Antipasti on a stick; Hatch Chili Brats & Spiced Potatoes on a stick; Corn Cobbettes on a stick.
I often have Pot Luckys where the cooking happens on the scene, like pizzas or burgers. This time I asked for the food to be ready-to-serve since it wasn't my house. Either way you need to be clear about expectations. Let your guests know that quantity is not a concern, because there are so many dishes from which to choose. I try to give a head count as a guideline, but know that not all guests will try each dish, especially when you have 20 items. And then there are those who will try every single one and then some. Why are you looking at me? It's my job.

Caprese Salad on a stick; Grilled Peaches with Basil & Fresh Mozzarella on a stick; Pineapple Coconut Lime Shrimp on a stick.

Flank Steak on a stick; Summer Squash & Red Skins on a stick; Pork Wings on a stick: Pork Belly, Pineapple, and Avo on a stick.
One brave guest rolled his own sushi and popped that on a stick. Kind of perfect! And what you see below is not any old fruit kabob. Oh, no! This fruit – mango, pineapple, fresh cherries and Moon Drop grapes – has had a little boozy bath before being skewered.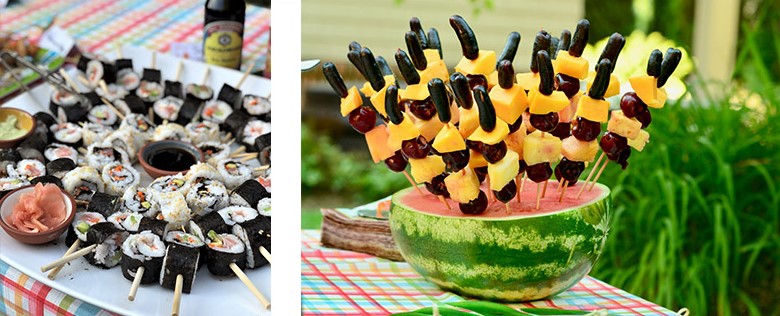 Sushi on a stick; Boozy Fruit on a stick.
Special props to the ladies who went the extra mile to fill the challenging dessert category. I wasn't sure if we would get any takers on dessert, but two brave souls stepped up to the challenge with tremendous success! Three flavors of ice cream pops and mini blueberry pies on a stick. So creative, so beautiful, and so tasty. A real crowd-pleaser!!

Ice Cream Pops on a stick: Pineapple/Kiwi/Coconut; Brownie/Pecan; Strawberry/Blueberry.
I love that some of the blueberry pie-ettes were made using a Michigan-shaped pastry cutter. We call ourselves the Mitten State. So, these are officially "Hand" Pies!! Yum!

Blueberry Hand Pies on a stick – get it? Michigan mitten-shaped, aka "Hand", pies!
Print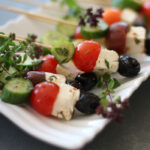 Food on a Stick: Greek Salad
---
Author:

Total Time:

30 minutes

Yield:

32

skewers

1

x
Description
Greek salad on a stick is a quick and easy solution when you need an hors d'oeuvre to go. Prep the ingredients ahead, and marinate the Feta up to overnight. About 20 minutes before you are ready to assemble, marinate the vegetables. Once assembled, these will keep in the fridge for several hours.
---
For skewers:
8

-ounce package of Feta (chunk or block, not crumbles or cubes)

4

mini cucumbers (

8 ounces

)

32

cherry tomatoes, assorted colors

32

oil-cured, pitted olives

32

bamboo skewers
For marinades:
Olive oil
Lemon juice
Fresh herbs: chives, thyme, oregano
Red pepper flakes
Coarse sea salt
Freshly ground black pepper
---
Instructions
Marinate the Feta:
Slice the block of Feta in half, creating a top half and bottom half. Cut each section in 4 x 4 sections, resulting in 32 pieces of Feta. Transfer to a mixing bowl and drizzle lightly with olive oil and a squeeze of lemon. Season with chopped chives and red pepper flakes, to taste. Set aside for 20 to 30 minutes, up to overnight.
Marinate the vegetables:
Trim off the ends of the mini cucumbers, and slice each one into 8 slices. Slice the stem end off each cherry tomato and using a small knife or spoon (I like to use a strawberry huller), cut out the ribs and seeds from the tomatoes. The tomatoes will serve as a cup to keep the Feta intact. Place the cucumbers and tomatoes in a small bowl and drizzle with olive oil, enough to coat, and a squeeze of lemon. Season with fresh thyme, chopped oregano, sea salt and black pepper. Marinate for 20 to 30 minutes only.
Assemble the skewers:
Skewer the cucumber slice (lollipop-style), a tomato (open end up), a piece of Feta (pressed down into the tomato), and an olive. Repeat using up all the ingredients. Refrigerate until serving and sprinkle with salt and pepper before serving.
Prep Time:

30 minutes

Category:

Salad

Method:

No Cook

Cuisine:

Greek
Keywords: Greek Salad, Food on a Stick, Kabobs
Food on a Stick Finale
Thanks to all my Pot Lucky-ers for continuing on this journey and being intrepid voyagers. Are you game to try your hand at a Pot Lucky? Let me know how it goes, tag me with #PotLucky & #PalatePassionPurpose and as always, I love to get your comments below.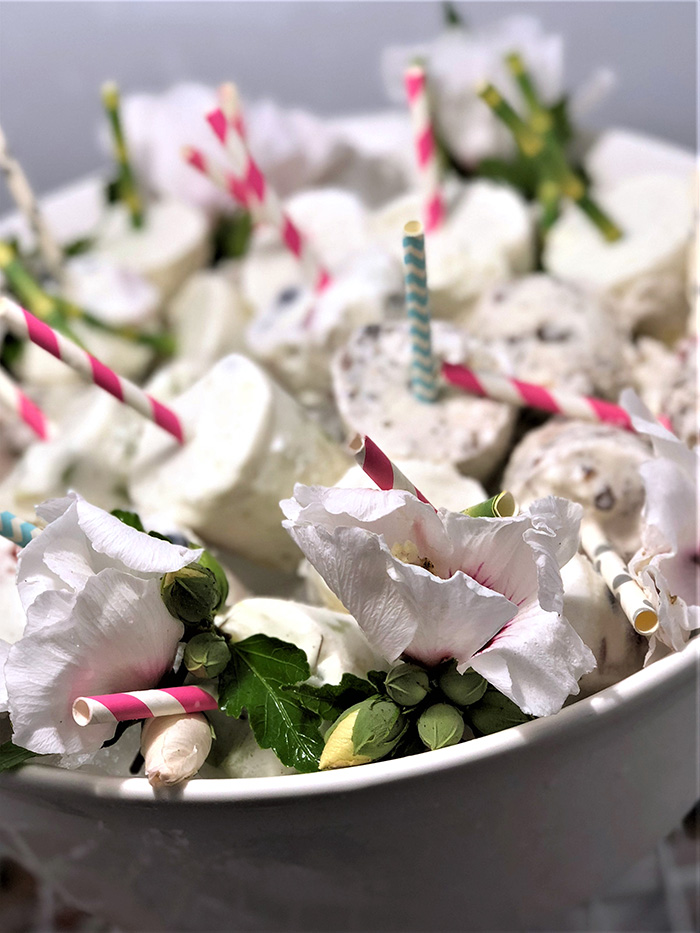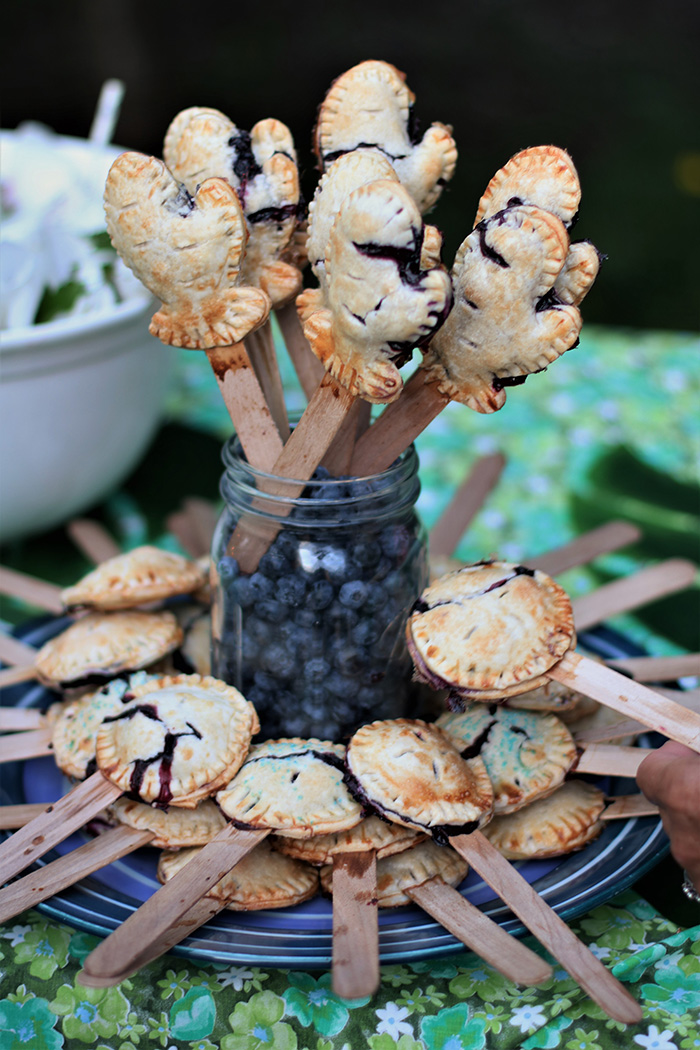 © Copyright: KatyKeck.com 2018. All rights reserved.
Hey, we want to hear from you!
Don't forget to Comment, Share & Subscribe to our blog.