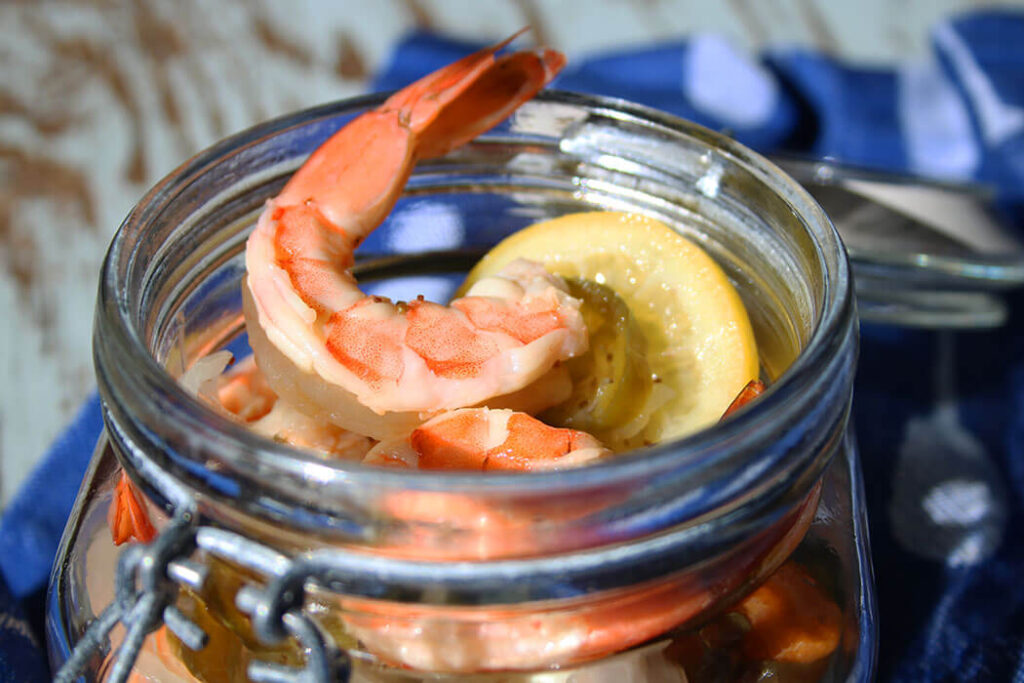 All ashore that's going ashore. Or so it should have been. But Mother Nature was a fickle mistress (or was she?) and the pot-lucky aboard our intrepid pontoon Scout was not to be. It's quite possible that Mother Nature did us a solid – the feast that arrived needed to be a moveable feast, else we would have had to have a side car on the boat just to carry the food. The call went out to bring an appetizer that fit a verrrrry loose nautical theme – #puremichigan, #redwhiteandblue, #beach, #getfishy. I really didn't have much in mind, unlike previous pot-luckys (my curated and themed spin on a typical pot luck), other than my own plan to roll out the pickled shrimp, so asked friends to get creative and creative they got! The food just kept arriving and it took multiple rooms to spread the feast.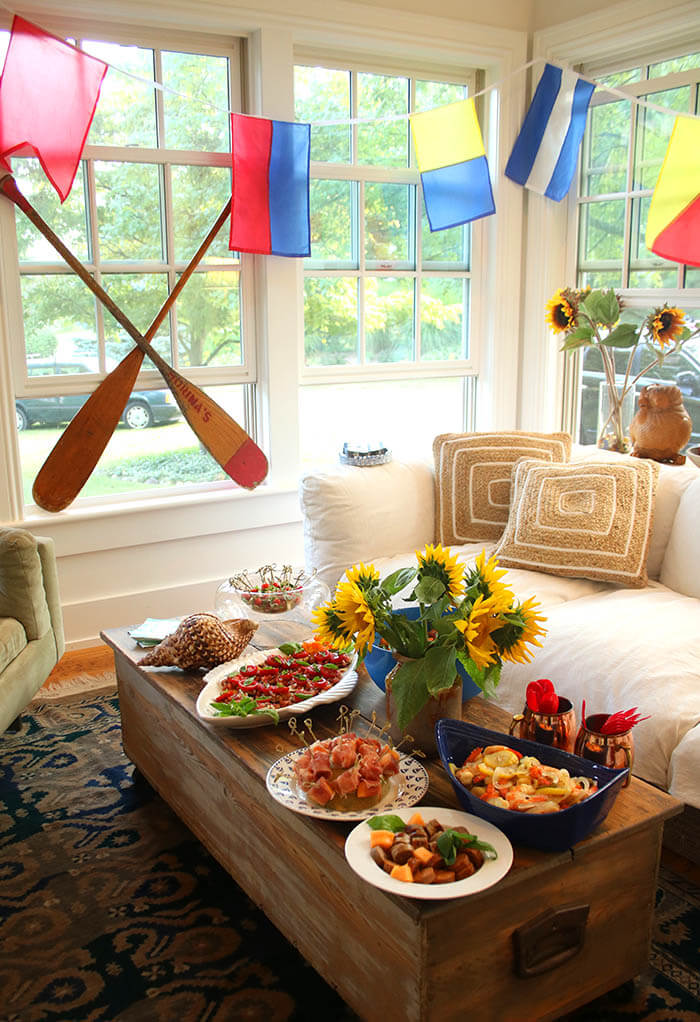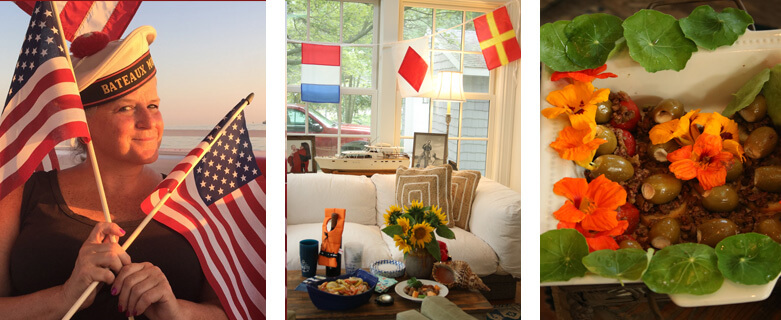 Scout goes out on Wednesdays all summer to watch races from the Grand River Sailing Club on the "big lake" (as any respectable west Michigander refers to Lake Michigan). The best racing weather is not the best Scout weather. Glassy nights don't make for a great race. But fun, food, beverages, music and very deep conversations abound no matter the weather.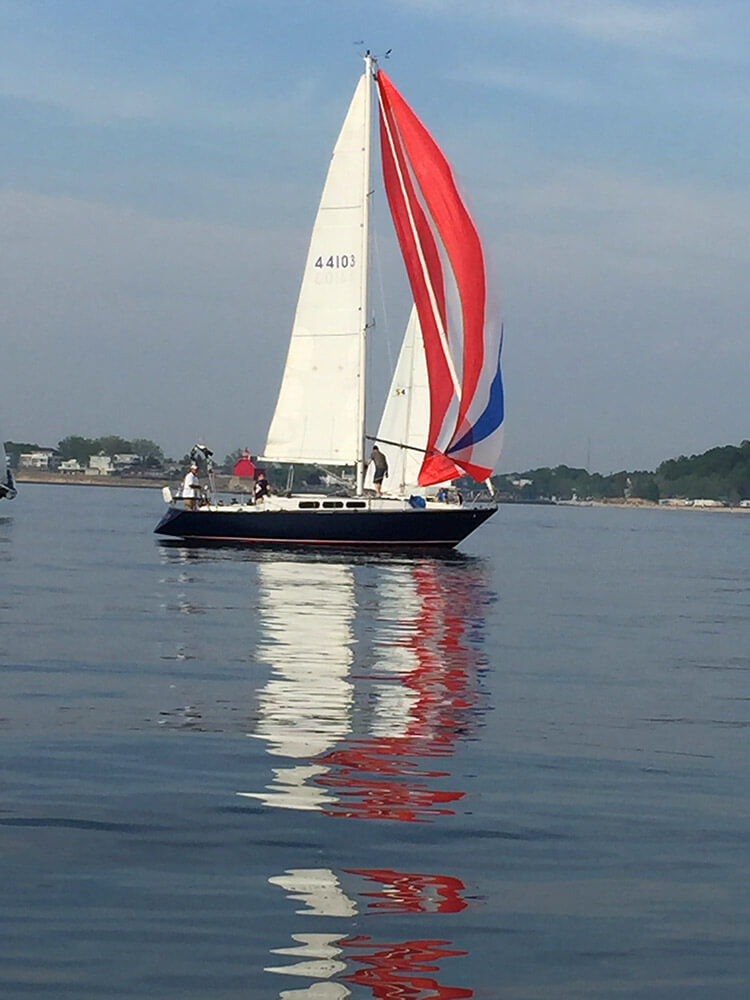 Sadly,3 foot waves and high winds precluded our "Scout"ing on the designated pot-lucky, so we headed inside and pulled out all the stops, tricking out the Captain's Quarters to make it even more boat-like. Guests arrived with the most amusing and creative sacrifices to the pot-lucky gods. I loved that the theme came through in presentation, as well as ingredient selection. A self-proclaimed non-crafty guest fired up the printer and created picks for the best ever meatballs, adorning them with home-made burgees (flags) representing another local yacht club. And the most wonderful sausage/butter bean/poblano chili was served as if already the winning trophy. Or how about the goldfish, tossed in herbs and put in a fish bowl and served with a net? #Hilarious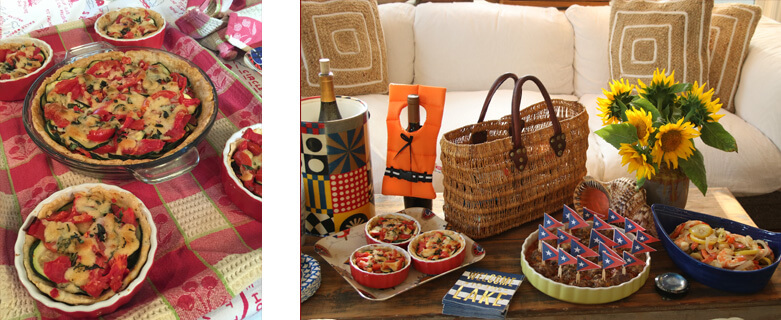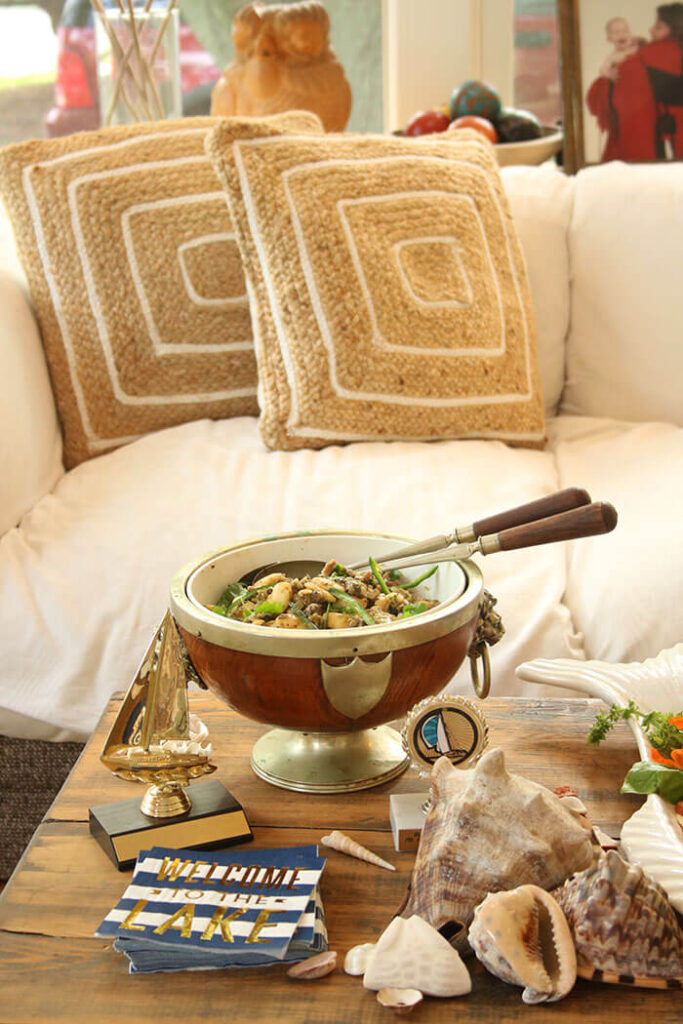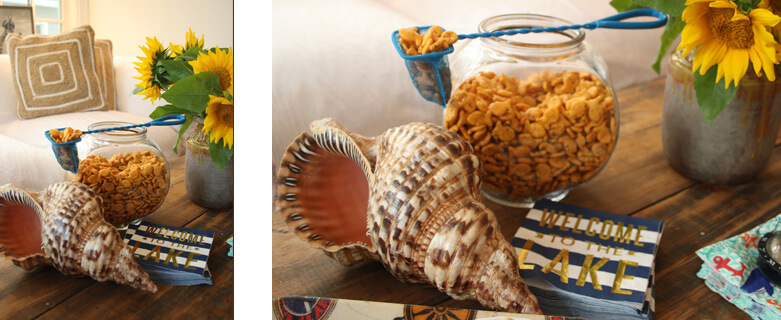 Not just looking good, the ingredients were carefully selected around the theme, as well. Tomatoes are at their peak and they appeared on Caprese skewers, panzanella bread salad, baked with Parm and herbs in a savory crust, and atop lavosh for a yummy mozzarella bruschetta topping. Spicy pickled eggs, already red and white, picked up their blue from a wandering model boat captain. And dessert goes all red, white, and blueberry – with cherries & almonds, white peaches, blueberries & basil. Yum.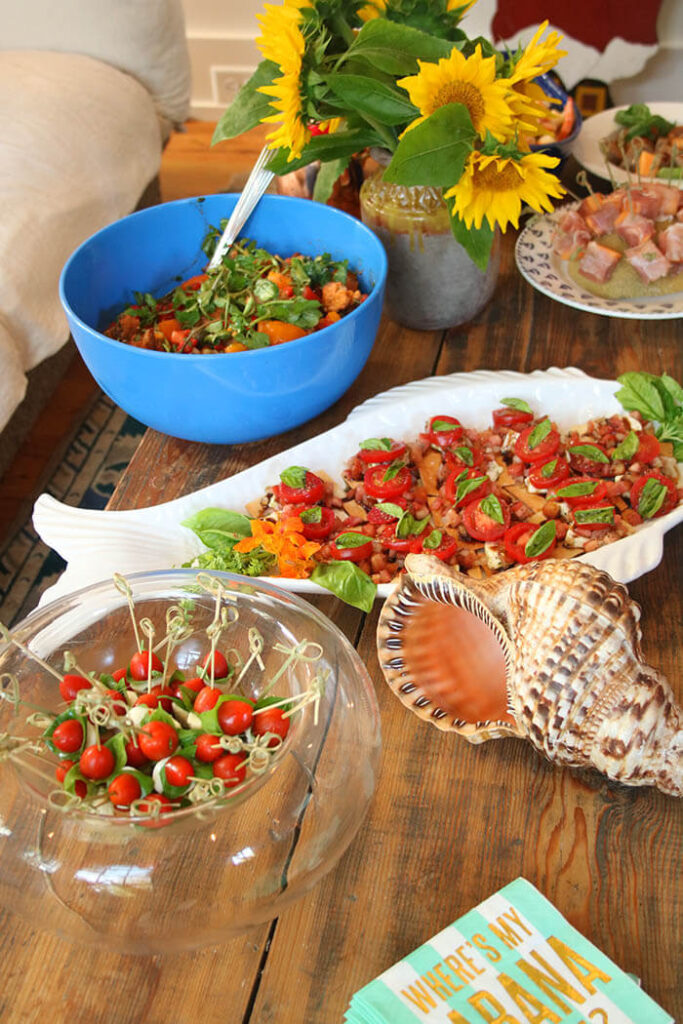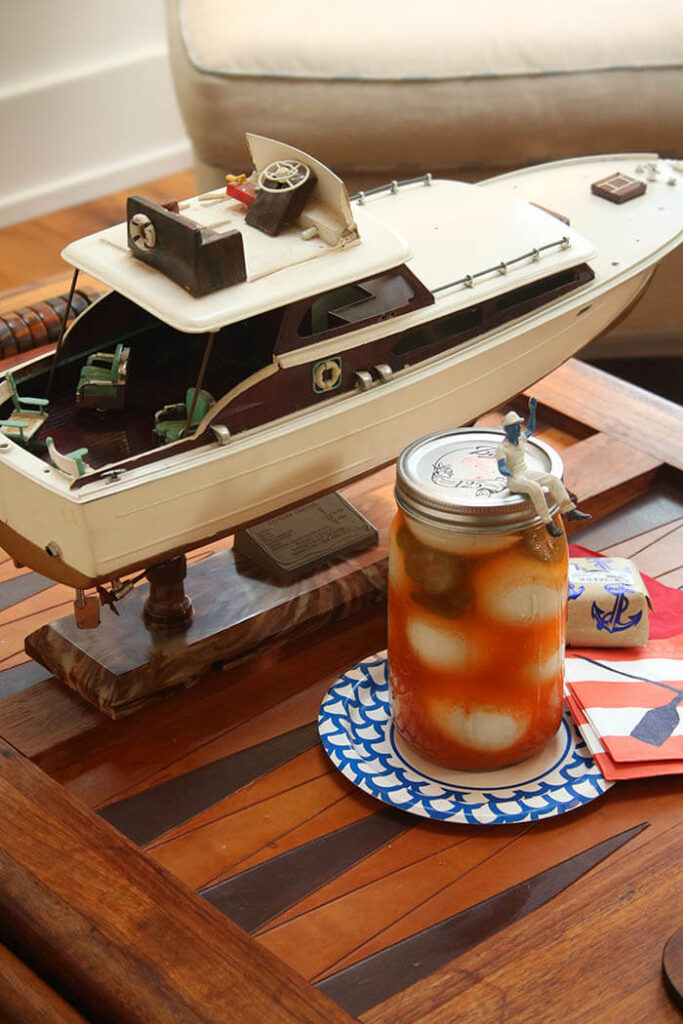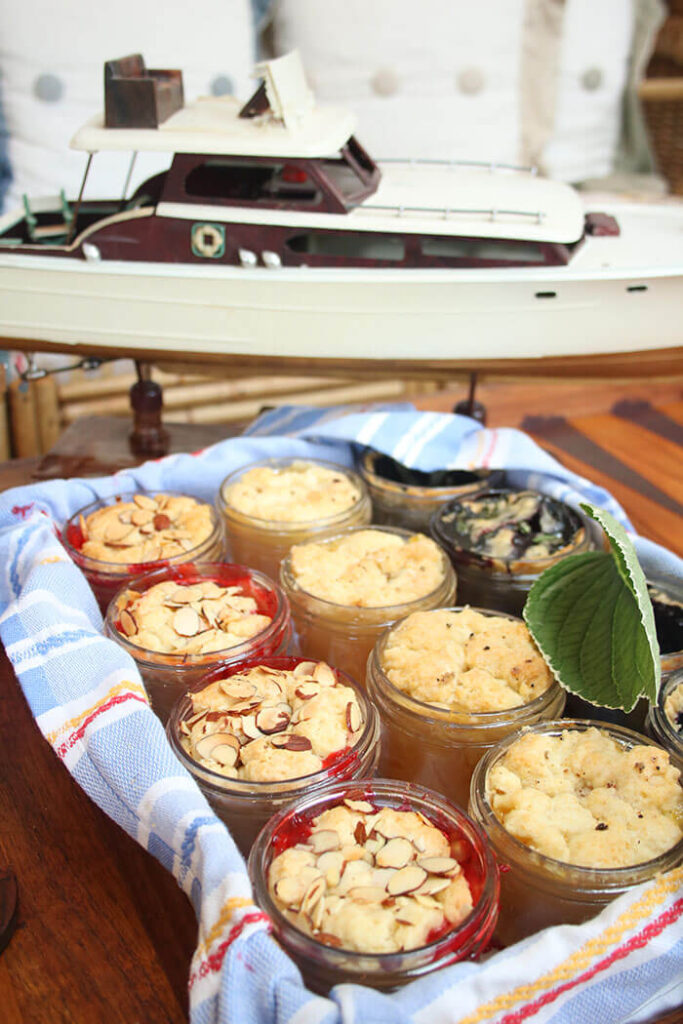 In the end, it turned out to be an app exchange of epic proportions, as there were far more treats than even the most intrepid sailor could consume. Everyone went home with sacks to nosh on throughout the week. Note to self: pot-luckys require to-go containers!
I represented with a pickled shrimp recipe that I first found from a neighbor who was a regular reader of Tasting Table. The recipe was adapted from Butcher & Bee in Charleston and Nashville. Here, it is adapted again. It's a wonderful dish and a consummate hit and keeps for a week, if in fact you can manage to have leftovers. The original recipe didn't work for scaling up to bigger quantities, but if you follow my seemingly fussy technique, you will get perfect results and can make as many pounds of shrimp as you want. The recipe below is for two pounds of shrimp. If you only make one pound, scale the remaining ingredients down by one third; for every pound you add over the two called for, scale the remaining ingredients up by 25% over those listed. ish. There is a lot of liquid and you definitely do not need to be linear in your math. Can you do that for me? If your poaching liquid does get too low, just add a little more water so that the shrimp are covered during their one-minute dip in the simmering brine.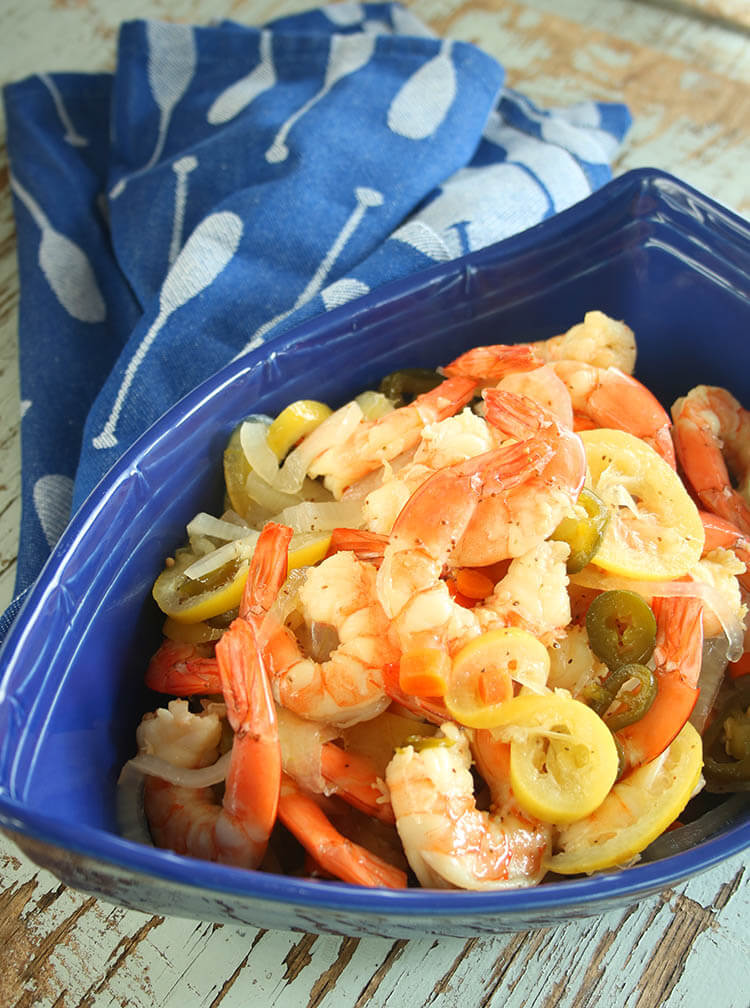 Pickled Shrimp a la Butcher & Bee by way of me
4 cups water
2 ½ cups white vinegar
1 ½ cups cider vinegar
1 large onion, thinly sliced (I like Vidalia or other sweet onion)
2 garlic cloves, peeled
4 jalapenos, stemmed and cut into ½" thick rings
20 baby carrots, sliced in ¼" thick slices
4 lemons, thinly sliced
3 cups granulated sugar
1 ½ Tablespoons celery seed
1 teaspoon mustard seeds
2 Tablespoons sea or kosher salt
2 pounds raw shrimp, peeled, deveined, and tail on (I like 16-20 or 21-26)
Fill the sink with cold water and ice.
In a large pot, combine all the ingredients, except for shrimp, and bring to a boil.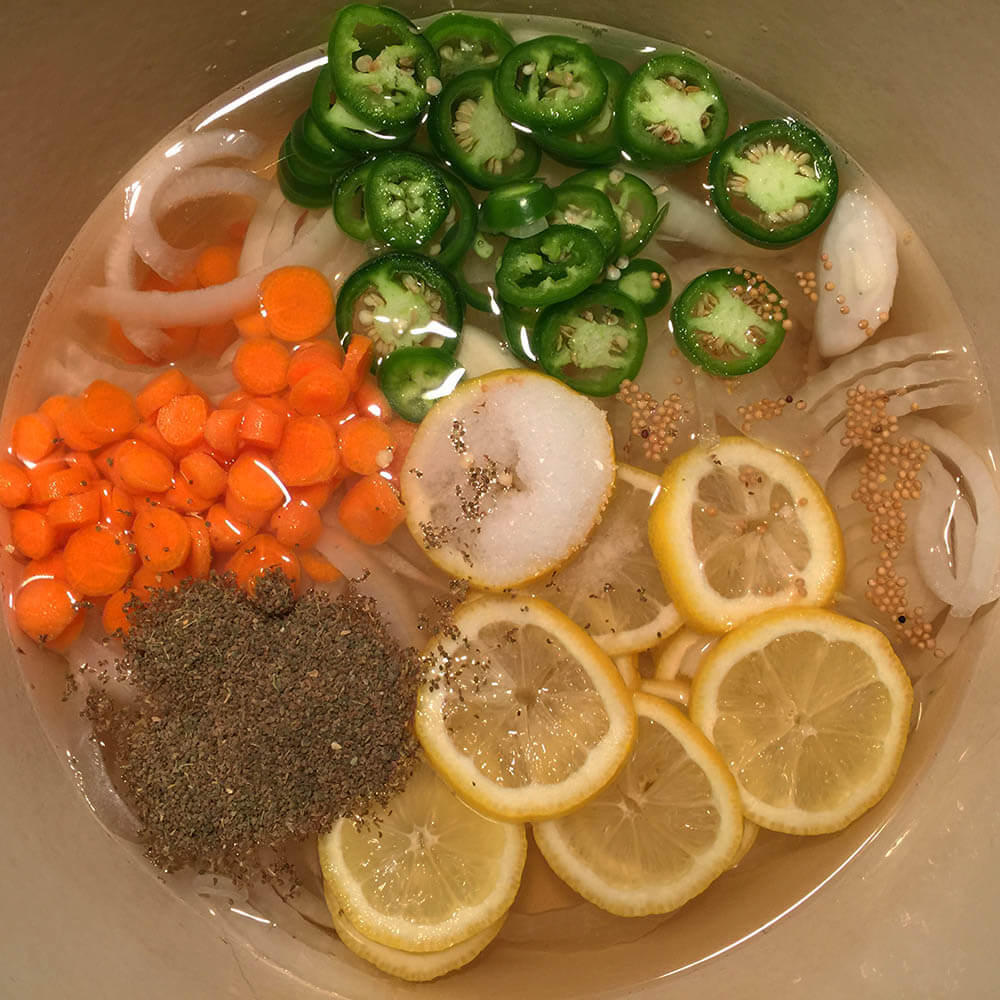 Using a slotted spoon, remove the chunkies (i.e. everything that is not liquid) to a large bowl, along with 2/3 of the liquid. Be sure to get most of the celery and mustard seeds. (The remaining liquid will eventually be discarded.) Place the bowl in the ice bath and stir periodically to cool. When the brine is cool, refrigerate.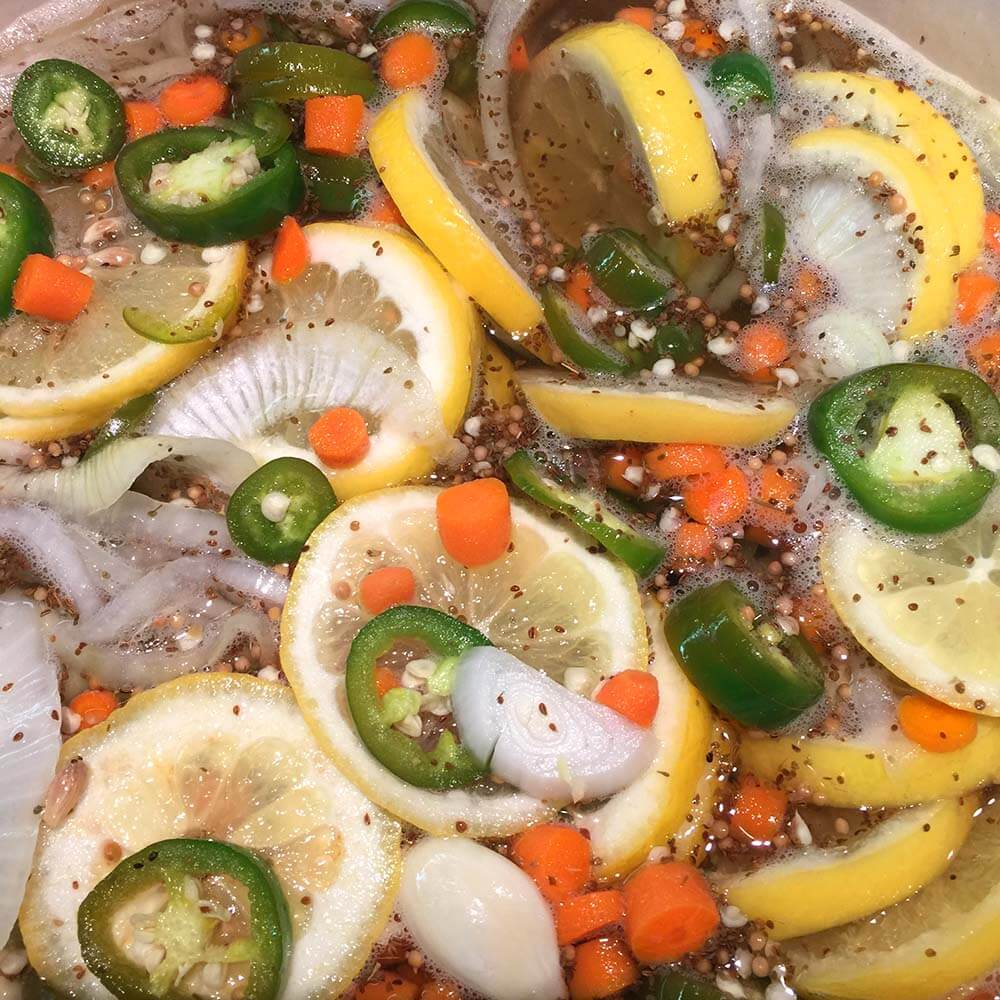 Place the pot back on the stove with what remains of the pickling liquid (about 1/3 of original), and bring back to a low boil Add the first pound of shrimp and when pink, about 30 seconds to a minute, remove with tongs or slotted spoon to a tray and allow to cool. Repeat with remaining shrimp, one pound per batch. The shrimp color should be set and they should be mostly cooked, but they will continue to "cook", or more accurately cure, as they sit in the brine. When the shrimp are cool, add to the refrigerated brine & vegetables. Cover and refrigerate at least four hours, or preferably overnight. Discard the brine that was used for poaching the shrimp.
To serve, strain off the liquid and serve in mason jars with the pickled vegetables.
Serves 8-10.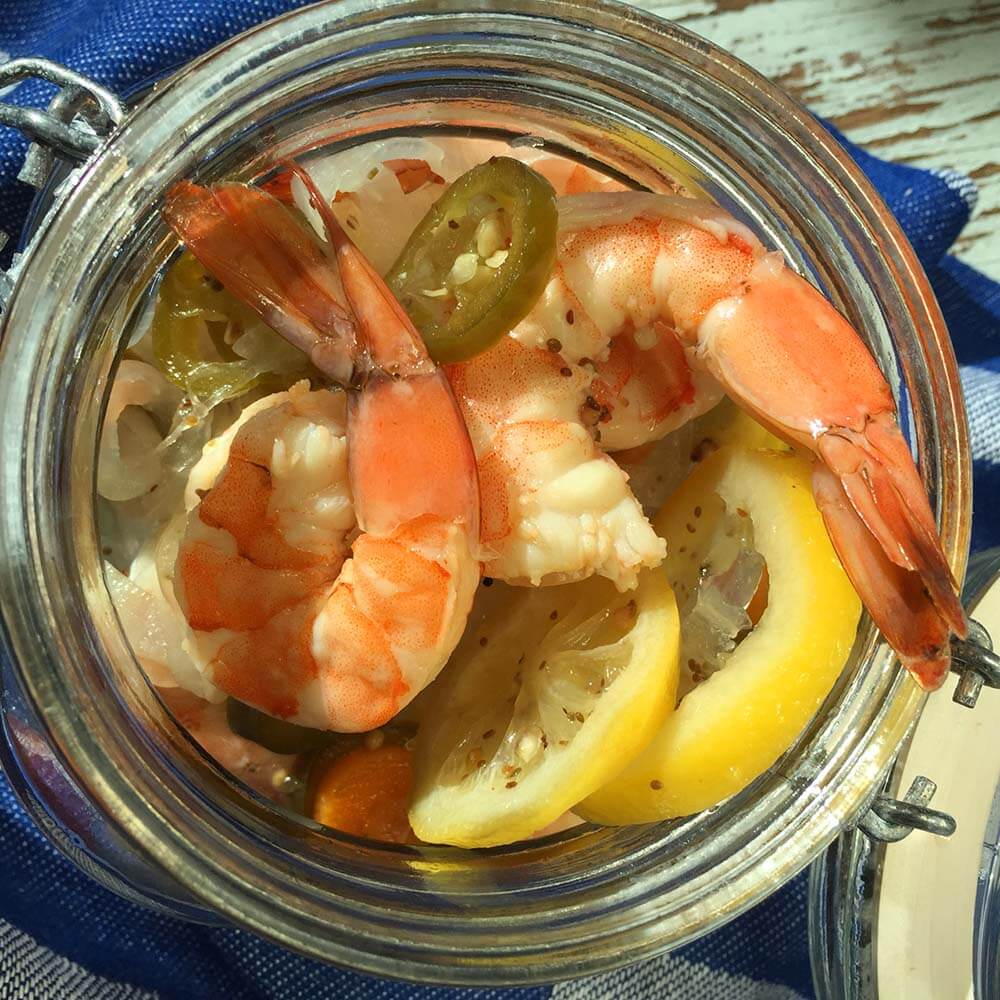 Need another shrimp idea?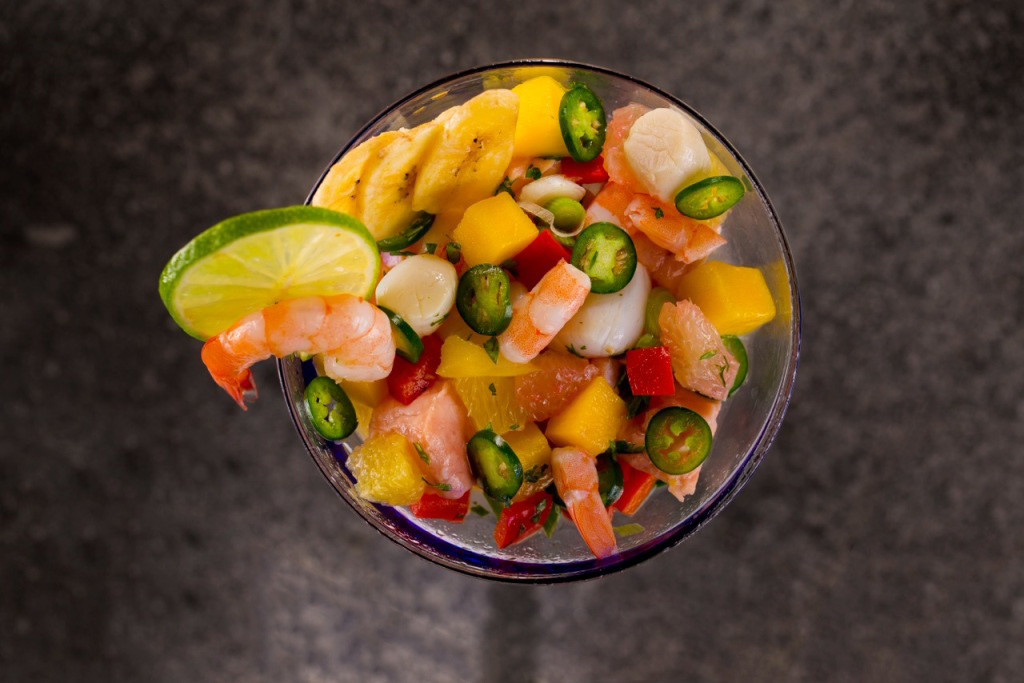 Missed previous pot-luckys, or don't even know what a pot-lucky is?



© Copyright: KatyKeck.com 2016. All rights reserved.
Hey, we want to hear from you!
Don't forget to Comment, Share & Subscribe to our blog.