BYOPT!
Bring your own pizza toppings.   Pizza Party extraordinaire.

In case you haven't guessed, these newfangled pot lucks (emphasis on the LUCKY, not the pot) are a big hit.  Perhaps the reason typical pot lucks scare me just a wee bit is their origin.  Historically, pot lucks date back to the European middle ages when nothing, but nothing, was thrown away.  (Maybe we could take a tiny page from that lifestyle – I'm looking at you 40% food waste). Rather, leftovers were thrown into a pot and kept warm kind of indefinitely, available to any unplanned arrivals on short notice. This practice was especially prevalent in taverns and inns in medieval times, so no matter when you arrived, you could be treated to the "luck of the pot."  It's entirely possible, to me at least, that modern day pot lucks could be of equally suspect food safety, never mind random items.   But the Pot Lucky aims to change all that!
While on the subject of random items, who can forget the famous shrimp dip?   My hosts, the charming Bob and Sally Oyler, were no doubt surprised when not only did a guest plop down a somewhat lame-ass (editorial comment mine, certainly not that of the gracious hosts) hors d'oeuvre smack dab in the middle of their fabulous holiday buffet, but said hors d' was accompanied by kitschy  recipe cards to take away.  By the end of the party, pretty much every card remained – apparently not a dish that you really need (nor want, for that matter) a recipe for.  And now, for more than 35 years, they have appeared in my mail, tucked inside Christmas cards from Sally, their daughter Barb, and most recently hand-delivered by a grandson, something of a recipe card mule, given he had no idea what was in the envelope he bore.  I have gotten the last card from Sally, but trust, hope they will keep coming. Anybody want that recipe?   I might have a few to share.

Like everything, pot lucks have a silver lining. The beauty of the pot luck is that it spreads both the effort and the expense and makes entertaining a you-don't-have-to-be-Martha-Stewart snap.  After the sausage making party and the soup swap, both definite fan faves, I landed on BYOPT – bring your own pizza toppings.  A Pizza Party. "Best Party Ever", according to one guest.  I think part of the fun was that everyone got a quick turn at playing chef – drawing from the 40 some toppings, sauces, and cheeses that found their way to the kitchen island.  And by playing chef, I mean this in the truest sense of the word – all the items were prepped (mise en place) and assembly is both the easy and the creative part.  I committed to providing the dough (Trader's Joe has fresh flour, whole wheat and herbed dough, as well as a frozen organic dough).  Then I threw out some ideas for both pizza combos and individual toppings, organized by sauce/base, oils, toppings (veg and meat), and cheeses.    You can plan it two ways – have people chose from a list of toppings and mix and match at the party, or have them bring enough for their own concoction and they are responsible for everything but the dough on that pie. We got a bit of both.  Just a little coordination will keep you from having a lot of dupes.
I of course had to make a run to the Cheese Lady, not just for the fabulous ooey-gooey meltable cheeses, but also for her fine collection of oils and vinegars.   I settled on a lemon oil (fabulous to drizzle with my lemon pistachio pesto) and a white truffle oil. Super aromatic oils like truffle need to be drizzled after the bake.  They are too good to go on before the oven.  Good news guys – a phone call to the Cheese Lady and these puppies can be on their way to you.   They don't ship cheeses, but do take phone orders on the wonderful assortment of oils and vinegars.  There is a divine maple balsamic that makes a killer vinaigrette with the lemon oil, and the raspberry balsamic is wonderful drizzled into a seltzer.  Super refreshing!
I had to get a couple cheeses that weren't on my radar – one was meadowkaas which I did know about but didn't expect to see til June. This is a special (aren't they all?) style cheese that is made from the first milk from the cows that wander into North Holland's (the Netherlands, not Michigan!!!) first grasses each spring.   An importer found some 65 wheels from 2015 and upon Cheese Lady deeming it delish, they found their way to her.  Yahoo!   However, the other cheese I bought I had never heard – Kurpianka smoked cheese from Poland.  Its touch of garlic and springy texture make it a perfect melting pizza cheese. Yum.     Oh and it looks like a cheese grenade. I love that!

The most important detail you can tell your guests is to make sure the ingredients are "pizza-ready." That means olives are pitted, zucchini and shiitake-types are quickly sautéed, and bacon is at least par-cooked.  Otherwise you will get both a free for all with your limited space and a real mess. I considered a change of address halfway through the party.   But a little organization goes a long way. I had a building station with sauces and oils, a topping station, a cutting station, a bar area, and a plates & salad serving area.  My kitchen isn't nearly as big as it sounds.  But it worked – just barely.  We had about 18 people and made about 13 pies.  I find that so hard to believe because I swear I made 15 myself and ate at least 20.  #CarbFreeMay
It helps to have some basic equipment – a Pizza Peel
to transfer the prepped pizzas, a Pizza Stone
or two (or three) always hot in the oven, pizza pans, and plenty of cutting boards and pizza wheels.   Everyone brought what they had. I think there may have been six pies in the oven and two on the grill at one point.  For the grilled pizza, we used the frozen dough.  If you make your own or use fresh dough, it is best to roll it as thinly as you can and then freeze it to make a smooth transfer to the grill. Oil the grill and cook the dough on both sides to color and get grill marks.   Then transfer to the building area where you can add toppings.  Slide back on the grill and close the lid to melt the toppings. This will only take a few minutes.   The oven (400-425oF) pizzas work well if you dust the peel with corn meal or make sure the dough is well floured and not sticky.  Build the pie and slide onto the hot stones.   All in all, it's pretty neck-down in the execution, once you do a couple test pies to get down the technique.

We had some pretty fantastic Pizza Party toppings – here is a select list (email if you want my master list):
Sauces: red sauce, lemon ricotta, lemon pistachio pesto, fruit chutney, kale pesto, green olive tapenade, horseradish dill drizzle
Oils: EVOO, lemon oil, white truffle oil, Toasted Pumpkin Seed Oil (divine on the butternut squash ribbon pie), chipotle oil, fig balsamic
Arugula, charred scallions, roasted garlic, sautéed shiitakes, grilled zucchini and yellow squash, you'll thank me in the winter oven dried tomatoes, sautéed broccoli rabe, fresh basil, Kalamata olives, artichoke hearts, spinach, roasted beets, dried figs, butternut squash ribbons (the Paderno Spiral Vegetable Slicer worked perfectly), Brussels sprouts, smoked salmon, capers, roasted plums, radishes  – wait…..seriously??? A partial list????
Pepperoni, prosciutto, shredded chicken, ham, bacon, sausage
Grated mozzarella, fresh mozzarella – sliced, burrata, grated parm/asiago/Romano, fresh goat, feta, glacier wildfire blue, smoked kurpianka, meadowkaas

And here are a few of the winning Pizza Party combos:
Pesto, fresh mozzarella, prosciutto, you'll thank me in the winter oven-dried tomatoes, and dressed with arugula tossed in a lemon vinaigrette
Red sauce, figs, bacon, chicken, roasted garlic, wildfire glacier blue, smoked kurpianka
Lemon pistachio pesto, fresh mozzarella, asiago/Romano/parm, smoked kurpianka, basil and shiitakes
Red sauce, sausage, mozzarella, basil, artichokes
Kale pesto, broccoli rabe, chicken, Kalamata olives, basil, mozzarella, burrata
Lemon Ricotta, spinach, Brussels sprouts, butternut squash ribbons, figs,  feta, toasted pumpkin seed oil
Arugula Pepita Pesto, goat cheese, butternut squash ribbons, pepitas
I'm sure you wish there were more and better photos (I do), but seriously, I need my fingers.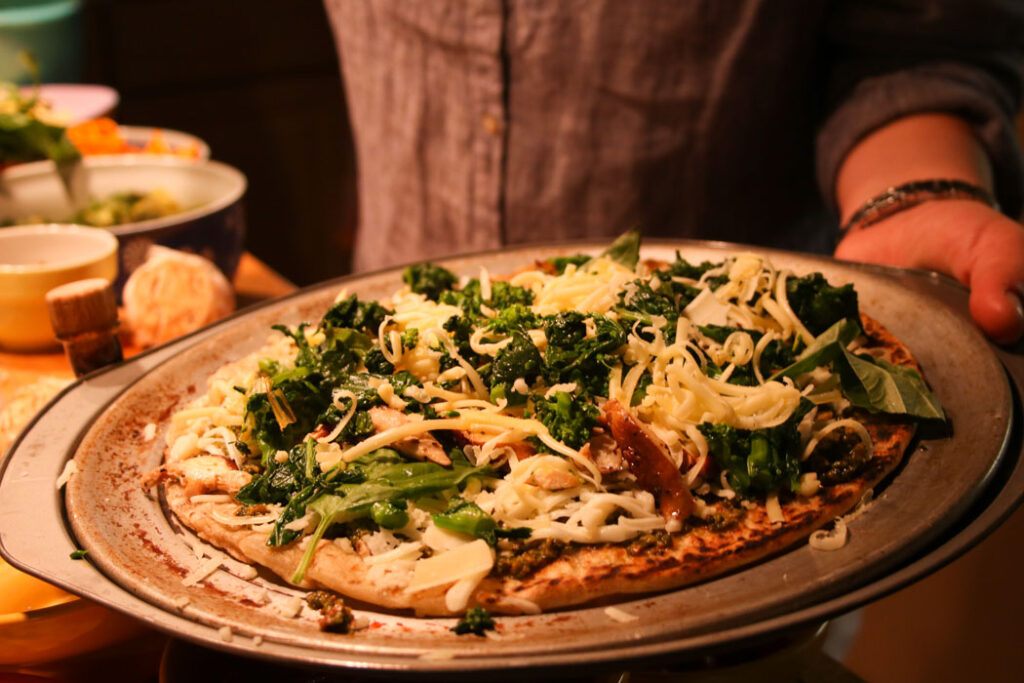 Next up in the Pot Lucky series: Build Your Own Burger!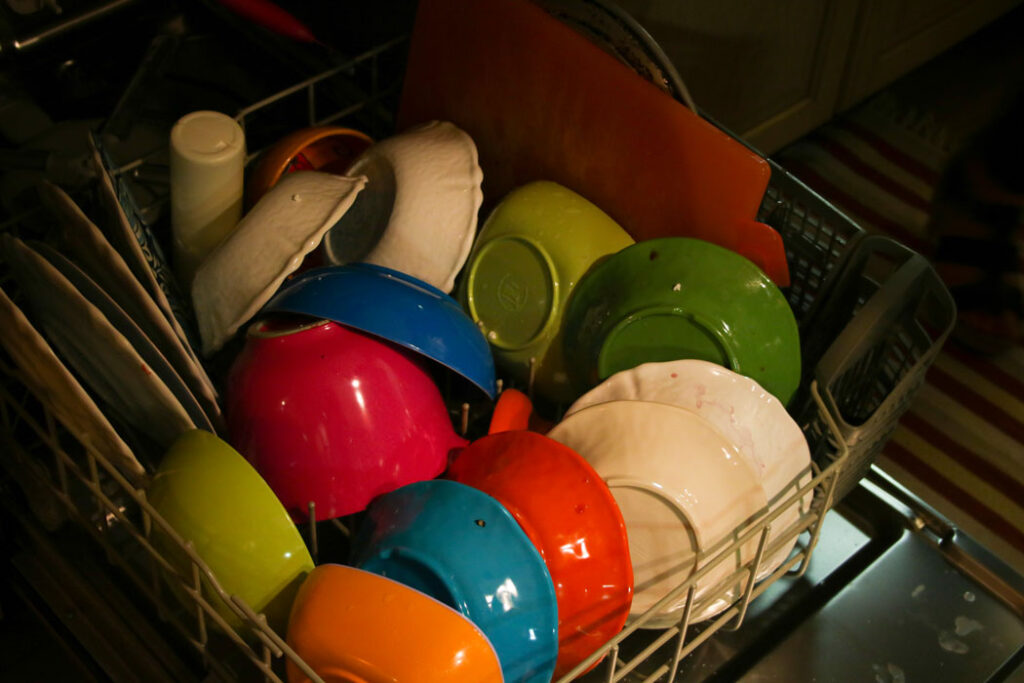 The End of (this) Pizza Party! (and thanks to the phenom clean up crew!!!)
© Copyright: KatyKeck.com 2016. All rights reserved.
Hey, we want to hear from you!
Don't forget to Comment below, Share & Subscribe to our blog.