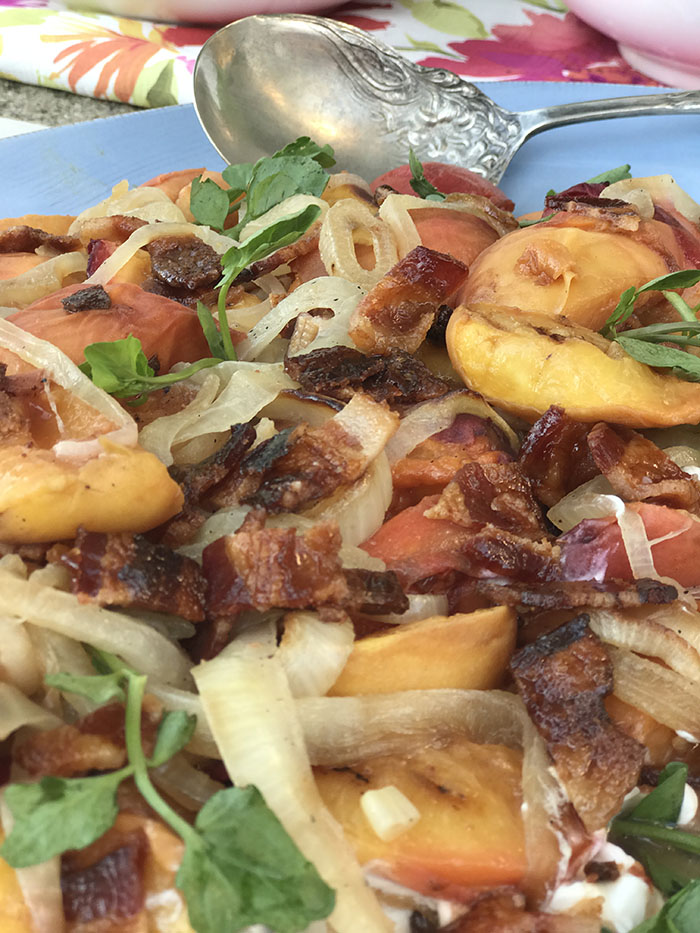 Oh my! Oh my! Oh my! The Salad Palooza is the mother of all Pot Luckys! What a feast! What a gathering! What fierce women bound together by emulsified vinaigrettes! Ok, there were other things to unite over and celebrate. And this GNO (Girls Night Out) took things to a whole next level. My pal and blog bestie Stacie pulled out all the stops gathering up the gals for a gorgeous summer night at her lakeside cottage. The only call to action was salads – home-made, of course – and to try and not bring duplicates. Sign Up Genius makes it easy to keep track of choices made and helps weed out repeats. Above is Amey's yumster Charred Peaches & Onions, with watercress, candied bacon and chevre. So good!

Avocado & Tomato Salad with Almonds and a Tarragon Balsamic; Gourmet Mexican Street Corn Salad.
Pot Luckys, for those readers that are new, are my answer to the dreaded pot luck. The emphasis is on the Lucky. Menus are curated around a theme and the goal is to avoid the Velveeta cube with frilly pick. Don't think you are fooling anyone by topping that cube with a chunk of Slim Jim. That does NOT make it special. I'm on to you. I know, I know not everyone that you want (HAVE?) to invite cooks, so there are definitely jobs for them, too….How much wine CAN you carry? Do my dishes – yes, please. Set up? Break Down? Keep my drink cold? Yes, Yes, and Yes.
In addition to the main theme – salads this time – there is always room for an app or two, a signature drink and of course dessert. How much do you love these cheese wafers below? Someone does:) They remind me of Christmas parties, warm from the oven. I have a real soft spot for them.

We've done about a dozen Pot Luckys so far with a good list of more to come. Some of my favorites include fajitas, soup exchange, sliders, and a nautical theme. For details on how to host your own, link here. Depending on the party (8 kinds of meatloaf and 6 flavors of soup), you can plan on leftovers for your freezer. But for other themes, like salad palooza, you can expect the flowers to get licked right off the dish, with nothing but amazing memories to take away.
Salads for Days

Beet, Orange and Goat Cheese Salad; Wonder Woman Super Foods Salad (vegan); Greek Pasta Salad.
That middle salad in the large wooden bowl is mine. In case you missed the curried avocado dressing, I'm sharing it again below. This dressing can do just about anything – it's a real workhorse. But keep scrolling – there are alot more great salad ideas below the recipe!
Salad Savior
Print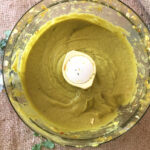 Pot Lucky: Salad Palooza – Curried Avo Dressing
---
Author:

Total Time:

5 minutes

Yield:

2 1/2 cups

1

x
Description
This is the kind of dressing you can slather on anything and everything. It is a game changer for a quiet romaine and it balances out the earthiness of a strong bitter green like kale. Slap it on a sammy, add it to a salad jar, or dunk your veggies in it.
---
1 Tablespoon

ground cumin

1 teaspoon

ground coriander

1 teaspoon

ground turmeric

3

cloves garlic, peeled

1 1/2

ripe avocados, peeled, pitted, cut into chunks

3/4 cup

white balsamic vinegar

1/2 teaspoon

salt

1/4 teaspoon

ground black pepper

1/4 teaspoon

red pepper flakes

1/2 cup

extra virgin olive oil

1/4 cup

water, or as needed
---
Instructions
In a small sauté pan, toast the cumin, coriander and turmeric for about one minute, until fragrant.
With the motor running, drop the garlic into the bowl of a food processor. Turn off and add the avocados, pulsing a few times to a chunky puree. Add the vinegar, toasted spices, salt and peppers and pulse several times until combined.
With the motor running, drizzle in the olive oil until smooth, adding water as needed to desired consistency.
Notes
Makes 2 1/2 cups. Store in the refrigerator, in an airtight container.
This dressing is designed for a hearty green and grain salad, so is aggressively seasoned. If you want to use this creamy green goodness in a more delicate dish, cut back on the spices and garlic a bit.
If you don't have white balsamic, use another mildly flavored and light colored vinegar, like rice vinegar.
Prep Time:

5 minutes

Category:

Dressing

Method:

Food Processor

Cuisine:

American
Keywords: salad, salad dressing
Meanwhile back at the party, the fun continues….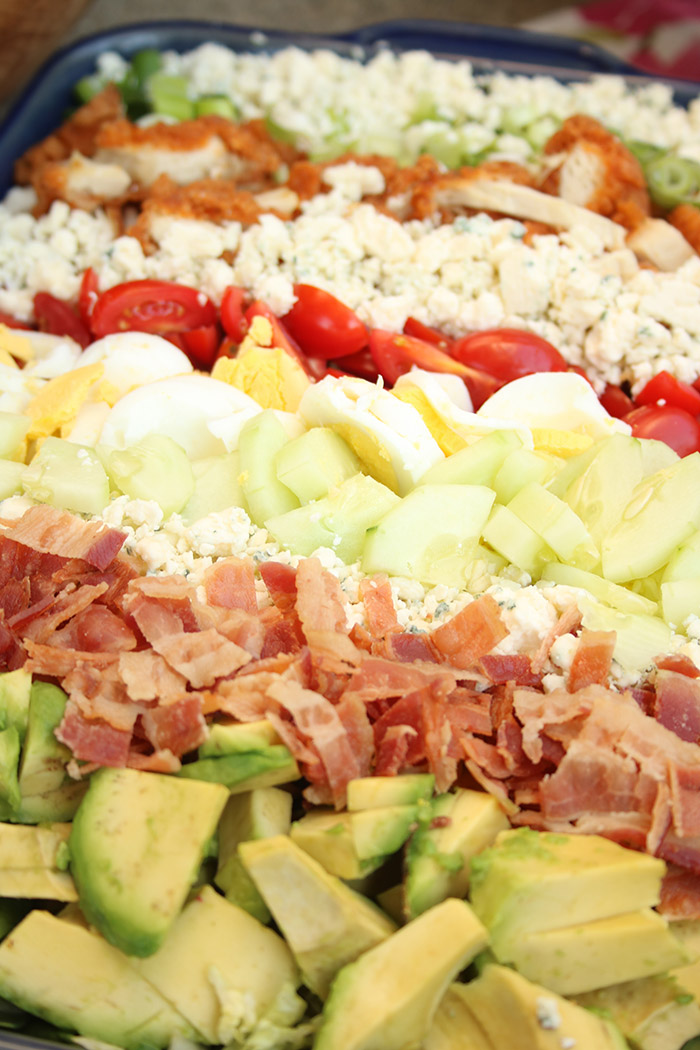 Word must have gotten out that Cobb is one of my favorites – avocado, bacon, blue cheese, cucumbers, eggs, tomatoes, chicken, spinach – what could be bad?
You will be amazed how creative guests can be when challenged to pull out all the stops. At least I was – once again! I have been to many a party where there were three or four versions of crunchy pea salad or watermelon & feta, but nothing close to overlap occurred here. In lieu of Sign Up Genius, Stacie set up a private facebook page and made a few suggestions, and then guests weighed in on what they had in mind. It really sparked the imagination. Farmers' Market finds reigned supreme.

Penne with Chicken, Zucchini, Tomatoes and Corn; Red Skin Potato Salad with Prosciutto; 7 layer Salad.
And bacon – you can never go wrong with bacon. Lest you think these were some girly spa salads, look again. While my salad was vegan, it was hearty and robust and chock-full of plant-based protein, while still feeling indulgent. The variety of colors, textures, flavors and aromas across the buffet was extraordinary.

Steak & Goat Cheese Salad: Broccoli & Bacon Salad; Spinach, Pistachios, & Goat Cheese Salad with Dried Cherries, Blueberries & Cranberries.
Go ahead and admit it: you are just a little jealous that the egss in the salad below were just laid. AmIRite?

Apple Cole Slaw; Farm Fresh (no really – straight from the hen house) Egg Salad; Grapes & Pecans.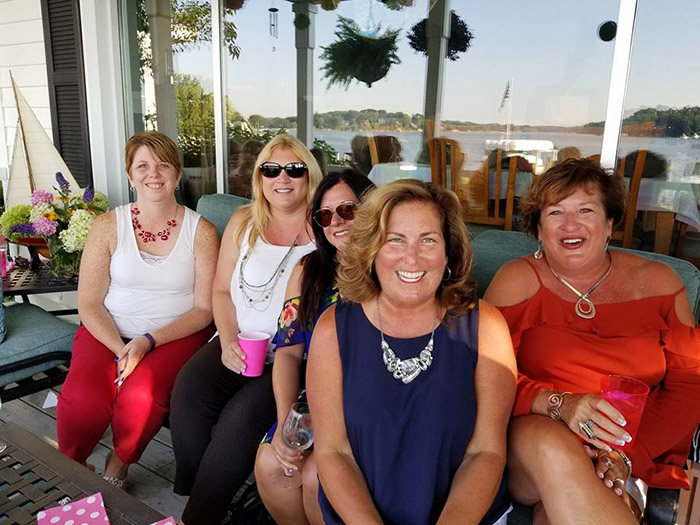 Thanks to Stacie for hosting and recruiting so many wonderful women who know how to spin a salad.

Chicken Salad with Grapes & Pecans; Greek Zoodle Salad; Mediterranean Shrimp Salad with Artichoke Hearts.
Did you see a salad here that you'd like to try? If so, leave a comment below and I'd be happy to bring more of these recipes to life. Did you know I used to create recipes for CNN and Burt Wolf interviewing chefs around the globe? I'd watch the 60-second edited video and create a tasty recipe that matched all the action. Shhh – top secret. I've already said too much.
With pretty much all 19 bowls licked clean, blueberry pie sent us out and on our merry way. I'll be dreaming about this feast for summers to come. Many thanks to all that made this night so special.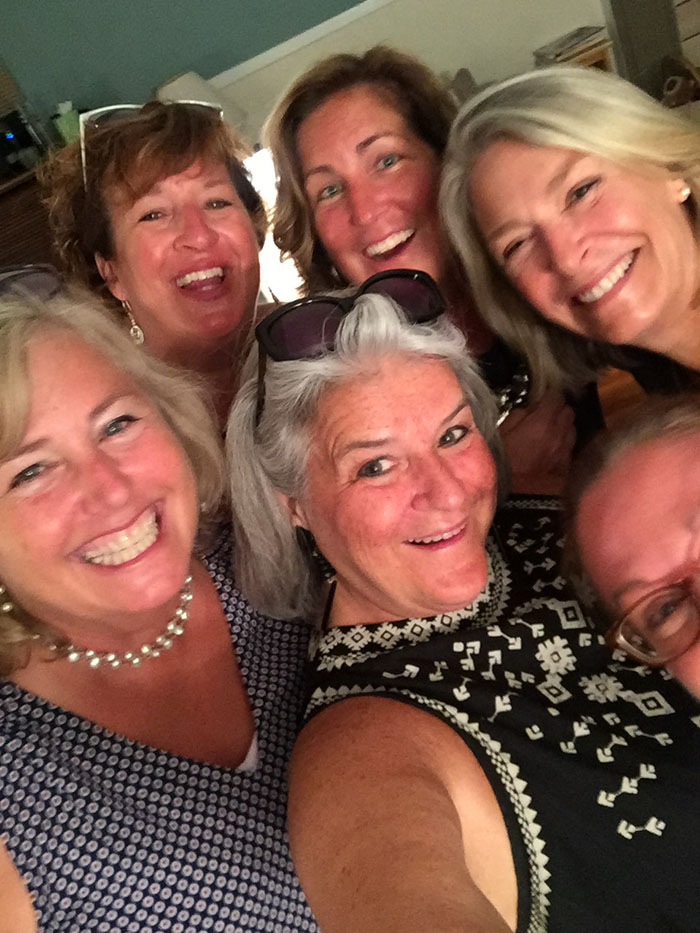 That glow is just a reflection from this sunset. I swear it!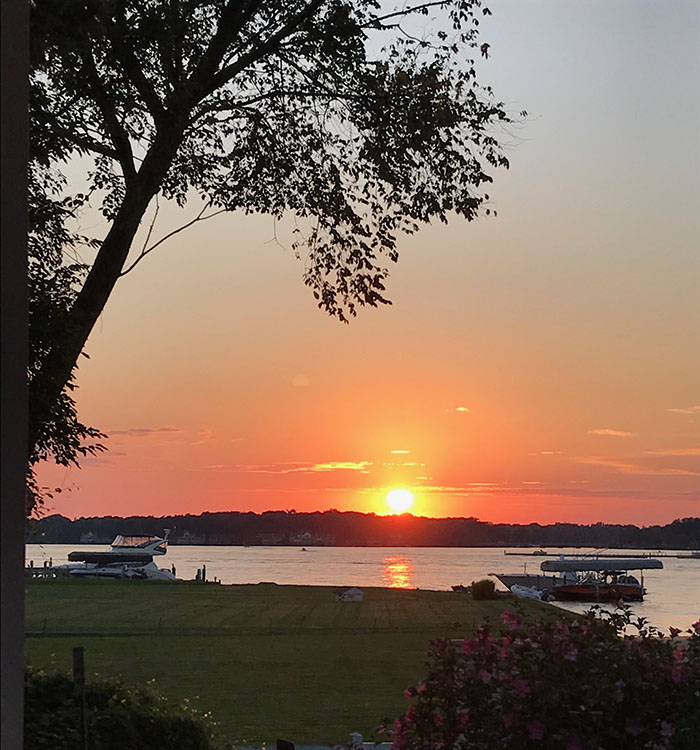 © Copyright: KatyKeck.com 2018. All rights reserved.
Hey, we want to hear from you!
Don't forget to Comment, Share & Subscribe to our blog.