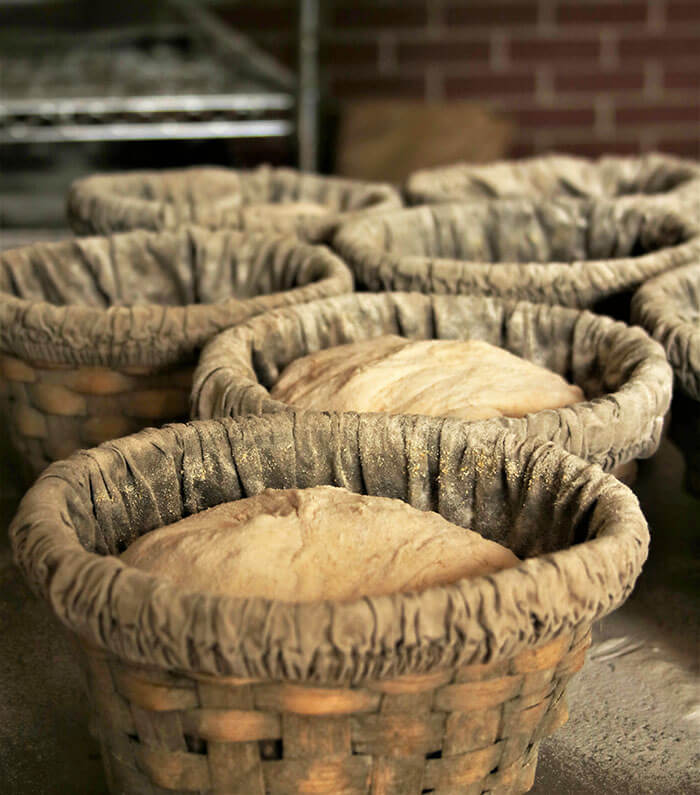 Hands. As in hard working hands. Hands is the word that immediately springs to mind after spending a morning in rural Michigan somewhere near Hart. ("We could give you an address, but we're not really on the map – this will get you pretty close", I was told.) Hand-built, hand-mixed, hand-folded, hand-formed…made by hand. Until my visit, I thought I had some idea about what bread baking involved. But when I entered the hand-built bakery with hand-made brick oven at Laughing Tree, it was clear I did not. Not like this, anyway. There were no mixers, no rack ovens, no utility lines. Charlie and Hilde Muller have brought their off-the-grid sensibilities that are the basis of their home life to the bread baking business. Solar panels power the very few electric appliances – mainly refrigeration and presumably a couple of lights needed for 2am baking – and hardwood cut-offs, milled locally and the remnants of local pallet making, fire the oven. Laughing Tree Bakery is the only 100% solar-powered commercial kitchen in the state of Michigan.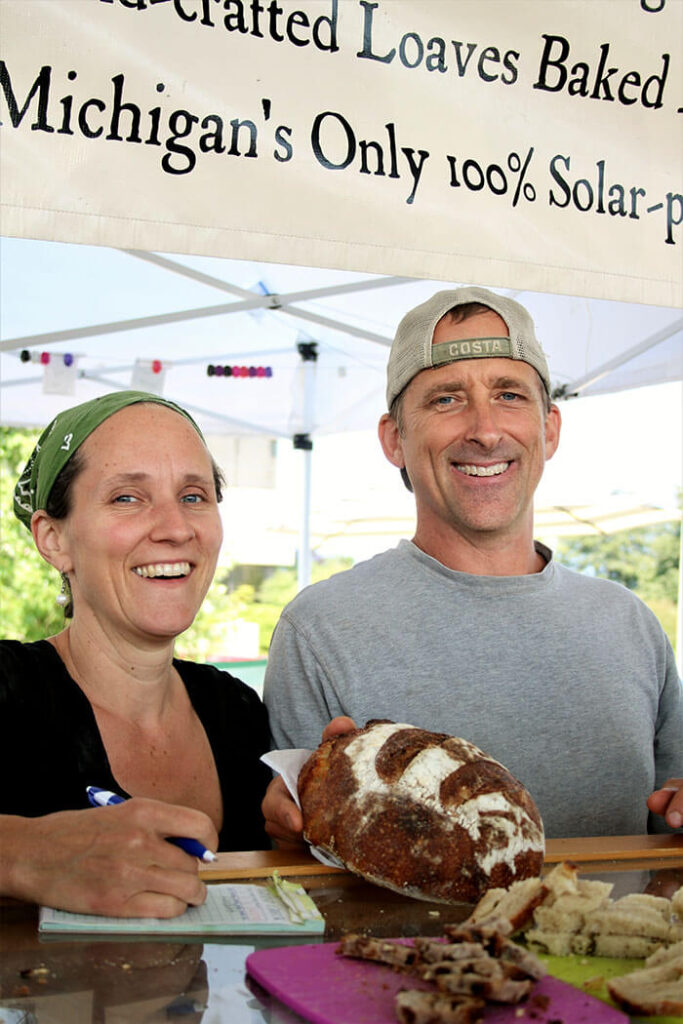 While Laughing Tree Bakery has only been around since 2010, Charlie, a veteran of the Peace Corps, and Hilde have been baking bread – first separately, now together – since the 90s, first crossing paths in Ypsilanti. Hilde eventually found herself at the legendary Zingerman's in Ann Arbor, but not before popping in on the Depot Town Sourdough Bakery in Ypsilanti to see what was happening. Charlie, having baked his way from one coast to the other, was then the head baker at Depot. Along his journey, Charlie had the very good fortune of working with the legendary Alan Scott, artisan of the brick oven. When the Mullers finally found land where they could build a house and set up their own bakehouse, Alan's design became the cornerstone of the kitchen. Charlie's hand-built brick oven uses wood-fired heat captured by 15,000 pounds of masonry to create a radiant environment. This special design results in even heat so critical for creating loaves with "crusty, crackly exteriors and moist, perfectly textured interiors". The vaulted arch with a low ceiling is important for bread production, so that the top of the bread is closer to the radiating masonry above for even baking and so that the steam is kept close to the bread, aiding in crust formation.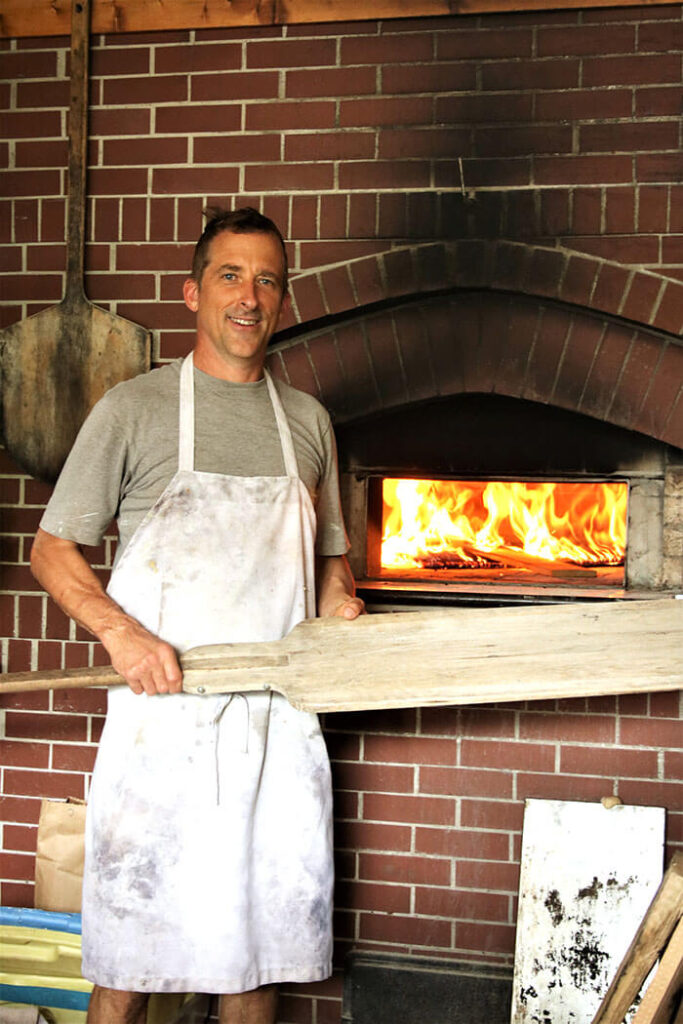 The commitment to sustainability and attention to detail does not of course stop with design. Over the years, they have sourced like-minded farmers that produce certified organic grains and flours: Central Milling, Natural Way Mills, and Ferris Organic Farm, a Michigan-based mill. Many of the breads are loaded with add-ins – sesames, flax, sunflowers, raisins, walnuts, Sunspire chocolate chips – also all organic. All but one of their eleven weekly breads – Oceana, a yeast dough named after their home county – are sourdough. Charlie mixes all the doughs, and I was surprised to see, all by hand in large tubs. Sourdough is a very wet, slack dough, and his is made simply from flour, well water, salt and a starter. And unlike yeast-risen doughs that require kneading to develop the glutens, this dough is bulk-fermented and quietly folded several times over several hours. Mind blown.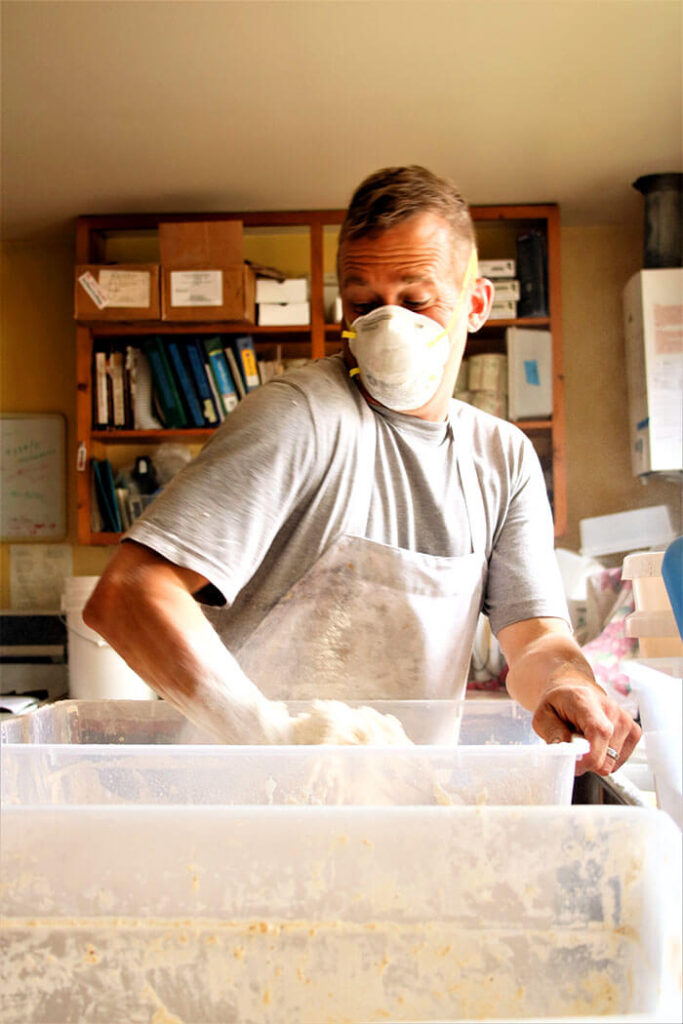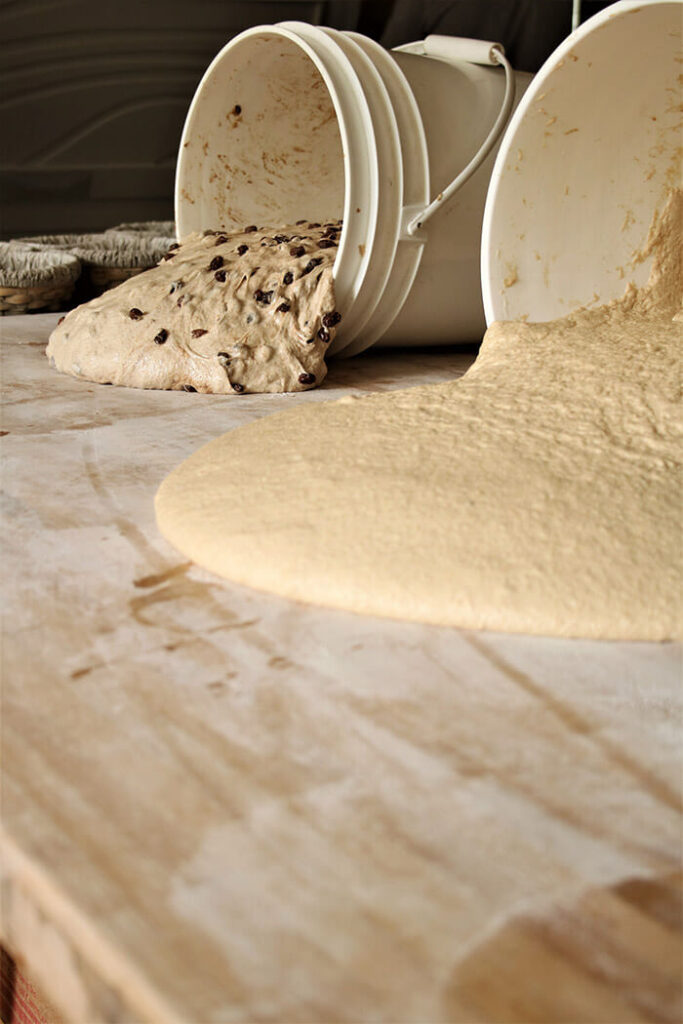 Rather than develop glutens, fermentation in fact is the key to breaking them down. The yeast and bacteria present in the sourdough starter transform the grains into digestible material. Hilde told me that "this is the process that makes gluten digestible for most. It is essentially a pre-digestion process. A healthy sourdough can have as many as 14 different yeast strains and multiple bacterial strains. In a commercially made yeasted loaf, only one strain of yeast is present and no bacteria."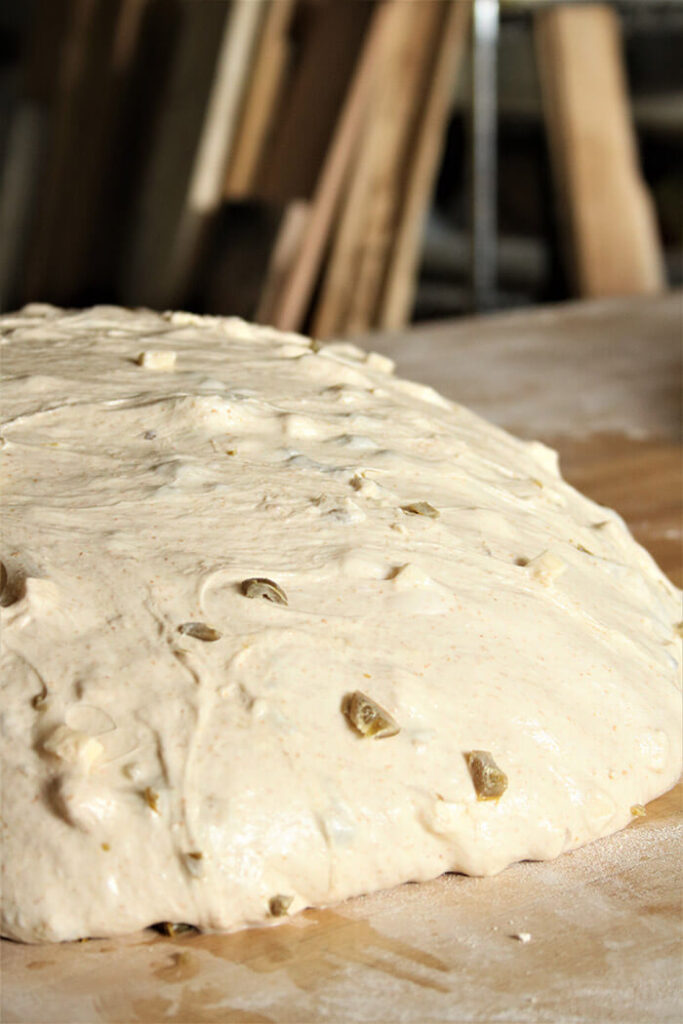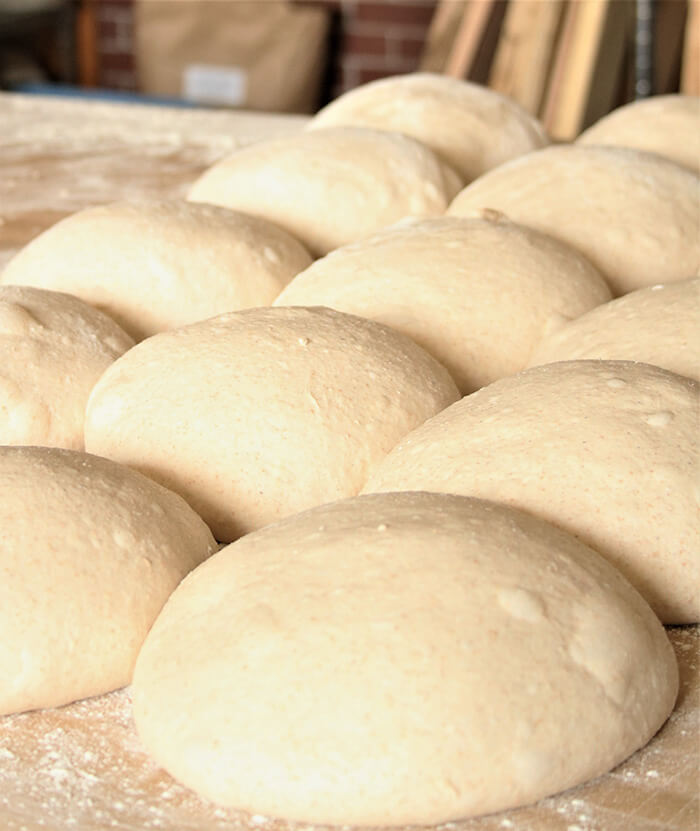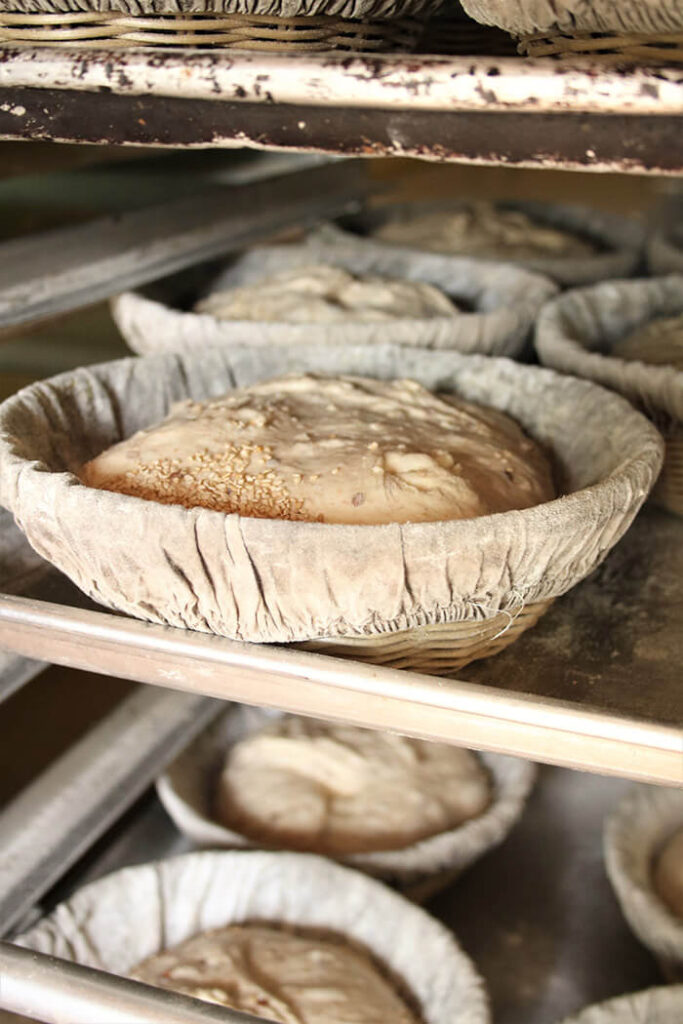 Saturday is Market Day for the Mullers, but the process for the next week starts again pretty much as soon as the last loaf is sold. It's a continuous flow. If you have never been on the line in a commercial kitchen, you may not have a sense of the intricacy of kitchen timing. There, unlike in a kitchen using a wood-fired bread oven, we can easily turn up/down the gas with the flick of a wrist, and there are a lot of precise ways to determine temperature. At Laughing Tree, it is more art than science. The oven is fired over several days, long before baking commences, and only then the dance begins to bake the right things at the right time and at the right temp. During the stoking time, Charlie spends Wednesday weighing all the ingredients and add-ins and prepping the baskets. Meanwhile, Hilde is in charge of pastry recipes and production, wholesale accounts, orders, packaging, communications, scheduling and managing the staff. Charlie then spends Thursday mixing, folding, shaping and proofing. By Friday when the temperature has dropped from a peak of perhaps 1100oF to roughly 650oF, it's time to start baking bread. The cold loaves from the overnight in-basket proofing are transferred to a peel and pushed onto the hot hearth. (All signs of fire have now been swept away.) Charlie generally can get in 8 oven-loads of 30-50 loaves each between 6am and 2pm before the temp gets down into cookie-baking range. Two or 3 oven-loads of Hilde's cookies later (about 300 cookies), and it's time to re-stoke the fire. After once again reaching a sufficiently hot temperature, the oven is ready for four evening loads of bread. Most of the bread baking is done on Friday most of the year. However, during summer markets and the very fabulous sandwich stand in the Muskegon Market (stall #9 – run Forest run – from June til the end of this month), sandwich loaves are baked on Thursday so they are cool enough to slice. And if you aren't tired yet, the Mullers are popping three rounds of scones in on Saturday morning around 2:30 am while packing up the van for the markets. Then – finally – the last remaining bit of heat is used the following Monday to bake off Hilde's granola and brownies when the temperature has cooled down to 325oF. Applause! Applause!! Applause!!
It's a Family Affair
Don't think that Charlie and Hilde are doing this alone.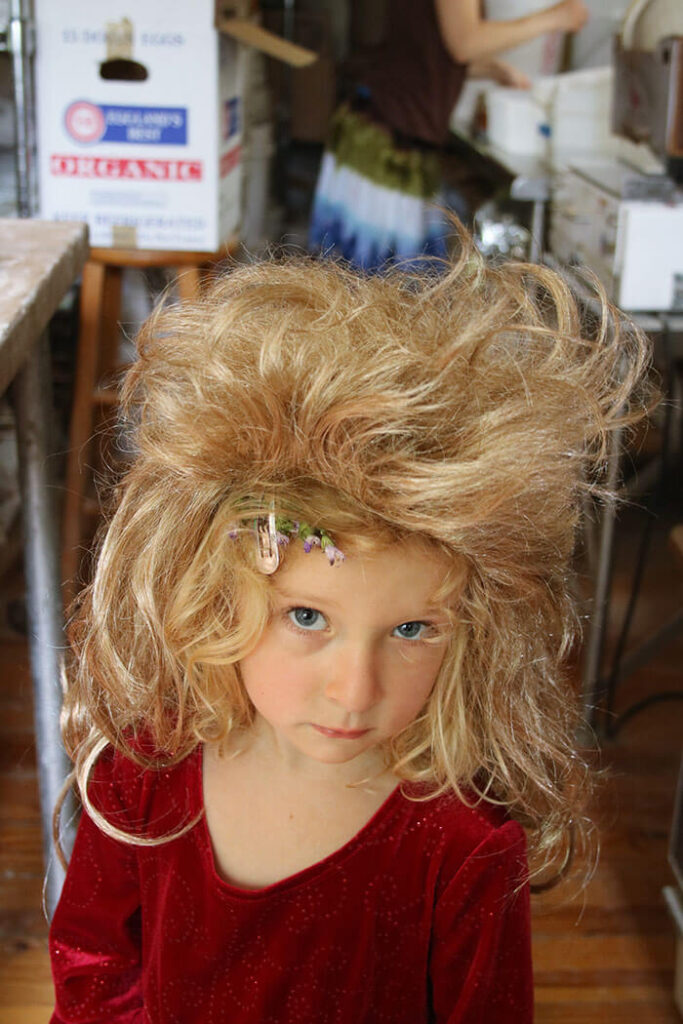 This is Alida, age 3, and I have to say she was a fine helper the day that I visited. I have seen firsthand what happens when she uses her deft hand to dust the loaves with the final sprinkle of rice flour. While she doesn't have an official loaf, the Honey Oat Loaf is called Rosie's Honey Oat, after her nickname. Finn, age 11, is the namesake for Finn's Pecan Raisin Pecan, chocked full or pecans and organic raisins. And Annie's Raisin Spice, made with a Michigan-grown whole wheat, is named after the Muller's 8-year-old. There is a very special Pilgrim Rye that honors the legacy of the angel baby Pippin Muller, who would be 5 now. His name is a shortened version of Peregrine, which shares a Latin root with Pilgrim.
The passion for bread and baking and having a low impact on the world around them has transcended generations and gives this family purpose and a shared sense of responsibility. It is easy to see – and taste – the commitment they all have in sharing their passion with others. It was Charlie's grandmother that said when the winds are blowing the trees are laughing. I can't speak for the trees, but the Elbridge Parmesan Olive Loaf sure puts a smile on my face.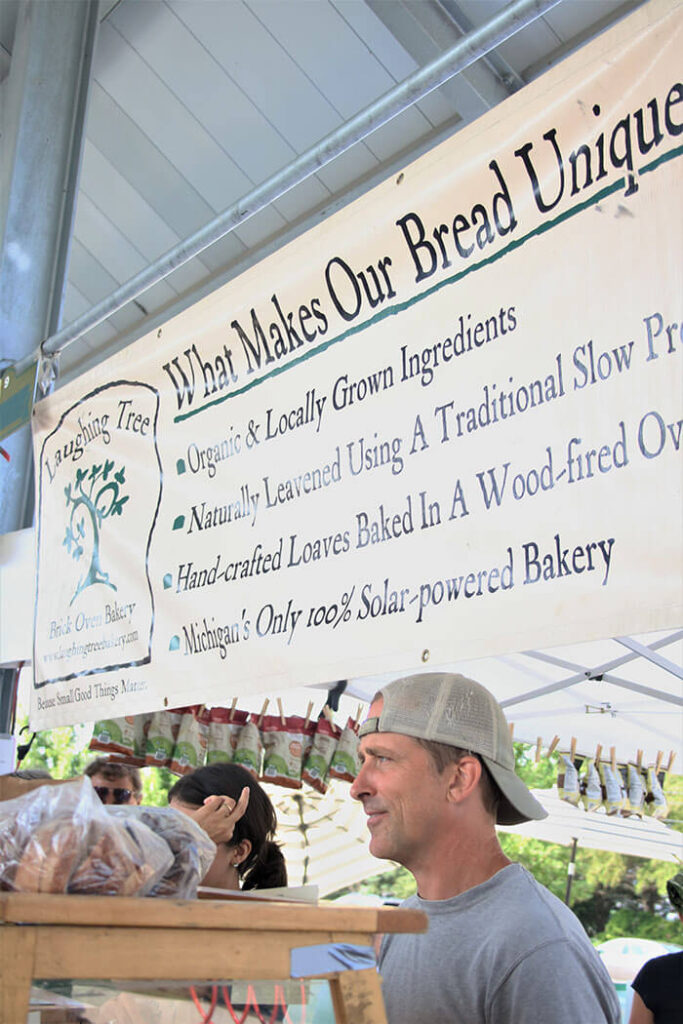 Where to Find Laughing Tree Bakery Treats
Laughing Tree Bakery breads are available in several farmer's markets on Saturdays: Grand Haven (through October) and Sweetwater and Muskegon Markets (year-round). In addition, you can find them at Gala Gourmet (Newago), Healthy Pantry (Whitehall), Montague Foods (Montague), The Cheese Lady Muskegon (holiday schedule), Hansen Foods (Hart), and Health Hutt (Muskegon). To get on the mailing list for weekly updates of varieties and schedules, send an email to [email protected].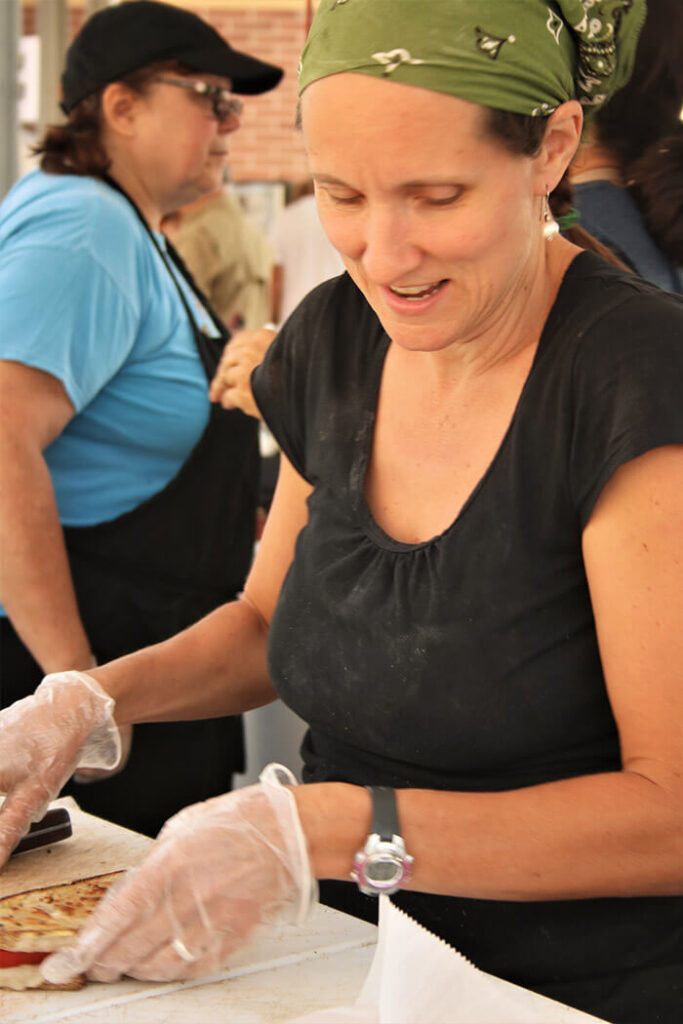 Every summer until the last days of September, the Mullers set up an impressive stand (Stall 9) at the Muskegon Farmers Market. I think we have already established my profound desire over all things grilled cheese – it doesn't hurt that this is called Grilled Cheese Charlie – but also not to be missed are Suzie's Voracious Veggie, Market Day Reuben, and Morris Avenue Ham Slam. The Mullers make their own sauces and source organic toppings like sauerkraut and kimchi from fellow vendors in the market.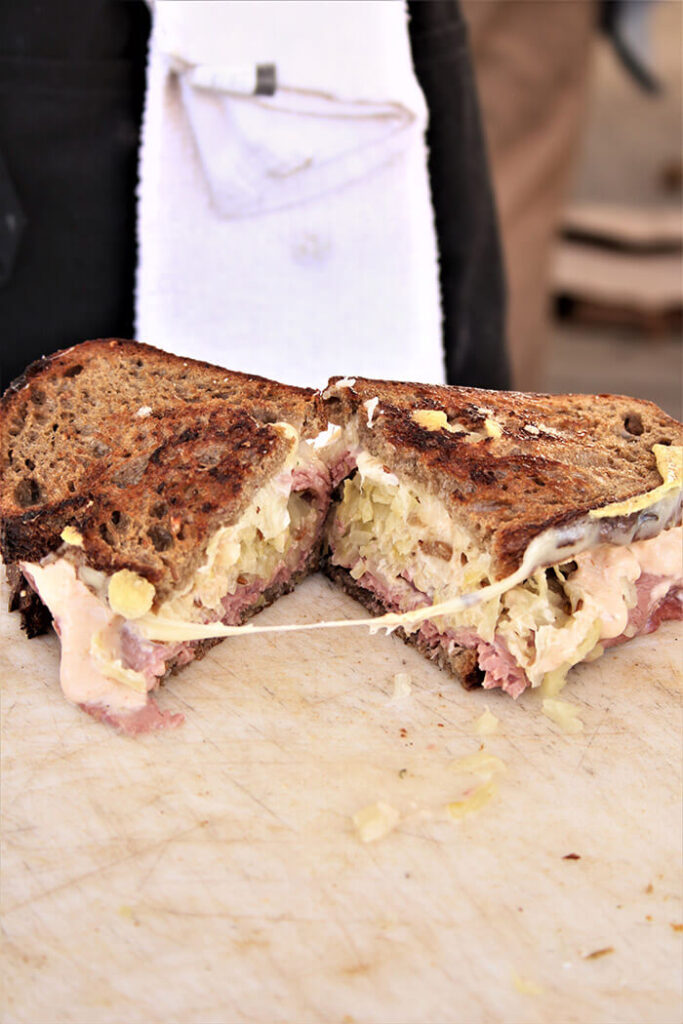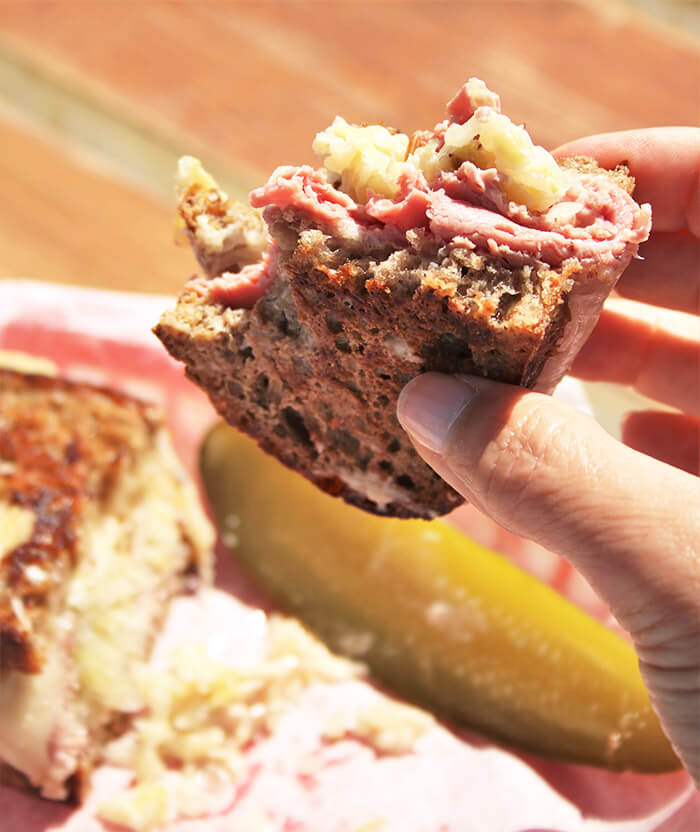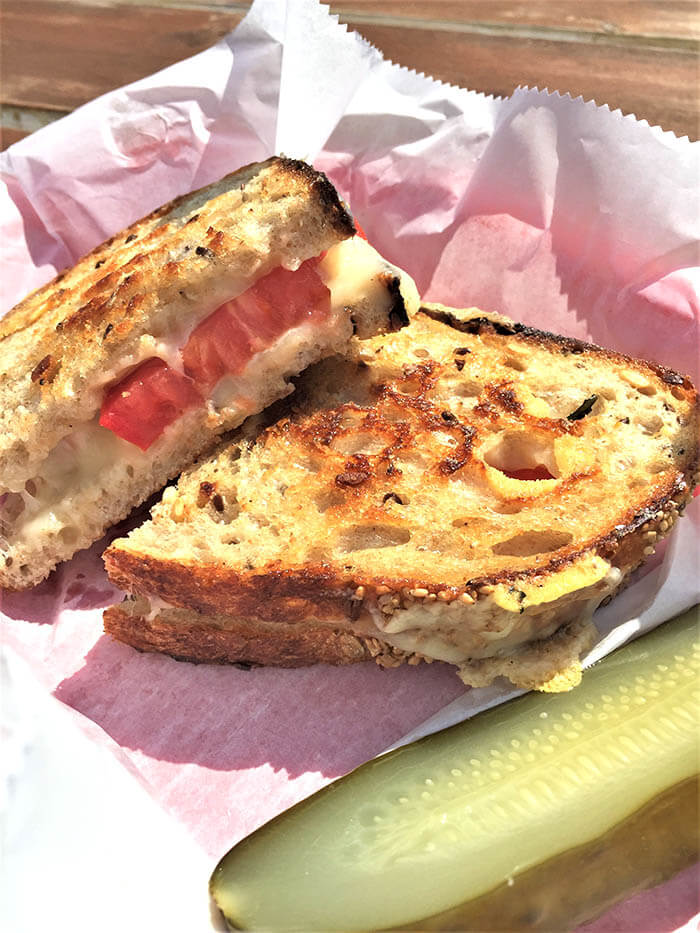 Print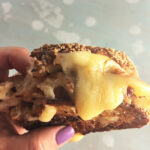 Laughing Tree Bakery Grilled Cantalet, Chipotle Fig Spread, and Pear Sandwich
---
Author:

Total Time:

10 minutes

Yield:

1 sandwich
Description
I love choosing a nice chewy sourdough like Three Coast Three Seed Loaf from Laughing Tree Bakery and stuffing it full of cantalet, sliced pears and a healthy dose of chipotle fig spread. This cheese is a great melter and the bread becomes a golden crusty wrap.
---
Butter
Sourdough bread, sliced (Laughing Tree's Three Coast Three Seed is a winner!)
Cantalet or melting cheese, sliced
Chipotle Fig Marinade, used as a spread
Firm pear, thinly sliced
---
Instructions
Melt 1 Tablespoon butter in a sauté pan.
Spread one slice of bread with chipotle fig marinade and place slice, along with a second slice in pan, over medium heat.
Layer slices of cheese and pear on both sides and cook until melted. When cheese is melted and bread golden, flip one slice onto the other. Transfer to a cutting board and cut in half.
Notes
Cantalet is one of France's oldest cheeses. Produced in the Auvergne Valley and dating to Roman times, Cantalet is a firm, creamy, mild but nutty cow's milk cheese. Try any melting cheese you like, but this one pairs nicely with the chipotle, fig and pears already in play.
If you don't have any chipotle fig marinade on hand, use any prepared fig spread.
Prep Time:

5 minutes

Cook Time:

5 minutes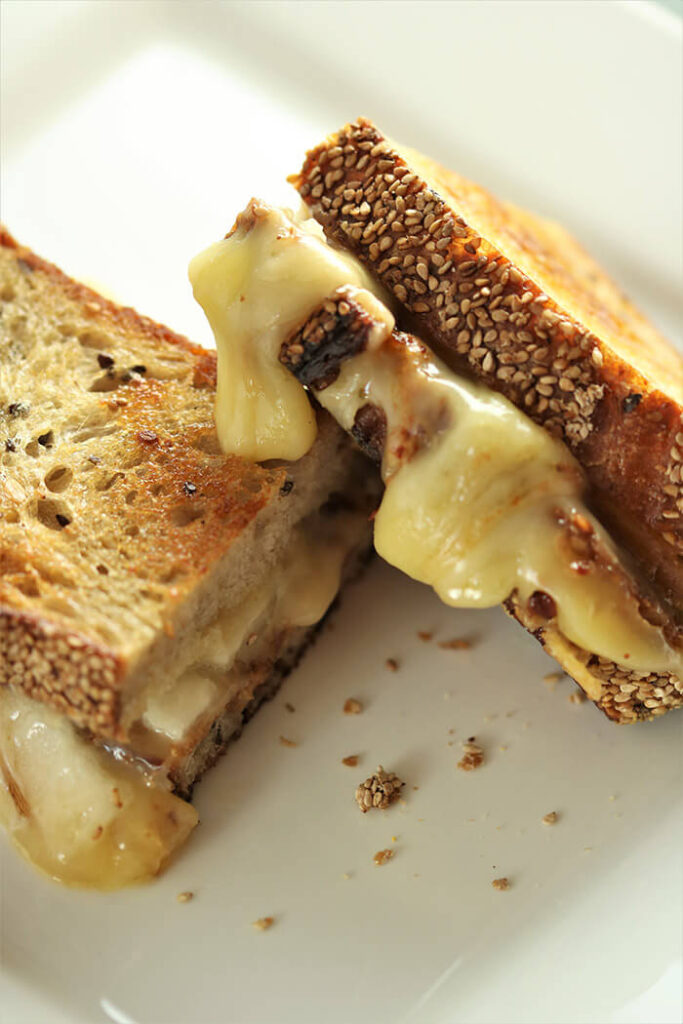 © Copyright: KatyKeck.com 2017. All rights reserved.
Hey, we want to hear from you!
Don't forget to Comment, Share & Subscribe to our blog.