Prosciutto Pesto Puffs!! Prosciutto Pesto Poppers?? Puffs or Poppers?  Mmmmmm, I can kind of go either way.  In support of Puffs, these tasty little morsels are light and puffy.  But, don't discount Poppers; the journey from cutting board to platter is anything but guaranteed – see Open Wide above.   I say you get 3 dozen pieces, but do you???  What if you don't? Who will know? Most importantly, this quick and easy app includes the four food groups (remember those?) –  cheese and dough, pesto and pig. Riiiiiiiiight??  I know I had you at cheese and dough.
Who among you doesn't have some version of those four things in-house at all times?  Don't make me come over there!  I know by now I have cultivated at least some level of pantry-responsibility in you.   Personally I am still working through pizza dough from last month's Pizzapalooza/Bring Your Own Pizza Toppings pot lucky.  I was so uber prepped that I ended up with another half dozen crusts in the freezer. But this dish disappears so quickly you can short cut my Trader Joe's dough short cut and just grab the poppin' fresh variety.  It would be a crime against your calendar to make dough for this from scratch.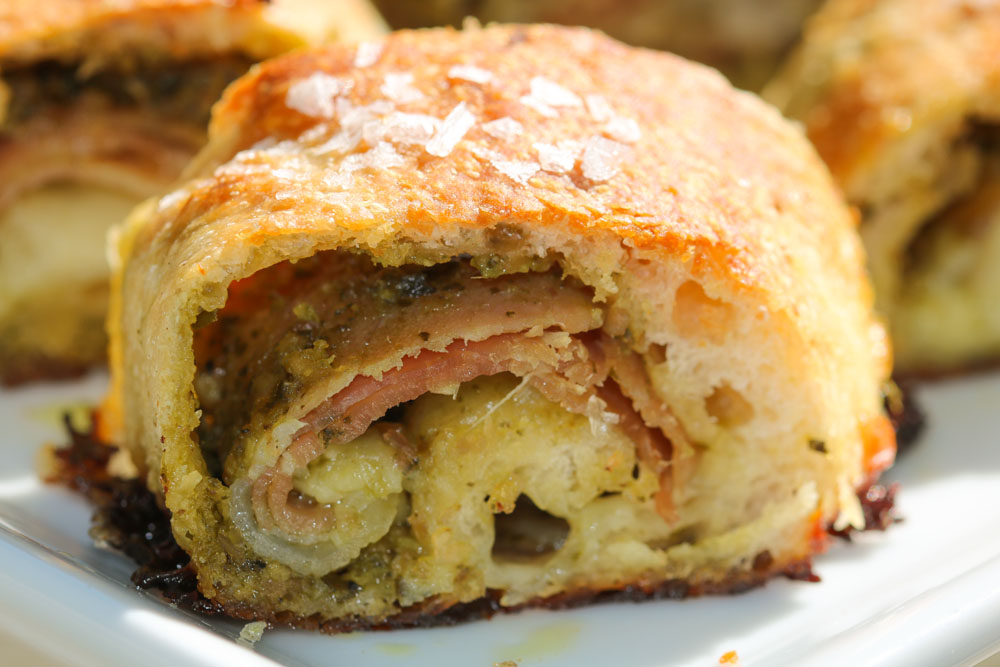 And pesto…I'm just about at the end of the stash of Pistachio Lemon Pesto I put away last fall. But for this I used an arugula pepita pesto –Y.U.M. – that was a contribution to the pizza party.  Any combo of greens and nuts or seeds will work. Just follow the basic proportions in this recipe.  The sassier the better. And, of course, you will get more depth of flavor if you toast the nuts or seeds first.  But if you are short-changed on time,  supermarket pesto ain't half bad.  We're on the clock, people! We got PopperPuffs to make.
Then there's the pig – let's just go straight for prosciutto and stop there. But of course you could use salami, ham, anything that is cooked or cured.  Raw bacon would be a mess. Smoked turkey would be a delish sub, or roasted peppers and thoroughly drained spinach if you are vegetarian.
Vegans however need not apply. This PopperPuff screams for cheese.  I met and love-@first-sight'd this dish about 8 years ago when my then 14-year old neighbor Allison whipped up a larger version, stromboli-like, and appeared for a boat ride with a hamper-full. All the adults were stunned. What? Is? This? Cheesy? Goodness?  It's possible I broke a bicep shoveling in the gooey slices.  Ever since, we have called this (or any interpretation of) the Ali Roll.
It recently occurred to me it was a tad bit – don't judge me on what I am about to say – too gooey.  I know. I know. But more because the center stays a bit dough-y than that there is too much cheese. Heaven forbid!  So for a Memorial Day app exchange – which had nothing to do with technology – I decided to whittle this down to bite-size, and the results were a crowd-pleaser.  The pieces were also less daunting than a slice 4+ inches wide which is considered bite-size in fewer and fewer circles these days.
Feel free to swap out all the fillings. This dish is pretty indestructible.  I haven't tried it but am fairly certain you could make the logs and freeze them, then bake frozen. Or you could bake it off, slice and freeze in an airtight container. These are good warm-from-the-oven or at room temperature.
While not gourmet per se, this is squarely in the category my friend Cindy calls "People Love It".
Enjoy!
Prosciutto Pesto Puffs
13.8 ounce can of classic pizza dough (or equivalent fresh dough)
2/3 cup pesto
½ pound prosciutto, thinly sliced, (includes a bit extra for snacking)
1 ½ cups grated mozzarella*
Good olive oil, salt flakes and crushed red pepper flakes
Preheat oven to 425o.
Roll or stretch dough into a 12" by 14" rectangle.
Cut in thirds lengthwise, creating three 4 x 14 strips.
Divide the pesto between the three strips and spread evenly. Leave a ¾" edge pesto-free along the far (long side) of each strip.
Cover the pesto area on each strip with prosciutto – about 4 slices per strip.  It's okay to overlap a bit.
Divide the grated mozzarella between the three strips and sprinkle on top of the prosciutto.
Working with one strip at a time, tightly roll toward the pesto-free zone, creating a 14" long log.  Tuck the ends under and place, seam side down, on a baking sheet. Repeat with the other two strips.
Brush the logs with olive oil and sprinkle with salt (I like Maldon Sea Salt Flakes
) and sprinkle with crushed red pepper flakes.
Bake in preheated oven for 10-12 minutes until golden brown, rotating the pan about half way through.
Remove from oven and cool on a wire rack. When cool enough to handle, transfer the logs off the baking sheet onto the wire rack .   Let rest 10 minutes all together.
Slice into 12 slices per log. Stand back and relish the high praise.
*When asked on that maiden Ali-Roll voyage, the Ali-Roll Mistress herself instructed me to use "grocery store mozzarella for best melting."   Sure, you could fancy it up with fresh mozz, but you still won't have leftovers.
Makes 3 dozen PopperPuffs.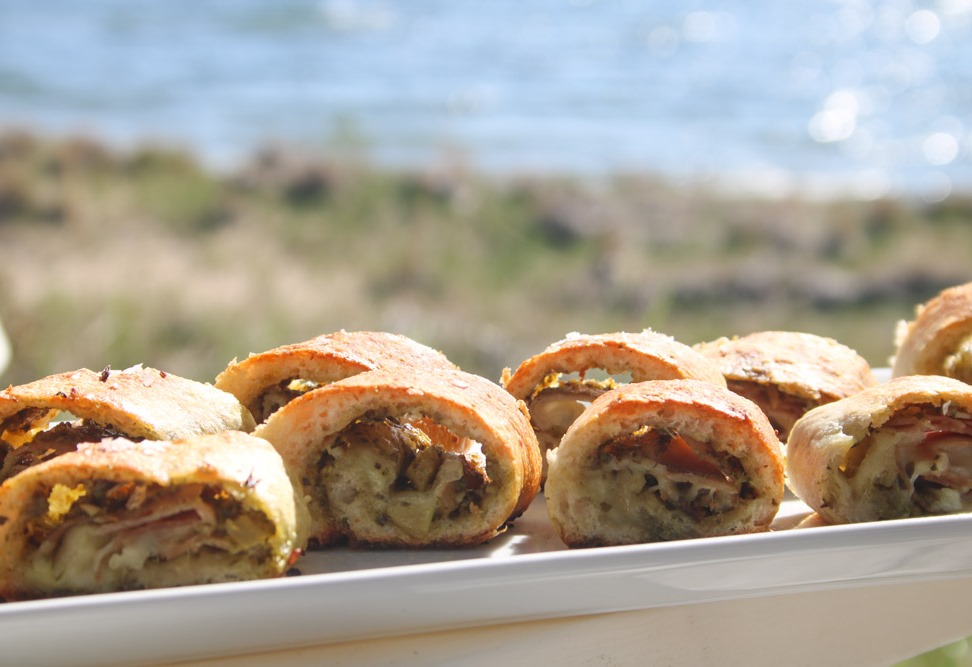 This post contains affiliate links.  For more of my must-have faves, check out my shop.

© Copyright: KatyKeck.com 2016. All rights reserved.
Hey, we want to hear from you!
Don't forget to Comment below, Share & Subscribe to our blog.