I am here to the rescue. Relax! I got you covered. Not just any old Prosecco cocktail, but Santa's Sparkler here to save the day. You have got to be anxiously running down that list and back up, checking it once and checking it twice!! Sound familiar? Tree trimmed?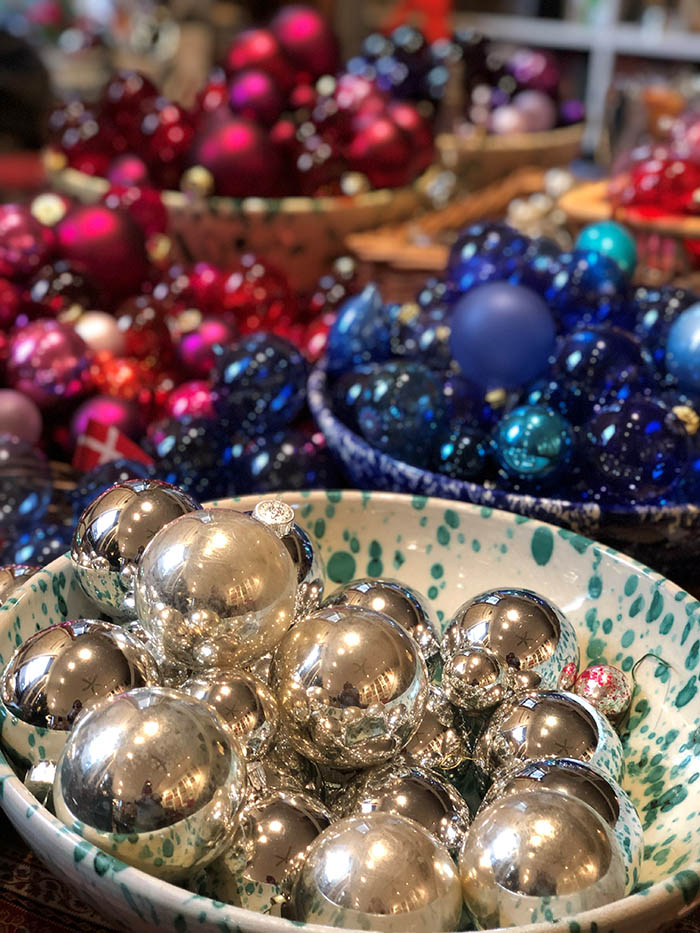 Check. Stockings hung? Check. Then why do I feel like this?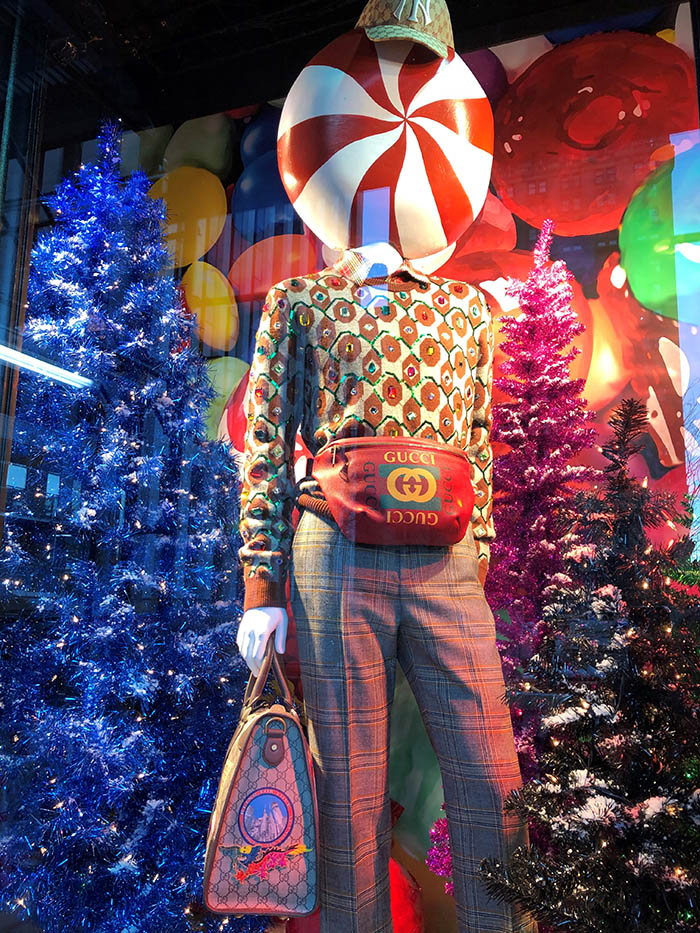 Can't quite get this magic all in sync! I feel like a monkey handing out suckers. Okay, not really but this photo is too good to waste. Wait. Does that monkey carry a Gucci handbag?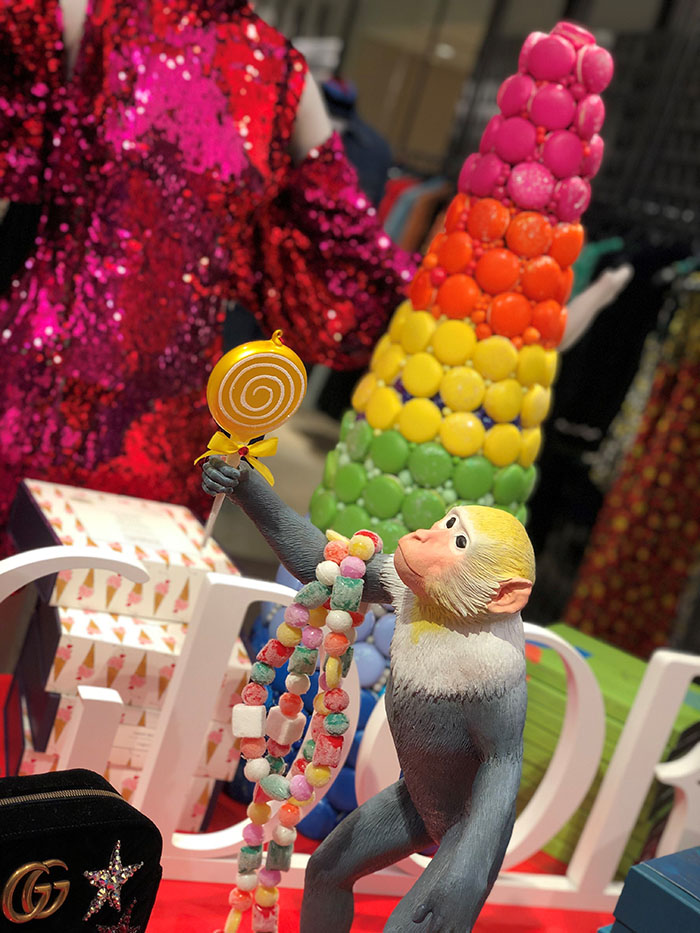 You haven't heard of Santa's Sparkler before? Possibly because I just made that name up. I was going to go with Santa Sipper but that seemed questionable and Santa's Helper seemed enabling. Sparkler because it's got a little bubbly, but then I dose it with something stronger, and a couple of aperitifs to boot. I'm just here for the aromatics. I know not all of you are drinkers and I appreciate that, so please enjoy the random photos and see how many reflections of me and my cell phone you can find in them. #onvacation And while you take a gander at the photos, look at the special ornament in the top photo mixed in and among the flutes. Anybody? That is a Broadway Cares/Equity Fights AIDS fundraising ornament from their series of Broadway Legends from some years back. That is Angela Lansbury in her 1966 version of Mame, the Miss in the Moon. See the trumpet against her leg? So cool!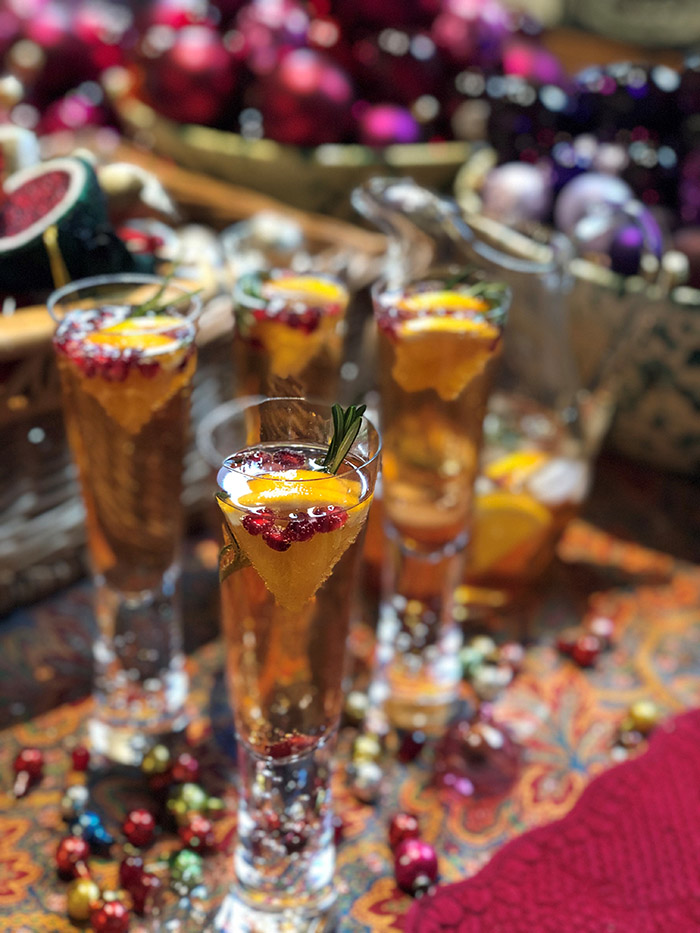 Holidays are stressful enough, and I wanted to bring you a little cheer before you throw the wrench at your beautiful tree when the wheels literally fall off the bike you're assembling. We've all been there. Take a deep breath, take a sip, and double down on getting the job done.
I like to think of this Prosecco cocktail as the UN of holiday cocktails. A regular Aperol Spritz makes total sense – everything is Italian. And TBH I photographed just that some months ago to bring it to you, but by the time I got to December I felt it wasn't enough for you, my people. I needed to zhuzh it up a bit. Enter the multi-cultural line up of bevvies. I am normally a bit opposed to cross cultural-ing food, but I saw a drink like this on a menu and it made me want to tinker with the classic Aperol Spritz. I wanted something to balance the bitter of Aperol, and Lillet sprung to mind. Both are orange-based, but the flavors vary pretty significantly.
Lillet (I'm using Blanc which is a little yellowish) is made near Bordeaux, France (since 1872) and is a maceration of sweet and bitter oranges, quinine (adds a bit of bitterness, but overall this is more floral and citrus-y), and barks. The fruits start their maceration in alcohol, and once the key flavors are extracted, they are pressed and mixed with wine, then aged in oak barrels.
Aperol is of course Italian, from Padua, and that is a country with a fine appreciation for bitter – a far cry from the sacharin-y sweet palate we Americans favor. (I do not resemble that remark.) Aperol is just about to celebrate its 100th birthday, and its secret formula is unchanged since two brothers took over the biz from their father and created this aperitif. It too uses sweet and bitter oranges, but it also includes flowers, rhubarb, roots, and herbs in the recipe. Taste the two side by side and you will find they make a real cute couple.
Santa's Sparkler – a twist on the classic Prosecco Cocktail, Aperol Spritz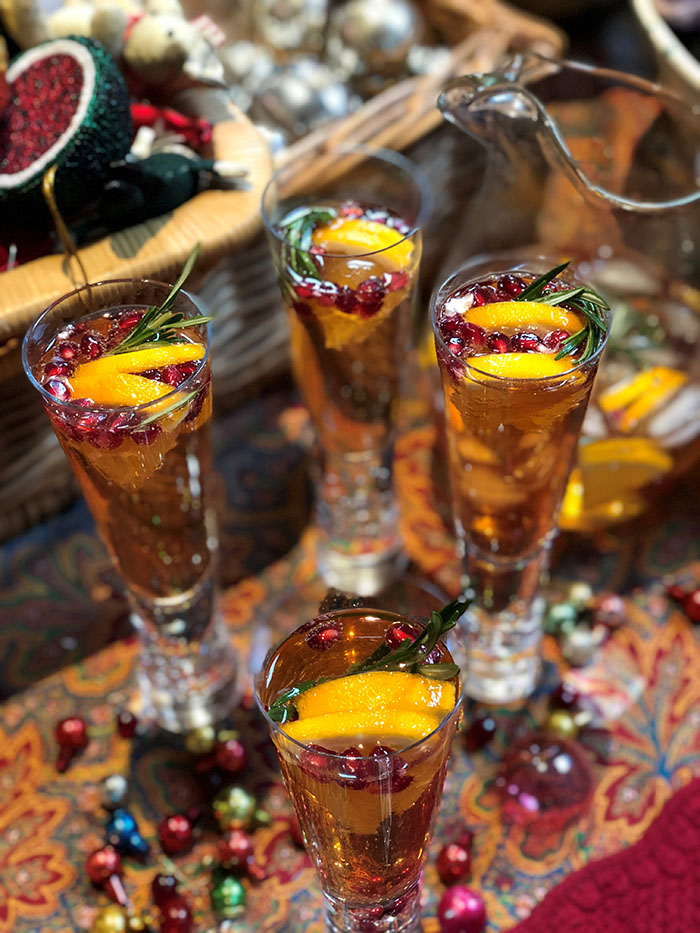 Print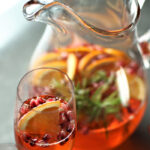 Prosecco Cocktail to the Rescue: Santa's Sparkler!
---
Author:

Total Time:

5 minutes

Yield:

Pitcher serves 5
Description
Think of this Prosecco cocktail as the UN of holiday cocktails – Italy meets France meets Iceland. The pomegranate and rosemary add a holiday vibe, but it's festive and bubbly enough to drink all year round.
---
Vodka, I prefer Reyka or Ketel One
Aperol
Lillet Blanc
Prosecco or Sparkling Wine
Garnish:
Pomegranate Arils
Orange Slices
Rosemary Sprigs
---
Instructions
Measurements by the glass:
2 Tablespoons Vodka
2 teaspoons Aperol
1 teaspoon Lillet Blanc
5 ounces Prosecco or Sparkling Wine
Measurements using one bottle of Prosecco:
5 ounces Vodka
3 Tablespoons Aperol
1 1/2 Tablespoons Lillet Blanc
1 750-ml bottle Prosecco or Sparkling Wine
If making by the glass, add one ice cube to a champagne flute. Add the vodka, Aperol, and Lillet Blanc to the flute and swizzle until chilled. I like to leave the cube in, but remove if you prefer. Top with Prosecco.
If making a pitcher, add the vodka, Aperol, and Lillet Blanc to a martini shaker filled with ice. Shake until chilled. Strain into the pitcher and top with Prosecco.
Garnish with orange slices, pomegranates and rosemary sprigs.
Notes
For the orange slices, slice as thinly as you can and then cut each slice in half, then the halves into three wedges, making sure that each is small enough to fit in a flute. I love to use Cara Cara oranges or Blood Oranges if they are in season…like now!
Making quantity: If I am making this for a party, I make enough of the vodka/Aperol/Lillet mixture for the number of bottles I plan to serve and keep it chilled. Then when I open a new bottle of Prosecco, I add just under a cup (7 ounces) of the mixture per bottle of bubbles.
Prep Time:

5 minutes

Category:

Cocktail

Method:

Mixology

Cuisine:

Holiday
Keywords: Prosecco cocktail
Hope you enjoy your holidays – responsibly – and find a little cheer in Santa's Sparklers! And you might still be able to squeak in some Amazon orders from my Cook's Best Gift Guide, if you click fast! I know for a fact you can make those charitable donations up to the very last minute.
Counting down the last five days of the sixth year of Facebook ornament "advent calendar". If you haven't seen it, please take a gander. Self-proclaimed world's largest private food ornament collection!
HOHOHO!!!

© Copyright: KatyKeck.com 2018. All rights reserved.
Hey, we want to hear from you!
Don't forget to Comment, Share & Subscribe to our blog.