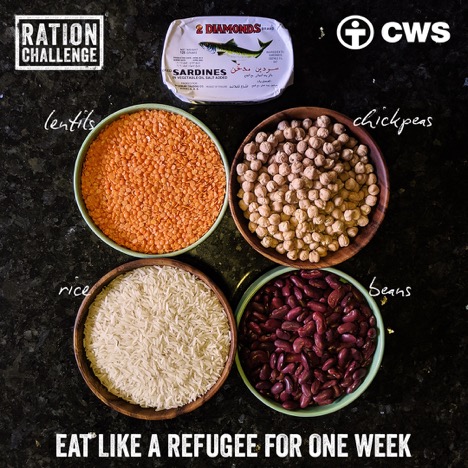 Are you hungry for change? Don't know where to start to make a difference in this world? Me either. But I am lucky enough to have connected with CWS (I'm on the board) and their partner, Australian-based Act for Peace, so I can take on the challenge of eating the rations of a Syrian refugee for one week. More on the Ration Challenge in a minute. But first…
Why???? The Refugee Crisis.
Too often we turn on the news and there is nothing but bad news. Overwhelming problems with seemingly no solutions. However….conflicts that have the potential to divide us could actually lead us to meaningful impact, meaningful change were we to unite. The crisis in Syria has been going on for more than 8 years. During that time, hundreds of thousands have been killed and cities have been reduced to rubble. The numbers are staggering. Millions of men, women and children around the world have been forced out of their homes because of conflict or natural disaster. They desperately need somewhere to resettle and rebuild their lives, but there aren't enough countries willing or able to respond to that need. Refugees spend an average 27 years in camp.
It's a humanitarian crisis on an unprecedented scale. And one that we can, and must, respond to.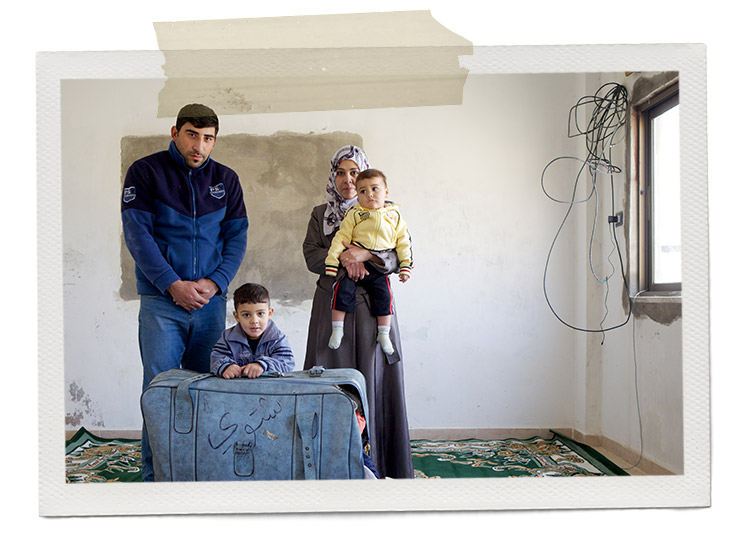 If you dig deeper than the headlines, you will find that the 25 million displaced beyond their own country's borders are just like us. They are mothers and fathers and brothers and sisters. And they want to NOT worry about food or a roof over their heads. They want to work so they can send their children to school. Right now, if they are "lucky," they will find a refugee camp in a nearby country. Global humanitarian relief agencies, CWS among them, provide aid to these refugees. Ration kits top the list of critically needed aid. Boxes are delivered to camps and are packed to feed a family of six for a one-month period. Often there aren't enough boxes to service the entire camp, so a committee of volunteer refugees makes the difficult decision on deciding which families need it most.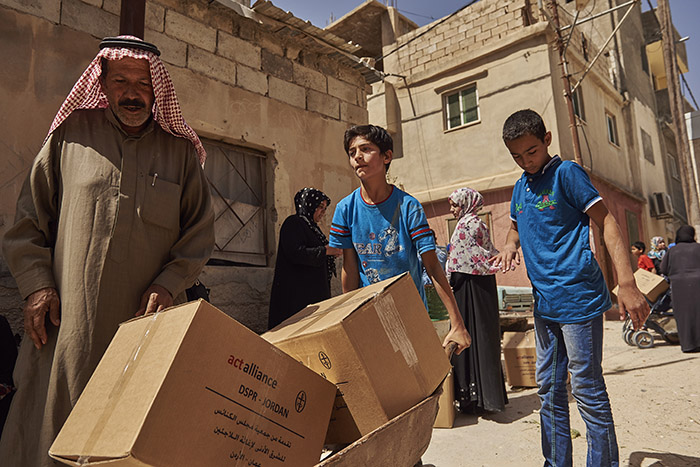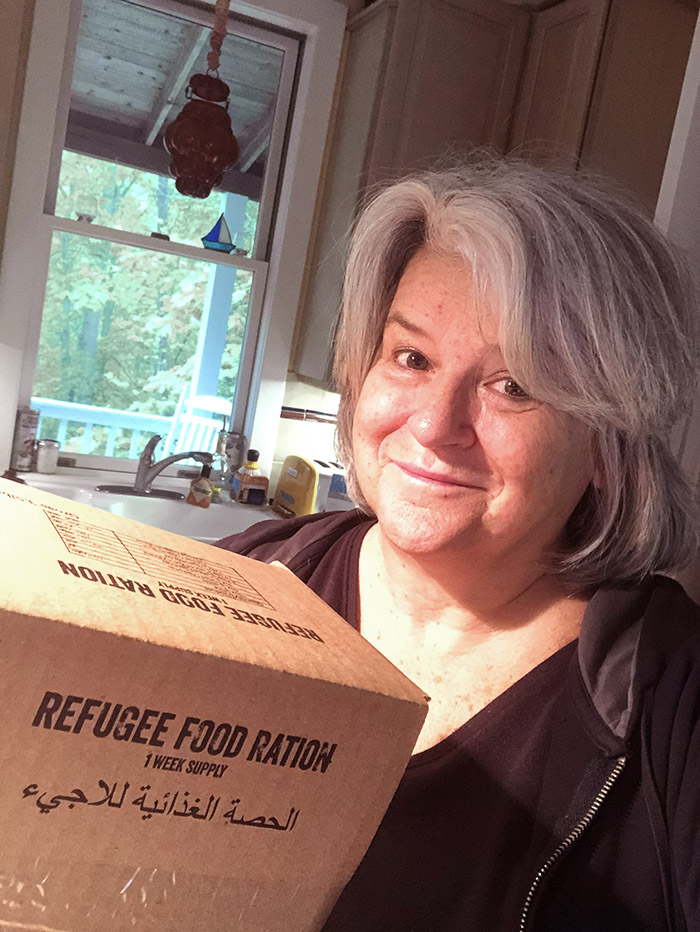 What is the Ration Challenge?
The Ration Challenge is a global campaign to raise awareness and funds by eating the rations of a Syrian refugee living in Jordan for one week. It gives only a glimpse of refugee life. My ration kit is like those delivered to camp, except it's just for me and just for one week. Unlike those in camps, I have a place to live, am not recovering from recent trauma and I not only know that my family is alive, I know where they are. Here is what my kit looks like and what's on the menu for the upcoming week.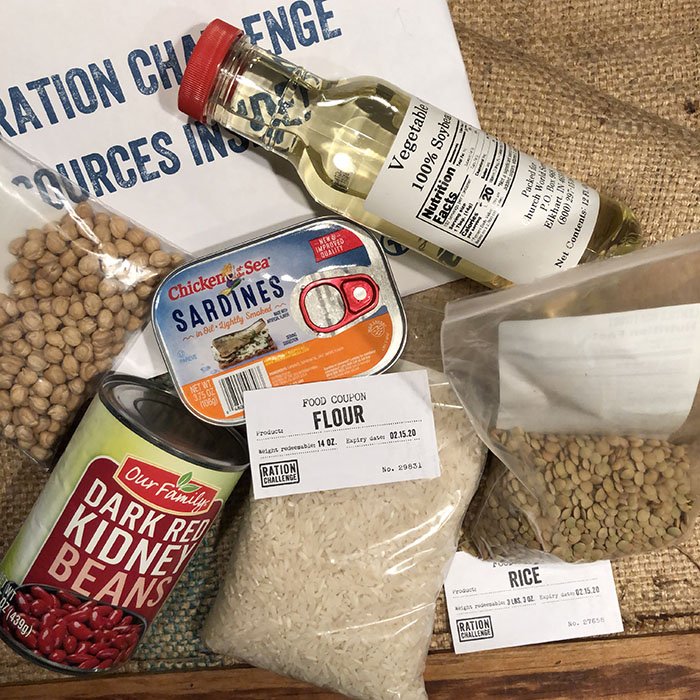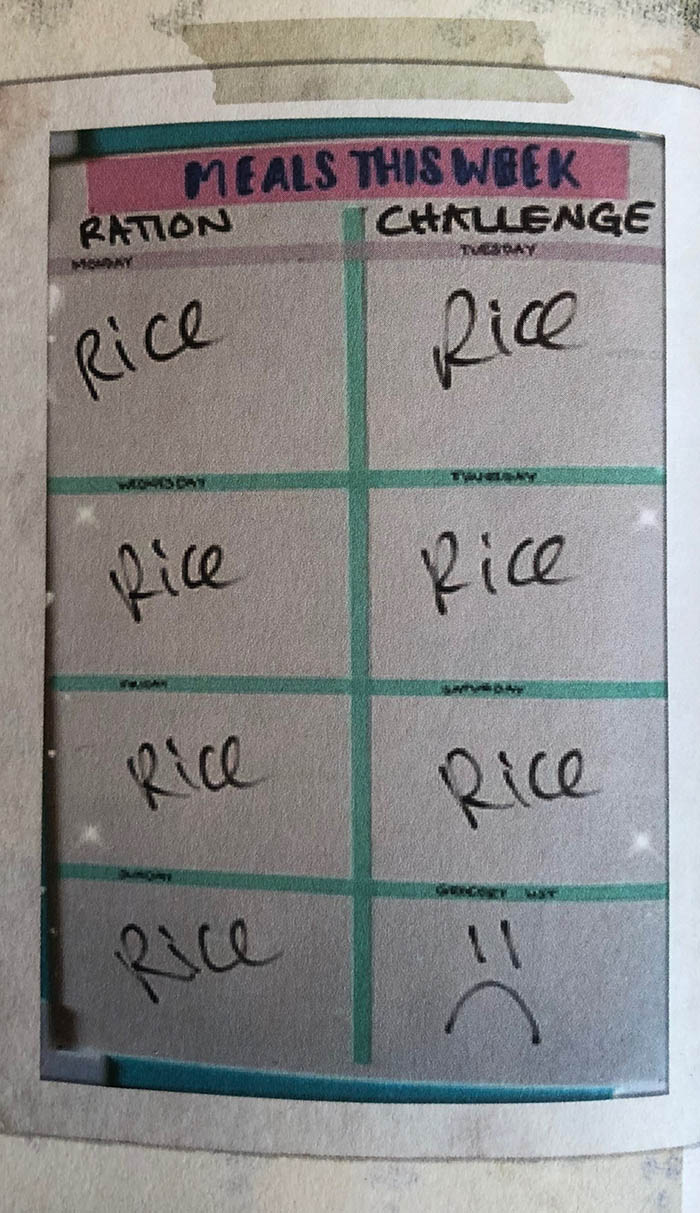 I started yesterday with mujadara. It's normally rice and lentils and a whole lot of flavor from onions and spices, but this is just rice and lentils. I have already eaten it four times in two days. The photo on the right is the mujadara from my blog. Remember how great the house smelled after fixing that delicious dish? It's a far cry from plain rice and lentils. To be fair, I am able to use salt and pepper. These are two treats I have earned by raising money. These fundraising incentives – or rewards – allow me to add a few items throughout the week – one vegetable, a 4-ounce protein, a 12-ounce beverage. I don't talk about the rewards much because this is not about me. But the Ration Challenge creators have cleverly added these incentives to symbolize the resilience and resourcefulness of refugees. If allowed by local laws, refugees hustle to complete odd jobs, trading and selling handcrafts, so that they can supplement their rations.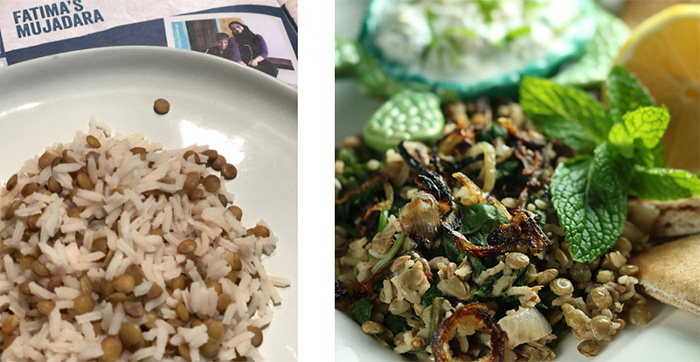 How Can You Help?
This campaign raises awareness from all of us that talk about it. It increases empathy and understanding by (simulating) walking in their shoes for a mere nano-second. But so importantly, it raises funds to be part of the solution. I am grateful to the many who have already donated to this campaign. My very generous friends, colleagues, followers and family have raised enough to provide access to life-saving medical specialists for more than 330 people!!! I repeat – for 330 PEOPLE!! Wouldn't it be great if we could make it a nice round 500? Or in food terms, it would only take a few more donations to provide 20 Syrian refugees food for an entire year!! All money raised goes to providing food, education and medical care, as well as support the ongoing work of CWS to help vulnerable people rebuild their lives in safety. Can you please join me in supporting this life-changing cause with your tax-deductible donation??!!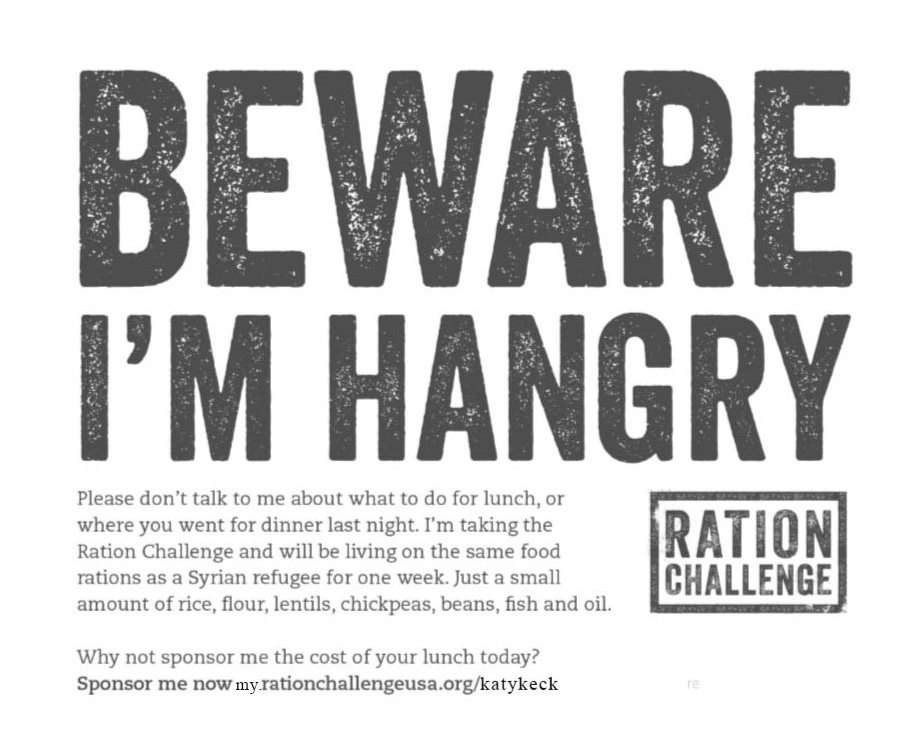 One of my dear friends and fellow CWS board member Vy Nguyen is himself a refugee, fleeing from Vietnam at the age of four on the back of a motorbike, while leaving half his family behind. He recently wrote a piece for the San Francisco Chronicle that breathtakingly recounts his harrowing journey, all juxtaposed against the lessons he hopes to teach his own four-year-old today. Lessons of empathy and compassion. Prayers that his son not only knows what it means to belong, but how to welcome the stranger among us. ❤️
25 million. That's the staggering number of those internationally displaced. As a statistic its unimaginable. But lest we forget, it is made up entirely of individual people and families, all with stories of endless suffering and brave endurance in the face of life-threatening challenges. They are us. We are them. Just under a different set of circumstances. My tiny glimpse into their lives through rationing has increased my empathy 1000-fold.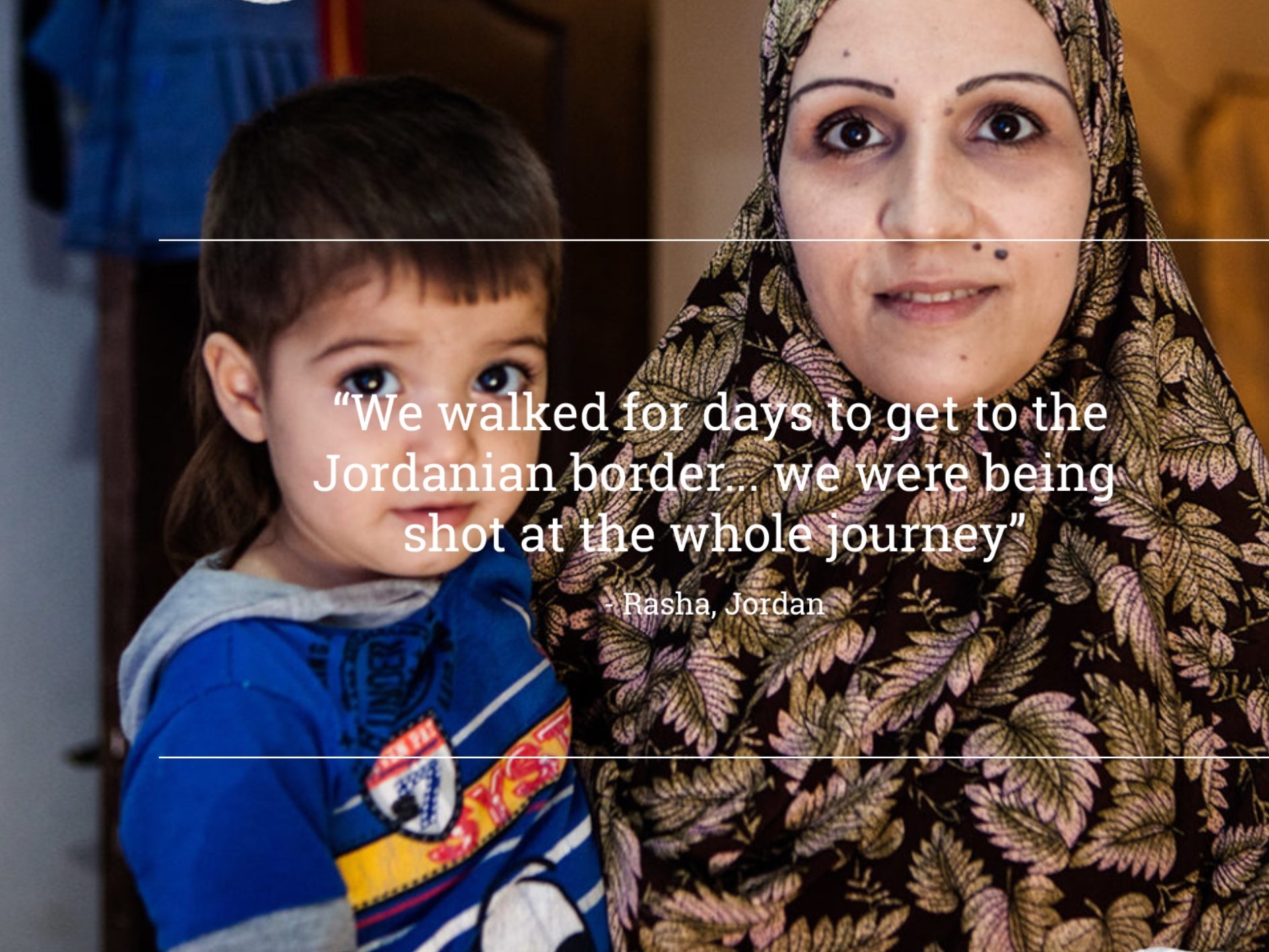 I appreciate the compassion and care that my community here at Palate. Passion. Purpose. shares. I thought you'd love this bumper sticker I pinched from a fellow challenger on Facebook. Doesn't it say it all?

Click here to make a tax-deductible donation to this cause near and dear to my heart. And no matter what, please share your support via the comments below!! Thank you!!!
Photos in addition to mine are courtesy of CWS, The Ration Challenge, and Act for Peace.
© Copyright: KatyKeck.com 2019. All rights reserved.
Hey, we want to hear from you!
Don't forget to Comment, Share & Subscribe to our blog.