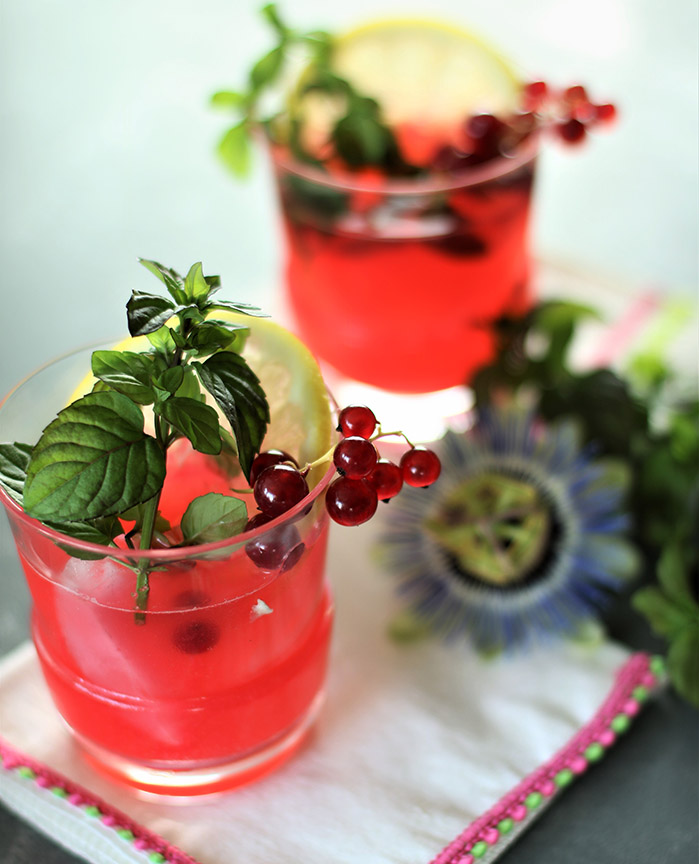 Time to grab some tart summer fruit, squeeze a couple of lemons, and kick up your feet. Then close your eyes, take a sip of this frosty red currant lemonade treat, and go "Aaaaaaaaaaaaahhhhhhhhh!" This might even inspire an Ahaaaaaa! It's that time of year when the heat takes over and nothing calms the soul like a refreshing tart and chilly beverage. I won't lie – after one glass of it au naturel – I spiked it with prosecco and it did not disappoint. Ok, class, let's all try this together…..Aaaaaaaaaaaaaaaaaahhhhhhh!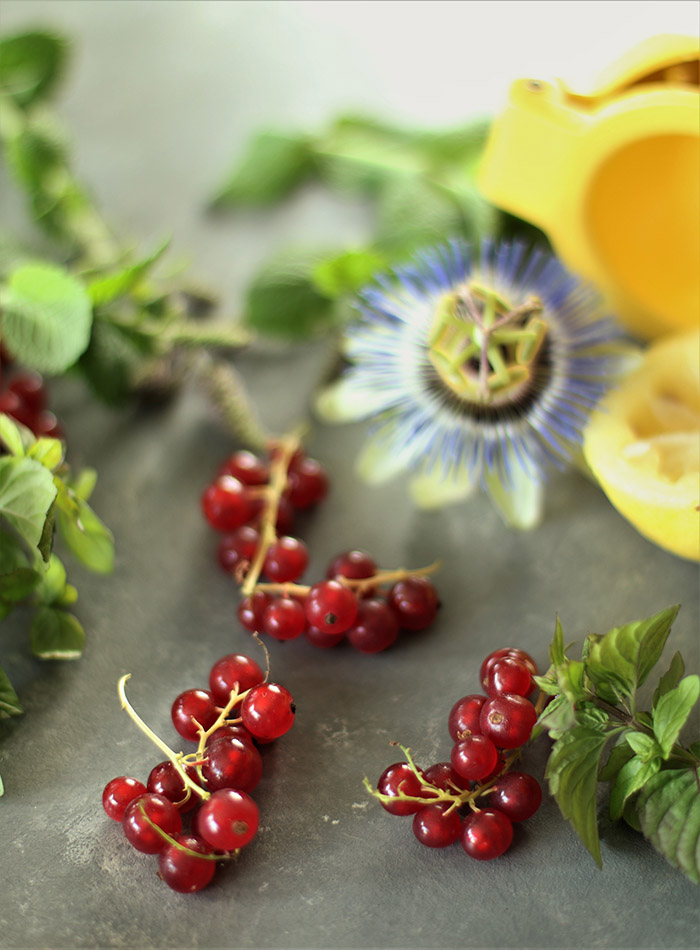 Currants are always beautiful, but we are often faced with what to do? Yes, they make beautiful garnishes. I have even found them at the holidays and used them with rosemary sprigs to garnish cheese platters, or with mint on dessert trays. They are gorgeous. But let's be real – where ARE they from in December? This time of year you can find them on the side of the road, at the market, and even in a decent grocery store.
Red currants are bright and shiny and very tart. Look for plump, full berries that hold to their stems. As they age, they shrivel, wither, and drop off. Those are on their way to being fermented, so not a good thing if you are making a red currant syrup. I'm not going to say don't eat them straight from the basket, but brace yourself for a full-on pucker-up session.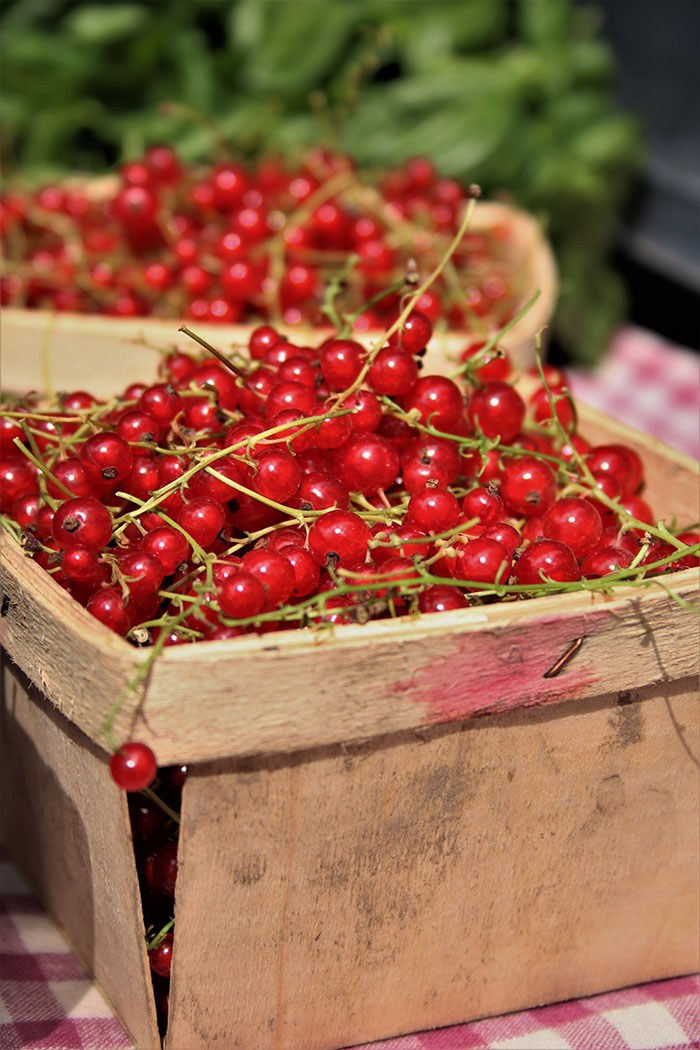 And, currants come in more than red! Did you know that? Black currants are perhaps more familiar, because they are popular in jams. But there are also white currants and champagne currants, with a lovely pink hue. And gooseberries shown below at bottom left are also in the same family (kind of, sort of). Do you know what is not in the same family? The currants we get at the supermarket that are dried and raisin-y and confusingly also called currants, Zante currants. They are actually a dried grape, growing on a vine, unlike fresh currants which are a bush-fruit. It's believed the dried fruit was mistakenly called a currant as a bad translation from "Corinth" about the time the U.S. started importing Zante currants from Greece in the early 20th century.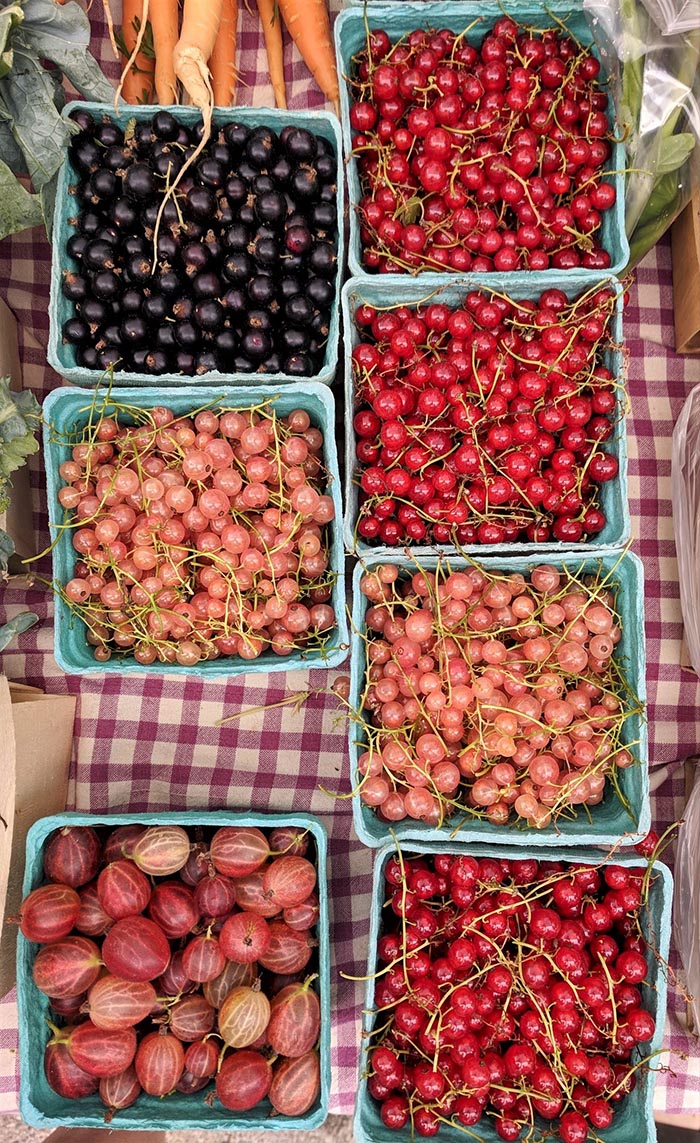 Farmers market photo by Sally Shapiro
Interesting side note: black currants were outlawed in the early 20th century because they were thought to carry a disease that impacted the timber industry. 100 years later, the timber industry is still facing challenges, but now due to its impact on the environment, not the other way around. Full circle.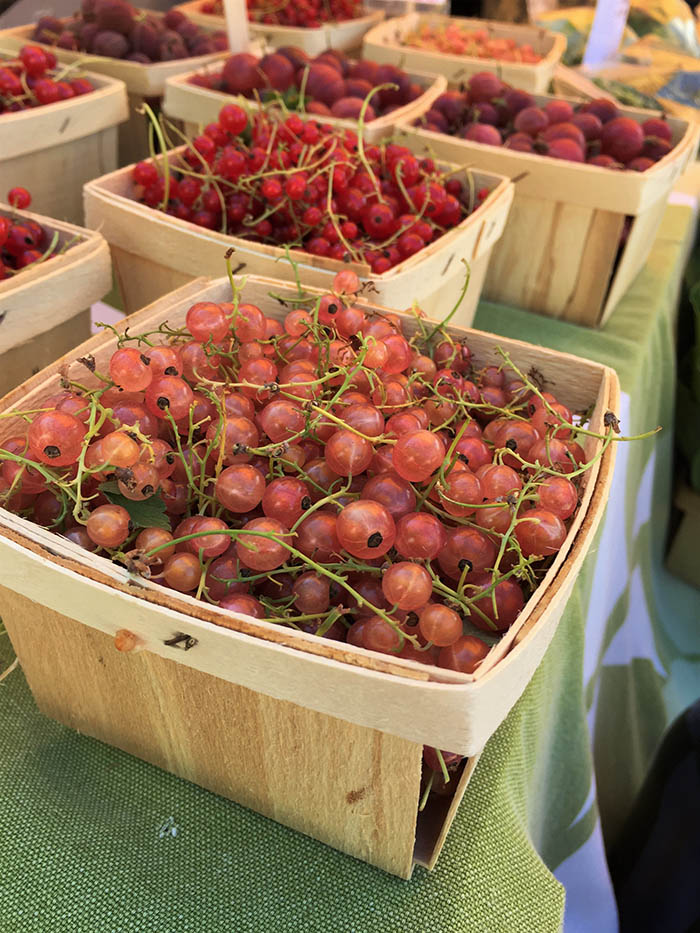 Champagne Currants
Making Red Currant Lemonade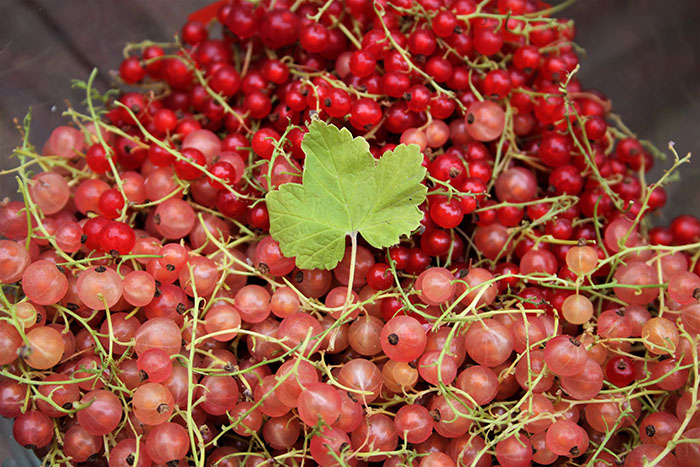 This recipe does in fact have measurements, but its really bartender's choice. It's a simple combo of currants (or other summer berries), sugar, lemons and water. Or sparkling water. Or sparkling wine. Or something stronger. Please consume all fruit responsibly.
No need to pick the fruit from the stems since it macerates with sugar and then gets pushed through a strainer, leaving the stems and seeds behind.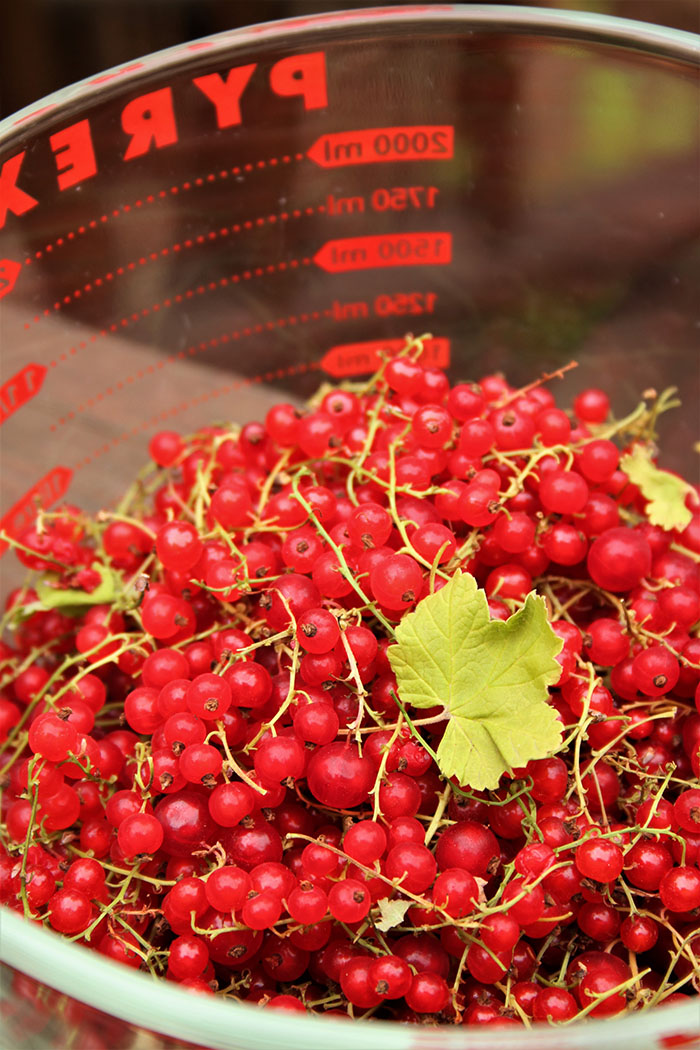 Macerate or marinate? That is the question. No actually it's not a question – this is maceration, pure and simple. Macerate often is used for fruits and vegetables (definitely non-animal) to release juices. Maceration may also help infuse flavors, like plumping dried cranberries with fruit juice or alcohol. For this red currant lemonade, we are macerating the fruit with sugar to coax the liquid from the berry, with a side benefit of added flavor (sweetness). Marination however, while sometimes used on fruits and vegetables, is primarily used on proteins and both infuses and tenderizes. It's historical use was to preserve, as in pickling since it's etymology traces back to the Latin word "marinas", meaning sea water.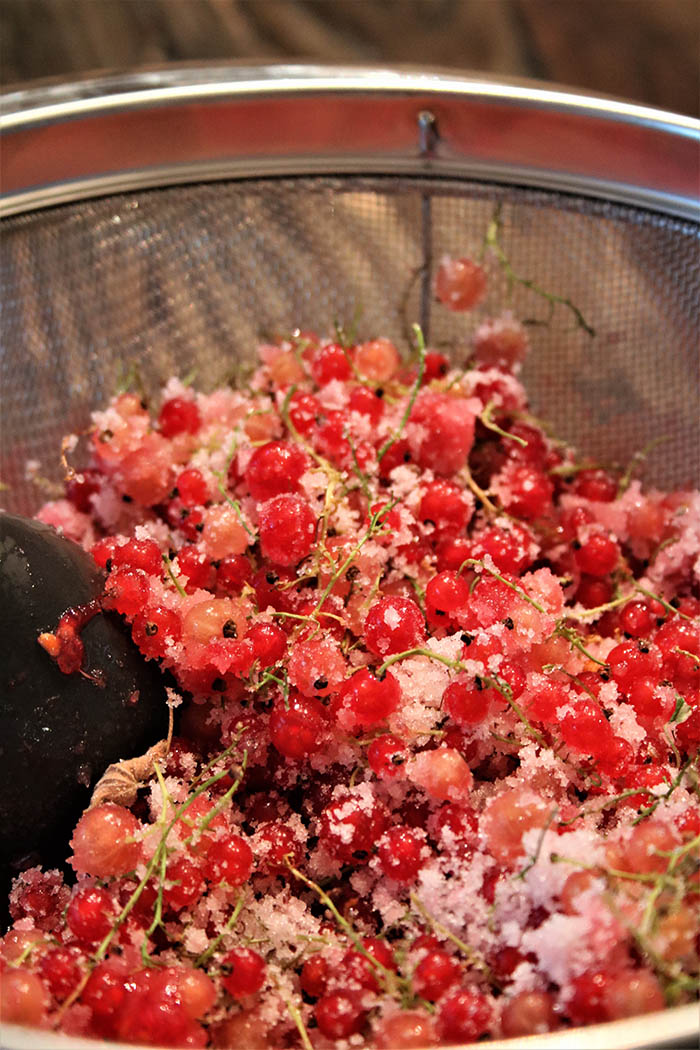 Just combine the fruit with the sugar and set aside in the fridge for an hour to allow for the juices to release, making it easier to express the liquid.
While that is macerating, prep your garnish and juice the lemons. Also do the crossword and check your email. These steps take no time at all.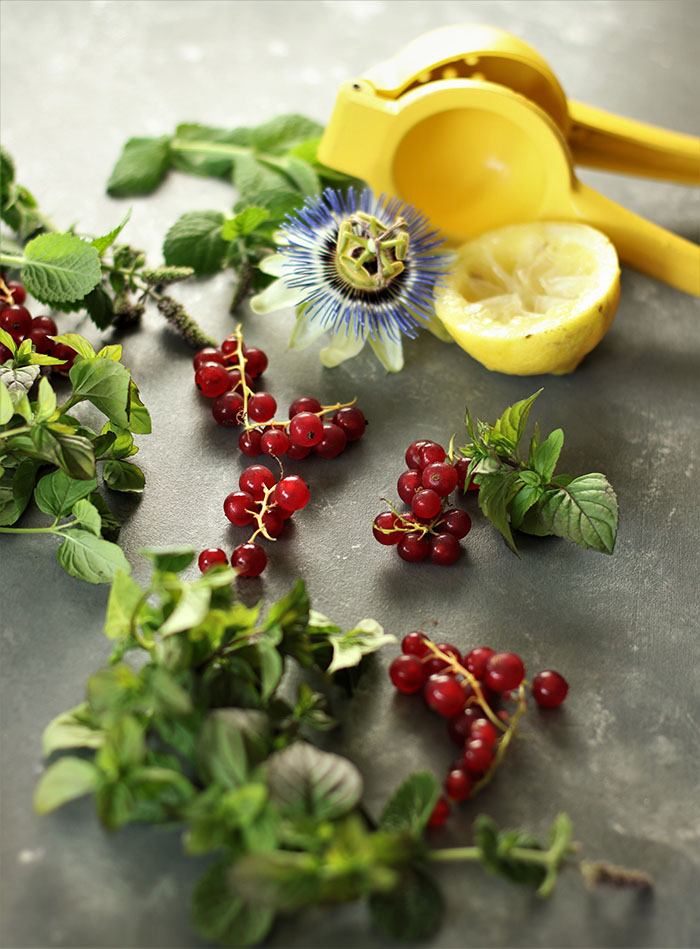 Press out the currants' ruby liquid, mix it with the lemon juice, then decide how to finish with four cups of liquid and ice. All water? Half water and half sparkling? Or some Prosecco? Or some vodka? I recommend adding at least 2 cups of water now, if you are going to serve it later. You don't want the lemon juice to "cook" the currant syrup (that might change the vibrant red color), so diluting to half strength ensures that. At serving time, top it off with the chosen remaining beverage and add ice.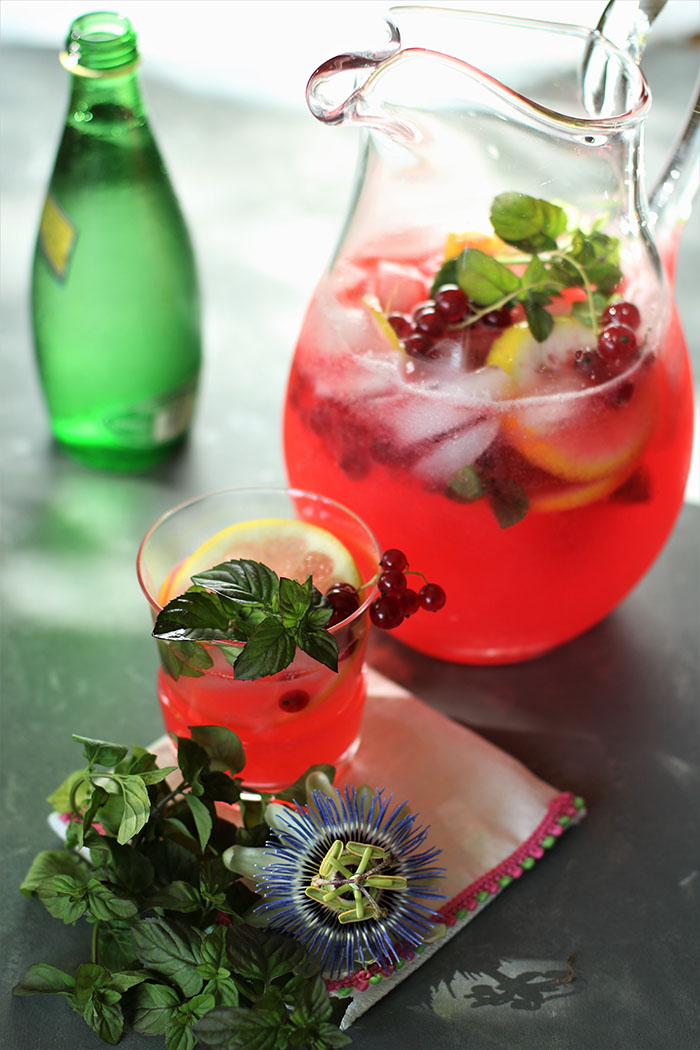 Print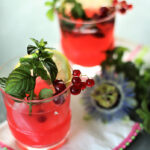 Summer Sipper: Red Currant Lemonade
---
Author:

Total Time:

1 hour 15 minutes

Yield:

1 1/2 quarts

1

x
Description
Time to grab some tart summer fruit, squeeze a couple of lemons, and kick up your feet. Then close your eyes, take a sip of this frosty red currant lemonade treat, and go "Aaaaaaaaaaaaahhhhhhhhh!"
This recipe is inspired by one I got from my friends Russ and Linda at Maple Achers Farm. Starting with a combo of red currant syrup and fresh lemon juice, you can chose to finish with just water, a combo of water and sparkling water, or even top it off with Prosecco. So many choices!
---
Red Currant Syrup (for 1 1/2 cups syrup):
2 cups

fresh currants (

one pint

will give you the

2 cups

needed here, plus additional for garnish)

1 1/2 cups

sugar
Red Currant Lemonade:
1 cup

red currant syrup

1 cup

fresh squeezed lemon juice (juice of about

8

lemons)

4 cups

water with ice, or a combo of water, ice, and fizzy drink
Garnish:
fresh currants
lemon slices
raspberries, blackberries, strawberries, as desired
fresh mint sprigs
---
Instructions
Make the red currant syrup:
Sprinkle the sugar over the currants and stir to combine. Refrigerate for about one hour.
Transfer to a mesh strainer set over a bowl or measuring cup, and press with the back of a spoon or a muddler (I like using the back of an ice cream scoop) to express the juice from the currants. Be sure to scrape the bottom side of the strainer to get the syrup clinging to the strainer. You should have about 1 1/2 cups syrup. If you are not using it all, freeze in an airtight container for future use.
Make the lemonade:
Combine the red currant syrup and lemon juice in a glass pitcher, stirring to combine. Top it off with the water/ice and, if desired, something bubbly – sparkling water or Prosecco. Taste for sweetness and concentration, and add more sugar or water as needed.
Garnish with sprigs of currants, lemon slices, fresh berries and mint sprigs.
Notes
This is delish with seltzer, Prosecco or dare, I say it, vodka. If you are supplementing the water & ice with another liquid in the 4-cup liquid/ice measure, start with 2 cups water/ice and then add the bubbles or adult beverage before serving.
If currants are not available, try raspberries, blackberries or strawberries (hulled and halved). Be sure to cut the sugar since all of these fruits will be sweeter than the currants. Start with 1/2 cup sugar and mix with the fruit, then set aside. You can always add more at the end.
The red currant syrup freezes well, so stock up on currants and make extra syrup for the freezer.
Prep Time:

1 hour 15 minutes

Category:

Beverage

Method:

No Cook

Cuisine:

American
Keywords: Red currants, Lemonade
All gone!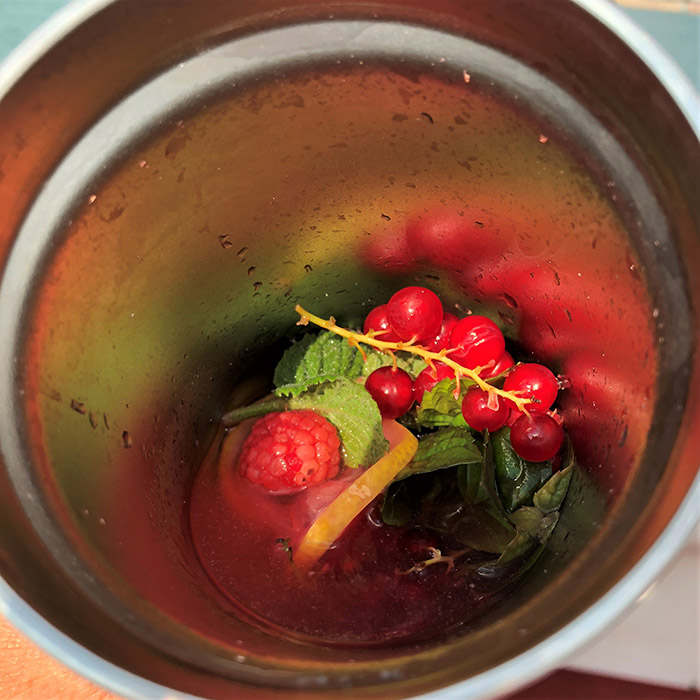 © Copyright: KatyKeck.com 2018. All rights reserved.
Hey, we want to hear from you!
Don't forget to Comment, Share & Subscribe to our blog.