Okay, there is a reason search engines hate me. I just don't play by their rules. But I am sorry – who wants to see a headline about Brussels sprouts? Bo. Ring. Although this dish is anything but. It's actually my brother who calls them Barbie Doll heads – what would I know? My idea of repurposing Barbie is to ram a rod up her and put a shade with some nice piano fringe on top. #AmIRite? That "Solo in the Spotlight" outfit was made to be a lamp. Well that and the fact I never really forgave her for the mic drop she pulled on the way to kindergarten. That microphone was integral to the outfit.

It's a perfect time of year to find fresh Brussels sprouts – on or off the stalk. I found these at one of our winter indoor markets, grown by Blackbird Farms. A dish like this is so simple and undemanding that it fits holiday entertaining quite well.


Brussels sprouts date back to the late 16th century – thought to be native to Belgium, hence the capital name. They are high in Vitamins C and K, high in fiber, and like other cruciferous vegetables, associated with cancer prevention. But the important part is they are tasty. I like to roast them to get a nutty slightly charred taste, but you can also steam, sauté, and even remove the leaves and blanch them. Patrick O'Connell from the legendary Inn at Little Washington has a recipe in one of his books for Brussels Sprout Petals with Coriander Vinaigrette and Pickled Cranberries. It is quite delish and lucky for you, he featured it during an NPR interview so no need to buy the book (well there are plenty of reasons to buy the book, but just not for that recipe). Patrick serves it cold, but it would be a fantastic side vegetable, served warm, on your holiday buffet.

Roasted Brussels Sprouts with Shallots and Prosciutto
1 ½ pounds Brussels sprouts, trimmed and halved
2 Tablespoons EVOO, divided per below
½ teaspoon sea salt
¼ teaspoon freshly ground black pepper
2 shallots, minced
1/4 pound prosciutto, diced
Drizzle of Fig Balsamic Vinegar
Preheat oven to 400oF.
Toss the sprouts with 1 ½ Tablespoons of EVOO, salt and pepper. Arrange on a sheet pan and roast, shaking periodically, until tender and slightly charred, about 20-30 minutes, depending on size and freshness.

Heat the remaining ½ Tablespoon of EVOO and sauté shallots until browned. Add the prosciutto and continue sautéing until it becomes a bit crispy.

Add the roasted sprouts to the pan and stir to toss well. Drizzle with fig Balsamic vinegar, to taste. Adjust seasonings, as needed.
Serves 6 – wonderful with a roast pork loin and goat cheese and thyme mashed potatoes.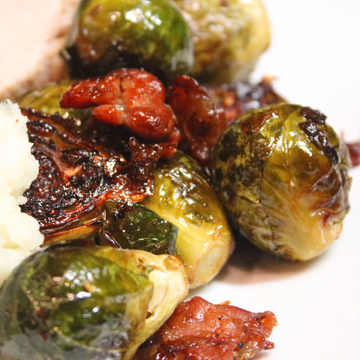 © Copyright: KatyKeck.com 2015. All rights reserved.
Hey, we want to hear from you!
Don't forget to Comment below, Share & Subscribe to our blog.