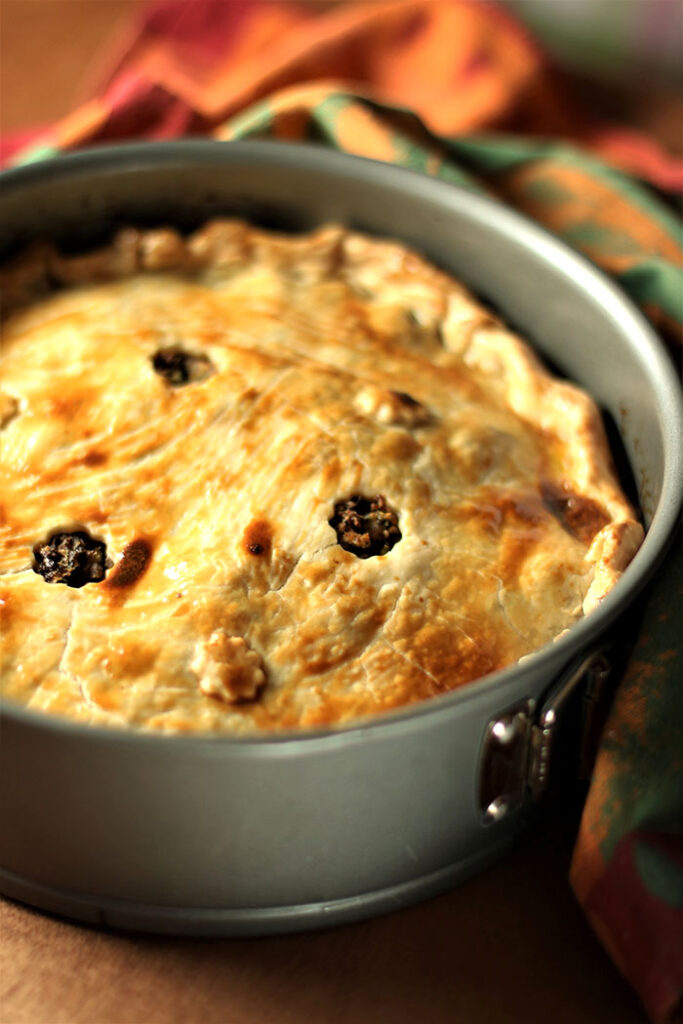 I have had a tattered copy of the grandmother of this meat pie recipe since I first moved to New York – and I always read the faded title as Kulebvaka. Shared with me by an older Jewish woman who was very adventurous in exploring international flavors even in the 70s, the copy was covered in her handwritten notes. I assumed, wrongly as it turns out, that the vaka had something to do with beef, the main ingredient in this recipe. All those years of having the name wrong prevented me from making the connection to coulibiac, one of my earliest catering days' fancy puffs. The coulibiac I made was filled with salmon and – oh yes – crammed full of eastern European flavors, like dill and sometimes horseradish. Coulibiac. Kulebyaka. "Yaka", not "Vaka". The name had nothing to do with the beef that fills the pie. Color me surprised – years and years later.
It turns out the word Kulebyaka comes from the Old Slav verb kulebyachit which means to make with hands – nothing to do with what was inside. It can be stuffed with fish, meat, mushrooms, rice, hard-boiled eggs and so much more. The traditional meat pie recipe calls for a yeast-based dough (I am just using a store bought pre-rolled pie crust), but it was elevated to haute cuisine status (and the pastry became more delicate) during the 19th century when French chefs started appearing in Russia. The tradition continues as the Hennin twin brother chefs that I trained under in Paris spent time in Russia. One showed up here with a vat of caviar as his carry on. Yaaaaaaaaaaaaaas!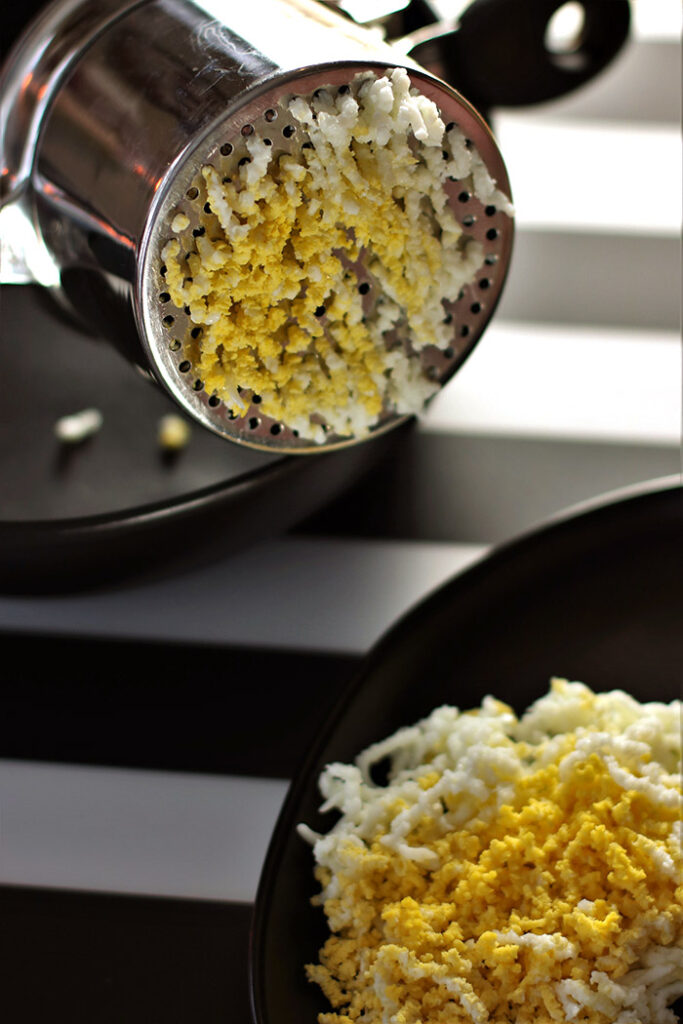 That meat pie recipe I received so long ago did in fact have sieved hard-boiled eggs in it, and I kept that intact, making good use of one of my favorite tools, the potato ricer. It helps bind the mixture and is a nod to its Russian roots. I changed all the spices and added fresh dill and an entire bottle of prepared horseradish, because we like our flavors a bit more assertive here in 'Murica.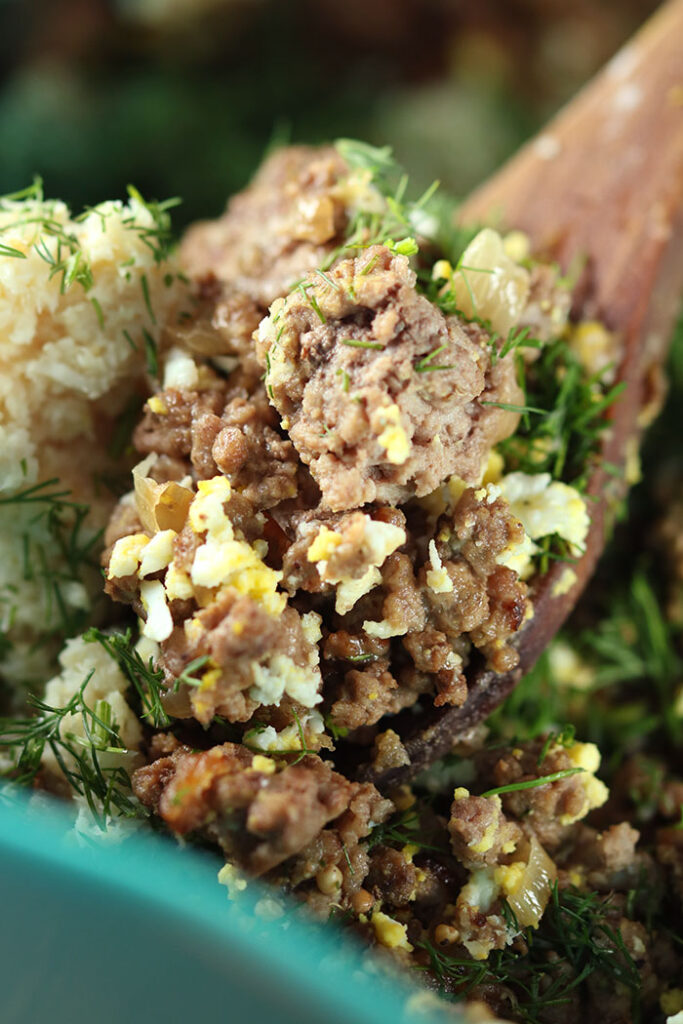 There are no real secrets to make this a perfect party addition, and it's also great for a cozy night at home, served with just a simple salad. Serve it cold, serve it hot; make it an app, make it an entrée. I used a springform pan here, but I have also made it in a scalloped-edge tart pan which gives it a great look. Take some of the extra dough scraps and create flowers or leaves to decorate the top. Just make sure you have a removable-bottom pan for easy removal. Give it a whirl and let me know what you think!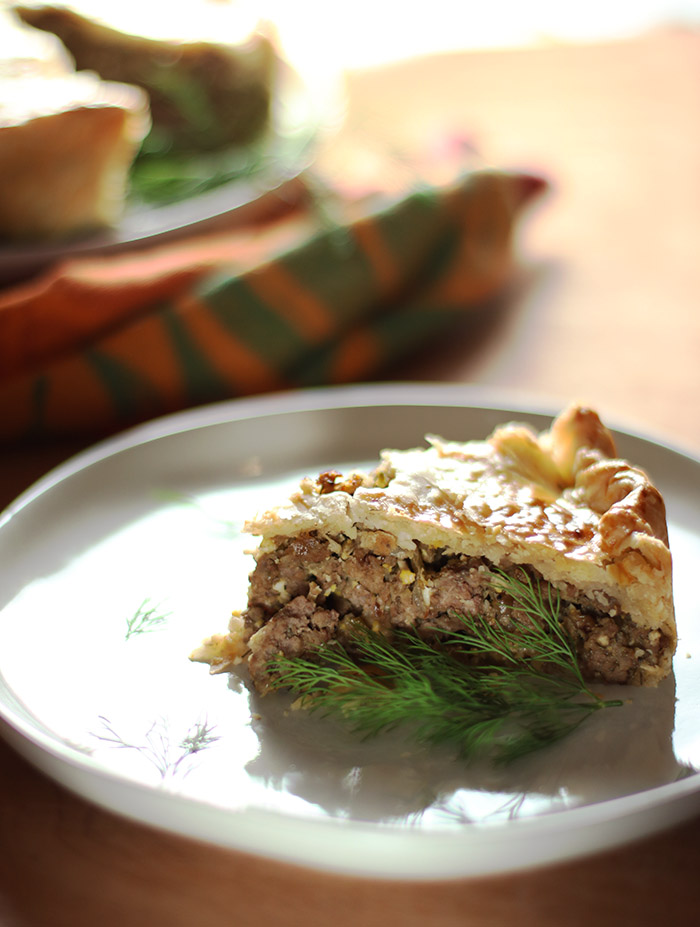 Print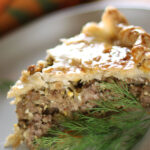 Old World Meat Pie with Horseradish and Dill
---
Author:

Total Time:

1 hour 15 minutes

Yield:

6

–

8

as main, or

10

as appetizer

1

x
Description
This tasty beef pie is great hot or cold. Easy to pull together and pour into a ready-made crust, it is a real crowd pleaser year-round.
---
Pastry for a double crust pie

2

pounds lean ground beef

3 Tablespoons

butter

2

small onions, minced, about

3 cups

3

hard-boiled eggs, peeled

1/4 cup

all-purpose flour

1/2 cup

beef stock

1

8-ounce bottle prepared horseradish, drained

3/4 teaspoon

black pepper

1 teaspoon

mustard seeds, coarsely ground (pulse in a spice grinder)

1 teaspoon

celery seeds, coarsely ground (pulse in a spice grinder)

1/2 teaspoon

salt

1

bunch fresh dill, stems removed and finely chopped

1

egg yolk

1 Tablespoon

half & half (cream, milk, whatever you have)
---
Instructions
Preheat oven to 400oF. Lightly butter a 9-inch, deep-dish, removable-bottom springform or tart pan. Arrange the bottom crust, pressing into the bottom and sides. Refrigerate until needed.
Sauté beef, breaking into small pieces, until no longer pink, about 8 minutes. Transfer to a strainer and let fat drain off. Wipe out the pan and add the butter. When melted, add the onions and sauté until golden brown, about 13 – 15 minutes.
Meanwhile, press the hard-boiled eggs through a potato ricer or strainer until finely sieved.
Add the drained beef to the onions, and heat through. Sift the flour over the beef and stir in. Add the stock and stir again, cooking through 1 to 2 minutes. Remove from heat.
Stir in the sieved eggs, the horseradish, pepper, mustard seeds, celery seeds, salt, and dill. Let the mixture cool.
Spoon cooled mixture into the bottom crust. Press down with the back of a spoon to compact. Cover with the remaining pie dough, seal edges, and crimp decoratively. Cut several vent holes to allow steam to escape.
Mix egg yolk and half & half in a small bowl and brush the top of the pie. Place pan on a sheet pan to bake.
Bake for 30 to 35 minutes until the top is golden brown.
Serve hot or cold, as an appetizer or main.
Notes
If you cut the pie straight from the oven it will be a bit loose. Better to let it rest for 10 minutes to firm up.
Prep Time:

15 minutes

Cook Time:

1 hour

Method:

Stovetop, Oven
This post contains affiliate links.
© Copyright: KatyKeck.com 2018. All rights reserved.
Hey, we want to hear from you!
Don't forget to Comment, Share & Subscribe to our blog.